Gasolina Social Club is already one of Madrid's top private cannabis clubs. This Madrid weed smoker's club opened its doors about one year ago, on the first of August, 2018, after nearly 2 years of painstaking preparation and development. Gasolina has an ambitious vision for the future that blends a hip environment with fun events and special projects, and of course some of the best cannabis products available in the Spanish capital; check out the full review below for photographs and details, and see what Gasolina is all about.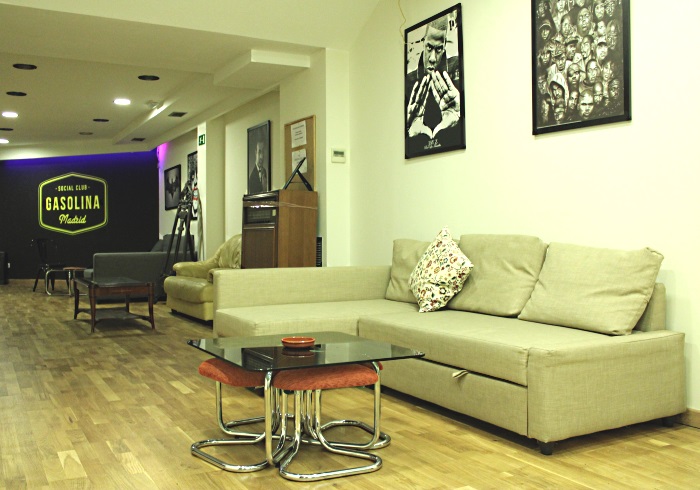 This Madrid cannabis smoking club is located in the city center; the name of the neighborhood is Chamberí, which is an old-style 19th-century area, and its locals are proud of the small-town feeling you get when you walk around its streets. The Chamberí neighborhood of Madrid is idyllically slow, relaxed, and clean, and you don't see many tourists around. This part of Madrid has everything a cannabis connoisseur could want.
Gasolina Cannabis Club: Environment
This Madrid cannabis club is located near several centric metro stations of the city, such as Argüelles, San Bernardo, Moncloa, and Quevedo. Like most cannabis clubs in Spain, Gasolina Social Club is quite discreet on the outside; most people will never figure out that next to a well-known bank, shops, and some tapas bars, you'll find a spacious oasis where you can smoke and relax for a while.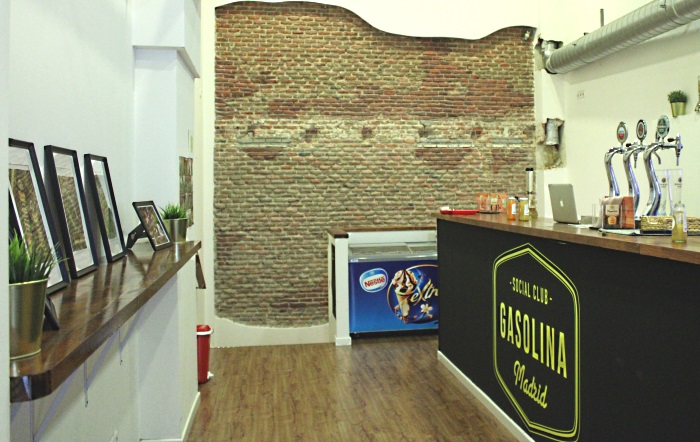 Press the buzzer and step inside, and you'll find yourself in the reception area where members can add funds to their accounts or sponsor new socios (members) to the club. This section is like many other smoking clubs in Madrid or Barcelona, with a reception desk to verify your identity before stepping into a delightful cannabis experience.
The entrance and reception area of Gasolina are separated from the main part of the club by a tiny door on the left-hand side. Open the door and you'll find yourself in another two-floor world. In striking contrast to many cannabis clubs, Gasolina is full of light on the upper half due to the high ceilings. On the right, you have a spacious handicap bathroom and a long bar where you can get draft beer, different flavor of juices, ice-cream, chocolate, and some salty munchies.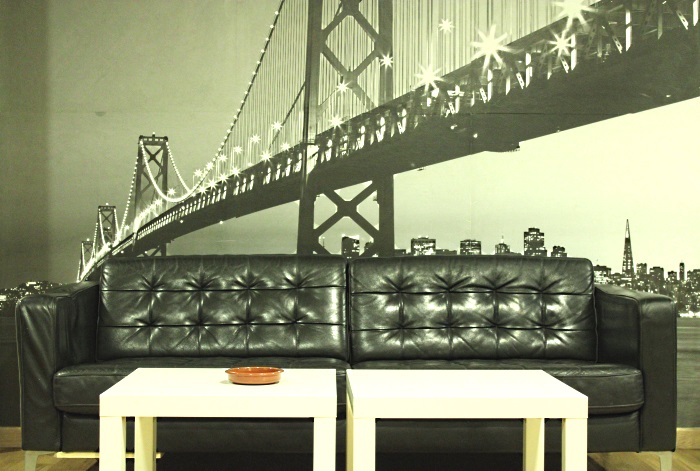 The practice of keeping the beers upstairs is because the club's management doesn't want members to take full glasses down the stairs, and also to keep the marijuana separated from the alcohol, which all clubs are obliged to do in Madrid. This makes Gasolina even better; it's basically a bar and a coffee shop all in one place.
On the left wall of this cannabis social club, you'll find some art pieces, and towards the end of this area, you can take the stairs down to the second level. The lower half of Gasolina Social Club is a totally different ecosphere, and is where the real "magic" happens.
This lower section is divided into several micro-environments; a big sofa with a stylish crystal table, and four chairs greet members in this area. Two spacious and clean bathrooms are on the right-hand side of this room; one for women, and one for men.
In this lower sanctum you'll find another bar area; it's not big, but it offers plenty of options for when the munchies hit. Towards the end of the chamber, you'll see a large wall with a Gasolina Social Club logo, and if you turn left, there's a billiards and a soccer table if you feel active or just need a sporty distraction.
Gasolina Social Club: Cannabis Products Selection
Gasolina cannabis club carries a wide variety of cannabis products for all different types of marijuana consumers. They offer 12 to 14 different cured flower options at any given time, which includes a range of indica, sativa, and hybrids. Some of their top-selling strains are Gelato #33, Grand Daddy Purple, Mango, and Tahoe Kush, which are commonly found in clubs and dispensaries around the world. Gasolina's other strains, like Tangie Animal, Zookies, and Bloodline, I have seen exclusively at this private Madrid social club.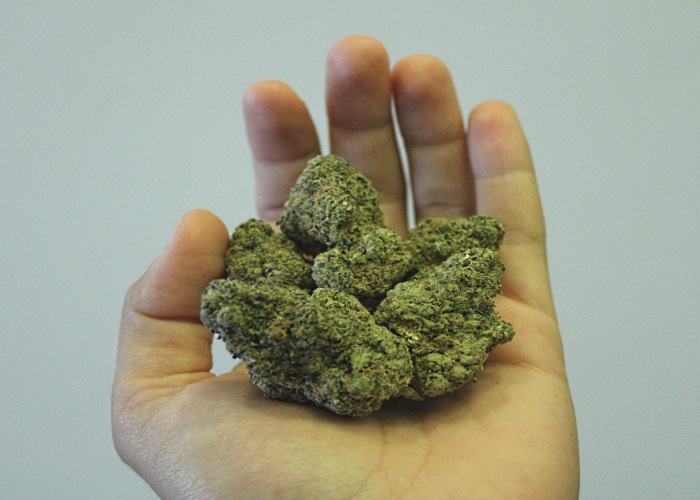 Pre-rolled "Mariachi" joints are also available, as well as some of the strongest cannabis extractions in Madrid. This cannabis social club also offers shatter, BHO, and live resin – a top seller – and Amnesia sugar wax; another favorite among Gasolina's members. The club also stocks Lemon Kush traditional hash.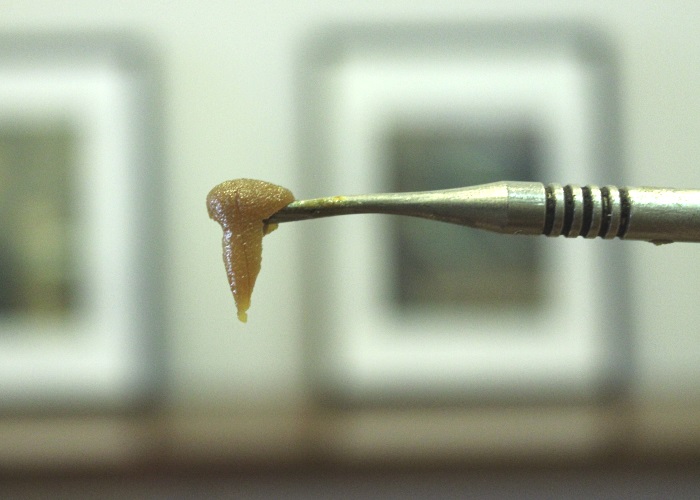 For club members who enjoy marijuana edibles, Gasolina stocks cannabis syrups, honey, hazelnut spread, and other cannabis-infused products, depending on availability. They also offer a wide selection of accessories and cannabis-themed products; from the usual grinders and papers to full-size glass bongs and vaporizers.
Gasolina: Staff
Gasolina Social Club is staffed by a team of people who are dedicated to offering the ultimate cannabis experience to its members in an environment that is chill and joyful, but somehow still manages to be both welcoming and exclusive.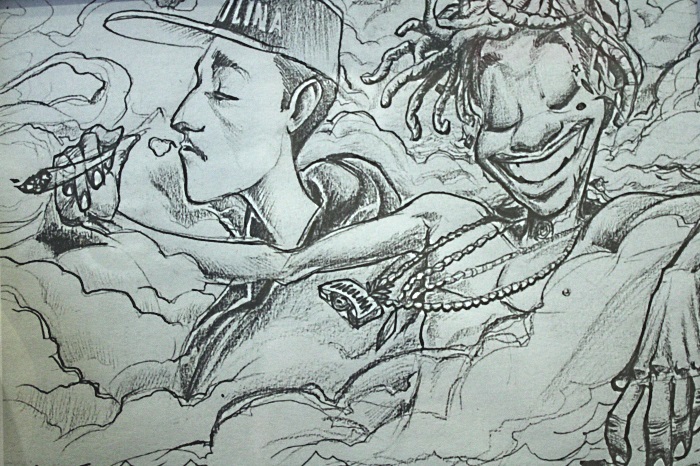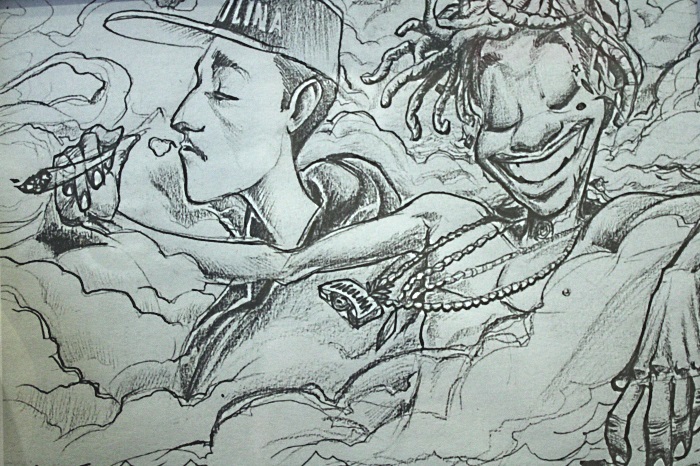 Both girls I met that day were extremely nice; they gave me a warm welcome complete with hugs and kisses. Everyone at Gasolina went out of their way to make sure I felt that I was part of the club.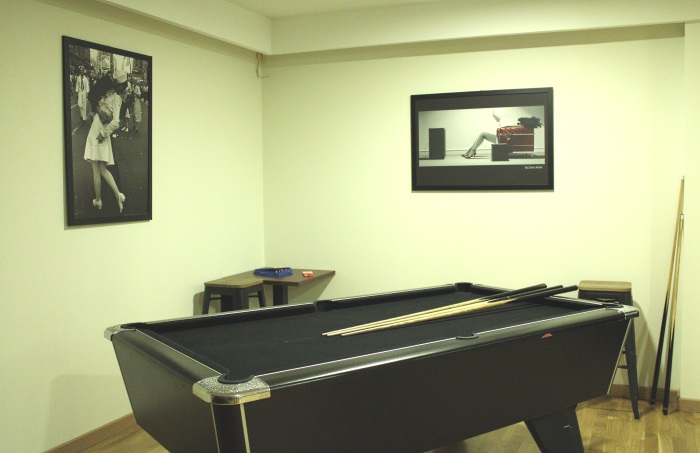 Genuine smiles, honest greetings, and attentive service overflow at Gasolina. I could tell these values derive from the club's Board of Directors when one phrase stated by the owner caught my attention; "…my idea is to have the best club of Madrid, not the biggest."
Gasolina Social Club: Events & Extras
This Madrid cannabis social club holds many events every month; including the Gasolina Cup, which gathers all members together to vote on their favorite cannabis products.
As well as ongoing creative projects, there are also social programs at Gasolina, such as an initiative to support or sponsor an organization from the neighborhood. Presently the club is in the planning stages of supporting several groups, including an organization that helps to protect women against violence, and one that seeks to help homeless children.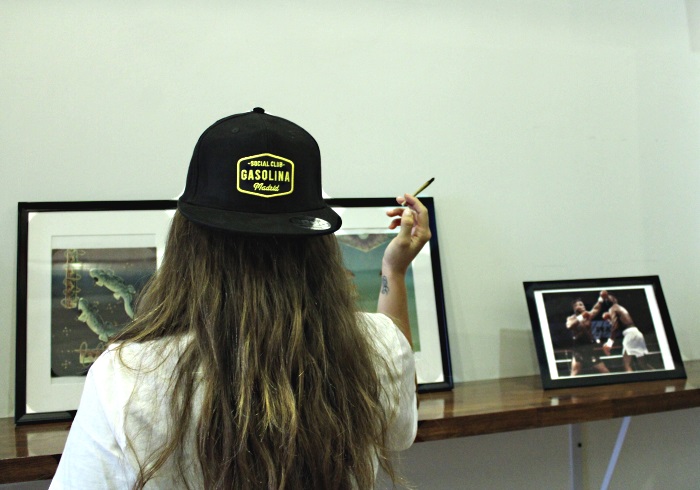 Every Thursday, Friday and Saturday, live musicians and new DJ's are invited to play at the club. One unique and positive characteristic to mention in this regard is the soundproofed room on the lower half, which allows Gasolina members to whoop it up without bothering the neighbors. Years ago, Gasolina was a famous nightclub, so this soundproof room was necessary in those days. Today, the club has re-purposed this area.
For special events, Gasolina brings food from their neighbors such as pizza, sushi, or the famous Spanish bocadillos (sandwiches). Finally, this club and its members are part of an online gaming competition called The High Games, where members across the world play and compete.
Conclusion
Gasolina Social Club in Madrid is the perfect club for marijuana consumers that want a place in the city center where they can simply and safely acquire superior cannabis and spend quality time relaxing. Gasolina is on a fast-track to compete against the best cannabis clubs in Barcelona and Madrid.
Have you been to Gasolina Social Club, or are you a member? Let us know your thoughts in the comments section below!
Latest posts by Rachel Clark
(see all)