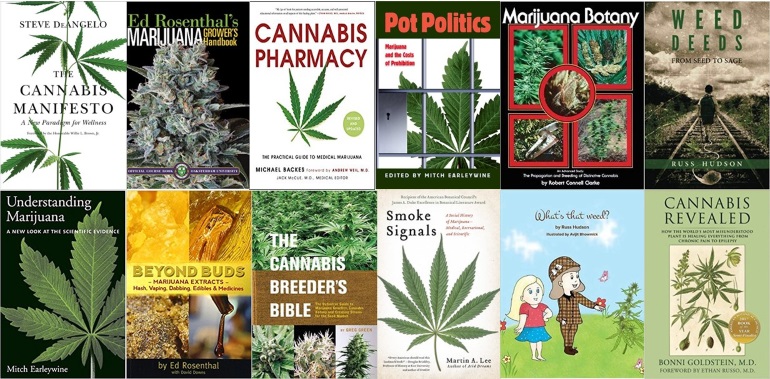 This is our hand-curated selection of the best marijuana books and books about cannabis and hemp in the world.  All of these marijuana books are rated 4.5 Stars or higher, and are considered industry standards of the highest quality.  If you want to add your book about cannabis, or have suggestions for other marijuana books not listed here, please leave us a comment below, or use our contact form to request an addition or supplement.
MARIJUANA BOOKS
Marijuana Grower's Handbook, by Ed Rosenthal
Ed Rosenthal's landmark book, the "Marijuana Grower's Handbook," has been guiding cannabis growers for decades now. His most recent version features an introduction by the infamous Tommy Chong. This text is complete with 500 pages of full-color photographs and illustrations, giving readers all the information they need to safely grow excellent-quality cannabis, regardless of their skill level – both pros and amateurs will benefit from this book.
Beyond Buds: Marijuana Extracts, by Ed Rosenthal and David Downs
If you want to make potent and clean extracts and concentrates, Beyond Buds is an essential book. For this marijuana book, Ed Rosenthal teamed up with cannabis industry journalist David Downs to create the ultimate guide for making cannabis concentrates and extracts. The book includes everything readers need to make top-shelf bubble hash, iceolator, kief, traditional hash, budder, wax, shatter, C02 extractions, RSO, BHO, and more. This book also provides an overview of the tools, equipment, and implements needed to safely produce cannabis extracts.
Ed Rosenthal has been growing marijuana for nearly a half-century and has been involved in activism in the United States. Already recognized as a leader in the cannabis world, Mr. Rosenthal is also on the faculty of Oaksterdam University, and his books and other works are used as education materials for the school.
Pot Politics, by Mitch Earleywine
Pot Politics delves deep into the political games being played in the world of cannabis. From legislation to lobbyists, government players, wide-ranging statistics, media coverage, popular and public opinion, and more, Professor Mitch Earleywine takes the closest look yet at the politics of marijuana and hemp in this must-have marijuana book.
Understanding Marijuana: A New Look at the Scientific Evidence, by Mitch Earleywine
Separate fact from fiction in this book that examines the biological, psychological, and societal impacts that cannabis has had on society. Presenting the most common debates blended with balanced statistics and scientific evidence, Earleywine lets the reader of Understanding Marijuana come to their own conclusions about this plant.
Weed Deeds; From Seed to Sage, by Russ Hudson
Weed Deeds is the wild true story of American cannabis consultant Russ Hudson, who started selling marijuana as a street kid, and eventually worked his way through the black markets to become one of the world's most-known cannabis consultants and tasters. Based in Barcelona, Spain, and Maine, USA, Hudson's journey first as a black-market and then later as a white-market cannabis consultant and broker is an incredible tale of how one man went From Seed to Sage.
What's that Weed, by Russ Hudson
A full-color rhyming children's book about cannabis, What's that Weed? seeks to set the record straight about marijuana. Introducing kids to the many uses of cannabis – including as animal feed, seed stock, for oils, as salad greens, and to treat medical conditions like epilepsy and PTSD – this book features Hudson's own young daughter as the main character.
Russ Hudson is an international cannabis consultant and author, and the editor of MarijuanaGames.org.
The Cannabis Encyclopedia, by Jorge Cervantes
The Cannabis Encyclopedia is Jorge Cervante's biggest and most comprehensive work, and can be used by novices and professionals alike as a sort of "cannabis bible." As one of the world's best-known guerrilla growers, Cervantes has been working with marijuana for more than 40 years, developing trust among some of the most important people in the industry, and establishing himself as one of the most knowledgeable marijuana growers in the world. With this book, readers can tap into that knowledge base to grow and produce their own high-quality cannabis and marijuana products.
https://www.amazon.com/Cannabis-Encyclopedia-Definitive-Cultivation-Consumption/dp/1878823345
Cannabis Pharmacy, by Michael Backes and Andrew Weil
A California cannabis consultant and a specialist in CBD-based medicines wrote this book, "Cannabis Pharmacy," as the definitive guide to using cannabis as medicine. This text educates readers on the endocannabinoid system and how various cannabis preparations interact with it, and teaches readers how to prepare, administer, and control their cannabis-based medicines. This is an essential guide for anyone that uses marijuana as medicine.
Marijuana Botany, by 
Robert Connell Clark
If you're looking to get involved in cannabis breeding and genetics, this marijuana book is a must-have. "Marijuana Botany" seeks to teach readers how to preserve cannabis genetics, and how to propagate specific strains and varieties in order to preserve the particular genetic profiles of medicinal and drug-variety plants. This book is designed for professional researchers, as well as novice botanists or cannabis enthusiasts.
The Cannabis Manifesto, by Steve DeAngelo and Willie L Brown Jr.
The Cannabis Manifesto is Steve DeAngelo's admirable attempt to finally set the record straight about cannabis. In this cannabis book, DeAngelo explains how cannabis myths and lies have infiltrated every part of our society, and what we can do to reset the balance and truth. Founder of what is perhaps the world's most famous cannabis dispensary, Harborside Health Center, DeAngelo is also the creator of the investment and research firm, the Arc View Group. For this compelling book, Steve DeAngelo draws on his decades of experience treating patients at his dispensary in California, and on his experience fighting the US Federal government to repeal marijuana prohibition.
Smoke Signals, by Martin A. Lee
Smoke Signals is the social and historical account of cannabis, told by Martin A Lee – an award-winning investigative journalist. In this book about marijuana, Lee traces the path of cannabis and marijuana through our society, starting thousands of years ago, and culminating in a crescendo of activity around the time that California legalized medical marijuana in 1996 with Prop 215. Martin A Lee writes from his experience as an investigative journalist, but also as the founder of Project CBD; an information service that provides medical data on the use of CBD and other cannabinoids.
Cannabis Revealed, by Bonni Goldstein, MD
In "Cannabis Revealed," Dr. Bonni Goldstein educates readers on the astounding endocannabinoid system, and explains how this system is involved in nearly everything we do as humans. The book then explores 28 medical conditions that can be improved or eliminated by cannabis-based medicines, and provides readers with an overview of how to prepare and use these medicines. Cannabis Revealed blends the stories of Dr. Goldstein's patients in her California cannabis clinic with scientific research and years of clinical application in Goldstein's medical practice.
The Cannabis Breeder's Bible, by Greg Green
The Cannabis Breeder's Bible is not just another "marijuana grower's book." In this cannabis book, Greg Green discusses how to grow specific varieties and strains of cannabis – something that other guides fall short of. This book is especially useful for breeders that work with particular strains and need guidance on the nuances of growing those strains. Starting with pollination and seed development, Greg Green advances the reader from the fundamental basics of breeding, onward through mutations and floral traits.
The Great Cannabis Conspiracy, by Sam Mellace
This is the story of Dr. Sam Mellace, who at one time was licensed to grow more cannabis than any other person in the North American continent.  After a colorful early life, Dr. Mellace eventually turned to cannabis to treat his cancer, prescription drug addiction, and diabetes.  He learned how to grow marijuana and was granted license by British Columbia to cultivate cannabis on a large scale.  In the years since, Mellace has seen first-hand that a great cannabis conspiracy exists.  In this book, Mellace delivers a shocking account of the real powers-that-be behind cannabis prohibition – and legalization.  Are they the same people and powers?  You'll need to get the book to find out for yourself.
https://www.amazon.com/Great-Cannabis-Conspiracy-Sam-Mellace/dp/177317004X/
Marihuana Reconsidered, by Lester Grinspoon, M.D.
Although slightly outdated, Lester Grinspoon's groundbreaking work, Marihuana Reconsidered, is still available for purchase today, and many of its lessons are just as timely.  In this book, Grinspoon, a Harvard-educated psychiatrist, takes a detailed look at the historical and social use of cannabis, delving deep into the biological and psychological effects of it consumption.
https://www.amazon.com/Marihuana-Reconsidered-Grinspoon/dp/0932551130/
Heart of Dankness: Underground Botanists, Outlaw Farmers, and the Race for the Cannabis Cup, by Mark Haskell Smith
An accomplished writer, Mark Haskell Smith delivers a witty and critically-reviewed book about the upper crust of the cannabis world.  Based on his work as a reporter for the Los Angeles Times, Heart of Dankness is one of the funniest but most compelling and enlightening books about marijuana on the market today.  At its heart, this book is about cannabis culture; a movement that is transitioning from underground to out of the closet and into the light.  A story of the people who have a passion for cultivating the world's best cannabis, Heart of Dankness is a special peek into a dimension tinted in green.
The Emperor Wears No Clothes, by Jack Herer
One of the most famous books about marijuana ever written, Jack Herer's The Emperor Wears No Clothes is much-loved in the world of cannabis.  In this important work, Herer details the history of hemp and cannabis, and examines how big oil and the pharmaceutical industry colluded to ensure that cannabis became – and stayed – illegal.  Featuring dozens of images, documents, and other graphics, Jack Herer's book is the early definitive guide to the social and historical consequences of marijuana prohibition.  Now deceased, Herer is considered a legend by even the greats of the cannabis industry, and his work in the field will resound with enthusiasts and professionals for years to come.
https://www.amazon.com/Emperor-Wears-Clothes-Marijuana-Conspiracy/dp/1878125028/