Maine medical cannabis caregiver Jillian Pelletier-Litovsky specializes in helping women find relief from troubling medical and psychological conditions. Her company, Virgo Moon Botanicals, manufactures CBD, Kratom, and other alternative remedies in Mechanic Falls, Maine. This article explores Jillian's expertise with hemp-derived CBD, her work with women, and her important role as a woman in the cannabis industry in Maine.
Jillian Pelletier-Litovsky: Beginnings
Unlike most interviewees this author has spoken with, Jillian is one of the rare few whose beginnings are not rooted in the black market for cannabis. But this doesn't mean that she doesn't have extensive personal experience with marijuana. Twenty years ago, Jillian was smoking weed that she and a friend would steal from her friend's father's underwear drawer. The early days for Jillian were like any other normal cannabis-friendly kid; she'd smoke when she could get it, and then went dry for long periods in between.
But Jillian's home life wasn't great. She desperately wanted to escape what she saw early-on was a bad environment, and she began to feel that marijuana would slow her down – back then, penalties just for getting caught with a joint were severe. So, Jillian stopped using cannabis for years, until a knee injury at age 21 sent her back to "the joint," and at the suggestion of her then-boyfriend, she started to use cannabis regularly to treat the pain and inflammation in her permanently damaged knee. After all, the low-dose Vicodin doctors had prescribed her just wasn't enough, even though she took this medication for the next 10 years, concurrently with cannabis. Asked if she was addicted to the opiates, she said;
Yes, but thankfully the dosage was so low that it didn't ruin my life.
Jillian Pelletier-Litovsky: Early Days of Cannabis Work
Fast-forward to 2014, and we find Jillian living in Bangkok, Thailand, teaching English. At the time, she'd been making products to treat various ailments, particularly creams and salves to treat a skin condition and arthritis, which both appeared early in this woman's life. Jillian's husband suggested adding cannabis to the products she made, and that set the gears in motion for her to make the shift to cannabis. Not long after, the pair decided to move to the United States to become medical marijuana caregivers, and that's exactly what they did.
Initially, Jillian took over the cultivation operations of a Maine caregiver that was "retiring." Despite her lack of experience, the first crop she grew was a success, which gave her the confidence needed to push forward rapidly, and that's how Virgo Moon Botanicals was born.
Virgo Moon Botanicals
Jillian Pelletier-Litovsky named her company "Virgo Moon Botanicals" because both she and her brother were born under the Virgo Moon of the traditional Zodiac calendar. Jillian is a devout follower of the Zodiac and related celestial alignments; in fact, her Mechanic Falls cannabis apothecary offers Tarot and Zodiac readings and consultations to clients, most of whom are women.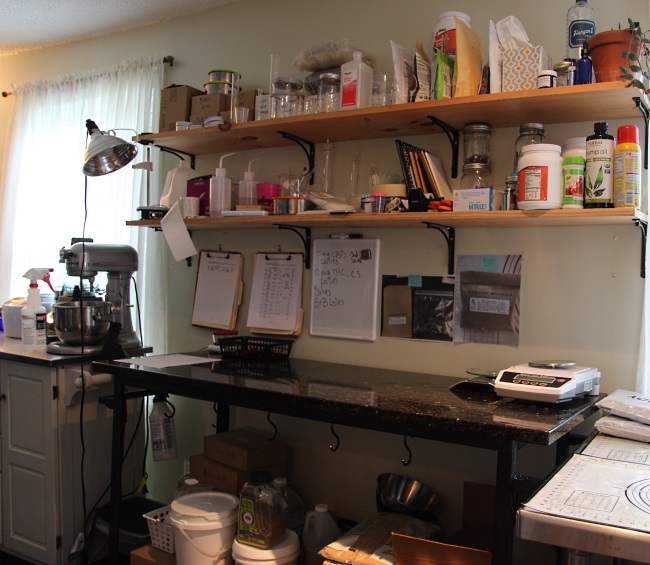 Always fascinated by potions and elixirs as a child, Jillian took that love to the next logical level. She developed and has neatly packaged cannabis-infused products like toners, creams, salves, body oils, shampoos, conditioners, personal lubricants, and – of course – cured raw flower and cannabis oil. At Virgo Moon you can also find CBD suppositories, Kratom supplements, infused lollipops and other edibles like caramels and CBD cube-candy, and more. Jillian's signature product – and one that is close to her heart – is "Jordy's Suckers;" 10mg CBD lollipops that she developed after a close cousin died of a Fentanyl overdose in 2015. Both Jillian and her husband believe that CBD is a valuable harm reduction tool in the fight against opiate addiction, which is a massive and deadly problem in Maine.
Jillian's research and development protocols are selfless; she tests all products on herself. Fortunately, this woman's background is rooted in science; she earned a double-major in Biotechnology and Biomedical Science. Somehow, Jillian has found a way to blend her scientific practices with her spiritual beliefs – a task that too many people fail at.
Virgo Moon Botanicals is situated inside a small building in Mechanic Falls, Maine. Once inside, the place looks like a traditional apothecary; raw ingredients, elixirs, bases, and rows of glass jars and scales and mixing equipment greet each visitor. There's a lot of it, but it's clean and neatly arranged. One gets the feeling of being in the presence of a uber-modern, professional witch; it's clear that this woman can concoct virtually anything needed to cure whatever ails you.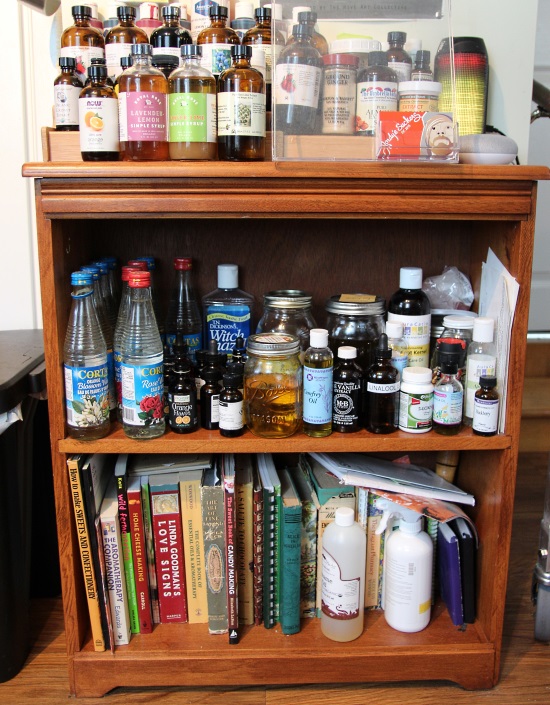 Impressively, Jillian's marketing skills are also excellent. One product line is catchy; the "Hello" and "Goodbye" series of cannabis products. For instance, there's "Hello Love," a CBD-infused personal lubricant, which is meant to add a little fun and/or assistance in the bedroom. "Goodbye Pain," a THC-infused salve, is meant to ease the pains of arthritis and joint injuries, reduce swelling, and even treat the terrible neuropathy suffered by many cancer patients. "Hello Relief," which are 25mg CBD suppositories, are also included in this product line, and are meant to help people who cannot stomach medicine orally.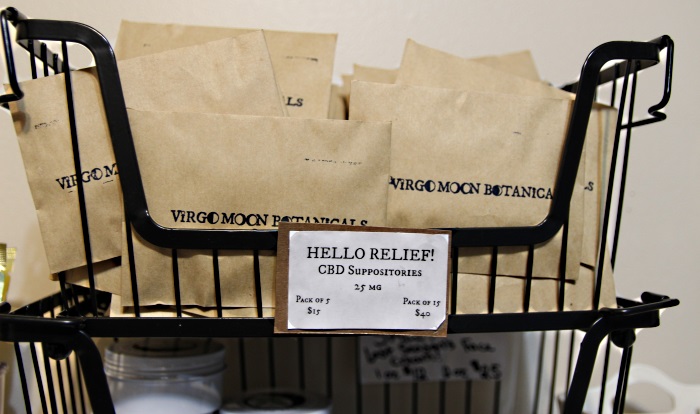 A Path that Chose her: Helping Women with Cannabis
She didn't plan things this way, but most of Jillian's patients are women (she does have one male patient and is open to others). Inside her Mechanic Falls cannabis caregiver center and apothecary, Jillian helps women review their lifestyle, makes suggestions for beneficial changes, and recommends products to treat specific ailments. Here, women can come to discuss and get help for things that other women will more easily understand. For instance, in Jillian's case, she has slipped discs in her back and neck, caused mostly by the fact that her breasts are very large, and aggravated by various injuries. Other women can relate to this and similar health issues that primarily affect women.
For example, Jillian often guides women to discover the true sources of their illness. Because many women are overstressed and overworked, they often suffer from painful stress-related intestinal, urinary, and reproductive issues as a direct result of their lifestyle. Jillian first seeks to address lifestyle changes, and then works with the women to dispense or even create a cannabis, kratom, or other herbal product to help ease their pain and suffering.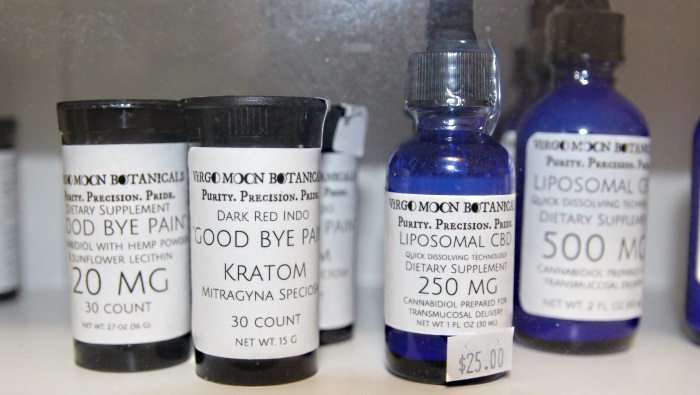 To further help women, Jillian founded Maine's Ganja Girl Gang; a group for women who work with and/or consume cannabis. This group discusses and works to find solutions for women who are ostracized, marginalized, or otherwise live in fear because of their cannabis associations. Jillian hopes that the group and others like it can finally normalize cannabis for women to the point where women are no longer afraid to acquire and safely consume cannabis products, or to get involved in the cannabis industry professionally.
The Future for Jillian Pelletier-Litovsky
Jillian isn't just a Maine marijuana caregiver; she's also a patient. This means that her work with Virgo Moon Botanicals is both personal and professional. As a woman, she understands the needs of other women, and as a scientist, she can meet those needs head-on with carefully crafted cannabis and other products. Over the next few years, Jillian intends to continue to develop more products, and, eventually, to expand her operations so that she can help more people, more easily. Here's to hoping that Jillian will remain one of our great Maine women in cannabis long into the future.
Do you know Jillian Pelletier-Litovsky? Have you worked with her or had other cannabis-related experiences with her? Have you visited Virgo Moon Botanicals or used the company's products? Let us know your thoughts in the comments section below!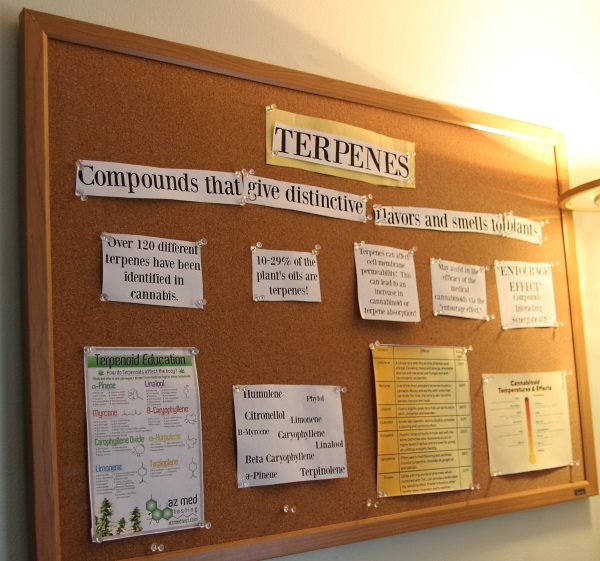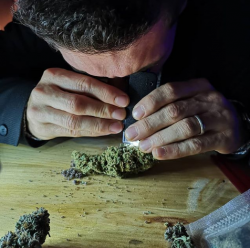 Latest posts by Russ Hudson
(see all)