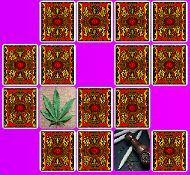 RULES FOR STONED MEMORY:
Here's how Stoned Memory works: FIRST and most IMPORTANT, leave your cursor on the active screen. Or better yet, leave your cursor somewhere in the game screen.
This marijuana game is just like traditional memory, but with cannabis!  Sweet, right?  Each turn the active player or team gets three attempts to match pairs of images.  Failed attempts require smoking as a penance.  The first team to clear their entire board wins!  Simple, right?  And it's totally free.  😉  Enjoy!
***If you are using a mobile device, smartphone or tablet, you may not be able to see the game above.  To play, you will need to download a version of Flash player that will work for your device.  Go to your favorite app store and type "flash player" in the search bar, then download the appropriate app for your device.***
---
Want to play some different online marijuana games?