Paris Mato is a cannabis extracts maker based in Barcelona, Spain. His tiny but wide-reaching company, Judas Iscariote, has become the largest producer of marijuana extracts in Catalunya in just three short years. Mato's creations can be found inside more than 50 private cannabis clubs in Spain and include marijuana tinctures, creams and salves, personal lubricants, E-cigarette cartridges and more.
How it All Got Started
The first time Paris Mato made an extract, he produced 1 kilogram of cannabutter. At the time, Mato had friends who owned a coffeeshop; they treated him to a huge bag of marijuana trimmings, which Mato used to create a massive amount of cannabutter. This cannabutter was then used in cookies, brownies, pies, pasta and other standard food dishes, with most items given away to friends or used in cannabutter parties.
That yield of 1 kg of cannabutter set Mato down the road to edibles production at the age of 25. Said Mato;
I felt so compelled, so moved by the transformation of cannabis into something that allowed me to get high without smoking anything.
For the next several years, Mato experimented with edibles and other extracts, eventually developing a recipe for a cannabis cream. The cream was originally designed to treat Mato's grandmother, who suffered from debilitating arthritis in her hands. As it turned out, Mato's cannabis cream, called Crema Mano de Santo in Spanish, worked so well that other people started asking for the product; mostly friends and family at first, but then word grew and with it the demand for this cannabis-infused cream.
By age 30, Paris Mato had perfected his first working product in Crema Mano de Santo.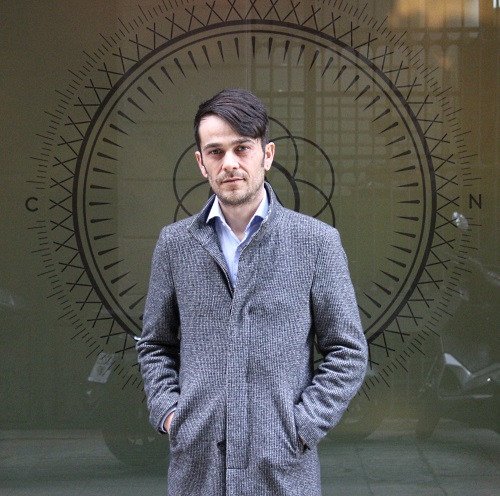 Professional Sales & Production
Over the next eight years, Mato researched and began development on several other marijuana extractions, while carefully watching the growth of Catalunya's cannabis club industry. By 2014, private cannabis associations abounded in the semi-autonomous region surrounding Barcelona. Mato landed his first deal with the infamous (but now defunct) La Mesa cannabis club, which designed a special glass case to feature Mato's two primary products; Crema Mano de Santo and an alcohol-based tincture called Green Dragon.
This author began using Mato's tincture to help cancer patients relieve symptoms of chemotherapy and other side effects of traditional cancer treatment. The effects of the tincture were noticeable; cancer patients that I worked with who were once sullen, exhausted and in constant pain could eat, sleep, smile and live a somewhat normal life again while taking Mato's Green Dragon tincture.
By early 2017, Paris Mato had made his brand, Judas Iscariote, into a household name among Spain's cannabis clubs.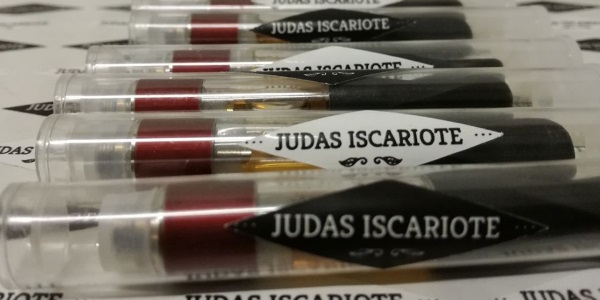 Philosophy
But Mato hasn't let his success go to his head; he's one of the humblest of Spain's cavalcade of cannabis professionals and, despite his work with extracts, believes strongly in Whole Plant Medicine.
I think this idea and this practice of isolating specific parts of cannabis – or any plant for that matter – isn't a good idea.
However, Mato also makes it clear that his products are intended for recreational use, even though many people use them for medicinal purposes.
I'm not a doctor and I don't give medical advice.
Mato said matter-of-factly during a recent interview at Circulo cannabis club.
Cannabis is different for everyone and it is up to each person – and their doctor if necessary – to discover what [marijuana product] works best for them.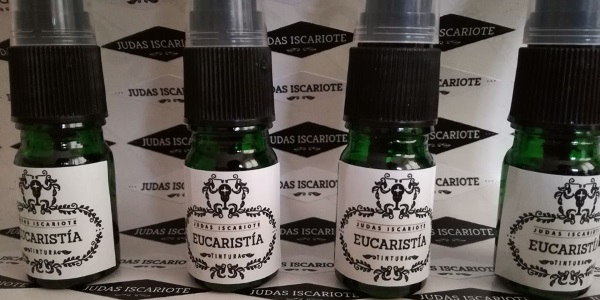 Products
Products currently in the Judas Iscariote lineup include:
Alcohol Based Tinctures, Three Types: Indica, Sativa or CBD
Crema Mano de Santo – Infused Cannabis Cream (100% Organic)
Maria Magdelena – Personal Vaginal Lubricant (Made with organic oil)
Sublingual Spray (Made with Absinthe)
E-Cigarette Cartridges (Made with distillate of THC and lemon terpenes from Israel)
The Future
When asked about the future, the maker of Judas Iscariote products was characteristically cautious.
I'm not sure about the future [of the cannabis industry] because I think the industry itself is unsure. But eventually, I want to see my products helping people in every legal cannabis market in the world.
Those are strong ambitions for a humble man.
Have you tried Judas Iscariote cannabis extract products or dealt with Paris Mato professionally? Let us know about your experience in the comments section below!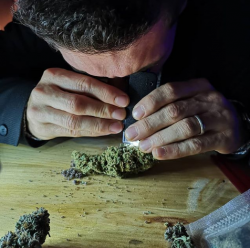 Latest posts by Russ Hudson
(see all)