Crema Mano de Santo is a cannabis-infused cream made by the Judas Iscariote extracts company in Barcelona, Spain. A true medicated cannabis cream, Crema Mano de Santo was developed for numerous uses thanks to its analgesic, antiseptic, anti-inflammatory and other properties. Currently distributed only at private cannabis clubs in Barcelona and Madrid, this cream will soon be available all over Spain, with plans to offer Crema Mano de Santo in Germany and the United States as legal markets there open.
Marijuana Product Review Rating for Crema Mano de Santo: 5 of 5 Stars!
[author-post-rating]
Crema Mano de Santo – History
Crema Mano de Santo is made by Paris Mato, a Spanish cannabis consultant based in Barcelona. Paris heads the Judas Iscariote extracts company, which hand-makes cannabis tinctures, salves, lubricants, massage oils, creams and more.
I've worked with Paris frequently and know him to be quiet, respectful and extremely intelligent. Paris and Judas Iscariote are demanding of exceptionally high quality materials, practices, processes and components. I have personally tried several of Paris' products and have helped many people – including foreign cancer patients – acquire and learn how to properly use products like Green Dragon Tincture and of course Crema Mano de Santo.
Paris is well-respected in the cannabis industry in Spain, and there's hardly anyone I have worked with in Spain that doesn't know him. He travels frequently but spends most of his time in Spain's various cannabis clubs – especially in Barcelona – and if you're lucky you'll meet him there and can talk to him first-hand about his products.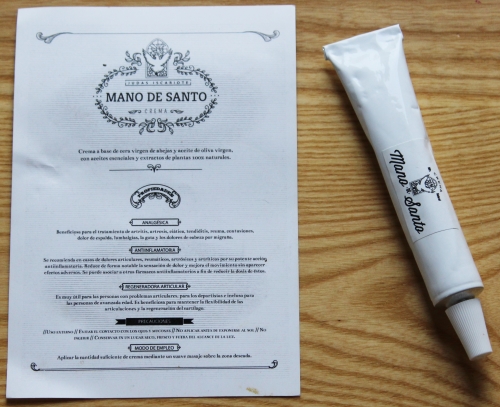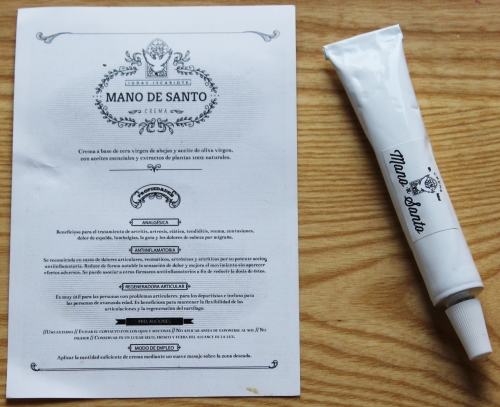 Crema Mano de Santo – Form
Crema Mano de Santo cannabis cream is made from simple, completely organic ingredients. The active ingredient – cannabis – comes in the form of BHO that has been professionally extracted using a closed loop system. The BHO is then used to make Judas Iscariote's famous tincture. The tincture is then used to active the cream. This primary active ingredient is blended with other oils and natural extractions to create the final product, including sesame oil, devil's claw, Saint John's Wort and a secret ingredient that Paris won't reveal.
Cream Mano de Santo comes in a standard aluminum tube with a simple label attached to the side. Documentation and instructions for use come as a tasteful separate leaflet. The cream is slightly firm, especially when cold, but still spreads nicely over skin. The aroma is mint of some sort – peppermint or even wintergreen – or it could be the secret ingredient. Either way, it's quite pleasant, and this opinion is coming from someone who normally buys or makes everything unscented.
Crema Mano de Santo – Function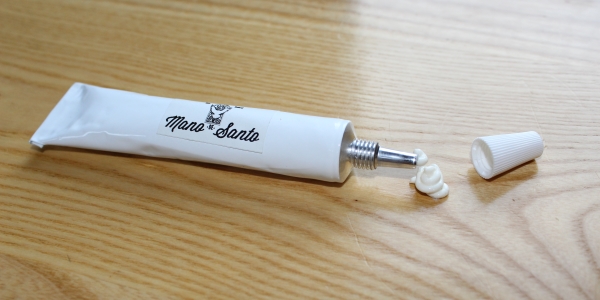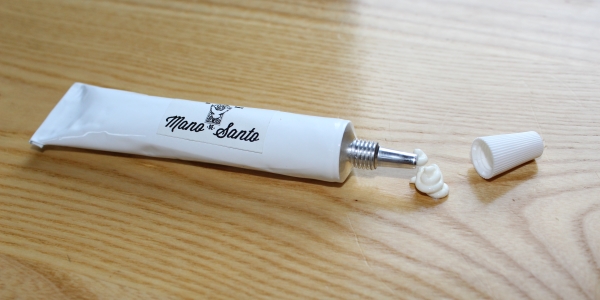 The most incredible thing about this product is that it works.
I have sampled and reviewed many cannabis-based edibles, tinctures, creams and salves, but few of these work for me. The cream is different; it's extremely fast-acting and applies smoothly, just like any other cream or lotion you'd buy in a pharmacy. Within 60-120 seconds of rubbing the cream in to an affected area, pain relief begins at the skin surface and then quickly sinks down to numb pain in the tissues, muscles and even joint.
I suffer from severe, persistent pain in my left elbow and a knuckle on my left hand. This is the result of years of banging away at typewriters and then later computers, as well as thousands of hours abusing my left arm playing guitar. I've tried many products to alleviate this pain, but so far Cream Mano de Santo is the only thing that offers relief.
3-4 minutes after application, the pain in both my finger and my elbow disappeared and was replaced with a pleasant numbing sensation. The range of movement in my elbow returned without pain, and I could shred on the guitar (just kidding, I suck!) without any achy hesitations that often accompany the first 15-20 minutes of playing. These effects were repeated with multiple applications over several days.
After achieving good results with the cream on myself, I gave about 2/3 of a tube to my friend J, who recently had back surgery to remove a years-old cyst that had been pressing on his spine and nerves, causing him severe pain and restriction of movement. According to him, the cream worked immediately to alleviate the pain and provided him with significant relief as he recovered from his surgery.
The timing of the effects offered by Crema Mano de Santo is short-acting and, unfortunately, short-duration. This means that while the product does offer instant relief for even occasional users, the medicine is designed to be taken on a regular basis for the beneficial cannabinoids to build up in the blood stream. With regular use, the effects last much longer.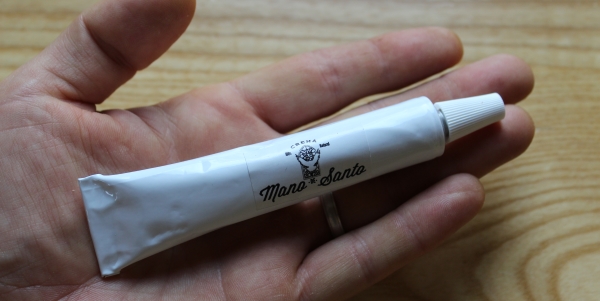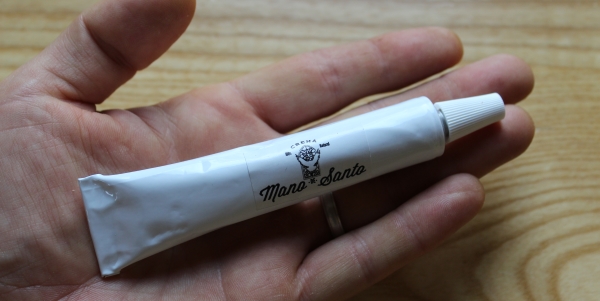 Crema Mano de Santo – Customer Service
In the extremely unlikely event that you encounter a problem with Crema Mano de Santo or any other products in the Judas Iscariote product line, you can rest assured that you'll receive immediate and energetic customer service from Paris himself, or one of his lovely assistants. However, after working with Paris for several years and working with virtually the same clients in Spain, I have never heard a single complaint. In fact, the reports that I get from club Boards, consultants, attorneys, cancer patients, club members and others all resoundingly support Paris and his work, earning Judas Iscariote products like Crema Mano de Santo an excellent reputation in Spain.
Conclusion
Crema Mano de Santo infused cannabis cream is available mostly at private cannabis associations in Barcelona and Madrid, but there are several smaller cities in Spain where you can find this cream and other Judas Iscariote products. I highly recommend this cream for mild to moderate joint, tissue and muscle pain, as well as for the treatment of various skin ailments. In the coming years, I expect to see this product in other markets around the world and I look forward to the time when I can walk into a pharmacy and buy it off the shelf.
Have you tried Crema Mano de Santo? How did it work for you? Let us know in the comments section below!
Marijuana Product Review Rating for Crema Mano de Santo: 5 of 5 Stars!
[author-post-rating]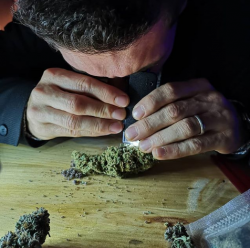 Latest posts by Russ Hudson
(see all)