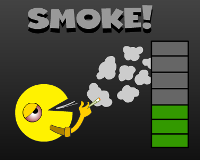 RULES FOR STONED PACMAN:
Here's how Stoned Pacman works: FIRST and most IMPORTANT, leave your cursor on the active screen. Or better yet, leave your cursor somewhere in the game screen.
This weed game plays just like the original arcade version, but instead of eating pellets you have to eat a lot of pot.  There are also some bongs, joints and munchies to go after while you try to avoid being killed by the bad guys.  And just who are those bad guys?  Why none other than the much-feared ghost cops, ghost bouncers and the ever-nagging Mrs. Pacman.
You might think this marijuana game is pretty easy, but by the time you get to level 6 you'll probably be too baked to win the game. In fact, even if you don't smoke weed, Stoned Pacman is a challenging game, so good luck!
***If you are using a mobile device, smartphone or tablet, you may not be able to see the game above.  To play, you will need to download a version of Flash player that will work for your device.  Go to your favorite app store and type "flash player" in the search bar, then download the appropriate app for your device.***
---
Want to play some different online marijuana games?