If you're looking for things to do after smoking weed in Barcelona, then consider this your definitive stoner's guide to the city. With relaxed attitudes toward cannabis, gorgeous weather, tons of beautiful people, and some of the most fascinating architecture and night life in the world, there's plenty to do in the capital of Catalunya. The following are the top 15 best things to do after smoking weed in Barcelona.
---
What to Do After Smoking Weed in Barcelona
---
Go to the Beaches of Barceloneta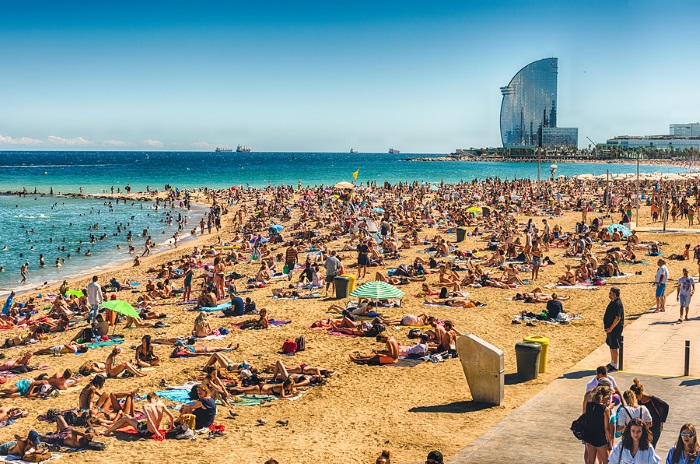 Barcelona is well-known for its sunny and clean beaches, which are in the neighborhood called Barceloneta. This is one of the best places to smoke weed in Barcelona, but you should be discreet. Sit on the beach, enjoy the sun and waves, and puff some of the best weed in Barcelona, all in relative safety. You won't get more than a fine if you get caught with marijuana in Barcelona, so you can relax and recreate in peace, just keep it away from families and children.
Rent a Bike, Scooter, Bike-car, or Powered Skateboard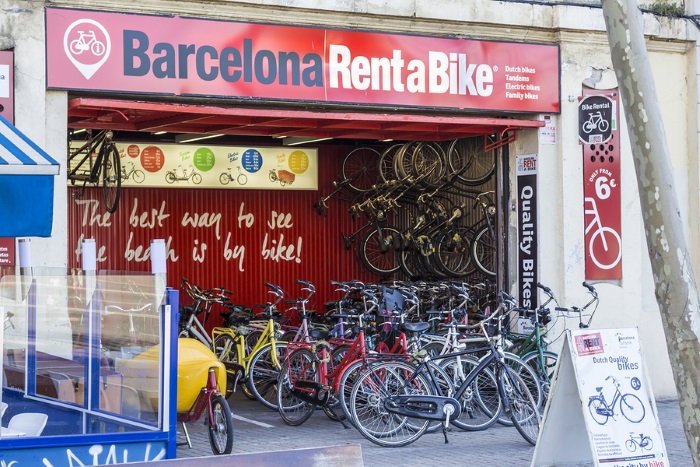 Barcelona can be a little hard to push through on the sidewalks, but on a bike, scooter, bike-car, or powered skateboard, you can avoid all that foot traffic and explore the city on your own, while zooming along the streets. There are bike rental places all over Barcelona, and most of them have much more than just bikes that you can rent. Just remember to stay off the sidewalks and stay out of the way of buses!
Explore Las Ramblas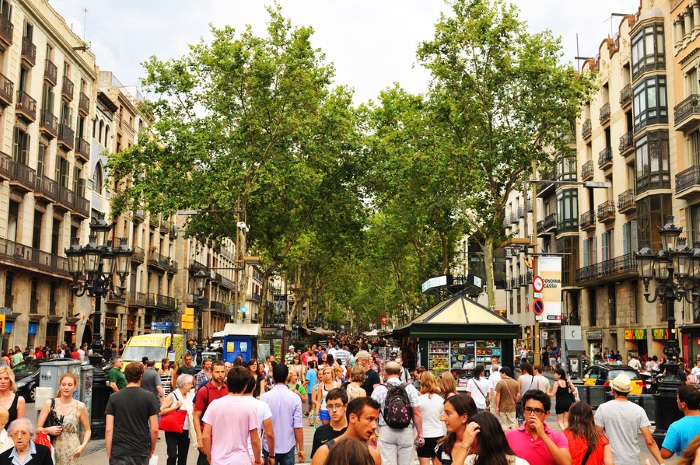 Las Ramblas is two one-way streets – one running north toward Placa Catalunya, and the other going south to the Columbus Monument. In the middle of these two streets is a massive pedestrian area, where you can find all manner of shops, from places to get ice cream, to flower shops, newsstands, and of course, plenty of counterfeiters. There are also many bars, restaurants, and night clubs on the sidewalks of Las Ramblas, and you can find just about anything you're looking for here; including trouble. Cuidado! It's extremely busy here, so don't smoke while walking down the thoroughfare, but if you've just smoked weed in Barcelona and you're looking for some action, Las Ramblas is where you're going to find it.
Explore La Boqueria Market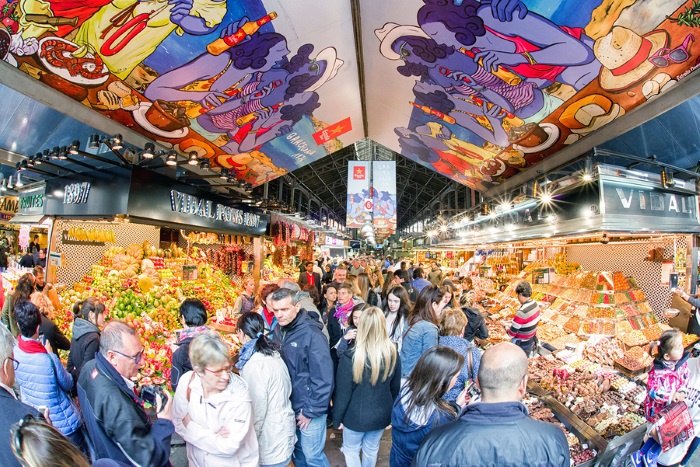 Located approximately in the center of Las Ramblas, La Boqueria market is a massive semi-outdoor market where thousands of varieties of fresh seafood, meats, fruits, and vegetables can be found. This place is packed with people, so it's also worth it to go here just to people-watch. But if you're looking for something to do after smoking weed in Barcelona, and you have the munchies for the freshest, crispest foods in the city, La Boqueria is where you want to go.
Visit one of Barcelona's World-Class Parks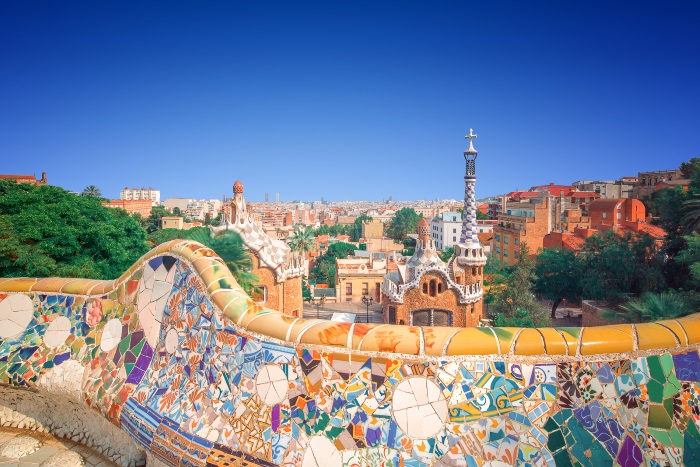 Barcelona has some of the best city parks in the world. From Parc Ciutadella to Parc Guinardo to Gaudi's Parc Guell, you could spend days just exploring the parks of Barcelona, and you'd still not explore them all, nor would you be able to explore all their many facets and secret areas. In these parks you can find street performers, quiet places to nap or read a book, wonderful landscaping, rich wildlife, blossoming public fruit trees, drum circles, and of course, plenty of cool locals and visitors to hang out with after smoking weed in Barcelona. Just make sure you use discretion when smoking in the big parks like Guell and Ciutadella, as undercover police do sometimes try to bust people in these areas.
Go to the Barcelona Hash, Hemp, & Marihuana Museum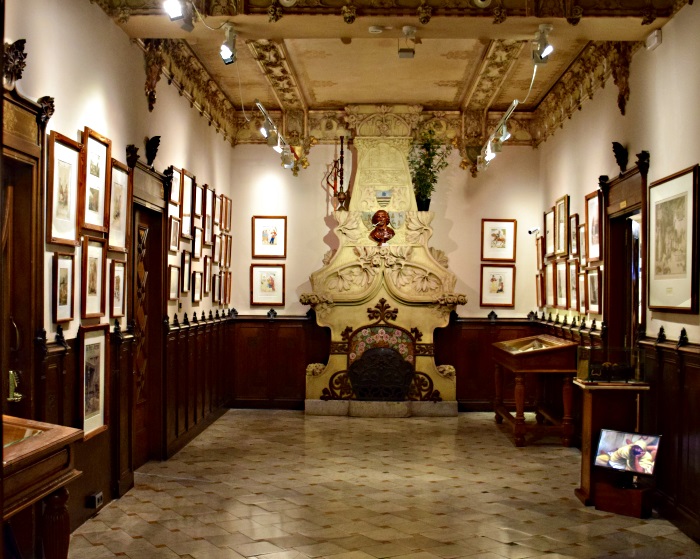 A virtual carbon-copy of the museum of the same name in Amsterdam, the Barcelona Hash, Hemp, and Marihuana Museum is located inside a beautiful old building in the city's Gothic Quarter or El Gotico. Here you can learn about the rich history of mankind and cannabis, and see artefacts and documents from a time when cannabis was a normal part of life. You can also attend some talks here from time to time, and you can see live cannabis plants being grown under special lights.
Join a Barcelona Cannabis Social Club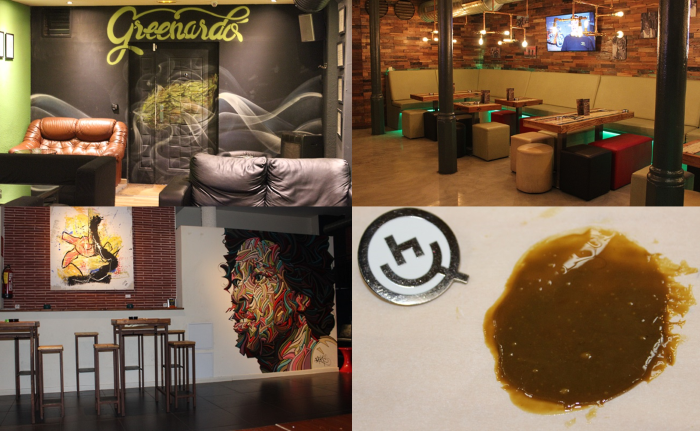 If you're not a member of one already, one of the best things to do after smoking weed in Barcelona is to visit one of the city's many private cannabis social clubs. More than just places to get marijuana in Barcelona, these clubs offer an excellent opportunity to experience the true social nature of the CSC model, and enjoy the benefits, entertainment, facilities, and much more that these clubs offer their members. If you want to join one of these clubs, just click the link below and I'll be happy to sponsor you, free of charge:
---
Want to Join a Barcelona Cannabis Club? Click here to apply for membership now
---
Skateboard!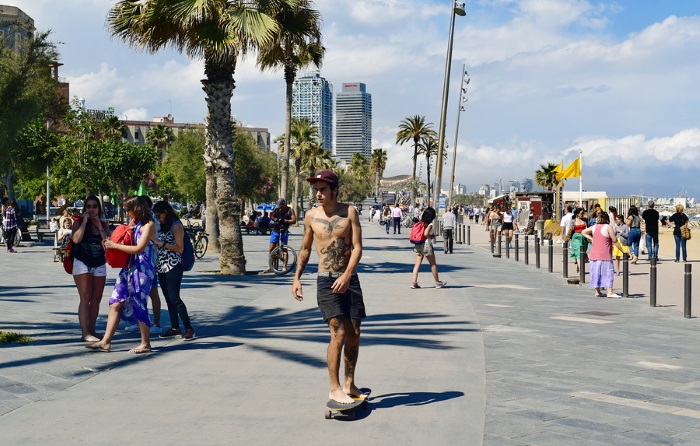 Barcelona is a city for skateboarders. You'll see people 'boarding in nearly every park in the city, on most streets, and on the boardwalks along the beach from Barceloneta all the way to El Masnou (a small city just to the north of Barcelona, along the coast). There are also plenty of skateboard shops here, so you can get all the gear you need, including used boards and supplies. Just beware; traffic in Barcelona is un poco loco, so exercise caution!
Go to a Barcelona Night Club
Looking for some nightlife after smoking weed in Barcelona? No problem – this sunny Spanish city has you covered. From the famous La Macarena club in the center of El Gotico, to Shoko club along the beach, and the crowded Opium club that doesn't even open until after midnight, there's no shortage of cool nightclubs for you to hang out in while in Catalonia's capital city.
Visit the Infamous Sagrada Familia
Many people will tell you that if you visit Barcelona without going to see the Sagrada Familia church, then you missed a huge part of what makes the city special. Even if you're an atheist, you'll be in awe by the sheer grandiosity of this massive church and worship center. There's a park with a pond right across the street where you can chill out and get some great photographs, or you can pay the entrance fee (usually 18-20 Euro per person) and see the inside of the building, which is equally as impressive as the façade, which is so full of…of…architectural STUFF, that you'll feel like the building might be actively melting. Sagrada Familia is a hell of an experience after smoking weed in Barcelona.
Chill in the Gardens and Castle of Montjuic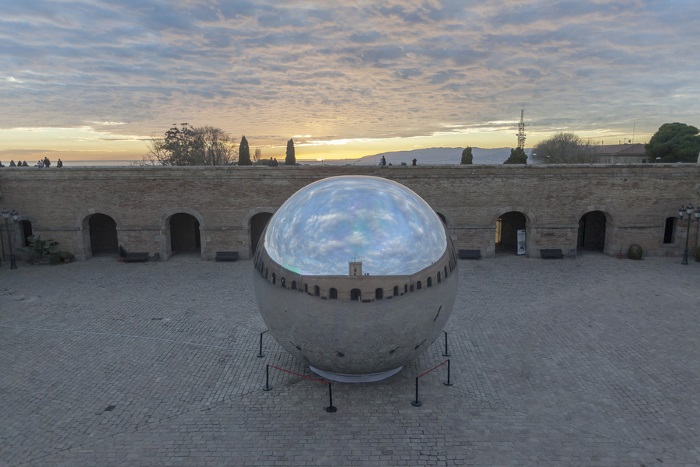 Montjuic – a small mountain and castle in the center of Barcelona – is so full of cool places to hang out that you could spend an entire day there getting delightfully lost in all the beauty. From weird sculptures to dozens of secluded gardens, botanical areas and preserves, miles of paved and cobblestone pathways, and a majestic ancient castle, there's a lot to take in at Montjuic. From the top of the castle courtyard area, you can also get some impressive views of the city sweeping south to the ocean and north to the mountains.
Get Freaky at the Apollo Theatre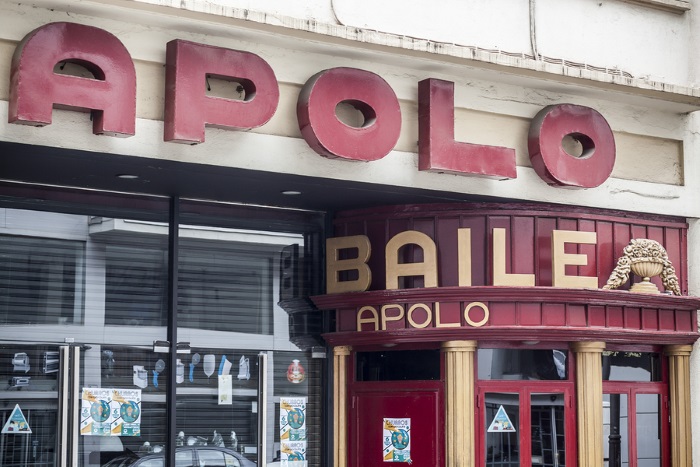 La Sala Apolo is located right in the heart of El Raval, on Nou de la Rambla. This place hosts freaky ballets, comedy club nights, sketches, plays, and more, all with a twist that can only be described as…strange. Even walking by this place is fun, as there's no shortage of interesting characters milling about here at night. You should probably get tickets in advance when possible, but it may be worth it to just walk in after smoking weed in Barcelona.
Group Night Bike Ride
There are a few bicycle clubs in Barcelona that offer large-group night rides in the city (for free). For instance, on Wednesday nights, a large group of people will gather at Barceloneta Bikes on Carrer de l'Atlantida. This group then rides around the city for a couple of hours, stopping at one point for a beer or two, and also stopping occasionally at some of Barcelona's coolest places to chat and let the rest of the group catch up before heading on. You can inquire at Barceloneta Bikes for more information about this, and to get connected to the cycling community in Barcelona.
Go to the Barcelona Zoo & Aquarium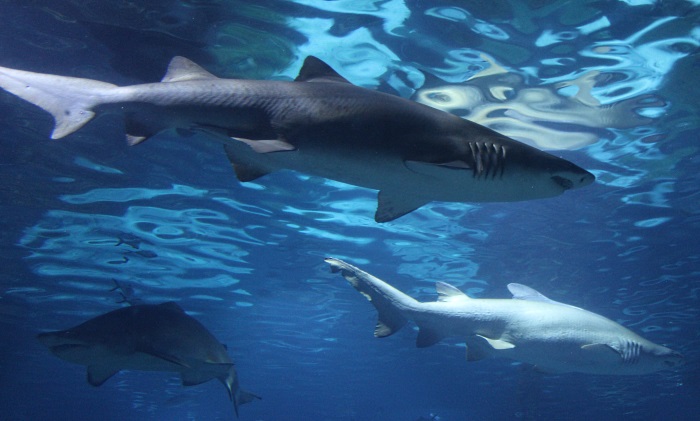 The zoo and aquarium in Barcelona are world-class. I don't personally care much for places like this, but if you do, you'll be in for a treat, as they're extremely well-designed and have animals and sea creatures of nearly every variety. The zoo is located directly inside Parc Ciutadella, and the aquarium is across a small channel in Barceloneta – both perfect places to check out after smoking weed in Barcelona.
Take the Trip to Montserrat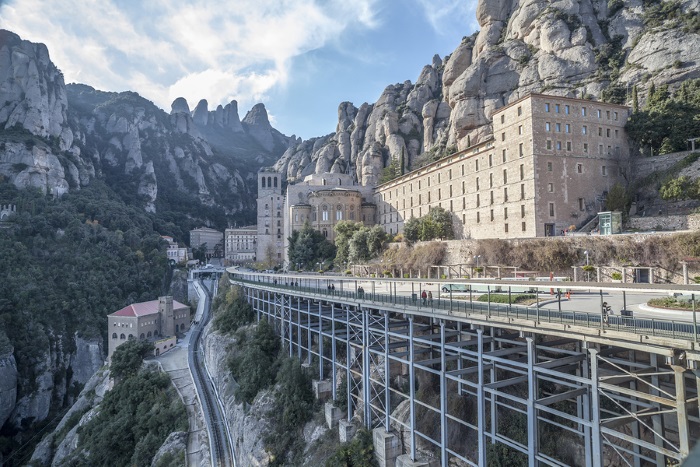 Okay, so this isn't technically inside of the city, but this place is a must-see if you're looking for awesome things to do after smoking weed in Barcelona. Montserrat – meaning "sawlike mountain" – is situated high in the peaks of a Catalan mountain range about one hour outside of the city. You can take a bus, train, or taxi/Lyft/Uber to get there, or better yet, just rent a car. Montserrat features oddly-shaped peaks that look strikingly like people, but the main attraction is the Benedictine Abbey called Santa Maria de Montserrat, a beautiful stone structure that some people think once housed (or does house) the much-fabled Holy Grail.
Conclusion
These are just 15 of the best things to do after getting high in Barna (not Barca, that's the name of the football team here, "Barna" is Barcelona's nickname), but the city certainly hosts much more for its stoners. What are some of your favorite things to do after smoking weed in Barcelona? Have some things to share that aren't on this list? We publish comments below, so help tell other weed-friendly people what they might like to do while getting stoned in Barcelona.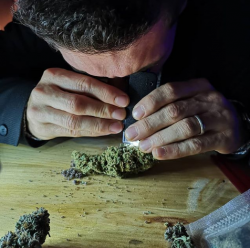 Latest posts by Russ Hudson
(see all)