Cannabis clubs in Barcelona could take a few lessons from Club Fum; from custom bicycle parking stations to recycling programs for members to mini-theatre performances, Club Fum is setting itself apart as a leader among cannabis associations in the capital of Catalonia. And if you're tired of smoking the same old thing at other Barcelona weed clubs, only Club Fum specializes exclusively in proprietary Italian strains and genetics.
Barcelona Cannabis Club Review for Club Fum: 5 of 5 Stars!
(This is a preliminary application process; not all who apply will qualify for membership based on Spanish law and club policy. Application for membership is general and is not necessarily applied to any particular club unless the applicant fully qualifies.)
Club Fum: History and Overview
Near the beautiful Parc Ciutadella in central Barcelona is a historically industrial neighborhood. Many of the unique buildings in this now bustling residential area retain their fascinating industrial features. One such building houses Club Fum; a sleek and stylish cannabis association with a great circle of members.
Originally a wood-flooring factory, the building sat empty and derelict for 10 years before being purchased by Catalan owners for use as a cannabis club. The club first opened in 2012 and quickly developed a strong core membership. Later, when the original owners faced challenges that threatened the club, a few original association members; a group of Italian friends, stepped up to take ownership. These new owners used their distinct ideas to create the club that exists today.
Club Fum: Environment
Club Fum occupies what can only be described as a vast space; it boasts the largest square footage of any cannabis association I have visited in Barcelona. Featuring a frosted-glass back wall which allows plenty of natural light during the day, a beautiful multi-wood theme running all throughout the club, exposed brick, industrial features and candlelit accents: Club Fum feels more like a chic New York yoga studio than a private cannabis association. Yet despite the size and minimalist aesthetic, no part of the club ever feels empty. Clusters of people are always scattered around, engaged in various activities: playing pool or ping-pong, watching movies or studying. Heavy, wooden coffee tables sit at the center of circles of leather furniture, allowing for large groups of people and fostering natural conversation.
"Where are you from?" comes the common icebreaker from the couch opposite.
"Washington, DC"
"Really? I'm American too—Miami," pipes up a guy sitting in the adjacent ring of furniture.
I am subsequently introduced to the dozen or so people sitting around the two tables, a mix of various countries and backgrounds. You get the impression the members themselves have a sense of pride about their club and its inclusivity. Much of the information I learned about the club was volunteered by various members I met; happily praising the social scene and positively ranking their cannabis against other well-known weed clubs in Barcelona, as well as personally inviting me to various upcoming events.
Club Fum: Events and Accessories
"Have you met the artist?" one of my already-friends asks me; introducing me to the man to his left; he had caught me looking at a photography exhibition spanning the entirety of one wall. The series of photographs depicted patterns of human movement in cities around the world.
"Yes, the Grand Opening is on Friday— you should come!" the artist invites me.
Every month, the club changes the exhibition on this wall to feature different artists from across Spain. My new friend also tells me about live performances featured at the club: 'Theatre for One', he says. The club's downstairs space is used to bring individual members to create a personalized immersive performance. (I studied theatre, and am fascinated as he is describing this)
The music in the background is easy listening; light rock, songs you know the words to. No heavy techno or gangster rap here, my friend assures me. Many well-known local DJs, especially those with connections to the cannabis community, have made appearances. A raised platform near the entrance serves as a small books and games library with all the cannabis club staples: cannabis publications, an assortment of books, cards, dominoes, backgammon and a beautiful small glass chess set, as well as a classical guitar. In front of the frosted-glass wall is a popular pool table, complete with cannabis-leaf cues. In the equally large downstairs space there is a ping-pong table, larger DJ booth, more books and magazines, a full-size movie screen and projector, and smaller sports screen.
I also happily noticed the recycling bins provided for members (take note, all other marijuana clubs in Barcelona!) and the art in the bathroom matching this month's exhibition, adding continuity throughout the club and drawing attention to the exhibit.
Club Fum: Staff
"…I wasn't sure how many water to put…wait – it's how many, or how much?" a staff member endearingly asks me to correct her English.
"How much," I smile.
Equally as welcoming as the members, the staff at Club Fum have mastered the delicate balance of work and socializing required of cannabis association employees. Always casual and talkative when dealing with members; they don't make you feel like you are being served as a customer, but as a friend. This kind of attitude among staff facilitates and sets a tone for the inclusive, team-like atmosphere also exemplified by the club's members. For covering such a large space, the staff succeed in paying careful attention to each member and anticipating their needs. Once, within seconds of entering the club to find no free seats, a staff member appeared offering me a spare chair. The budtending staff have an additional challenge but rise to it smartly; gaining knowledge and experience of each of the club's unique strains.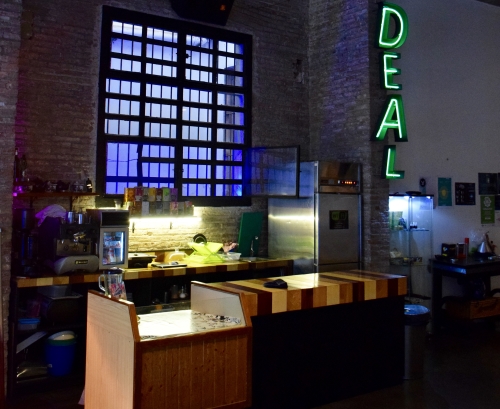 Club Fum: Marijuana Selection
All of the cannabis provided by Club Fum is grown in-house, using 'organic' growing methods and derived from original genetics imported from the owners' Italian hometown. I took the budtender's recommendation of "Psycho Crack,"  a sativa-dominant hybrid that wasn't much to look at but packed a surprising punch. Also imported from the same hometown is the traffic light on display above the dispensary-room door— the green 'go' light modified to a pot leaf, indicating when the dispensary is open. Fum's menu, unusually divided into 'Sativa', 'Indica' and 'Kush' categories, seems to change quickly, with popular strains disappearing almost as soon as they appear.
The club also stocks seeds of their original in-house genetics for members who are interested in growing at home. Other cannabis products include different varieties of iceolator, a limited selection of BHO, pre-rolls (with tobacco), infused cakes, e-cig vape pens and THC cartridges, tincture, a coconut oil extraction that can be used topically or ingested, and various club-branded T-shirts.
Conclusion
From the facility to the social events, the unique strains and the good location, there are plenty of reasons to praise Club Fum. But, these are things many clubs do well. What sets this club apart, or any place for that matter, is the people who make it what it is. In just a few visits to Club Fum, I felt like I had been invited into their community and circle of friends; something that only truly special places mange to do. These are the clubs that stand out and keep you coming back, and Club Fum is one of them.
Have you been to Club Fum in Barcelona? Let us know your thoughts in the comments section below.
Barcelona Cannabis Club Review for Club Fum: 5 of 5 Stars!
(This is a preliminary application process; not all who apply will qualify for membership based on Spanish law and club policy. Application for membership is general and is not necessarily applied to any particular club unless the applicant fully qualifies.)