Betty Boop cannabis club in Barcelona is one of the city's oldest and most well-established marijuana social clubs.  Once frequented by and setup generally for skaters, now the club caters mostly to lovers of good weed and hip-hop music.  Located outside of the tourist-thronged city center, Betty Boop is discrete; but only until you're inside this private Barcelona cannabis club. 
Betty Boop social club is located on Carrer Marià Cubí, in the Sant Gervasi-Galvany district of Barcelona. This neighborhood is situated in the north-west part of the city and is the second-largest barrio in Barcelona; it's a quiet paradise with green parks, shopping areas, and stunning views. One of the things that make this neighborhood special is its location, which is far away from the most touristic areas of the city; this means less chaos, and fewer people walking around the streets. Most of the inhabitants of this neighborhood are families, executives, young professionals, and students; it is a great combination of locals and tourists.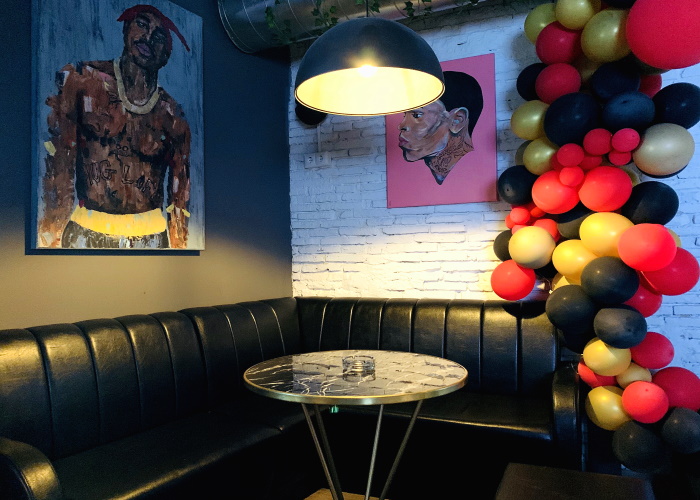 Betty Boop cannabis smoking club in Barcelona was created more than seven years ago. In 2013, most clubs in the city lost their license, but this club was one of just seven private social clubs that retained their (cannabis club specific, others clubs had different license types) license. New ownership took over in January 2020, and along with the new management came a new staff, new bar, new interior decoration, new cannabis products, and of course new members. This private social club in the city of Barcelona is ready to fulfill the expectations of new members as well as existing ones.
Betty Boop Cannabis Club – Environment
Betty Boop is located just a short walk from Plaça de Francesc Macià and Turó Park; this is very convenient if you feel like breathing fresh air while surrounded by flowers, sculptures, poplar trees, and palms after smoking a joint at this marijuana coffee shop in Barcelona.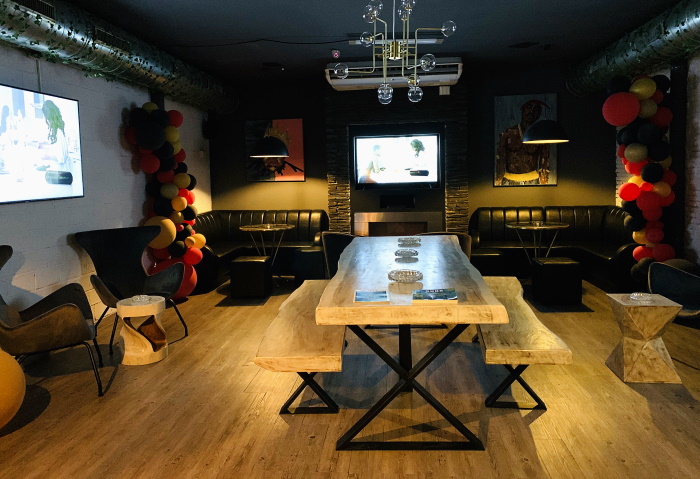 This cannabis club has a typical entrance with some cool graphics on the doors. Ring the bell and you will enter a small reception area where you can add funds to your account or sponsor new members. There was a young, sociable girl from Finland working at the desk; she greeted me in a very professional and friendly way, and then she led me into the member's area that opened into a bar on the left, and a large lounge in a chamber beyond the bar.
Along the wall opposite the bar was a huge mural depicting a heavily tattooed Betty Boop smoking in Barcelona. This painting, the name of the club, and another piece of art inside were the three things they kept from the old private club. Both pieces of art have the signature of quite famous people in the hip-hop and rap industry such as ASAP Rocky, Omarion, A Boogie wit da Hoodie, Ty Dolla Sign, Migos, Jah Cure, Quavo, ASAP TyY, Eric Bellinger, and Aminé.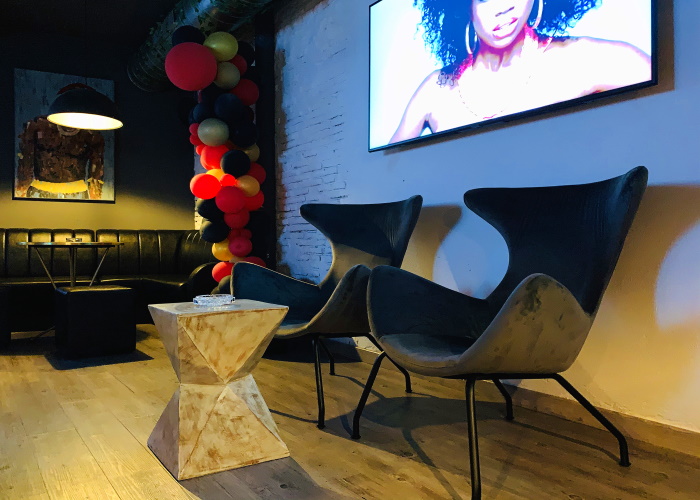 Betty Boop smoking club is more or less one hundred square meters; the lighting is quite dim and all the furniture is brand new. There is a long and heavy wooden table from Indonesia right in the middle of this area for members who come and work or simply share their business ideas with other socios. There are plenty of seating areas around this table, some with designer chairs and cool little tables, and some others with l-shaped black sofas with marble round tables.
Betty Boop –
Cannabis Products & More
Betty Boop produces around 20 different cannabis strains ranging from Indica dominant strains to Sativa dominant strains to a variety of hybrids. Some of their strains like Amnesia or Gorilla Glue are commonly found in clubs and dispensaries around the world, whereas others, like Gardela or Malibu Pie, I have seen exclusively at this private social club.
This cannabis smoking club changes its menu from time to time, but the day I visited the club, the following strains of raw flower were available:
Gelato Dream – 24K – Cheese – Blue Zkittlez – Shiva Haze – Strawberry Haze – Zombie Kush – OG Kush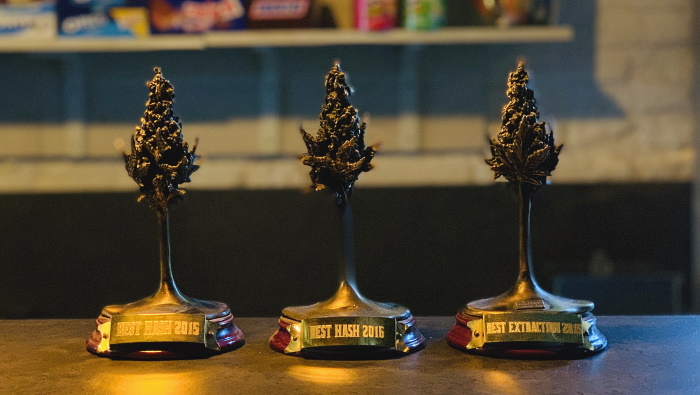 Also on offer are other Cali strains like Zookies, Runtz, Spumoni, and Cream Zkittlez. Betty Boop also caters cannabis extracts and concentrates like wax and iceolator. Betty Boop also carries CBD oil, lotions, butter, and cartridges. The edibles choices include chocolate and coconut truffle, cookies, brownies, popcorn, chocolate bars, etc.
The club also provides pre-rolled joints, accessories, and themed products, from the usual grinders and papers to glass bongs and disposable vaporizers. One thing that I absolutely loved about this cannabis coffee shop is the biodegradable plastic bags, they can be easily dissolved in water.
Betty Boop – Staff 
The staff at Betty Boop are friendly and warm. They are all quite sociable, extremely helpful, and they always seemed to have a smile on their face, even though they were wearing a face mask due to the COVID-19 regulations. One thing that caught my attention was the fact the majority of the crew of this cannabis social club were women, which made me feel comfortable while interviewing them.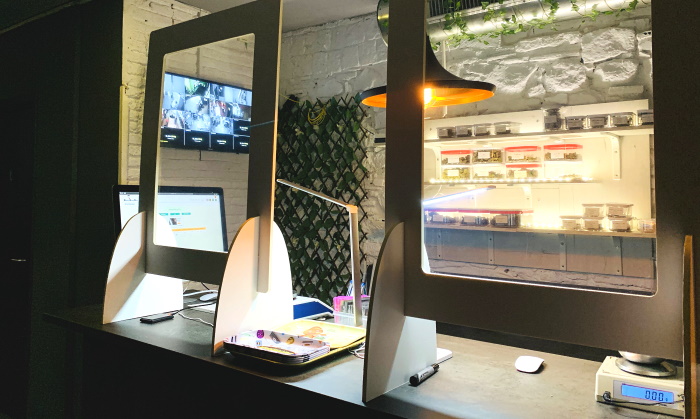 This Barcelona weed club has a crew from many different nationalities such as Finland, Persian, Moroccan, Dutch, and Venezuelan. If one word could describe the staff of Betty Boop, it would be 'professional.' They are always cheerful and polite, and all of them speak English.
Betty Boop – Events & Extras 
To complete the urban-chic atmosphere, Betty Boop plays old-school and new hip-hop music, replete with three flat screens playing music videos. Board games, video games, and free Wi-Fi are available to all members.  This cannabis social club is also planning on having a 'Netflix and Chill Sunday' were members can enjoy popcorn and drinks while watching a movie or documentary. More events are planned in the near future, and members are encouraged to get involved early, as event nights are usually packed with people.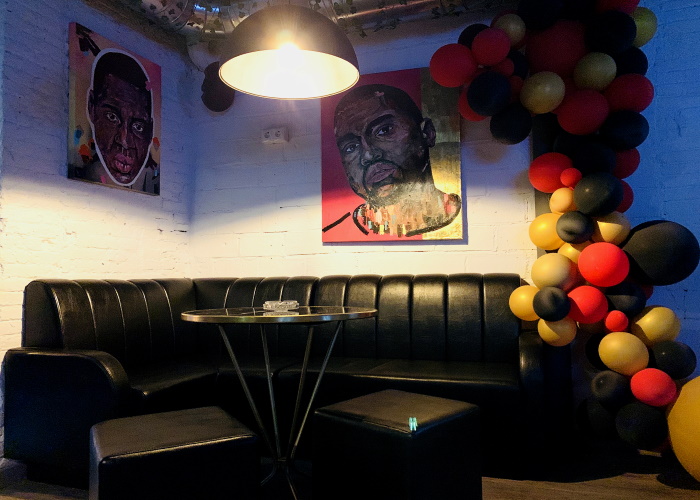 In addition to special events, Betty Boop offers all the traditional extras to its members like filters, papers, grinders, public smoking and vaporizing implements, etc. The club also provides a full-service bar area with drinks, snacks, and other delicious treats always available.
Conclusion
Betty Boop cannabis club in Barcelona is perfect for people who live in the Sant Gervasi-Galvany area, those who long for a club that's a quick jump away from Barcelona's hectic city center, or those who want a new experience in the metropolis.
Have you been to Betty Boop, or are you a member of this club? Let us know your thoughts in the comments section below:
Latest posts by Rachel Clark
(see all)