The Cheese Marijuana strain has suddenly become one of my all-time favorite types of cannabis, despite my initial resistance to try the version sold in Barcelona, Spain. After having sampled the Cheese strain several times in Amsterdam over the years, I didn't understand why the Catalonians carried this strain in the majority of cannabis clubs as I just didn't care for it. But thankfully I had occasion to try the Spanish version of Cheese, and I'm glad I did because it's one of the best marijuana strains ever developed.
Marijuana Strain Review Rating for Cheese: 5 of 5 Stars
[author-post-rating]
The Cheese Marijuana Strain: The Story Behind the Review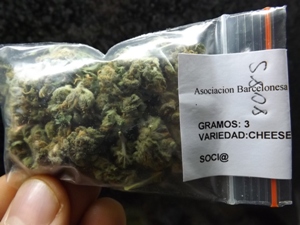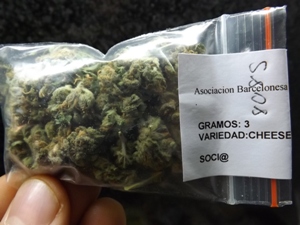 When I lived in the Netherlands I had occasion to try the Cheese strain several times. I purchased some from Coffeeshop Solo in Amsterdam, and I purchased some a year later from a shop in Arnhem or Nijmegen; I can't remember which. In any case, Cheese is a pretty consistent strain in the Netherlands, and the type I acquired in Amsterdam was similar to the type I purchased in the southeast part of the country.  I didn't like either type. I found the strain to be visually unappealing, lacking in potency, and above all else it tasted terrible.
Based on this experience, I declined to buy this strain when it was offered numerous times at different cannabis clubs in Barcelona. But when offered a choice between Bilbo, Moby Dick and Cheese while at the Abcda Club in early December 2013, I chose Cheese mainly because of the way it smelled: fruity and potent. Not that there's anything wrong with Bilbo or Moby Dick – both are premium-grade marijuana strains – but Cheese just looks and smells much better. In fact, I can't really imagine any weed connoisseur choosing either of the other two over Cheese.
If you disagree, let me know in the comments.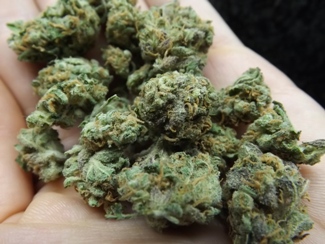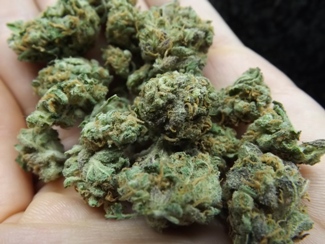 Cheese: Look & Feel
The Cheese strain on offer at Abcda is grown by the club, so it could be different than the Cheese you're smoking. The stuff I got featured beautiful bright green buds that were marbled with brilliant light orange sections. The buds were small overall, but were well-formed and moderately dense.
Every millimeter of Cheese was covered in short trichomes. Breaking into the center of a bud revealed even more trichomes, but the density was still less than that of other strains like Cream Caramel or Black Jack. This is interesting to me, as I definitely do not think that either of those strains are as potent as Cheese.
Cheese: Taste & Smell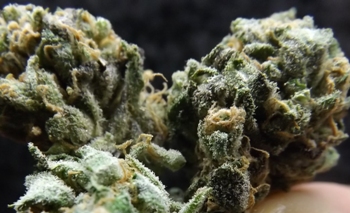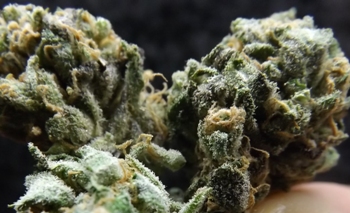 The Cheese cannabis strain has a unique bouquet of lemon and cranberry blended with thyme and a hint of minty oregano. As I broke open the first couple of buds I was genuinely excited. You know that feeling you get when you score some amazing herb, and as you handle it your nose and eyes and fingers all send you unspoken messages that this shit is going to be amazing? That's the feeling I got with Cheese, and I hadn't been this excited about a strain since I tried Jacky White.
Cheese produces thick, heavy white smoke that has a light lemony and chocolate flavor that's exclusive to this strain (or at least to the phenotype). Admittedly, it's a little harsh in the back of the throat, but I can assure you it's worth it. I haven't tried vaping this particular version of the strain, but if you get the chance let us know your thoughts in the comments. I imagine that Cheese in a vaporizer would be a sensational bouquet and flavor experience.
Usually nearly all types of weed lose their flavor a little more with each successive burn of whatever you've packed, but Cheese is different; it features a lemony taste that increased in strength after a few hits. Cool!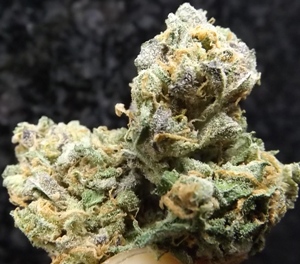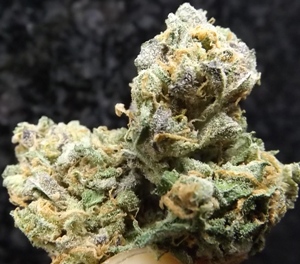 Cheese: Potency
Cheese is an Indica dominant hybrid that got me plenty high on the first two hits. Just 2 bong rips gave me a nice high that had me happy and relaxed. The high was situated in a band across my forehead, in my ears, at the points of my cheek bones and down into the base of my neck and shoulders. Like most 5 Star marijuana strains, the high from Cheese was sufficient to leave me euphoric and satisfied, but for the sake of the review I soldiered on and took two more.
After 3 hits the high increased significantly in my cheeks and the top of my head. At 4 hits I was cooked. My eyelids swelled and my eyes narrowed and I could feel a tingling sensation behind my ears. The high began to buzz strongly in the top of my head and moved down my neck and spine, then spread gently like a thick scarf around my shoulders.
Usually even strong Indicas stop there, but as the high peaked I felt it being to move down my arms until the point that it almost reached my biceps. Not since I was a kid have I had that much of a body buzz.
Cheese: Duration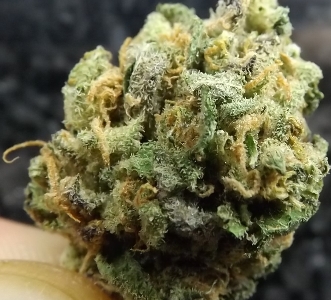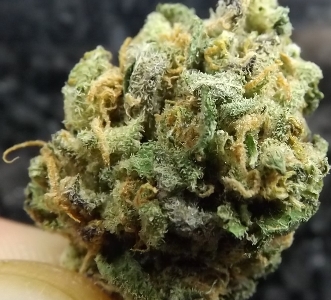 The high put out by Cheese peaked strongly for the first 15 – 20 minutes, after which time the high became less of a body buzz and more of a deeply internalized head high. It seemed like the high had penetrated into my actual brain and cortex, whereas most strains affect parts of the outside of my head.
The most powerful effects of Cheese waned after 60-75 minutes, but the remainder of the buzz was still potent and kept me high for 2.5 -3 hours at a time. For a veteran toker, it would be hard to find a longer lasting high.
For occasional smokers and beginners, I recommend the exercise of caution when smoking Cheese, as you may experience an intense, unrelenting high for up to 5-6 hours.
Conclusion
I'm not sure why they call this strain 'Cheese,' as it doesn't look, taste or feel anything like dairy cheese. Don't get me wrong – I love the cheese you eat, but this strain is nothing like that. Fortunately the name has done its work in the way of branding, as you can bet your ass that I'll be picking up Cheese again when I can find it, and I encourage you to do the same if you get the chance. Without question a high-grade premium 5 Star marijuana strain, Cheese is undoubtedly among the top 10 strains in the world in my opinion. I also think that this strain may be one of the most potent and valuable for medicinal purposes and should be researched for specific medical applications. What do you think?
Marijuana Strain Review Rating for Cheese: 5 of 5 Stars
[author-post-rating]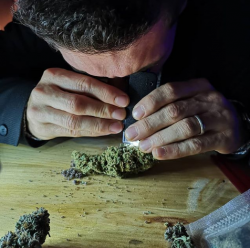 Latest posts by Russ Hudson
(see all)