Coffeeshop Solo on Korte Koningsstraat in Amsterdam is one of my favorite places in the center of the old city. What makes it so special is that Coffeeshop Solo has the best service of any place in town. The staff consists of a select group of friendly people who have always made me feel right at home. Add to this the fact that this Dutch coffeeshop in Amsterdam is slightly hidden from the average annoying tourist, and Coffeeshop Solo becomes an excellent way to take a break from the hustle and bustle of the city without ever actually leaving it.
Amsterdam Coffeeshop Review Rating for Coffeeshop Solo: 4 of 5 Stars
[author-post-rating]
Coffeeshop Solo: The Story Behind the Review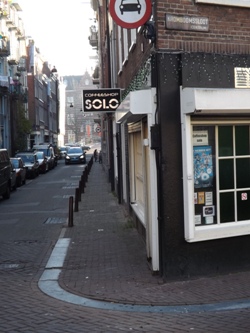 In February of 2012 I moved to the Netherlands after spending a few months in Costa Rica. This move came unexpectedly and I didn't have time to make all of the necessary arrangements in advance. This coupled with the fact that public utilities in Amsterdam move very slowly led to a long period where I was unable to get internet in my apartment.
As a writer I often smoke marijuana while working in order to achieve a deeper creative state, so instead of heading to the massive public library in the center of Amsterdam, I decided to seek out a quiet little coffeeshop to work from. I tried out quite a few, but there was always some major flaw that wouldn't allow me to work peacefully; the music was too loud or obnoxious, the coffeeshop was too crowded, or the internet signal was too weak or inconsistent.
After a couple of days of looking I was cycling home one evening when I thought I might have found a shortcut that would allow me to avoid Rembrandtplein. It started raining and it was extremely cold when I happened upon Coffeeshop Solo while on this new route, and I gratefully went inside.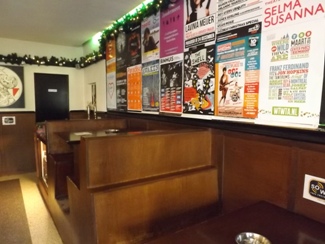 What I found at this little coffeeshop was exactly what I was looking for; quiet and out-of-the-way, a good consistent internet signal, a large selection of weed and hash, and staff that would allow me to work long hours without getting annoyed with me. In fact, Coffeeshop Solo worked out so well for me that for nearly three months I'd arrive in the late morning with my laptop and work quietly from a corner seat for 5-6 hours a day.
On a couple of occasions I had to make some business calls from my computer, so when no one else was in the shop they'd turn the music off and let me do my thing. In return I bought all my weed and hash exclusively from Coffeeshop Solo, and of course I paid for coffees, teas and snacks and made certain to always tip the staff well.
I never thought much about it at the time, but despite the fact that I was extremely comfortable at Coffeeshop Solo, my unspoken pact of exclusivity was actually not such a good thing, as I missed out on a lot of other cool shops and, as this review will explain, there were some other aspects of solely going to Solo that weren't so great. But overall, I love this little place.
Coffeeshop Solo: Environment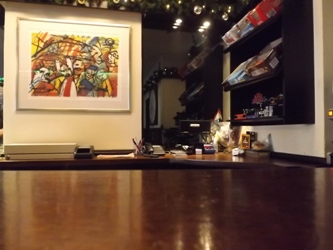 This coffeeshop is small; with seating for only around 15 people, there's not much room to move about or to bring a large group of friends, but the atmosphere is nevertheless cozy and warm. The bar is directly ahead as you enter the shop, with one small table to the left, a counter with seating to the immediate right, and two wooden tables with booth seats along the north wall.
Like many other shops, a discrete frame set into the end of the bar houses a lighted menu of marijuana, hash and a few other items like Solo's homemade space-cake.
There's a small but clean bathroom at the back of the shop and a few chairs along the bar. Posters of upcoming and past local events neatly crowd the north wall, and a couple of other interesting pieces of art are hung here and there. A large flat-screen TV is mounted above the canal-facing window, but even though it plays constantly I've noticed that hardly anyone at the shop watches it.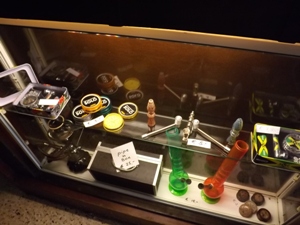 Coffeeshop Solo: Events & Extras
I'm not aware of any specific events that take place at Solo, but the shop does provide a number of board games and card sets, which many patrons use to quietly pass the time as they enjoy some premium weed or hash.
Solo offers coffee, tea, soda, snacks and the previously mentioned space-cake, among a few other items that I'm probably forgetting. They also have a small display case where some pipes, bongs, hookahs, grinders and other smoking equipment can be purchased. At the bar customers have a large selection of rolling papers and filters, and I believe there is at least one community bong available. However, if you choose to use it, be warned – there may be tobacco in the bowl piece!
Coffeeshop Solo: Marijuana Selection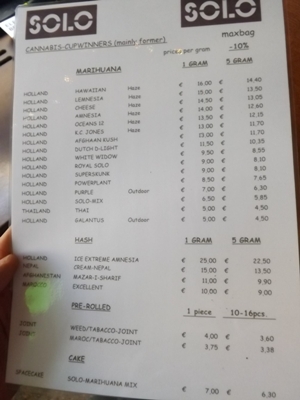 Coffeeshop Solo offers a respectable selection of 16-18 different marijuana strains, and 5-6 types of hash. However, I must admit that their prices are a little high for an out-of-the-way shop. You can get nearly all of the same strains at other nearby coffeeshops for 1-2 Euros less per gram. This is a pretty substantial difference and to be honest I'm not sure how the shop justifies such prices. Nevertheless, I did notice that while Solo's premium marijuana strains – especially the hazes – were more expensive than most other shops, some of Solo's lesser strains – like White Widow – were cheaper than the same strains at some other clubs.
So as with all things I suppose the value of Coffeeshop Solo's marijuana selection depends on what you like to smoke. If you're looking for White Widow – one of my old favorites – you'll get a better price at Solo than at coffeeshops like Bulldog. However, it's possible to get it even cheaper just on the outskirts of the city. And if you're looking for any of the most common 8-9 high grade strains, you're probably better off going anywhere but Solo to get it if you are on a tight budget.
As far as hash goes, it seems to me that the prices at Solo are fairly standard. Interestingly, the best hash I have ever had came from Solo. It was called Riffman Gold, and I've never been able to find it anywhere else. You can read a review of this hash here: Best Hash in the World: Riffman Gold.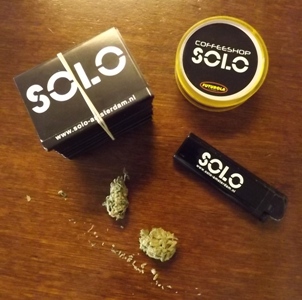 Coffeeshop Solo: Staff
It is the staff that makes Coffeeshop Solo special. The shop is small enough that there's usually only one person working at a time, and they're never too busy to chat or stop what they're doing to help you out. In fact, a lot of the time they put themselves to excellent use by playing games with customers; chess, backgammon, cards and some Dutch games that I'm not too sure about but that look pretty cool.
I can't tell you the number of times over the last couple of years I've been treated to a free soda, coffee, tea, pack of papers or filters, etc. at Coffeeshop Solo. I've also been treated to some great conversations and cordiality, despite the fact that it's not always easy to communicate in depth with the staff if you don't speak Dutch. Most of the staff speaks pretty good English, but sometimes I can tell that complex ideas are lost in translation. There is one older gentleman who works there who doesn't speak any English, but he is intuitive enough to figure out precisely what you need without language.
Conclusion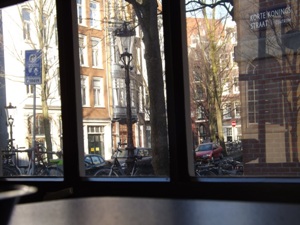 The high prices relegate Coffeeshop Solo to a strong 4 Star rating, but it's still one of my favorite coffeeshops in Amsterdam. However, if you're looking for a private, quiet place to go where you can relax and smoke great marijuana without all of the touristy noise and bullshit, Solo is the best choice in the city. And if you're lucky enough, perhaps one day you'll see Riffman Gold on their menu, and then you can say that you smoked the best hash in the world at Coffeeshop Solo on Korte Koningsstraat in Amsterdam.
Maybe I'll see you there!
***UPDATE: DECEMBER 2014***
Want to see one of my other favorite coffeeshops in Amsterdam?  Click here to check out The Doors.
Amsterdam Coffeeshop Review Rating for Coffeeshop Solo: 4 of 5 Stars
[author-post-rating]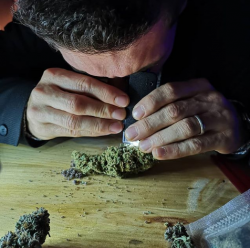 Latest posts by Russ Hudson
(see all)