Amsterdam Coffeeshop Review Rating for Green Place: 4 of 5 Stars
[author-post-rating]
This Amsterdam coffeeshop review is for Green Place at Kloveniersburgwal 4, close to the southern end of the Red Light District. I stumbled upon Green Place by chance in early December 2013 and finally got my hands on some Jack Herrer, which I have been trying to find for the last several months. At only 7 Euro per gram, I was shocked at how inexpensive it was, but I forgot the cardinal rule of buying anything whatsoever; you get what you pay for. I didn't really like the Jack Herrer and in fact never bothered to write a review on it, but I did like Green Place. A small but stylish and clean coffeeshop, Green Place has an excellent weed and hash selection that should keep most smokers happy.
Green Place Coffeeshop: Environment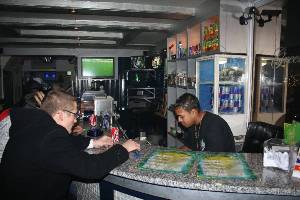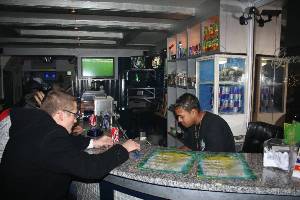 Kloveniersburgwal is a gorgeous little street that bisects the eastern end of the Red Light district. Green Place is just far enough out of the main part of the Red Light area that it's still conveniently located yet reasonably quiet during the day.
Upon entry you'll see what is familiar at many businesses in Amsterdam; Green Place is essentially a really big, long hallway. I imagine that this makes it a little cramped when it's packed with tourists – say on a Friday or Saturday night during the summer, but when I was there the place was pretty quiet and most of the tourists had gone home for the winter.
The bar area opens immediately to your left as you walk in, and the weed and hash menus are conspicuously placed right on the counter. Most coffeeshops in Amsterdam are a little more discrete than this, but I suppose it doesn't really matter, as everyone knows what is sold here.
There are about 7-8 seats at the bar, and the kick-plate and wall in front of the bar stools is covered with an ornate tile inlay that someone obviously put a lot of time and effort into. The light fixtures and other adornments are equally tasteful and keep with the overall Middle Eastern theme of the coffeeshop, even though it's nothing like the Alhambra cannabis club in Barcelona, Spain, which is also Middle Eastern themed but in a totally different way.
The Green Place coffeeshop features low but pleasant lighting and a modern, clean atmosphere all around. The general look is very suave and unique, but still obviously caters to tourists. There's not much seating overall, but there is a small, smoky lounge area in the back of the coffeeshop where you can stretch out a little and relax.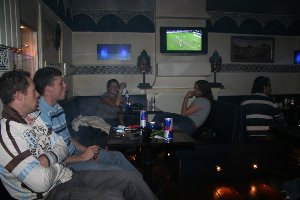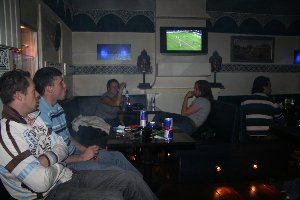 Green Place Coffeeshop: Weed Selection
The Green Place coffeeshop offers a moderately sized marijuana and hash menu that surprisingly manages to be quite different than what many other coffeeshops in the city offer. In addition to the Jack Herrer, I also picked up some Blue Cheese at this place, which was an excellent 4 Star cannabis strain (although I ultimately never did a full review of it).
I didn't pay a lot of attention to the hash menu as it was pretty much the standard stuff sold in AMS; Moroccan, Lebanese, and a couple of local types. Although the menu changes from time to time, if you see that any of the coffeeshop's top premium strains like Amnesia or Trainwreck have been used to make "local" hash, you can probably bet that it's pretty good.
The traffic in and out of Green Place was actually quite heavy, and few people stayed to smoke. Most just walked in, ordered at the bar, took their weed and quickly left. This indicates to me that the club has a fair amount of local clientele, as most tourists usually come in and at least gawk at the place before heading back out to look at and possibly engage with prostitutes.
In order to have a high level of in and out traffic, you really need to have a good selection of weed, so my observations seem to indicate that Green Place probably has the right strains for most people.
Green Place Coffeeshop: Events & Extras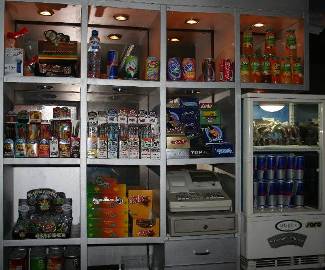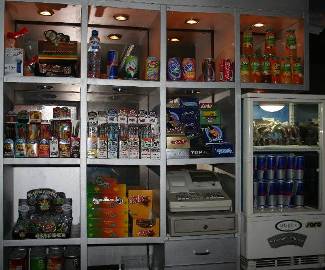 The Green Place is a great coffeeshop to pick up some good weed, have a quick smoke and then head back home or out into the city. It's not really a place to park your ass for the afternoon, although there are a few things to keep you occupied if you intend to do this. First you'll notice two large flat screen television sets (that no one was watching when I was there); one in the main bar area and one in the back lounge. This might keep you entertained if you can lip-read.
There is also a coin-operated internet kiosk that is targeted at tourists who want to send an email home to let friends and family know what a great time they're having in Amsterdam. But who the hell wants to sink coins into this beast when the place provides free WiFi?
Green Place also offers a variety of different snacks and beverages, as well as the standard selection of pipes, screens, papers, filters, grinders and much more. Music is played over a number of overhead speakers, but to be honest the stuff they were playing when I was there was absolute shit; it seemed to me like every third word was "fuck" or "nigger" or "bitches" or some illustrious combination of the three like "fucking nigger bitches." It was comical at first but got annoying really quickly. Not my cup of tea, but I'm certain they don't play that sort of "music" all the time.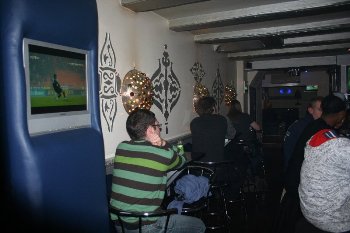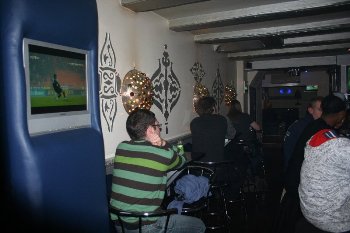 Green Place Coffeeshop: Staff
There was just one guy behind the bar when I purchased the Jack Herrer and Blue Cheese marijuana strains from Green Place and hung out for about an hour. He was friendly but fast and efficient, and he knew what recommendation to make based on my comments about couch-lock Indica strains. 😉
Conclusion
The Green Place Coffeeshop on Kloveniersburgwal in Amsterdam is a 4 Star Middle Eastern themed coffeeshop that just about anyone should find suitable both from an environment standpoint, and for the selection of potent marijuana strains. If you don't care for ghetto rap music, it's probably not a place you want to go to hang out, but the weed certainly warrants a visit to this coffeeshop. And if you can get the table at the front of the place by the window, you can smoke a fat joint, sip some strong coffee and gaze out over one of the city's many beautiful canals.
If you've ever been the Green Place, let us know what you thought of this coffeeshop in the comments below.
Amsterdam Coffeeshop Review Rating for Green Place: 4 of 5 Stars
[author-post-rating]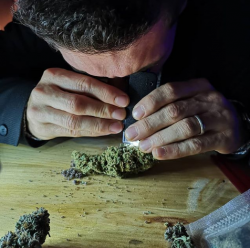 Latest posts by Russ Hudson
(see all)