Alhambra is a beautiful, Middle-Eastern themed cannabis social club located on Carrer Doctor Dou in Barcelona. Although it's near La Rambla, the club is well out of the way of the hustle and bustle of the surrounding touristy areas and is a great place to hang out and smoke some dank buds in a peaceful, clean and relaxed environment.  Alhambra also offers dinner and music every Friday night, free for all members. And when the dinner and music is over, another band comes in and the live music continues until 1AM, so if you're a member here you can basically book your Fridays in advance each month.
Barcelona Cannabis Club Review Rating for Alhambra: 4 of 5 Stars
[author-post-rating]
The Story behind the Review

(Skip to the next section to get to the meat of the Alhambra review)
In previous Barcelona Cannabis Club Reviews I've introduced "Marker," a former street dealer turned club liaison. Marker has connections at the Kief Social Club, which is fairly close to La Rambla. He had been telling me about it and mentioned that the club had just expanded significantly, so we met in the Gothic Quarter to check it out.
(This is a preliminary application process; not all who apply will qualify for membership based on Spanish law and club policy. Application for membership is general and is not necessarily applied to any particular club unless the applicant fully qualifies.)
Upon arrival Marker introduced me to club officials and we began the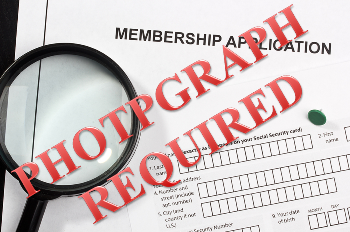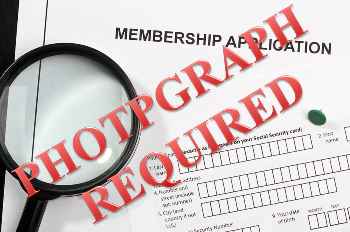 paperwork process. Once I had paid the fee and my membership card was issued, the registration clerk announced that she needed to take my picture for their records, at which I recoiled and refused. After all, I had provided my U.S. passport as my identification; what more could they possibly need?
The clerk went into the main club area to ask one of the founders if the picture was an absolute requirement, and she returned to confirm that indeed, it is mandatory. When I asked why, she explained to me that they had no way of knowing if I was really the person in my passport, so they would verify my identity with a photo they had taken.
Think about this for a minute.
Completely illogical. Apparently, the club does not find my passport to be sufficient evidence of my identity. But this doesn't make sense, as I used it to register at the club in the first place. Huh?
But in my opinion, there's more to it than that. I came to the club to become a member, to acquire good weed and smoke it in relative safety. I did not come to be scrutinized at a level that even my bank doesn't require. I mean seriously; I can go through an international airport with my passport alone, but I can't register at this club without also having my photo taken and stored in their records?
Bullshit.
To me, this seems like a violation – moral or otherwise – of the privacy and anonymity so desperately needed by and forced upon marijuana users. But according to a number of my local sources, around 30% of cannabis social clubs in Barcelona require a photograph of their members. If that's how they're doing business, that's fine, but I certainly won't be going to any of those clubs.
The clerk voided my paperwork, returned my money and Marker and I left with no alternate plan.
Marker texted an associate from a local cannabis-related website startup to see if we could arrange membership elsewhere, and as it turned out, this guy was already heading our way with a friend of his to go to another club. So we wandered around the Gothic Quarter for a bit, got some pizza and ate it while waiting for them to arrive.
At one point we were winding our way down an ancient and narrow street when we passed by a set of white frosted glass doors. This is categorically the sign of a cannabis club; discrete, often-unmarked frosted glass doors where the only possible access is by ringing a bell.
Marker stopped short and proposed that we conduct a test to see if we could gain membership at this club by walk-in and without a referral. Marker would offer his services as a liaison and present me as his first member. I was curious to see how a club might respond to this, so I agreed and Marker straightened out his clothes, cocked his hat sideways and rang the buzzer.
The door was opened almost immediately and we let ourselves in to a cramped reception area. There were 4 men standing in this small area, and with Marker and I in there as well, there was nowhere to stand except directly in front of the two men in front.
It was weird.
The two men in front were clearly figures of authority at the club. Their shirts were partly open at the collar, chest adorned with gold chains (one man had a golden Italian Horn) and curly black hairs. I didn't pay attention to the two guys standing in back of them; the leading men gave off an air of toughness and I immediately sensed their aversion to Marker.
Marker introduced himself and the two men slowly looked him up and down while he talked. I struggled to follow the conversation in Spanish, but it was clear from the beginning that they were not interested in Marker's pitch. Essentially, they said they didn't need any new members, and that they wouldn't take them from the street even if they did.
It was a tense few moments, but I was beaming on the inside – this is exactly how the club should have responded, if they were to remain within Spanish laws. Good for them!
We made our exit somewhat sheepishly and walked to a nearby plaza where we met with Marker's associate and one of his friends. The 4 of us decided to go to Alhambra, which required us to get out of the Gothic Quarter and cross to the other side of La Rambla.
Alhambra: The Environment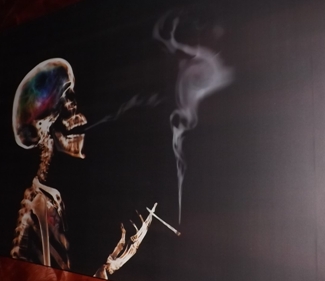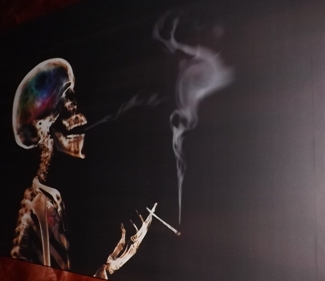 When we approached the frosted glass doors of Alhambra, I could tell that this club was going to be pretty sweet – the tiled entryway was clean and new and shone with quiet class. Unlike a lot of other clubs, Alhambra does have a small sign on the door identifying it as a social club. Even still, the entryway is classically discrete.
We rang the buzzer and we were let in by a smiling dark-haired woman. The beautiful tile work continued through the reception area, which is large and open and has plenty of comfy seating. We stood around the desk and filled out the paperwork, listened to the club disclaimer and disclosure speech given by the clerk, and then strolled into the main part of the club.
Alhambra is basically one large room with plenty of Middle-Eastern style couches and small end tables. As you enter there are a couple of vending machines to the left (one of which has beer!), a small seating area, and then the bar opens up to the left. There's no seating at the bar, so members simply place their order and then find a place to sit in the lounge in front of the bar.
A local artist has provided some interesting pieces including some paintings and a few highly unusual drawings, and of course on the back wall is the obligatory poster of Bob Marley on a Jamaican flag background.
The club interior is completely tiled and very clean. Exhaust fans keep the air clear at all times, even when 15-20 people are all gathered and smoking simultaneously.
It's a great place to hang out and I once spent about 4 hours there with an associate, just talking and smoking bong after bong. The club has never been particularly busy while I've been there, which is nice but I imagine on Friday nights it's probably hoppin'.
Unfortunately, Alhambra mainly consists of one open room with no dividing walls or partitions, no separate areas or unique little nooks, no tables and chairs to work from or play games, etc. This means that there really aren't any areas where you can have a small amount of quiet privacy, unlike clubs such as Abcda, RDM and Sweet Dreams. This is the type of club where you go and get your weed and smoke it in a medium-sized room with all of the other members. No frills; just marijuana and hanging out. I can appreciate that, but I like clubs with a better diversity of "mini-environments." RDM is probably the best example of this.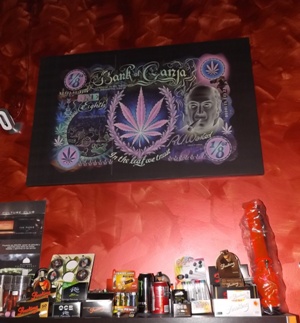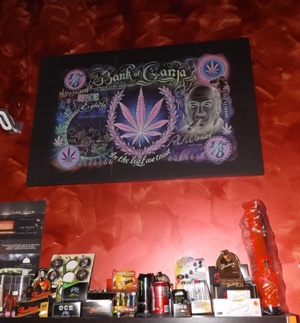 Alhambra: Marijuana Selection
Alhambra has a good selection of marijuana, hash, extracts and oils. The club does not offer any marijuana edibles, but I have been told by at least 2 different clerks that on some occasions – especially Friday nights – limited edibles like cookies and brownies might be brought in.
The menu is listed on a traditional green framed chalkboard on a wall behind the bar. There's usually at least 12 different kinds of marijuana available, and I've acquired quite a few from Alhambra; Somango Haze, Toxic, AK47 x. Grapefruit, and Afghan Kush. All of these marijuana strains were decent but the Somango Haze and the Toxic weren't really worth writing a review on, while I "accidentally" smoked all of the AK47 x. Grapefruit before I could do a review. I do have a review coming for the Afghan Kush, which is a solid 4 Star performer that I have not seen on the menus of any other cannabis clubs in Barcelona.
The main problem that I found with Alhambra was that I could never get the weed I wanted. I have been to this club on 4 occasions, and each time they had "sold out" of all the strains I wanted; exclusively the most potent Sativas and blends. Amnesia has been on the menu every time I've been there, but they've never actually had it. I took a VIP associate to Alhambra a couple of nights ago, and they had sold out (early in the night, too) of all of their Sativas. This person didn't care much for Indicas, so she had to settle for a blend. It would have been nice if I had been able to take her to a club that actually had the weed she wanted.
So even though I did get some decent weed from this club, it was never the weed I really wanted and I was forced to go to Sweet Dreams (on the other side of town) to get the right weed for me.
Alhambra: Events & Extras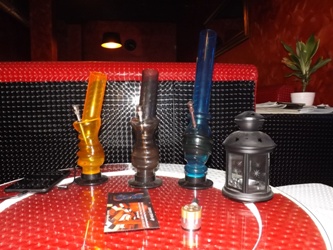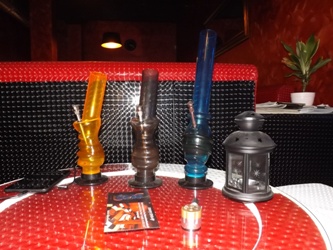 One of the coolest things about Alhambra is that on Friday nights they provide dinner and live music for the members. This begins at 7PM and continues until 9PM, at which time they bring in more live musical talent and rock out until 1AM. I haven't been to Alhambra on a Friday yet, but I intend to go and when I do I will update this review. However, I have heard from several people that the food is amazing and the music is actually worth listening to.
Abcda also offers live music every Friday, but they don't offer music AND dinner, so I intend to check this out. If you've already been to Alhambra on a Friday, let us know how it was in the comments below.
Alhambra also shows sporting events on a projection screen, but when I was there on Tuesday, November 26th, there was an important soccer game on but there was almost no one in the club. That worked quite well for me as I prefer quieter places.
There is a small table to the left of the bar where a good selection of smoking utensils are offered; chiefly bongs but some pipes too and one large glass bubbler. [BE WARNED: when smoking from public implements, make 100% certain to clear the bowl piece out after the last person used it. I took a hit of some leftovers while trying to clear one of the bongs and it was full of tobacco. I can't stand tobacco and when you're not expecting it and it's coming out of a bong, that shit is nasty.] Most cannabis clubs in Barcelona offer a couple of different smoking items for public use, but Alhambra has the best selection that I've seen so far.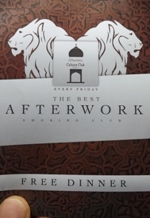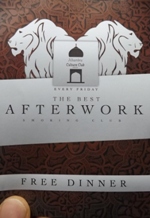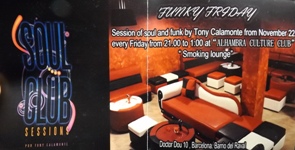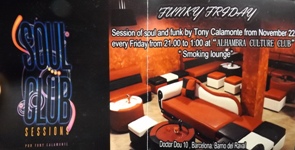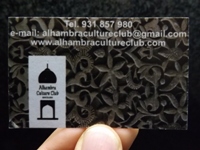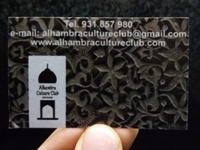 Alhambra: Staff
The staff at the Alhambra Cannabis Social Club are awesome! They are always smiling and polite, and all of them speak at least some English. They take great pride in the marijuana they offer and always take it out and show it to you, let you look at it under a light, feel it, smell it, etc. They do this automatically, without the member having to ask to see it. Alhambra staff love cannabis and this shows in the way they share it with members. Sweet Dreams is the only other club that is like this in my experience.
In fact, when I was at Alhambra with a group once, the bartender came over and brought us a nugget of some lovely weed. He explained what it was, a little about how it had been grown, and presented it to us to smoke together as a gift. Cool.
I have overheard Alhambra staff going into great detail with other members about their marijuana strains, and I suspect they know a lot more about the weed they carry than the average clerk at most other cannabis clubs. This is a great point of passion, because after all, isn't enthusiasm for cannabis what this is all about?
(This is a preliminary application process; not all who apply will qualify for membership based on Spanish law and club policy. Application for membership is general and is not necessarily applied to any particular club unless the applicant fully qualifies.)
Conclusion
Alhambra is a high-quality 4 Star club that has become part of my regular rotation. I don't give out 5 Star reviews easily, so this rating is quite respectable and I highly recommend this club. With consistency of strain stock and the addition of some marijuana edibles, this could push Alhambra to a 5 Star designation. But if you're looking for a Middle-Eastern vibe at a club that truly loves cannabis, Alhambra is the place to be. See you there!
Barcelona Cannabis Club Review Rating for Alhambra: 4 of 5 Stars
[author-post-rating]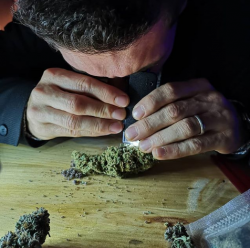 Latest posts by Russ Hudson
(see all)