Barcelona Cannabis Club Review Rating for RDM: 5 of 5 Stars
[author-post-rating]
RDM is a private cannabis club in Barcelona that will almost certainly become one of the top clubs in the city in the coming years. Already one of the most stunning and trendy of Barcelona's cannabis clubs, RDM is currently undergoing renovations that will soon make it even better. And considering that RDM has an interesting and fairly large selection of marijuana available to its members, this could be the last Barcelona cannabis club you ever join.
(This is a preliminary application process; not all who apply will qualify for membership based on Spanish law and club policy. Application for membership is general and is not necessarily applied to any particular club unless the applicant fully qualifies.)
My Introduction to RDM
There's usually a story behind my reviews and this one is no exception. In my last review of Kush, a private cannabis club on Calle Freixures, I wrote about my new friend, "Crayon." Crayon is deeply connected to the cannabis club scene in Barcelona, so when I called him and asked about other clubs he arranged to meet me at one that he said would "become my new favorite."
Apparently I had been smoking too much good weed at the time, because I was completely unaware that the Spaniards had turned their clocks back by one hour about 5 days prior to our meeting. I only learned this when I arrived at the meeting location and sent him a text, to which he responded with the correct time.
This meant that I had to hang around for an hour, and during this time I quickly figured out exactly where this RDM club was, even though most cannabis clubs in Barcelona are not marked. About halfway down the block when turning from Diagonal onto Calle Bailen there is a large grey building with white frosted glass doors. I noticed this primarily because the rest of the street was quiet, but people came and went from these doors every few minutes.
They were mostly young people, and knowing my demographic as I do I sauntered over to get a closer look. Sure enough, I could smell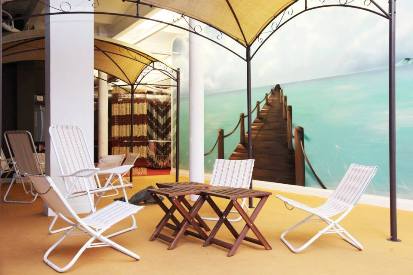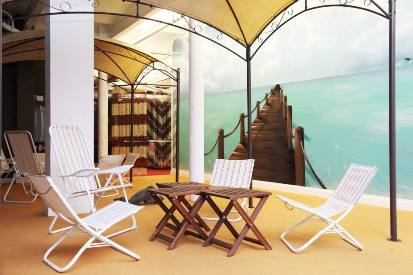 the faint but dusky scent of cannabis when the doors were opened, so I stationed myself outside them and waited for Crayon.
After a while two attractive women in their 20's came out and stood in front of the frosted doors to smoke cigarettes. As I watched, a thin, interesting looking man approached them and greeted them warmly. The group spoke quickly in Spanish so I wasn't able to follow their conversation well, but I was fixated on the man anyway.
This guy was like something out of a wacky stoner movie. He wore shorts with blue and purple floral and abstract patterns on a whitish background. A long L.A. Lakers jersey hung from his shoulders underneath an open, camouflage hooded sweatshirt. An L.A. Lakers hat sat skewed on his head.
This guy was about as conspicuous as a person can be, and if I didn't know better I would have sworn he must be American.  After a few minutes the two girls left and he went inside, so I resumed waiting.
Crayon popped out of a taxi a few minutes later and we went inside. There was a long hallway with some vending machines at the end and a desk and reception area at the front. Two more attractive women – a common theme at RDM – were stationed at the desk; Crayon spoke to them and then two men came out from a small room that was off to the right. One of them was the guy from outside with the sideways hat.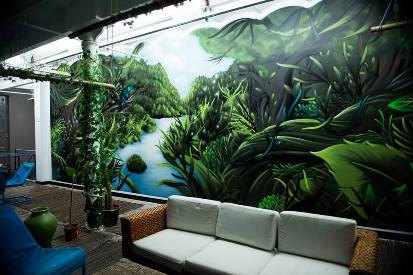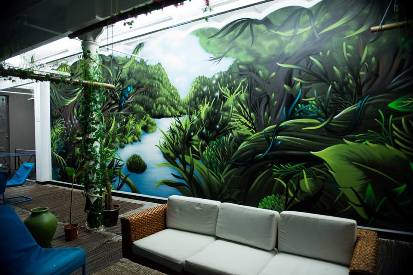 Crayon and Marker
It turns out that Crayon isn't the only one deeply connected to the private cannabis club scene in Barcelona. There are two other men who are prominent in this field, and the guy wearing the Lakers jersey is one of them. In fact, while doing research for other articles on this subject, I had come across this guy's name a number of times. We'll call him "Marker."
Crayon didn't have a membership at RDM, so he needed someone else to sponsor me. Marker was connected to RDM and agreed to do so even though he and Crayon are technically not friendly. So I registered with the girls at the front desk, accepted my membership card and let Marker lead me downstairs to the innards of the club.
Once there the cordiality wore off and the conversation shifted to polite but sometimes passionate arguments. Marker was extremely high-energy; he used his hands frequently and often emphatically while speaking, and he changed his physical position a lot in order to focus his energy during a conversation.
I sat there and watched them bicker while we smoked some fresh marijuana wax – I'll get to that part of the story in a minute – and then passed around some Yumboldt. Eventually I could see that Crayon was getting irritated with Marker, and by my count Marker had lost the last few "conversation points."
I had just finished telling the two of them about my experience at the Kush cannabis club when Marker launched into a tirade about one of the bartenders who works there. According to Marker, this bartender owes him 100 Euro from a project they were supposed to do together two years ago. Marker said if he didn't get his money he was going to beat this guy's ass, but Crayon just snorted with incredulity.
"Man," he said, "That guy would fuck you up."
The conversation quickly declined from there, with Marker eventually saying he'd get an Uzi and shoot up the place if that's what it took to set things right. To which Crayon responded;
"Come on, man – you can't even get a hundred Euro, but you're gonna' get an Uzi?"
I was mid-hit at the time and blew smoke out of my nose harshly when I laughed at this, but it was worth it. Marker let the conversation drop after that, but I was still chuckling about it for a while.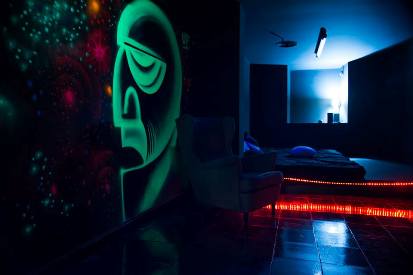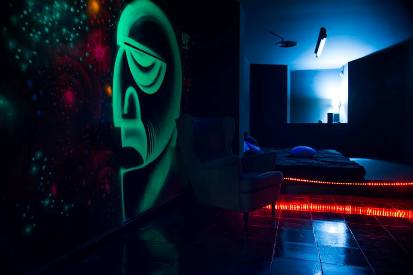 RDM: Small Worlds in One Chill Universe
The cool thing about RDM is that they've set it up like several different small worlds; each separated by a wall, partition, shade or screen of plants. There's a "jungle" area with bamboo bookshelves for walls and a massive jungle river scene painted on the wall. There's another area that features a large projection screen against one wall and a Greek style lounge area. In the far back there's a black room with an impressive star scene as well as something that really made me smile; Pink Floyd murals.
On one wall was the statue from the album The Division Bell; this was set against the backdrop of a twinkling galaxy. On another wall was the infamous Dark Side of the Moon prism and light beam, and on yet another wall was the factory from Animals.
Pink Floyd is the greatest, most important musical ensemble of all time, in my opinion, so I felt right at home.
In addition to the themed areas, there are also plenty of comfortable but nondescript areas to hang out in.
RDM: Marijuana Selection
RDM is a large place, and appropriately centered in the main area downstairs is the marijuana room. It's basically a small room set back into the wall, and the display counter sort of locks the clerk inside. You can see rows of glass jars filled with many different kinds of marijuana behind her.
I've been to RDM 3 or 4 times now and each time the same woman has helped me pick out my weed. She's a beautiful, friendly girl who speaks very good English, and apparently she knows Crayon quite well. Interestingly enough, this told me that despite his inability to get me connected to the club directly, he still was connected to people "on the inside."
It's a weird world, the private cannabis club scene in Barcelona.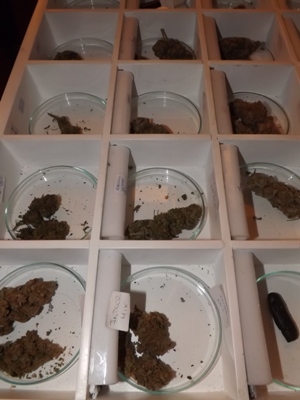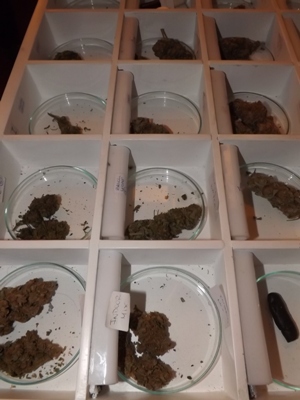 Sitting in front of this girl is a podium atop which is perched a large, shallow compartmentalized box with a couple dozen different types of marijuana, hash, oil, wax and some other goodies like the 2 marijuana lollipops I got. I also selected a couple of grams of Somango – 100% Sativa, Yumboldt – 100% Indica, and Cream Caramel – a 60/40 Indica/Sativa blend. There were plenty of other types to choose from including Northern Lights, Cheese, and even some "mixed" buds that presumably came from the bottom of different jars of weed.
RDM Activities & Things to Do
RDM isn't quite like Kush or Abcda in the sense that there are a lot of different things to do. RDM is setup to be a posh, stylish, relaxed and interesting place to just hang out. In fact, this is one of the things that both Crayon and Marker told me; that what makes RDM such an awesome place is the people, and I can see that they're right.
Of course, I didn't get to meet many of these people personally, but I do have to say that overall, RDM is a busy place full of attractive, young and interesting people. But if sitting around and hanging out with friends isn't enough for you, RDM does offer some other things to do.
First, there's a large pool table in the center area downstairs where you'll almost always find people playing in teams. There's also plenty of action in the "black room," where I've seen at least 6 guys playing a motorcycle racing game on Xbox at the same time. I sat and watched them play for a bit on the giant flat screen television on the back wall, and witnessed a lot of good-natured cussing and insults between the players. It looked fun.
There are major soccer game nights, Halloween parties, and other events featured on the RDM website like ping pong tournaments, live music and more: http://www.rdm-bcn.com/
RDM Staff
The staff at RDM is warm and welcoming. They're all quite friendly, very helpful, and they almost always have a smile on their face. I can't blame them; it seems like a pretty chill job. As I mentioned earlier the girl at the weed counter is cool, and the girls at the front desk are too.
Interestingly, the general atmosphere and disposition of the staff at RDM is quite different than at Abcda – another club I rated at 5 stars. At Abcda the staff is uber-professional, dresses in business-casual and performs their duties flawlessly in what feels like a German or Dutch sort of way. On the contrary, the staff at RDM tends to dress casually and flaunts their friendliness and warm personalities while still remaining professional.
These are significant differences and each club may have an appeal that is better suited to certain types of gatherings.
For instance, I'd bring a business associate to Abcda. I'd also bring a new girlfriend there for a chic and romantic evening. Conversely, I'd bring a group of friends or family members to RDM for a totally different kind of experience. RDM would also make an awesome place to check out a soccer game or a race with other stoned and boisterous fans.
(This is a preliminary application process; not all who apply will qualify for membership based on Spanish law and club policy. Application for membership is general and is not necessarily applied to any particular club unless the applicant fully qualifies.)
Conclusion
I give the RDM cannabis club in Barcelona 5 out of 5 stars. The only thing I feel the club is lacking is a selection of marijuana edibles. There are some vending machines upstairs with snacks like Snickers bars, potato chips and so on, but having at least a couple of sweet cannabis edibles really rounds out a club's offerings nicely. Other than that, RDM is an exceptional club and is one that I'll be returning to frequently.
Barcelona Cannabis Club Review Rating for RDM: 5 of 5 Stars
[author-post-rating]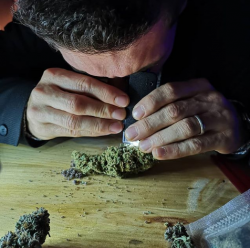 Latest posts by Russ Hudson
(see all)