The Kush cannabis club in Barcelona has a decent selection of marijuana strains and some other pot-related goodies, but what really sets this cannabis club apart is the many extracurricular activities they offer. I've been to this club a few times since becoming a member and overall think it is okay, but there's a bit of a story behind my membership in this club, and it's connected to my negative review of the Betty Boop cannabis club.
(This is a preliminary application process; not all who apply will qualify for membership based on Spanish law and club policy. Application for membership is general and is not necessarily applied to any particular club unless the applicant fully qualifies.)
Barcelona Cannabis Club Review Rating of Kush: 3 of 5 Stars
[author-post-rating]
One Cannabis Club Review Leads to Another
I had made a new friend online who was already a member of Kush, so he agreed to sponsor me for entry. My friend, "Crayon," met with me a few streets away from Kush. I'd tell you where he's from and what he does for a living in Barcelona, but he lives a little on the fringes of society and any details would give him away.
We chatted about the States and shared some stories of our travels over the last few years. Crayon knew that I had memberships at multiple private cannabis clubs in Barcelona and asked where else I had been. I mentioned that I had been writing reviews of local clubs, and the conversation eventually turned to my negative review of the Betty Boop Cannabis Club on Maria Cubi.
When I discussed my experience at Betty Boop, Crayon advised me that the owner, "China," was at Kush at that very moment. Thinking that China was connected to this club as well, I thanked Crayon for his time and told him that I wouldn't need a membership at this club after all.
But it turns out that China wasn't connected to Kush in a business sense; apparently he just liked to hang out there. A lot, as I would later find out.
I didn't have any problem with the guy personally, so I wasn't about to be deterred from checking out another club that he didn't own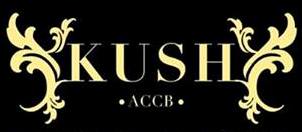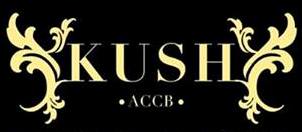 or manage. We turned sharply down an alley that narrowed as we approached its end, and there on the right were two large frosted glass doors. I admired the striking Kush logo and followed Crayon inside.
The Kush Cannabis Club in Barcelona: Lots of Fun things to do!
After registering and listening to the usual disclaimer about the legality of cannabis consumption in Barcelona and Spain in general, I was issued my Kush membership card and walked into the main lounge area. China was sitting there at the head of the bar; I knew this because he was the only black guy in the place, and employees at Betty Boop had described him to me when I interviewed them.  Crayon also pointed him out as we sat down at the bar.  Of course, China probably had no idea who I was because we had never met, so I sat at the bar and went about my business.
The first thing my eye was drawn to was the animated menu board on the wall. It flashed different screens announcing a variety of events that were happening at Kush, and I marveled at how many different options there were. I'm certain they have more to offer, but the events and benefits that really struck me as just plain awesome were:
Free Spanish classes for members
Cultural Fridays – buy one drink and gorge yourself all you want on an international buffet
NFL Sundays – this is pretty much a large NFL party, similar to what you'd find in the States, only with less alcohol and more marijuana
I've been thinking of hitting up that Spanish class considering I probably sound like a retarded monkey when I attempt to converse with locals.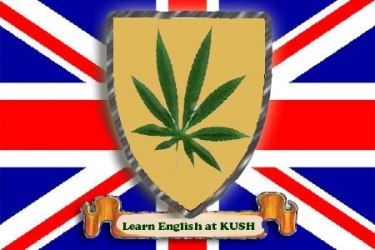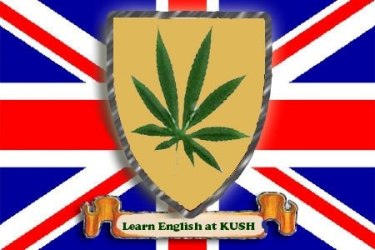 Kush is…well, pretty Kush…
The environment at Kush is hot, stuffy with poor ventilation, and moderately dingy. There are a few seats at the bar, but most of the hanging out is done in the far lounge, which is lined with couches and comfortable chairs. There's a huge roof vent that opens up the ceiling, but most of the dozen or so guys hanging out there were fixated on a giant TV screen where they were battling each other on Xbox or Playstation or something. It seemed like they were having fun, but I remember thinking at the time that there were unfortunately few females in the place. In fact, my first time there the place was loaded with dudes and the only female was behind the bar, and she wasn't in any mood for banter.
So in my experience Kush is a sausage fest…
But overall Kush is an alright place to hang out for an hour or so, get high and sink into the cushions or play some games. They also have an extremely large entry way where you can probably put your bike if you need to, but I don´t recommend it. They let me keep my bike there the first time I went, but I locked it up on the street during my next couple of visits as many of the characters that come in the club seem quite shady.
Kush Marijuana Strains and Hash
To acquire marijuana at Kush, you must wait your turn to go into a small room where you'll be presented with a large box of different types of weed. There was probably 20 different varieties to choose from, in addition to a couple of types of hash and what looked like some extracts. I hadn't heard of quite a few of their strains before so I just randomly selected some. You can read about each of these types in the following Marijuana Strain Reviews:
[checklist]
[/checklist]
At the time I also noticed that Kush was carrying the Amnesia strain – quite possibly my favorite strain apart from White Widow. This was good to know because most other cannabis clubs in the city had been cleaned out of this particular variety, as I am not the only one who favors it.
Kush Edibles and Extras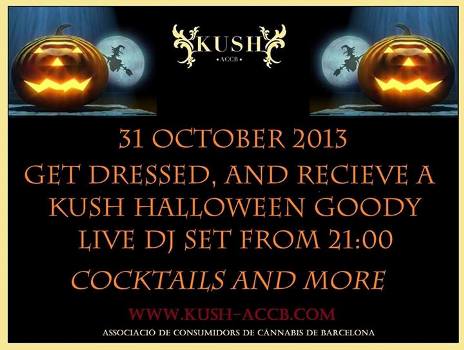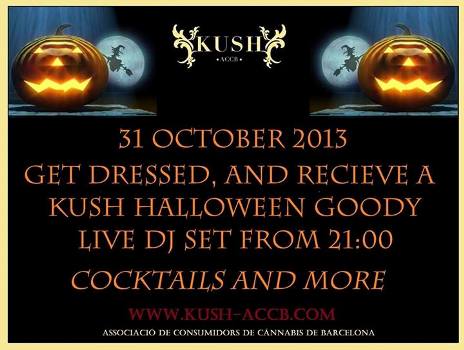 Kush has tons of extras for sale. We're talking coffee and tea, sodas, water, snacks, bowls and pipes, grinders, lighters, papers, etc. The second time I went to this club I asked for one of the scrumptious-sounding Kush Smoothies advertised on the back wall of the bar, but when I asked for one the bartender just shook his head.
"No." he said to me, "I'm not making those today."
It was a little awkward and he didn't offer any further explanation, so I tried another angle and asked what edibles he did have available for me to buy. He turned, opened a small freezer and rummaged around in it for a bit before pulling out a couple of trays of frozen brownies. Then he disappeared and I never heard any more about it, so I assumed there were no edibles available that day.
Pity.
It was a Sunday, so perhaps the timing was bad, although the club is open on Sundays from 11 to 1AM. Overall the service at Kush is poor, so don´t expect much.
This brings me to my next major point, which is that the rest of the week Kush is open until 3AM. This is by far the latest I've seen a club open so far, and it's good to know that even if it's really late at night, there's still plenty to do if you're near Calle Freixures in Barcelona.
(This is a preliminary application process; not all who apply will qualify for membership based on Spanish law and club policy. Application for membership is general and is not necessarily applied to any particular club unless the applicant fully qualifies.)
Overall I give Kush 3 out of 5 Stars. If the level of service improves and they clean the place up and keep the riffraff out, then I could easily see Kush becoming a top 5-Star club.
However, my next Barcelona Cannabis Club Review IS for a 5 Star club, so use the RSS icon below or in the top right of the site's header to automatically get updated when that post is published. In fact, the next club review is for a place that rivals the 5-Star Abcda club I reviewed a couple of weeks ago, so be sure to check it out when it's posted.
Barcelona Cannabis Club Review Rating of Kush: 4 of 5 Stars
[author-post-rating]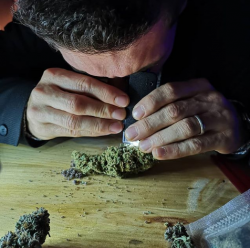 Latest posts by Russ Hudson
(see all)