My first impression of the Betty Boop Cannabis Club in Barcelona was good, but that quickly changed and at this point I'll never go back there. To be fair, the club does have a large variety of marijuana, edibles, some hash and even some pain salves. But overall my experience at Betty Boop isn't something I'd like to repeat. However, your experience may be different, and if you live near Betty Boop this might be an okay club for you simply for location purposes.
Overall Rating for Betty Boop [author-post-rating]
(This is a preliminary application process; not all who apply will qualify for membership based on Spanish law and club policy. Application for membership is general and is not necessarily applied to any particular club unless the applicant fully qualifies.)
First Impressions of Betty Boop Cannabis Club in Barcelona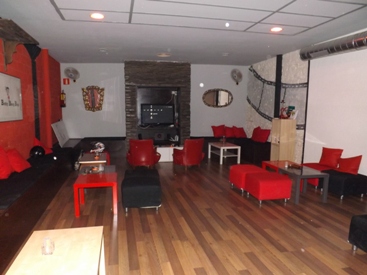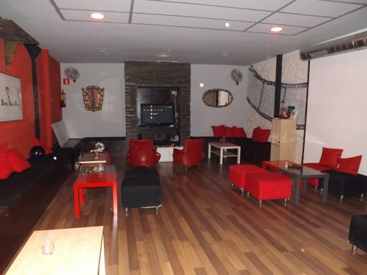 Betty Boop has a modern entrance with some cool graphics on the doors. Once you're buzzed in you'll enter a small reception area. There was a young, friendly guy from Scotland manning the desk; he had me fill out a registration form on an iPad, then I paid 20 Euro to register. He buzzed me into the member's area that opened into a bar on the left, and there was a large lounge in a room beyond the bar. Along the wall opposite the bar was a huge mural depicting a heavily tattooed Betty Boop tokin' up in Barcelona.
It was hot and I started sweating badly; there was no air circulation and I could tell that people had been smoking joints laced with tobacco by the sweet and stale heaviness of the air. This was a little unexpected as I had become accustomed to the coffeeshops in Amsterdam, where most use exhaust systems and smoke eaters to keep the place clear. There were 4 guys in the lounge smoking and talking quietly, and one patron sat at the end of the bar. It was the middle of the day so I wasn't surprised that it was dead in there; in fact, I had hoped for exactly this.
---
Betty Boop Marijuana Variety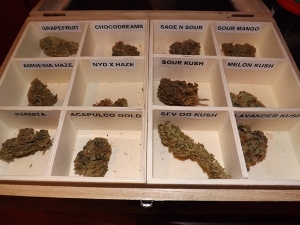 In a glass-topped shadow box at the head of the bar was a selection of 12 strains of premium marijuana. The bartender or "budtender" recommended the Juanita and said it was an excellent local Spanish strain. I got a couple of grams of that, as well as 2 grams of Grapefruit and 2 grams of Acapulco Gold. I didn't do a full marijuana strain review on these three types, but you can read about them and see some pictures in this post.
---
Betty Boop Marijuana Edibles
Betty Boop has an astonishing array of marijuana edibles. They ought to, as they employ the services of a professional chef who, according to the dispensado Agro, had gained a significant level of notoriety for his dishes at a prominent restaurant. Indeed, based on the items I saw and photographed, this guy knows what he's doing. From cakes to brownies to cookies to sandwich cookies with cannabis cream, to muffins and even marijuana ice cream, Betty Boop has it all. I sampled a small teaspoon of the latter and it was delicious; purely flavored with marijuana alone. Yum! I didn't sample any of the other items as I was on a tight budget, so I can't vouch for their taste, but I can say that their presentation and appearance were impressive.
[one_half last="no"]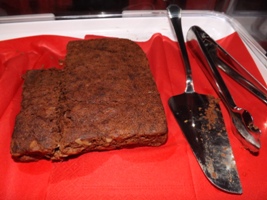 [/one_half][one_half last="yes"]
[/one_half] [one_half last="no"]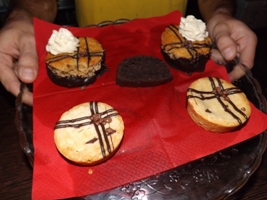 [/one_half][one_half last="yes"]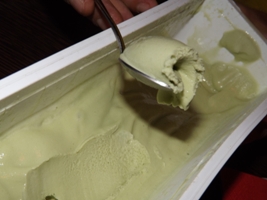 [/one_half]
---
Betty Boop Patrons
Only a few people came in and out of the club during the 3-4 hours I spent there over 2 different trips. Mostly they went right to the head of the bar, placed their order and left, but a few would stay for a couple of hits from a large bong on the bar.
Overall, Betty Boop is a pretty quiet place. But I did meet and interview one patron and the dispensado named Agro. The patron, a slender woman who was dwarfed by the bong she smoked from, hailed from New Jersey, USA, and spoke no Spanish. Even without Spanish Bonnie seemed comfortable enough at Betty Boop despite the fact that she had traveled to Barcelona alone with no schedule, plans or itinerary.
A svelte little creature, Bonnie was out searching the world for solace after her mother passed away this year. Her bravery had been rewarding her; in part due to her connection with Betty Boop. She recounted how she had made one friend at the club who invited her to Amsterdam for a few days; a strange trip that saw the pair separated inadvertently. Upon her return to Barcelona, Bonnie made her way back to Betty Boop and was fitting in just fine; the day I interviewed her she was heading out to Placa Reial with the Scottish lad who worked the front door.
She seemed happy when she left, and it's safe to say that Betty Boop had a hand in that.
---
Betty Boop Staff & Owners
The budtender told me his name was Agro, but he hesitated before telling me so I'm not certain if that is his real name or a nickname, and I didn't ask for clarification. I had met one of the owners of the club, Lynn, and gained permission to interview staff and patrons. That day things were slow at the club so Agro had time to chat from behind the bar.
One of the newest additions to the staff of Betty Boop, Agro had only been working there for 10 days, but said it was one of the best jobs he had held. An amateur photographer and long-boarder, he told me in good English that he greatly enjoyed the relaxed environment and interesting duties, but that his interactions with members of the club made the job truly rewarding.
I arranged an interview with the primary owner, "China," for the following day at 2PM. Both Lynn and Agro told me that he was the brains of the operation and would be best able to answer my questions regarding regulations and other finer details.  I also had some more unusual questions like 'What do you do with the weed left after making hash?' and 'Is the marijuana grown here on the premises, and if so can I see it?'
The next day I arrived for the meeting a few minutes early and walked around the neighborhood until 2PM. I know that in Spain lateness is perfectly acceptable and often expected, but as an American I am always punctual. In any case, I wasn't surprised to see a nearly empty club when I walked in. But this time, things were different.
Agro was finishing up providing some marijuana to a couple of patrons. I smiled and greeted him warmly but he only looked at me sullenly and grunted. I noted the change in disposition and sat down at the bar, thinking that maybe he was just having a bad day.
During our interview the day before, I had complained to Agro that I could not get good close-up photographs of marijuana using my Fujifilm camera. He recommended that I study my camera settings more closely. That evening I did as he advised and discovered some macro settings on the camera that enabled me to take photographs of some buds that were so fine you could see the resin hairs standing on end. So when the last members had pocketed their weed and shuffled out of the club, I thanked Agro for his advice and told him excitedly that it had worked. He pulled up a stool directly across from me and when he spoke his voice was shaking a little bit. He lit a cigarette or a joint or something and said;
"China will not be meeting with you. He read what you wrote and didn't like it, so he don't want to help you no more."
I was taken aback. He was referring to an article I wrote about getting hash and weed in Barcelona where I had initially reviewed the hash and marijuana I had obtained in the city, which included my first experience at Betty Boop. I immediately apologized and asked what he didn't like. Agro told me that I had written that the marijuana strain Juanita was an Indica when in reality it was a Sativa. I explained that the budtender who recommended it had told me it was an Indica and that's what I put in my notes, but that in any case I would fix the mistake and update the article.
Unfortunately, that wasn't enough.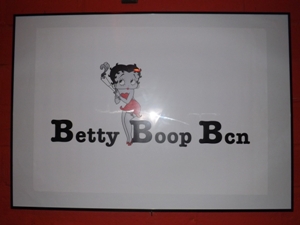 Agro seemed quite upset; like I had offended him in some way, as he complained that I had written that it was hot in the club. He rambled on angrily about how the club was still waiting on permits to get additional air conditioners installed and so on.
Of course, I countered that it is indeed hot in the club and that it was hot at that very moment. He agreed but continued to explain why it was so hot. I tried to educate him that a review is a piece of writing based on the reviewer's experience at the time, and that his excuses were not relevant to a timely review.
Agro then switched his argument to the fact that I had written that the club didn't sell the marijuana strain White Widow, which is one of my favorites. I pointed to the marijuana display case and asked him if White Widow was in there. Obviously there wasn't any in there, but he claimed they had it though he never actually produced any.
He then began ranting again about Juanita being listed inaccurately as an Indica and reiterated that the owner was unwilling to help me. Exactly how the owner was helping me was beyond me, but at that stage I had had enough of being loudly accosted by this guy and gathered my things to leave. As I walked toward the door Agro began yelling at me;
"Don't you disrespect me – don't you walk out when I'm talking to you!"
And so on. I ignored him and walked into the reception area, where the Scottish guy asked what was wrong. I muttered something about his cohorts being assholes and walked out to the street. My bike was parked on the sidewalk, locked to a tree. As I was unlocking it, Agro came steaming out of the building and began yelling at me.
I thought for a few moments that we were going to have a physical altercation right there in the street. I wasn't necessarily opposed to this as by then the guy really had my blood boiling and I was aching to shut his mouth one way or another. But being new to Barcelona and Spain in general and not yet having registered with the city, I didn't want any problem with the authorities so I merely argued with him while I tried to get out of there as quickly as possible.
Agro was now pissed that I had disrespected him by walking out when he was talking. I countered that I was pissed that I had arranged my entire day based upon an agreement between me and the owner, that I had spent a significant amount of time the night prior preparing interview questions, that I rode my bike 40 minutes across the entire city to arrive on time, and the owner couldn't be bothered to meet with me because he didn't like a couple of things I wrote about my personal experience at his club.
I firmly insisted that I was the one being disrespected and that I would report my experience as accurately as possible. I pointed out that the erroneous information I had written about White Widow and Juanita was based on information given to me by China's (the main owner) employees. I then swept my arm toward the crowd of onlookers who had gathered to watch this loud argument and indicated my extreme displeasure that an employee of a business had followed me out of the establishment and into the street to argue with me loudly and publicly.
Finally, I told him that making a spectacle of himself would do no good; the owner refused to meet with me, I would obviously never go back to the club again, so what more was there to talk about?
Eventually, the Scottish guy came out and physically pulled Agro back into the club.
Conclusion:
What really struck me most about this sad situation is that the owner knew I was interviewing his staff and patrons and looking the place over for a full-feature review of the club. If he was smart, respectful and a man of his word, he would have kept his meeting with me. He would have explained that I was misinformed about the White Widow and Juanita, and I would have corrected those items immediately. He could have explained the lack of permits for air conditioning, and I would have included this in the full-feature review, although I would not have changed it from the original article because the reporting was fair and accurate; it's hot in there.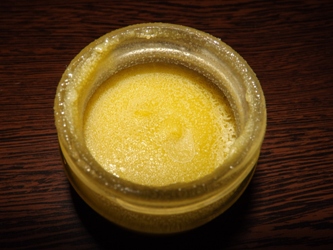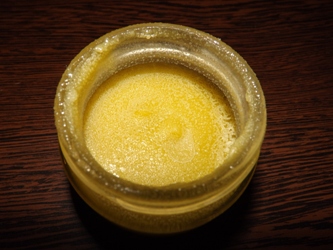 (This is a preliminary application process; not all who apply will qualify for membership based on Spanish law and club policy. Application for membership is general and is not necessarily applied to any particular club unless the applicant fully qualifies.)
However, the owner chose to blow me off completely and instead have his employee verbally accost me first in the club, and then in the street in front of onlookers. It was both infuriating and embarrassing.
But you might like it at the Betty Boop cannabis club in Barcelona; especially if you're really into marijuana edibles. They also have an analgesic marijuana salve that is apparently quite popular. The marijuana prices are fair but there are certainly cheaper places in the city, and the registration fee is double what the Barcelona cannabis club in my next review charges. To be instantly updated when that review is published, click the RSS icon below or at the top-right of the website.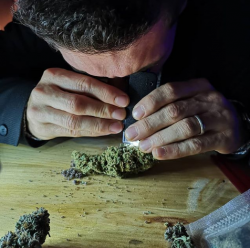 Latest posts by Russ Hudson
(see all)