This Barcelona cannabis club review is for Jammin on Carrer de Sant Pere Més Alt. Located close to Placa Cataluña and the hustle and bustle of all the action on the upper end of La Rambla and Via Laietana, the Jammin smoking club is one of several Bob Marley/Reggae themed cannabis clubs in Barcelona. A sparse club that was obviously put together on a budget, Jammin is more focused on providing good weed at a fair member share cost than spending cash on nice furniture, paint, and special events.
Barcelona Cannabis Club Review Rating for Jammin: 3 of 5 Stars
[author-post-rating]
(This is a preliminary application process; not all who apply will qualify for membership based on Spanish law and club policy. Application for membership is general and is not necessarily applied to any particular club unless the applicant fully qualifies.)
Before I get into the review, I want to point out a few things about the star rating system. Many people automatically assume that a less than 5 Star rating means that there's something wrong with a business and that it should be avoided. However, this is not the case most of the time. Stars are awarded for facilities, events, service, etc., which means that even an awesome business may only be ranked at 3 Stars.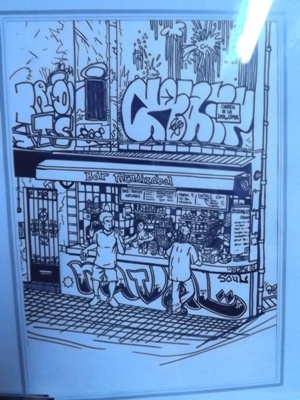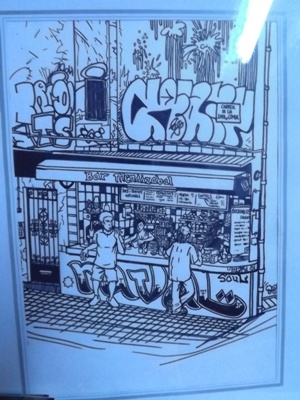 For instance, many 3 Star hotels are highly regarded in their industry and stay booked at 100% for the entire year. How is this possible with only a 3 star designation? Well, in this particular industry, a star is awarded for valet parking. So hotels that do not have this service – regardless of how highly esteemed they are – can never obtain a 5 star rating unless they add a valet. Fortunately, not everyone cares about having a valet service.
In the same way, cannabis clubs that lack certain facilities or services may not be able to rank highly regardless of how awesome they may or may not be. This is why it's important to actually read the entire review in order to understand the club in question. In most cases I will come right out and say why a club did not achieve a star or two, while in other instances it's obvious without me having to "spell it out."
So a 3 Star rating isn't necessarily a bad thing, unless it's because of poor service, terrible marijuana selection, safety issues or some other critical item that would take an otherwise stellar club down a few notches.
The Story Behind the Review

I was introduced to Jammin when I had a meeting with the founding members of a small cannabis related website. I was in the area at the time coming from another club so I was early meeting my associates at Jammin. I carefully locked my bike like a lunatic; a fat cable stretched twice around the rear and front of the frame, through the rear and front wheels, and then finally attached to a steel street post in front of the club. This technique locks up the frame and makes it impossible to steal the wheels unless you defeat the lock.
The group met me outside and we were let in by a dark-haired woman whose age was difficult to guess. Jammin is the only club I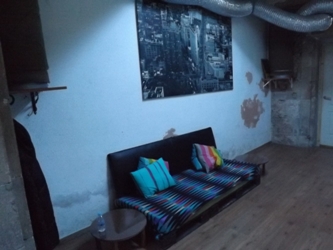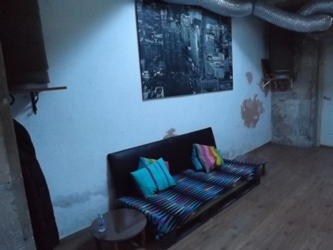 have been to where someone from the inside must manually unlock the door for incoming members; most clubs have an electric buzzer with remote openers. We were led inside and I went through the usual registration process and received my membership card.
I sat down with the board of this particular local cannabis site and we discussed various aspects of the cannabis club scene in Barcelona for about 2 hours. We smoked some hash and a couple different marijuana strains and were fairly stoned when it was time to depart. It had been a pretty good day, but that was shattered when we stood at the entryway to the club and realized my bike had been stolen.
The bike was completely gone without a trace, and I had just bought it 3 months prior so the blow was especially sharp at the time.
Of course, this should not be a reflection on Jammin as a club. But it is my duty as a reviewer to let my readers know that you might want to consider leaving your bike at home and taking the train, or seeing if you can bring your bike inside. It could have been simply bad luck, but the fact of the matter is that I had ridden my bike for months all over Barcelona without a problem until I parked it on Carrer de Sant Pere Més Alt.
I generally visit a cannabis club 2-4 times before I actually write a review, and on my second visit to Jammin I spoke with the club's president for a couple of hours. A pretty cool guy with dark dreadlocks, he told me that I could have brought my bike inside and it wouldn't have been a problem. But while that's good to know, I'm not sure I would have obliged unless I could have locked it to something. This is based on an experience where I once took my expensive road racing bike (a different bike than the one that was stolen) into a club as opposed to locking it up outside. Unfortunately, most entryways of clubs are distinctly separate from the main lounge areas, so it's impossible to hang out and still keep an eye on your bike. This club had some particularly shady characters going in and out, which meant that I was more paranoid during the time I was there than if I had locked my bike up on the street to begin with.
When you're worrying like this, you're probably not having a good time, so my advice is to walk or take the train if you're heading out to Jammin.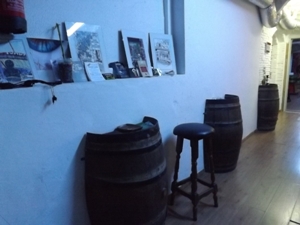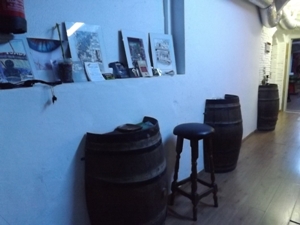 Jammin: The Environment
I can only compare Jammin to my days of living on the streets in Augusta, Maine, when I was about 17 years old. There were around 15 of us local kids that would all gather together in the basement of an aging apartment building. The furniture was largely made up of odds and ends, and there was an old foosball table that saw a lot of action.
Jammin is like that. The furniture is mostly pads and cushions that have been covered and placed on wooden pallets that were spray-painted black. The concrete walls are stained in places and exposed ductwork and beams are just overhead. An old staircase in the back leads to the ceiling in a weird sort of dead-end. Some sections of the walls are made of concrete, some are made from brick, and some are rough-hewn rock walls. Overall the structure and the furniture appear as if they've been piece-mealed together from second hand stores or yard sales.
The first lounge area is especially "rustic," but contrasts sharply with a modern, hi-definition flat screen television mounted on the west wall. This room opens up into the bar area followed by a short hallway and a bathroom to the left. The hallway then deposits you into the main lounge, which is two large rooms partially divided by an old stone wall. Makeshift furniture is spread around in one area, while the other features a pool table and foosball.
Other than the obligatory Bob Marley tapestry in the back room, most of the walls are plain and unadorned with the exception of a few pieces of art here and there. There is a giant image of a city detail in the first lounge area at the front of the club, but it seems out of place to me; this could be as a result of the aluminum lights that cast a sort of gritty hue over everything.
Jammin: Marijuana Selection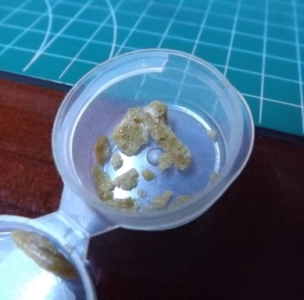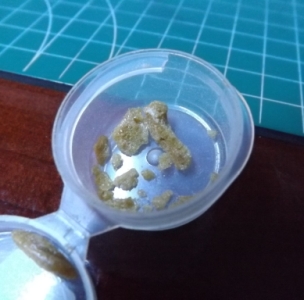 Jammin has a small selection of marijuana and hash. When I reviewed the club in early December 2013, there were 6 marijuana strains and 2 types of hashish on offer. This is comparable to the small menu at Abcda, but the strains are wildly different. Jammin offered the following strains:
Super Skunk
Blueberry Haze
Super Lemon Haze
Orange Bud
Ocean Pacific
Tripical
The last two strains were developed at least in part by a friend of the club's president, who is a cannabis geneticist.
The hash types available were made from Super Skunk and a nondescript stinky Mexican Sativa. I purchased both the Super Skunk weed and Super Skunk hash. The weed was a solid 4 Star performer, but the hash failed to impress me enough to write a review on it. In fact, of the 2 grams that I purchased, I smoked almost all of it in 24 hours as it just wasn't that potent – the parent strain it was created from was far stronger.
Jammin's president told me that he tries to vary the marijuana strains available to members of the club, so if you're not tempted by what they had at the time I was there, then you should stop by or call to find out what goodies they have on the menu now.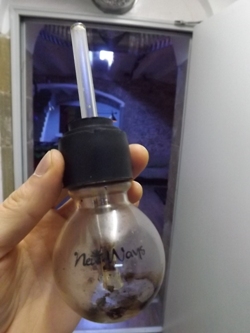 Jammin: Events & Extras
The Jammin cannabis club offers several types of bongs and other smoking devices for its members to use, but as always I caution you to be careful – there may be tobacco residue in there! For regular in-house entertainment you've got the pool table and foosball, and for special events there's sweet treat nights (brownies, cookies and cupcakes, oh my!), soccer nights, and a DJ that spins on weekends. I didn't get to find out for myself, but the club's president assures me that the edibles at his club are damn potent.
Jammin: Staff
I've only seen two people working at this club; the president and his partner. They are extremely attentive, friendly, and knowledgeable about cannabis. I went in early one afternoon to just sit and smoke and maybe take a few photographs, and ended up staying at the bar talking to the president for a large portion of the afternoon. He's an exceptionally sincere and honest man and I enjoyed hanging out with him that day.
Conclusion
My tastes are a little too refined for Jammin, I suppose. I wouldn't take a client or a date there as the place really needs some updates like fresh paint, furniture, etc. And unfortunately, the marijuana selection isn't large enough to suit my needs to make this a club that I would frequent regularly. However, I know that the founding members of the club are dedicated to providing a great experience and over time I suspect that more marijuana strains will be offered and the club will almost certainly get some updates. Ultimately, I think Jammin has a lot of potential because it has passion behind it.
(This is a preliminary application process; not all who apply will qualify for membership based on Spanish law and club policy. Application for membership is general and is not necessarily applied to any particular club unless the applicant fully qualifies.)
I'll be checking in on this club again in about 4-6 months and if there's more to report, I will update this review at the time. If you've been to Jammin, let us know what your thoughts on the club are in the comments.
Barcelona Cannabis Club Review Rating for Jammin: 3 of 5 Stars
[author-post-rating]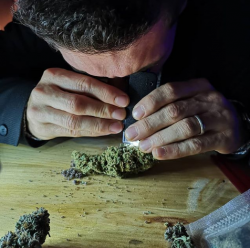 Latest posts by Russ Hudson
(see all)