One peek inside Apollo 27 cannabis club in Barcelona is all it takes to realize this is not your ordinary stoner's retreat. This two-story private smoker's club is one of the largest places in Barcelona to chill out and smoke cannabis, rivaling the size of grande clubs like HQ and Choko.
Apollo 27 cannabis club is located on Carrer de Concepción Arenal in the Sant Andreu de Palomar neighborhood. This is the oldest part of the Sant Andreu district, which used to be an independent "old town" with more than 1,000 years of history before being annexed to Barcelona against the will of its inhabitants.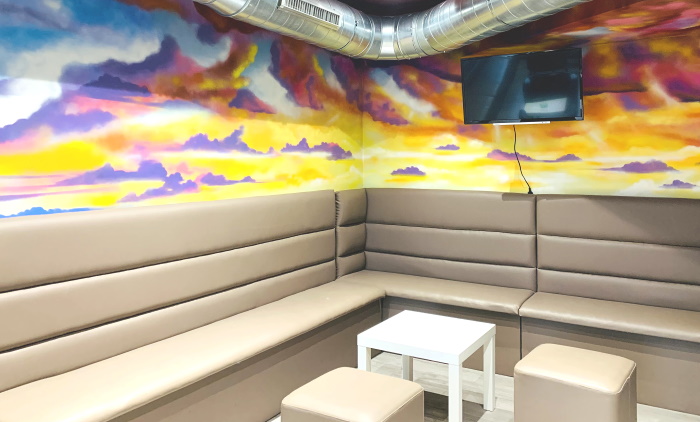 The Sant Andreu de Palomar neighborhood is situated in the north-east part of the city, and is the 9th out of 10th districts of Barcelona. This area offers the perfect combination of a place that's full of life, but also distant from the chaos of the city center.
This Barcelona cannabis club opened its doors in September 2019, with the primary goal of being a close-knit club that caters mostly to Sant Andreu locals.
Apollo 27 Cannabis Club – Environment
Apollo 27 is situated just a 15-minute walk from the Modernista masterpiece of The Hospital of la Santa Creu i Sant Pau, it is an easy to find place if you walk towards Plaça de la Mainada. The street Concepción Arenal is quite long, and you can tell very easily by looking at each shop which one is the correct one.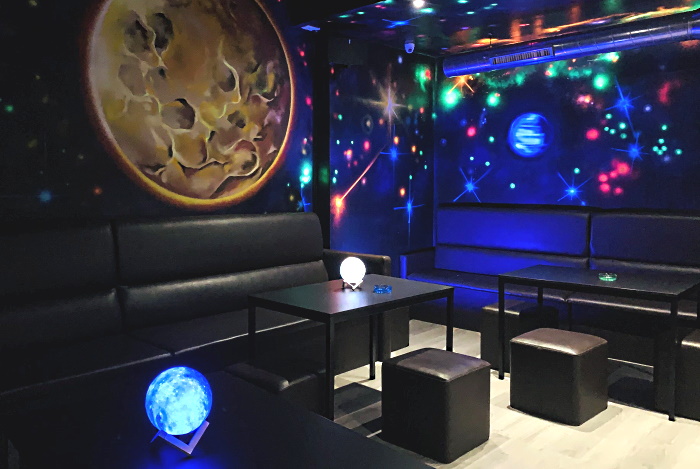 The entrance of Apollo 27 stands out from its neighbors with a different style exterior than most; a colorful landscape with palm trees and flowers is painted on the shutters, while white frosted glass doors announce the name of the club. The buzzer is on the right-hand side; you just need to ring the bell and you will then be allowed to enter a small reception area where you can add funds to your account, or sponsor new members.
There was a tattooed, sociable girl from Argentina working at the reception; I asked her about a "No Dogs Allowed" sticker that I saw, and she said that if it was her decision, she would allow dogs to stay inside, but unfortunately, they had a few bad experiences with some members leaving pee and poop all over the place without even informing the workers, so this policy makes complete sense. Therefore, you'll need to keep your pup at home if you want to spend time inside the club.
After finishing the inscription process, you must go through another door to access the private, members-only interior of the club. Right after you open the second door, you will find the dispensary/bar; this is not a big one, but it has a wide selection of cannabis strains, concentrates, edibles, and much more. Here you will also find an seating area, and a bathroom next to the dispensary.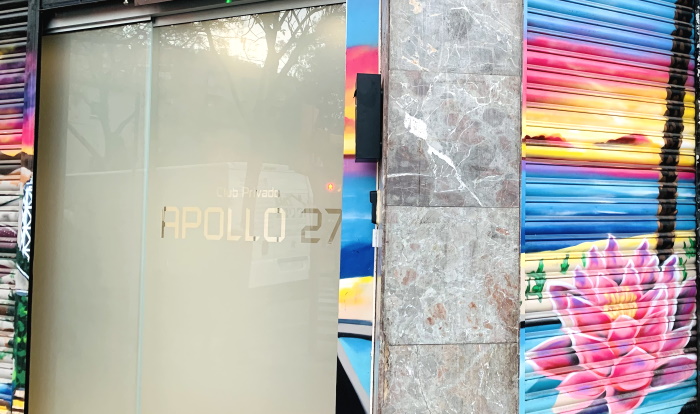 If you keep walking straight, you will understand why this club is called Apollo 27. This main chill-out area is painted from ceiling to floor to look like the milky way galaxy; you can find planets, stars, galaxies, constellations, etc., but the real magic happens when you turn off the regular lights and instead turn on the black lights; then the glowing art speaks to you, imparting the feeling that you are entering another dimension, or maybe another planet.
If you feel like working or meeting new people in a more relaxed area with natural light, then you should take the stairs to the upper half of this Barcelona cannabis club. This chamber is quite spacious, with many seating areas all along the walls, but this time the paintings on the wall depict a vanilla and orange sky, which creates a peaceful, Zen-like atmosphere.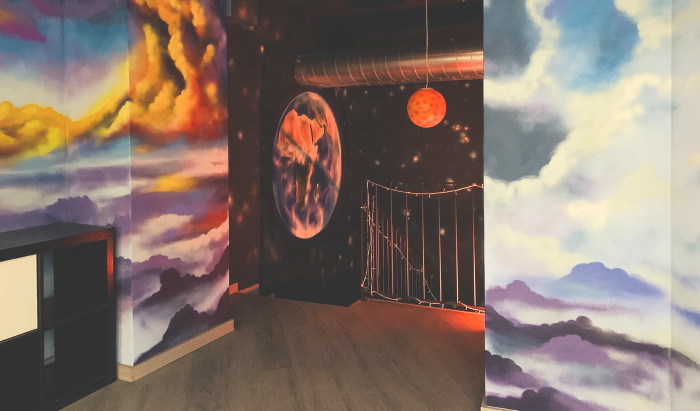 The manager of the club explained to me the whole idea behind the paintings and the two different environments is that "the ground floor is for people who feel crazier or just want to have fun after they smoke, when on the other hand, the upper area is for when you feel the opposite; there is no music, just the silence, the sky, and you.
Apollo 27 –
Cannabis Products & More
Apollo 27 offers its members some of the finest weed in Barcelona. A wide menu of 10-20 strains is divided neatly between sativas, indicas, and hybrids. The marijuana offered here is fresh, well-cured, and with fair member per gram contribution. When I visited the club towards the end of November 2020, they had the following strains available: Green Kush, Cookies & Cream, Mimosa Champagne, Forbidden Punch (a cross between Purple Punch and Forbidden Fruit), Barbara Bud, Lemon Mint, Amnesia Haze, New York Diesel, and Tropical Punch. The uniqueness and high-quality of these cannabis products is unique is because the club collaborates with well-known Spanish growers that specialize in varieties from California.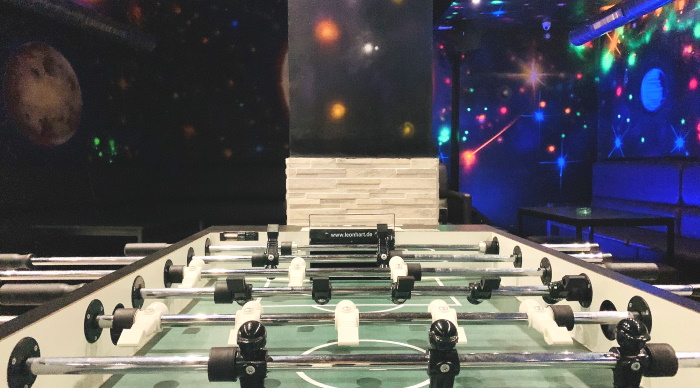 Apollo 27 also offers different types of extractions such as Melon Gum budder, and Cherry Terps Sauce made from the Cherry Pie strain. The club also carries a good variety of traditional hashish.
For members who like marijuana edibles, Apollo 27 stocks chocolate bars, gummies, and cookies from Bud Brothers. They also offer a wide selection of accessories and marijuana-themed products: from grinders, papers, and filters to glass bongs and vaporizers.
Apollo 27 – Staff 
Apollo 27 is staffed by a squad that is dedicated to offering a definitive cannabis experience to its members; from the budtender (who was super welcoming and took the time to educate me about the cannabis products they offer) to the manager that spent a few hours of her valuable time with me, sharing insights and information about the club.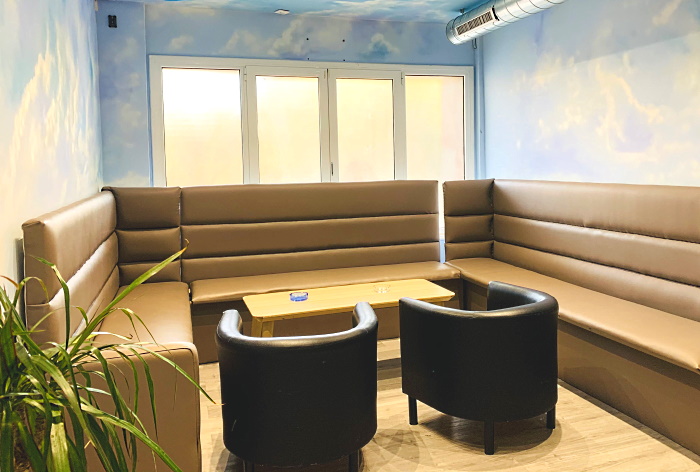 The staff at this private cannabis social club will make sure that members are comfortable in the association, especially taking into consideration the tough social and other restrictions during COVID-19. Genuine smiles, warm greetings, and sharp service are overflowing at Apollo 27.
Apollo 27 – Events & Extras 
Apollo 27 does not have many events planned at this point due to the COVID-19 regulations for cannabis clubs, but as soon as Barcelona returns to normal, they are working on organizing several events. This includes a movie or documentary for members every Sunday at 21:00, complete with popcorn and soda. They are also working on having open-mic sessions, a Halloween giveaway, an anniversary party, and, finally, a 4/20 celebration.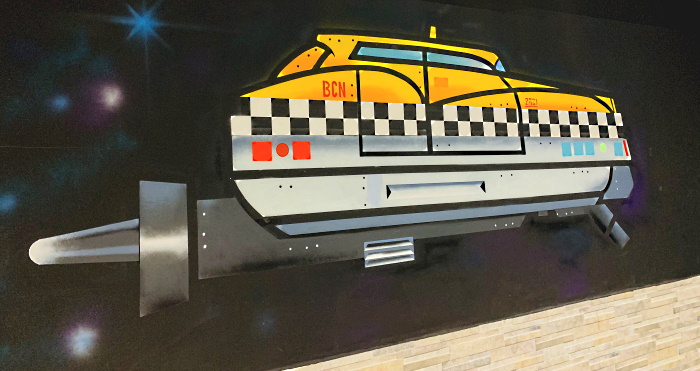 Like most cannabis social clubs in Spain, this private association provides free Wi-Fi for members looking to work or play online, and they also broadcast football (soccer) games.
Conclusion
Apollo 27 is the perfect club for marijuana users that want a place in Barcelona where they can simply and safely acquire superior cannabis products and spend quality time hanging out away from the chaos of the city center. Apollo 27 is ideal for people who live in the Sant Andreu district, as the crew behind this cannabis association want to give something back to the community by creating a well-blended atmosphere where its members always feel welcome.
Are you a member of Apollo 27? Let us know your thoughts in the comments section below!
Latest posts by Rachel Clark
(see all)