This Barcelona cannabis club FAQ addresses all the most-common questions – and some strange and rare ones – about cannabis clubs in Barcelona. From the average price of weed, to rules & regulations, to transport and public consumption protocol, information for tourists and foreigners, and how to get membership at a Barcelona weed club, this Barcelona cannabis club FAQ contains all the details you need to understand how these clubs work, and how you can become a member at a Barcelona marijuana club.
NOTE: This Barcelona Cannabis Club FAQ is updated regularly, and is currently valid as of July, 2020.
---
BARCELONA CANNABIS CLUB FAQ
(Frequently Asked Questions)
---
1. IS MY PERSONAL INFORMATION PRIVATE? WILL MY MEMBERSHIP BE REPORTED TO ANYONE, INCLUDING GOVERNMENT OFFICIALS?
Yes, your information is 100% private; these are PRIVATE cannabis clubs; they are not open to the public and do not share their member data with anyone. You will never receive mail from the club, your information will never be reported to police or government authorities, and the club will protect your data as a matter of rigid policy.
2. WHAT ARE THE AGE REQUIREMENTS TO JOIN A BARCELONA CANNABIS CLUB?
Because each club is a distinct private entity, the age requirements depend on the club's policies. Most cannabis clubs in Barcelona – and in the rest of Spain – only permit new members who are age 21 or older. However, there are some clubs that allow members who are 18 years of age or older.
3. IS WEED LEGAL IN BARCELONA? ARE THE CANNABIS CLUBS IN BARCELONA LEGAL?
To answer this question, I have prepared an in-depth post that explains the legality of cannabis and social clubs in Barcelona: Is Weed Legal in Barcelona?
The short answer to both questions is "yes," but only under specific conditions.
4. I HAVE HEARD THAT YOU SHOULD NOT ASK TO "BUY" WEED IN BARCELONA CANNABIS CLUBS – IS THIS TRUE? HOW SHOULD I ASK FOR IT?
Members of cannabis social clubs in Spain don't "buy" cannabis from the club; instead, they reimburse the Association for the approximate cost of producing the marijuana and providing a safe environment in which to consume it. Use the correct vernacular if you can:
How much is the member share for that strain
What's my contribution for a gram of Nicole Kush
Also, in general, use the term "cannabis," and not "weed" or "marijuana" or "pot."
5. DO I NEED A NEW APPOINTMENT EACH TIME I GO TO THE CLUB?
No, you do not need a new appointment each time you go to the club. When you join a Barcelona cannabis club, the membership period is typically for one year. During that period, you can go to the club and hang out there as much as you want any time the club is open, 7 days per week.
6. WHAT ARE THE LIMITS – HOW MUCH CANNABIS CAN I ACQUIRE AT A BARCELONA CANNABIS CLUB?
This might differ at each club depending on association polices and individual need, but the typical policy allows for 5 grams of cannabis per member, per day, and up to 100 grams per month. In some cases, these limits include "grams" of all types of products, but in many clubs, the limit applies only to dried flower, and doesn't stretch to cover extracts and concentrates. Again, every club is different, and it's your responsibility to ask these types of questions before you join a club if you have specific needs.
7. CAN I TAKE THE MARIJUANA OUT OF THE CLUB?
Yes, you can take cannabis out of the club. You are protected by Spanish Constitutional law when you are in private spaces, but out on the street or in other public areas, you're not. So, if you leave a Barcelona cannabis club with marijuana products in your possession, you should ALWAYS transport these items in your undergarments, which do enjoy Constitutional protections, even when out in public. Any other area of your body is not considered "private" when you are in a public space. Spanish police cannot search your nether regions without a warrant, so this is the best place to transport the cannabis from one private place to another.
8. CAN I SMOKE MARIJUANA IN PUBLIC? WHAT ABOUT IN MY HOTEL OR APARTMENT?
The short answer to this question is no, you cannot consume or publicly display marijuana in Barcelona. For more details about this question, I have prepared an in-depth post that covers the information more clearly: Where to Smoke Weed in Barcelona
9. CAN TOURISTS OR FOREIGNERS JOIN A CANNABIS CLUB IN BARCELONA?
Yes, tourists and foreigners can access the cannabis clubs in Barcelona, if they meet the general conditions. Here's an article I wrote about this called Tourists and Marijuana in Barcelona
10. WHAT ADDRESS SHOULD I USE FOR REGISTRATION AT A BARCELONA CANNABIS CLUB?
You may use any regular residential address for registration purposes. You do not need to prove your address with documentation; any address that you provide is fine because the club isn't going to send you mail anyway. The exception at some clubs is hotel and hostel addresses; many clubs want you to use a regular residential address and disallow hotel and hostel addresses. AirBnB and other similar addresses are fine, or any residential address.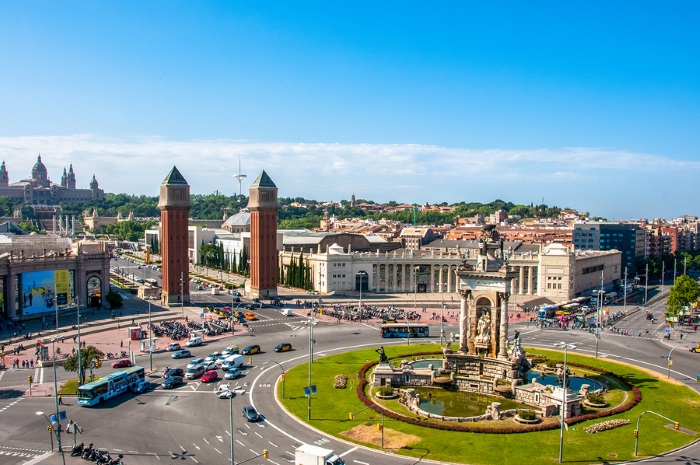 11. WHERE DOES THE CLUB'S CANNABIS COME FROM? IS IT SAFE?
In some cases, cannabis social clubs in Barcelona entirely cultivate their own cannabis. In other cases, a club might grow some of their own cannabis, and then rely on their member base and supplier associations and networks to acquire additional cannabis. Some clubs only rely on members and supplier networks, and some clubs buy directly from the black market. Know your club, and you'll know where the cannabis comes from.
12. I AM A MEDICAL MARIJUANA PATIENT – ARE THERE SPECIAL CONSIDERATIONS I SHOULD KNOW ABOUT?
No. Spain does not have a medical marijuana program, nor does the country really have a medical marijuana movement. Rarely, some clubs will offer documented medical users a discount on products, but in most cases, all members acquire the same cannabis in exchange for the same level of member contributions.
13. WHAT IF I GET CAUGHT WITH WEED IN BARCELONA?
If you do not follow the transport protocol detailed in item #7 above, and you get caught with marijuana in Barcelona, it's best not to tell police that you acquired the weed from a cannabis club. You can choose to remain silent, or you can simply tell them you got it "from a guy on Las Ramblas." Police will copy the details from your ID, and then send you a fine in the mail. Many people pay these fines. Many do not.
14. HOW LONG IS MY MEMBERSHIP AT A BARCELONA WEED CLUB GOOD FOR?
At most cannabis clubs in Barcelona, membership is good for one full year. However, some clubs have rules that require members to be active. For instance, at some clubs, if you don't show up to the club and claim some share of the harvest for 90 days, you'll lose your membership, or you'll be placed into an "inactive" status. But for all members, renewal after one year is required, as well as payment of the yearly membership fee.
15. WHY DO I NEED TO SHOW MY ID AT THE CLUB?
These are private cannabis clubs, and we care about the network and community of members that we build. We don't want imposters in the club, and we want to make sure that everyone who enters the club is a legitimate, active member who not only has their valid ID present, but also their membership card. In the event that police inspect the club, we need to show that every person inside is a member, and that no "public" entrances have occurred.
16. WHAT TYPES OF CANNABIS IN BARCELONA IS AVAILABLE TO ME? DO THE CLUBS OFFER VAPE PENS, ROSIN, CARTRIDGES, ETC?
Every club is vastly different in regard to the types and quality of products they carry. Before you become a member at a club, you should ask any question you have about the availability of certain products. Club stock changes frequently, and not every club has what you need. However, you cannot just call up or email these clubs and ask about their inventory; they will only discuss this in person. So, you need to ask your questions during the inscription, before you pay the membership fee. This way, if the club doesn't have everything you want, you can decline the membership.
17. I WANT TO WORK IN A BARCELONA CANNABIS CLUB – HOW CAN I GET A JOB?
Concerning direct employment with a cannabis association in Barcelona, the chances are very unlikely that a job is available, and if one is, there is probably already a list of individuals – often from the member base – that will be vying for the position. The clubs tend to hire Spanish people first, and rarely hire foreigners. However, if you have a NIE, you might be able to apply for a position. Applications for jobs at cannabis clubs in Barcelona can be acquired and submitted in the same way that a person would apply for any other job.
If you're an entertainer that wants to perform at a cannabis club, the best thing to do is first become a member of that club, and then ask club staff about opportunities to do your thing.
18. CAN I BE A MEMBER OF MULTIPLE CANNABIS CLUBS IN BARCELONA?
Yes, most everyone I know in Barcelona is a member of multiple clubs. I'm a member of at least a couple of dozen clubs in that city alone, as well as some other cities, too.
19. ARE BARCELONA'S CANNABIS SOCIAL CLUBS SAFE?
Yes, Barcelona cannabis clubs are extremely safe from both criminal and police threats. Single and unaccompanied women, the elderly, the infirm, differently-abled and anyone else can feel comfortable and safe inside a cannabis association. However, like every other business in the world, there are some bad apples in the bunch. If the club you want to join has a very low or free membership or joining cost, sketchy online or street promoters, and/or is dirty, smoky, or poorly stocked when you enter, then you should leave the situation and find a better club.
20. WHAT IS THE AVERAGE COST OF WEED IN BARCELONA?
Because I get this question so often from clients and visitors to Barcelona, I'm preparing a post to detail the average cost of weed in Barcelona across a wide variety of different cannabis products, so make sure to book mark this site or grab our RSS feed to get updated when that post is published.
21. WHERE CAN I SMOKE WEED IN BARCELONA?
The best places to smoke weed in Barcelona are in private cannabis clubs, or your private residence. While public consumption and display is not permitted, I know that many of you are going to do just that anyway, and as long as you're discreet and don't let your smoke or vapors bother anyone, then you should be fine.  To make sure you're informed and safe, check out our Stoner's Guide to the Neighborhoods of Barcelona.
22. CAN I BRING A GUEST TO A BARCELONA CANNABIS CLUB THAT I AM A MEMBER OF?
You cannot bring a guest unless you intend to sponsor them for membership. Remember, each person that enters a social club in Barcelona must be a member – if the public can enter, then the club is NOT private, and therefore is in fact illegal. So, if you want to bring a guest, ask your sponsor to refer them if you are not able to do so yourself, or simply bring the person to the club during regular inscription hours. Your guest will need to be prepared with a valid ID and cash for the membership fee.
MORE BARCELONA CANNABIS CLUB FAQ? If you have other questions not answered here, please ask them in the comments section and I'll happily post the answers.
If you need a referral or sponsor to join a cannabis club in Barcelona, please email: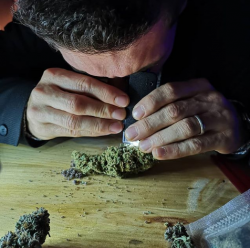 Latest posts by Russ Hudson
(see all)