This stoner's guide to the neighborhoods of Barcelona will help you understand what each barrio is like, where you can get weed in the city, and where you can safely smoke it. From Raval to Gotico to Born, this guide exclusively deals with the Ciutat Vella district of Barcelona, which is the very heart of the city.
RAVAL
Raval is one of the most eclectic neighborhoods of Barcelona, you see and meet people from many different nationalities, especially Moroccan, Filipinos, Pakistanis, etc, This means there's also an infusion of a variety of gastronomy, spices, and flavors. The Mercat de Sant Josep de la Boqueria is one of the city's foremost tourist landmarks; just the experience of walking around this place is outstanding.
Raval is not only about food; art is the second pillar of this neighborhood. The Barcelona Museum of Contemporary Art (commonly called MACBA), the Keith Haring mural, Botero's giant bronze cat sculpture, and urban graffiti are all excellent examples of the artistic nature of Raval.
CANNABIS CLUBS IN RAVAL – Some of the marijuana clubs you can find strolling around this neighborhood are La Mente, Dr. Dou, Strain Hunters, and LaKalada.
WHERE TO SMOKE WEED IN RAVAL– If you're looking to smoke weed in Raval, the area of MACBA where many skaters show off their skills is the perfect spot. Most other people here will be smoking as well.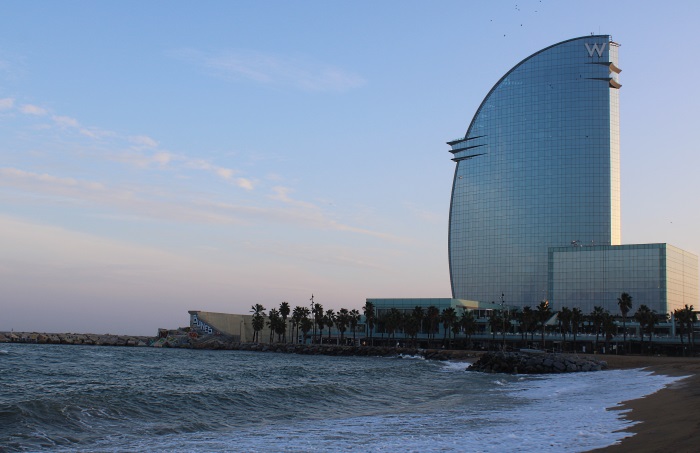 BARCELONETA
One of the things that keep tourists coming back to Barcelona is the Mediterranean Sea. Barceloneta is the perfect neighborhood to spend a summer day, because besides tanning and having some beer at the beach, there are many other activities you can do. Beach volleyball and water sports are the main ones, but if you are an early bird, you can paddle surf at sunrise, or go for a run on the boardwalk for many kilometers. You can also find real seafood paella with beachfront views, and after that relax and smoke a joint.
CANNABIS CLUBS IN BARCELONETA – Zanzi and Blue Magic cannabis clubs are both within two blocks of this neighborhood.
WHERE TO SMOKE A JOINT IN BARCELONETA – The safest place to smoke weed in Barceloneta is right at the beach; just make sure no children are present.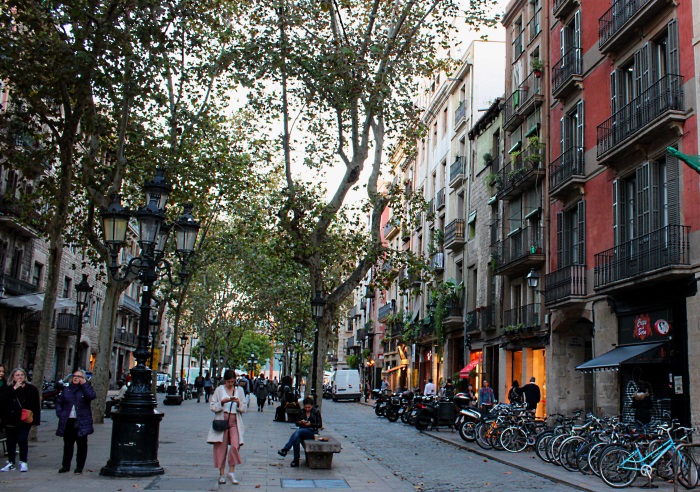 BORN
The main landmarks in the Born neighborhood are the Santa Maria del Mar church, the Picasso Museum, the Mercat del Born, and the Palace of Catalan Music. The vibe walking around these narrow streets is completely different from the rest of the neighborhoods of Barcelona. Here, you'll find a different class of tourists; those who are looking patiently for the perfect designer shop, and the jazzy tunes of Guzzo or Little Italy.
CANNABIS CLUBS IN BORN – If your perfect idea of smoking weed in Barcelona is doing it at a social club, you can visit Circulo, Kief, Club 7, or Mon Ami marijuana clubs.
WHERE TO SMOKE A JOINT IN BORN – The best spot in the city to smoke a joint, listen to African drums, and make new connections with all kinds of nationalities is at el Parc de la Ciutadella, which is like a tiny New York-style Central Park, just outside of the insanity of the touristy part of the city.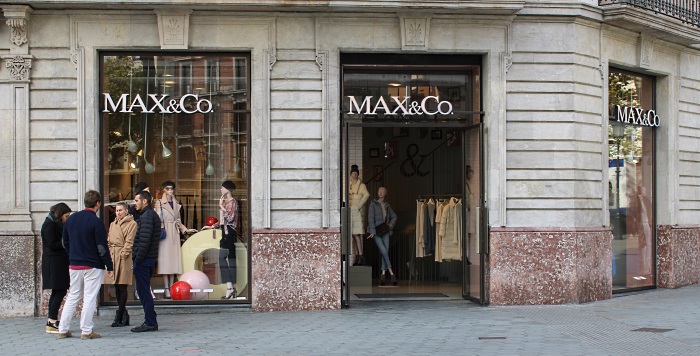 GRACIA
El Barri de la Vila de Gràcia or short name Gracia is one of the most upscale neighborhoods of Barcelona. Strolling around these streets makes you feel like you are in a small town or village near the city. Organic markets, tiny houses, and more than six main squares define this public space, where people shun social media and technology and focus on relationships between neighbors.
If August is the month that you're planning to visit Barcelona, don't miss Fiesta Major de Gracia which is a colorful and over-the-top street festival where each street and plaza has its own theme and is personally decorated by neighbors.
CANNABIS CLUBS IN GRACIA – Here are a few cannabis clubs in Gracia: G13, Sibaritas, and ACS (Asociacion Cultural Sativa).
WHERE TO SMOKE A JOINT IN GRACIA – Las Plazas or most squares are the best options if you feel like taking a short break to fly high; consider Plaza del Sol or Plaza del Diamante.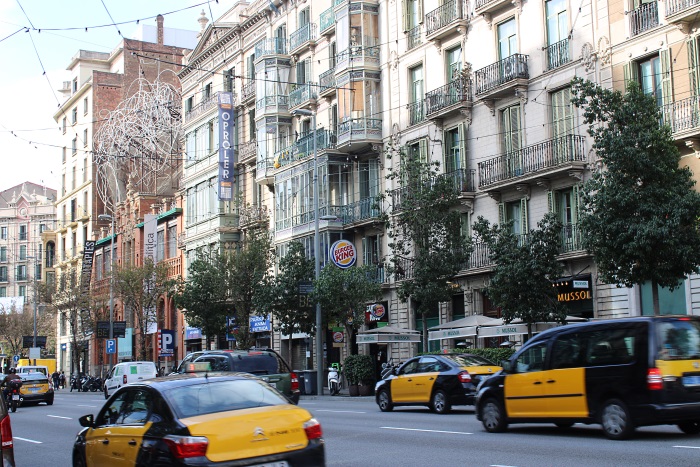 EIXAMPLE
The Eixample neighborhood was approved and created more than 150 years ago; the idea was to expand the city behind the roman walls. This area is separated into two sides, Esquerra and Dreta, which means Left or Right.
This neighborhood features most of the Modernism buildings of Barcelona, including La Basílica i Temple Expiatori de la Sagrada Família, or most commonly called Sagrada Familia. This church is the masterpiece of one-of-a-kind architect Antoni Gaudi. An open and welcoming barrio, Eixample is the perfect place to do some LGBTQ tourism and party until late. If you're the kind of person that prefers to just go out and have some wine, you can always pick Enric Granados Street, which is one of Barcelona's nicest walking thoroughfares.
CANNABIS CLUBS IN EIXAMPLE – Walking around Eixample you can find Zen, HQ, and Saigon cannabis clubs.
WHERE TO SMOKE A JOINT IN EIXAMPLE – If you feel like smoking some weed in Eixample, consider a stroll around Enric Granados, or Paseo Sant Joan.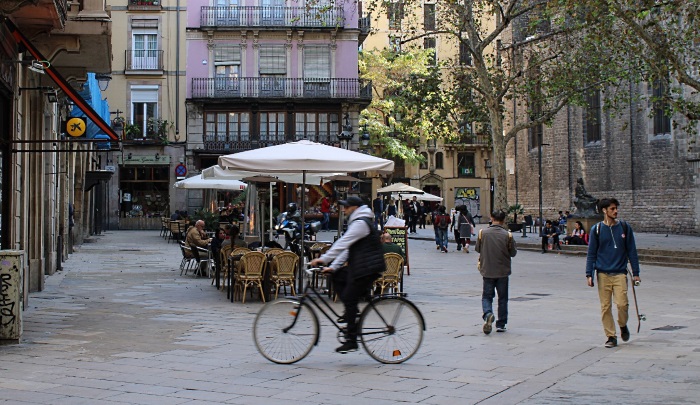 GOTICO
El Barrio Gotico has some of the oldest buildings of all neighborhoods in Barcelona. This area has four borders; the Mediterranean sea, la Rambla, Via Laietana, and Ronda Sant Pere. It is the ideal spot to get lost in narrow and dark streets with vintage clothing stores, concept stores, and tiny bars.
CANNABIS CLUBS IN GOTICO – Some of the clubs you can find in this neighborhood are Alcatraz, Dam Square, and Choko social smoking clubs.
WHERE TO SMOKE A JOINT IN GOTICO – One of the best places to smoke a joint in Gotico is at Plaza de George Orwell, also called Plaza del Tripi.
DISCLAIMER – You can be fined up to 600 euro if you are caught displaying or consuming cannabis in public in Barcelona. The safest way to enjoy marijuana in Barcelona is by joining one of the city's private cannabis clubs. Remember, it's ok to use cannabis in private, just not in public. If you do light up in one of these neighborhoods, Cuidado!
Have you smoked marijuana in one of these neighborhoods before? Tell us about your experience in the comments section below.
Latest posts by Rachel Clark
(see all)