This review is for Asociacion Cultural Sativa (ACS) cannabis club in Barcelona. A friendly and inclusive place, ACS offers a comfortable setting, good weed and attentive staff. Located away from the hustle and bustle of Las Ramblas and Placa Catalunya and their legions of pasty tourists, ACS provides a safe place in Barcelona for its members to acquire and consume marijuana products in an area that boasts some of the city's best attractions.
Review Rating for Asociacion Cultural Sativa: 4 of 5 Stars!
(This is a preliminary application process; not all who apply will qualify for membership based on Spanish law and club policy. Application for membership is general and is not necessarily applied to any particular club unless the applicant fully qualifies.)
Asociacion Cultural Sativa: Environment
ACS is located on a quiet commercial road just off Carrer de la Marina in Barcelona, near the famous Teatre Nacional de Catalunya, and fronted by a nondescript glass door with a single buzzer. Once inside, we found ourselves in a cool lounge room with a long drinks bar on one side faced by a waiting area offering armchairs, a coffee table, and an assortment of magazines.
Everything had a chill, tropical vibe from the brushed wood of the bar, relaxed Reggae playing at a comfortable volume in the background to the "Beware of Falling Coconuts" sign peeking out from behind the barman. There was a group of three locals drinking coffee and chatting happily in Spanish at the far end.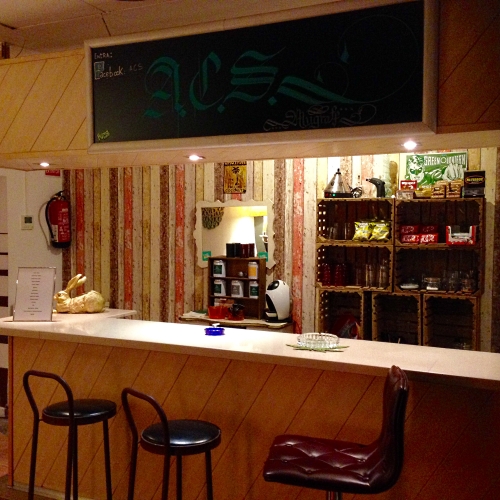 Registration was quick and easy; all done by tablet. Afterwards, we were led down a short hallway past clean, updated bathrooms and a sparse, well-lit dispensary room to the main lounge area of the club. This was a medium-sized room with an almost-bistro style table arrangement. Cushioned, brushed wood benches matching the style of the front bar lined the perimeter of three walls, with small tables and chairs—each dressed with a clean ashtray—set along the length of the benches.
The curtained back wall of the room was dedicated to a slightly raised performance platform and a sleek, unoccupied DJ booth. We perched comfortably on one of the benches, commenting on the art on the walls: framed, minimalist line drawings—modern, but attempting to mimic Japanese erotic art. The low lighting was mostly provided by a floor lamp and the light from a projector that played nature shows on the expanse of wall opposite us. In spite of the club's small size and interesting, thematic choices, the decor and vibe of the whole place somehow worked—the overall impression being an understated, relaxed lounge environment with an island twist that will appeal to many smoker's more subtle tastes.
Asociacion Cultural Sativa: Events and Accessories
The social scene at ACS seemed friendly but transient. Many members seemed to know the staff and each other from repeated encounters at the club, yet—though the mood inside was congenial and jocular—few members spent much time there hanging out. The majority of the time we had the main lounge room to ourselves.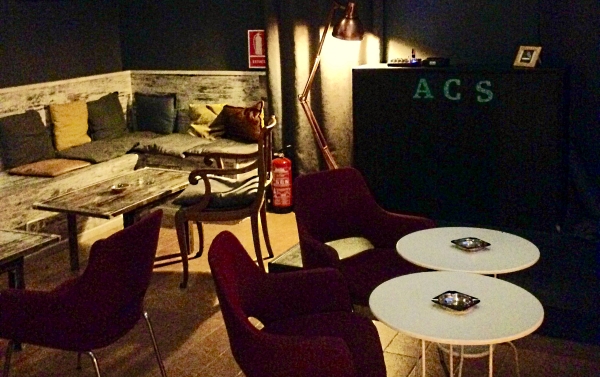 I asked about special event nights or DJs, (intrigued by the DJ booth and stage I had noticed earlier), but was told there are actually very few scheduled activities at present. It seems that ACS has all the set-up they need to host DJs, live music, performances, movies, game nights and other creative events, and the club indicated it is certainly open to those ideas, but is waiting for enough interest from members to begin hosting events.
The main lounge room included a shelf with a few extras: a chess board, poker set, decks of cards, dominoes, cannabis publications and a curious bottle of "anti-tobacco spray" (which I need in a travel-size vial to ward off all the second-hand tobacco smoke in my life).
Asociacion Cultural Sativa: Staff
On arrival, we were greeted by a staff member behind the bar who was happy to help us in English. Another staff member was at the far end of the bar attending and chatting to a group of local members. Like many clubs around the city, the staff and members seemed to know each other and their conversation was lively and amicable. Registration was quick and easy, and afterwards we were given a small tour of the club, including an explanation of the collection process and regulations. Had we been first-timers at a cannabis social club, we would have found the thoroughness of the introduction provided by the staff at ACS reassuring.
We were taken through the cannabis menu in detail but decided not to collect right away and instead went to relax in the main lounge area. The budtender, who had been serving drinks to the other members while we registered, came to introduce himself and offer a sample pre-roll. We struck up a conversation with him, first in English, but falling into Spanish once he discovered we understood it. We chatted for more than 10 minutes about everything from the cannabis system in Spain to the multi-national board of the club, details about ourselves to his sister in New York. After a little while, he had to leave to help other members.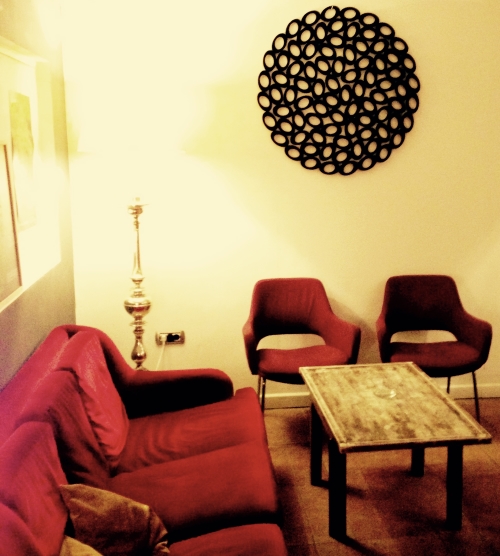 Soon after, the first staff member who had helped us register brought us a grinder and rolling papers; a personal and inclusive touch. Personally, as a woman, the
"Barcelona-Barbies"
you generally find working behind the counter of many cannabis associations aren't as much of a draw for me as they are for other members, but I did note that at ACS—in-keeping with the understated vibe—both staff members working at the time were middle-aged men. I also noted that they were extremely attentive, friendly and knowledgeable. Their personal energy seemed to make the place what it is, which for my taste is more than satisfactory.
Asociacion Cultural Sativa: Marijuana Selection
During our conversation with the budtender, he summed up ACS by saying that while it may not be the flashiest club in the city, it makes up for it with quality, inexpensive bud and good people. From my own experience at ACS, I concur. The marijuana I tested from the club held the same level of quality you can expect from high-end clubs in Barcelona, but with some of the best member share values I have seen anywhere in the city. The menu was organized into different grades of quality and included a good variety of strains as well as a nice selection of hash, pollen and iceolator. Like nearly every cannabis club, product availability ranges over time, but when I visited ACS the strains available were as follows:
Sativa
Amnesia Purple Haze
Amnesia Original
Super Lemon Haze
AK-47
Skunk
Hybrid
Critical 2.0
Sour Critical
Indica
Headband
Raspberry Tooth
Sweet tooth
Hash & Pollen
Charas
Pollen Negro
Pollen Rubio
Mexican
Pollen Polvo
Cream
BHO
Conclusion:
One might describe ACS in a word as cozy.
While the club lacks some of the young, trendy glamour you might get from upscale cannabis clubs in the city center, this humble association shouldn't be overlooked. It provides a good range of quality cannabis products at excellent prices; a simple, clean and stylish space to hang out; friendly, helpful staff; familiar local vibe and easy conversation. The quiet atmosphere and good Wi-Fi connection make it an ideal spot to spend an afternoon working, smoking and drinking coffee. For the no-frills smoker who just wants to enjoy some quality bud in a nice, safe space without breaking the bank or feeling the need to get dressed up, ACS may be just the club you've been looking for.
Have you been to Asociacion Cultural Sativa cannabis social club in Barcelona?  Let us know your thoughts in the comments section below!
Review Rating for Asociacion Cultural Sativa: 4 of 5 Stars!
(This is a preliminary application process; not all who apply will qualify for membership based on Spanish law and club policy. Application for membership is general and is not necessarily applied to any particular club unless the applicant fully qualifies.)