Tribal Pipes are made by two talented and generous craftsmen in Portugal. It's not often that I get excited when conducting reviews, but the quality and passion behind Tribal Pipes is so superb that it made this review a lot of fun for me. As both a cannabis user for more than a quarter century and an amateur woodworker, I knew the moment I opened my Tribal Pipes package that these pipes were special and that a lot of care and thought went into their creation.
Review Rating for Tribal Pipes: 5 of 5 Stars!
[author-post-rating]
Tribal Pipes: The History
Tribal Pipes started when two Israeli friends living in Portugal; Sason and Leon, began making pipes for their friends. Their friends enjoyed the pipes so much that they spurred Leon and Sason on to consider making their craft available to anyone. In response, Tribal Pipes was officially born in 2014 and went on the world wide web at www.tribal-pipes.com.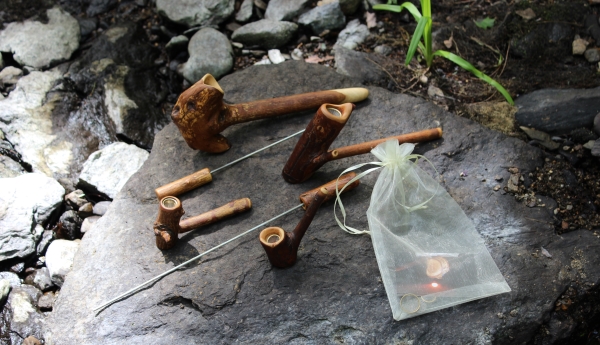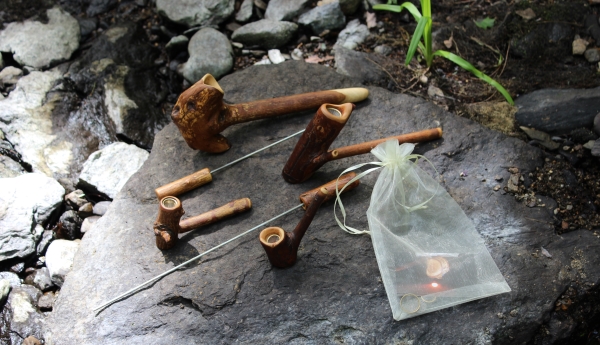 I got connected to these guys when they were looking to tap into the Spanish cannabis markets; they had been traveling for some time, selling pipes at festivals and other events and doing quite well at it. Leon offered to send me a couple of pipes; an offer I gobbled up after looking at some of the examples of pipes they had made on their website and Facebook pages.
When I finally received a package from Portugal with 4 finely crafted pipes inside, I was excited – and reviews don't normally get me pumped; quite the opposite, actually. But this was different.
As an amateur woodworker and carpenter, I knew right away that the pipes I received were of exceptional quality. I built my own house, barns, furniture and outbuildings and I once carved an entire chess set by hand using only a razor, so I have an understanding of what it takes to produce exemplary woodwork. I noticed that every aspect of the Tribal Pipes that I received was carefully thought-out and worked with patience. From the drilling lines (some must have been extremely difficult!) to the methods of selectively carving away bark and inner layers, to the perfect fittings of stem pieces and the use of the highest quality screens, it was clear that Tribal Pipes was producing pieces that you just can't find anywhere else.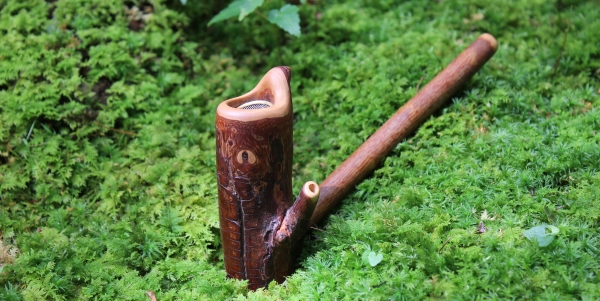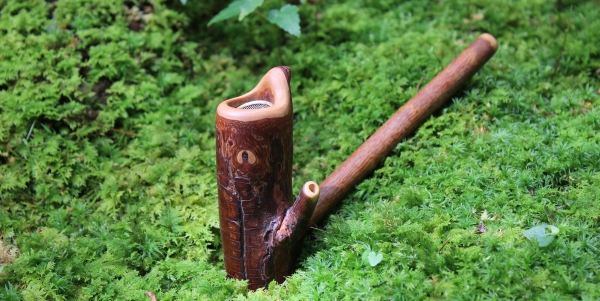 Tribal Pipes: Form
I received 4 pipes from Tribal Pipes:
1 Large one-piece pipe made from olive wood, including a wooden-handled pipe cleaner

1 Large two-piece pipe with carburetor made from apple wood, including a wooden-handled pipe cleaner

1 Small one-piece pipe made from pear wood

1 Small two-piece hash pipe made from olive wood
All of the pipes were perfectly carved and polished and felt warm and friendly to hold – the way any excellent wood product should. The stems of the two-piece pipes fit perfectly in place and were tapered for a smooth drawing action. Natural bark, branches, and carving/finishing work was exceptional but simple on each pipe – the pipes are all beautiful and elegant while remaining modest and natural. This is a difficult balance to strike and Tribal Pipes has done it well.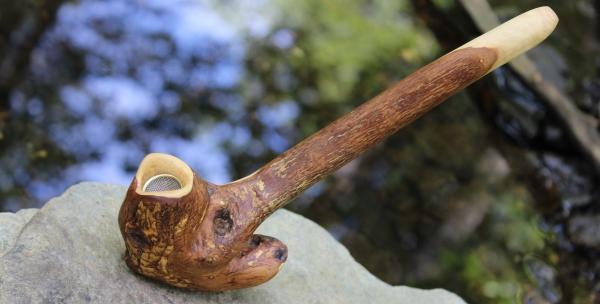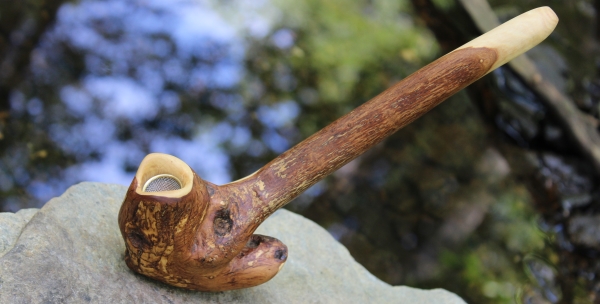 I live on a small off-grid farm when in the United States and the Tribal Pipes I received fit right in as a natural part of the environment. But when I hiked into the interior of our property and started setting the pipes up for photographing, I couldn't help but smile at how perfectly the pipes blended into the natural setting. These pipes look good just about anywhere – from a dry creek bed to a favorite stash box, a Tribal Pipe is certain to stand out in that relaxed sort of way that only finely crafted wooden items can pull off. I could go on about how beautiful these pipes are, but you don't need to take my word for it; Tribal Pipes are quite photogenic, as this review attests.
Tribal Pipes: Function
I'm not much of a pipe smoker; I prefer bongs or any implement that filters with water. I don't like the short distances between the stem pieces and bowl-pieces of most pipes, and I don't like the high heat that most pipes produce when you smoke them. This alters the flavor of the cannabis and irritates my throat; especially if the pipe is small or medium in size. I also don't like the fact that most pipes are not filtered, so the user ends up with a bunch of particulates in their harsh smoke.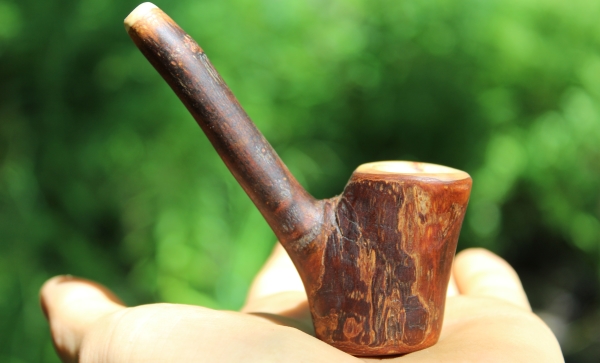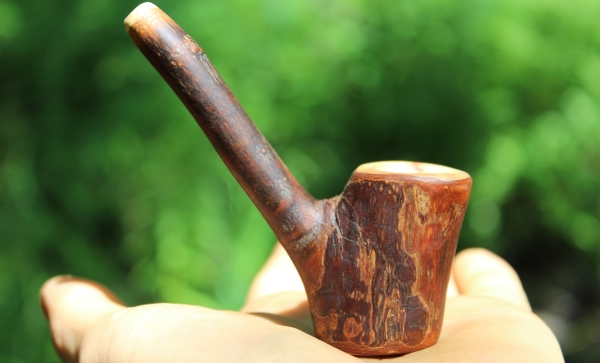 But well-made wooden pipes are different, and Tribal Pipes are a good example of how wood can soften and enrich the smoking experience. From this group of pipes I especially enjoyed the smoke from the two-piece apple wood pipe. It's smooth and produces a unique flavor – especially with aged or long-cure cannabis, which I have been smoking a lot of lately. 😉
In addition to the smoothness and added flavor, I also like the novelty and comradery-inducing effects of a finely made wooden pipe. When you present a pipe like those made by Tribal Pipes to a friend or associate, you'll always get to enjoy seeing their eyes light up as they instinctively run their hands over the piece, as if they're getting to know it through touch alone. You won't find this quality in metal pipes or glass pieces. It's only in wood that you can see, feel and be connected back to nature while in even the grittiest of cities.
Tribal Pipes function perfectly; they're simple, beautiful and work exceptionally well. You probably won't find anything like Tribal Pipes at your local headshop, unfortunately.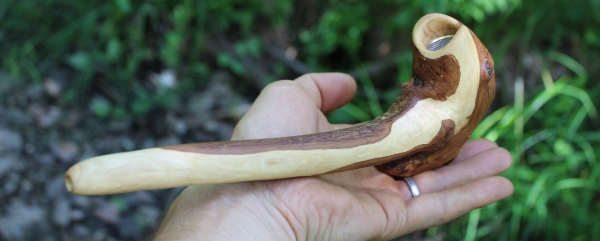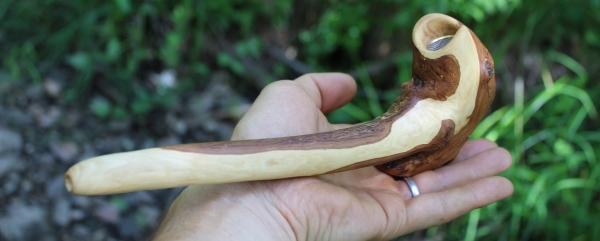 Tribal Pipes: Customer Service
Tribal Pipes is a small business run by Leon, Sason and a couple of their friends. If you need anything or have questions, you can be assured of a prompt response. But the entire philosophy and level of craftsmanship at Tribal Pipes means that you'll probably never have an issue because the pipes are worked to perfection long before they're sent out to friends, family or customers.
Tribal Pipes goes a long way to making their customers and their environment happy. They never use solvents or chemicals on their pipes; instead each piece is carefully preserved with local Portuguese olive oil and beeswax. The wood selected for each pipe is organic and cured/prepared 100% naturally. In fact, the tools used to design and fashion Tribal Pipes are charged by sunlight only, reducing the impact that crafting a pipe has on the earth. Tribal Pipes is providing excellent service not only to its customers, but also to the environment.


Conclusion
As a fellow woodworker, I appreciate everything about what Tribal Pipes is doing, even though I'm not normally a pipe smoker. I'll keep one of these pipes in my stashbox and break it out from time to time; usually special events or when I have a guest. Tribal Pipes make extremely unique gifts and are a great way to consume marijuana as naturally as possible. I'm proud to recommend these pipes to all my friends and industry associates, and I look forward to watching Tribal Pipes grow as more and more people discover the awesome work they're doing.
Do you own a Tribal Pipe? Let us know your thoughts in the comments section below!
Review Rating for Tribal Pipes: 5 of 5 Stars!
[author-post-rating]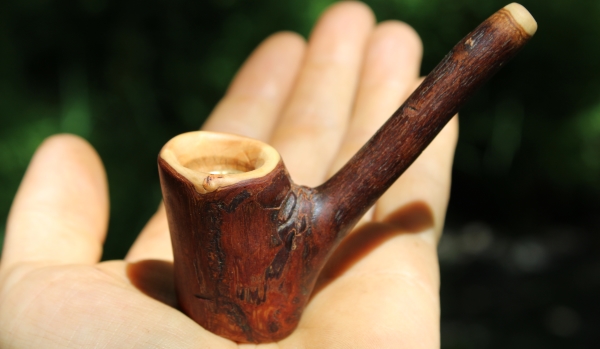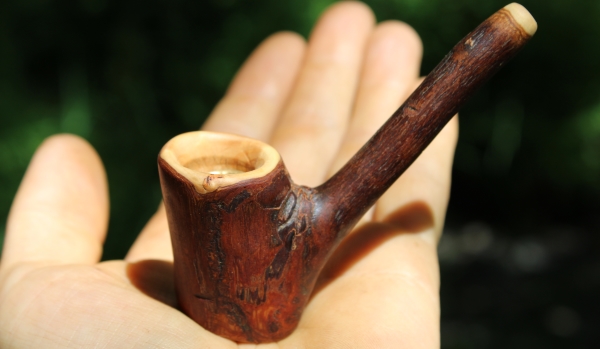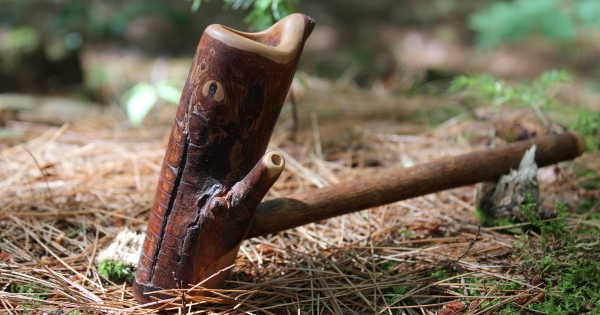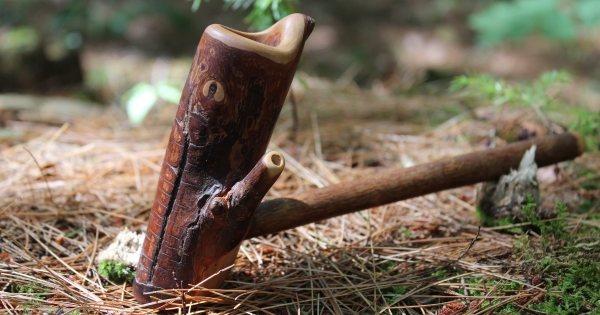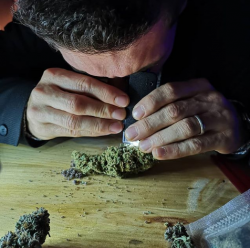 Latest posts by Russ Hudson
(see all)