This weed accessory review is for the Stereo Matrix Incycler Dab Rig, made by Killa Glass. Like all hard-working smokers, for a job well-done I like to treat myself with a shiny new piece, and this one is indeed a treat. I've been overdue to upgrade my rig, so this time I was looking for something that would provide a noticeable difference in the quality of my dab, and it turns out that the Stereo Matrix Incycler really does the trick.
Dab Rig Review Rating for Stereo Matrix Incycler by Killa Glass: 5 of 5 Stars!
[author-post-rating]
This post assumes the reader is experienced with dabs.  If not, please see the following article that explains what dabs are, how they are made and how they are consumed: What are Dabs?
My old dab rig was made of solid borosilicate glass and stood at 6", featuring a nice showerhead percolator. Although sufficient, it was nothing to write home about, and after educating myself on the options, I was ready to select my upgrade.
The most important features in a new dab rig to me were:
A bigger dab rig: 6" is nice and compact, and I could slip my old rig in my purse discreetly if needed. Unfortunately, it was so small and straight that I'd get splash back by pulling even a little too hard. A longer, bigger rig would reduce splash back.
Advanced percolation: Coming from smoking dry herb from standard bongs, the showerhead perc in my old rig seemed like magic when I first purchased it. This time I was looking for an advanced, more complex percolation system.
Incycling: Internal recycling of water, where water goes from one chamber to another, then filters back into the first chamber, truly adds to the flavor and aroma of vapor. I was skeptical at first, but after using one, I knew my next rig had to be an incycler.
Price and style were also important, but not as much as function.
I was looking for a piece under $300, and one that wasn't too crazy-looking.
After much debate, I settled on the Stereo Matrix Incycler Dab Rig by Killa Glass. It has all the features I was looking for and then some, and even came in under budget. I placed my order on a Monday, and my new piece arrived by Thursday, safely and discreetly packaged.
Out of the box, the clarity and complexity of this piece makes it appear fragile, and I found myself gently standing it on the table like a Fabrege egg. Of course, far from fragile, this rig is made from 5mm thick borosilicate glass, and I would later test it against my first impressions.
Stereo Matrix Incycler Dab Rig: Style
The design of this rig is nicely understated, balancing the complexity of its shape with simple color accents. I really liked that the Killa logo was small and unobtrusive, while still being visible. Huge logos on expensive glass is like a huge logo on an expensive shirt… like, I thought I already paid you guys. It's difficult to make an incycler look so refined, but the Stereo Matrix Incycler Dab Rig definitely delivered.
After taking pictures of it from every angle like it was a new car, it was time to test its durability. This rig's 5mm boro glass should be almost indestructible, so my first test was to knock it over on the table. Taking a 90 degree tumble off its base, the rig survived.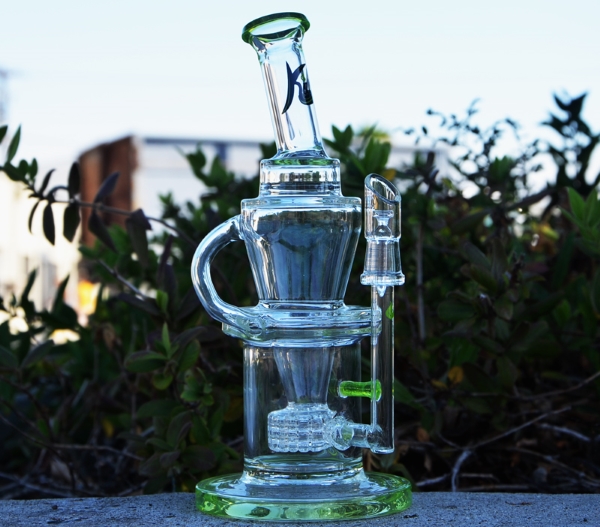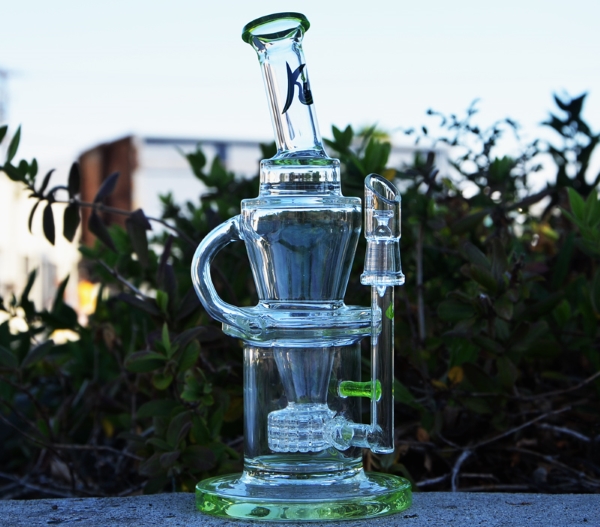 Stereo Matrix Incycler Dab Rig: Durability
Next, I held it waist-high above my hard-wood floors, said a prayer, and let it drop. A few clinks later, the rig and its base looked good as new. For my final test, I took it to the garage for a drop down concrete steps. Three steps and a spin around concrete later, the borosilicate glass won out unscathed, with percolator, stem, and base intact.
Stereo Matrix Incycler Dab Rig: Function
Satisfied that this rig would survive my clumsiness, it was time to test it out. After rinsing it out and filling it with water, I made a few vaporless draws to test the percolation and the incycling. With the slightest bit of pressure at the mouthpiece, the 360-degree stereo matrix percolator fires up, sending thousands of tiny bubbles forcibly through the incycling arm and into the second chamber. Once you stop inhaling, the incycler funnels back to the main water chamber in a second or two.
One of my favorite features of this rig is the slanted mouthpiece, which eliminates splash back despite the incycling. There's a lot of water splashing around in this rig, but you won't taste a drop.
Now it was time for the real test. Would this rig make a noticeable difference in flavor and smokability? Is a giant stereo matrix perc really any better than my old showerhead? Torch and carb cap in hand, I prepared to take a nice, long dab from my new big rig.
I love how tall and separate the stem of this rig is, as it makes me feel safer torching a few inches away from the main piece. Once I applied my dab and covered the nail with my carb cap, thick, milky-white vapor poured into the stereo matrix perc, filling the first chamber. Up through the arm, the vapor separates from the water in the second chamber, rising to the top as the water funnels back down. My dab is over in a few seconds, but this rig made it feel like a whole event, and I really enjoy watching the water vortex within the second chamber before spiraling back down.  (BTW: If you're into dabbing at this level, then you should consider checking out Dabadoo; the world's only international cannabis cup for dabs: Dabadoo Extract Cup).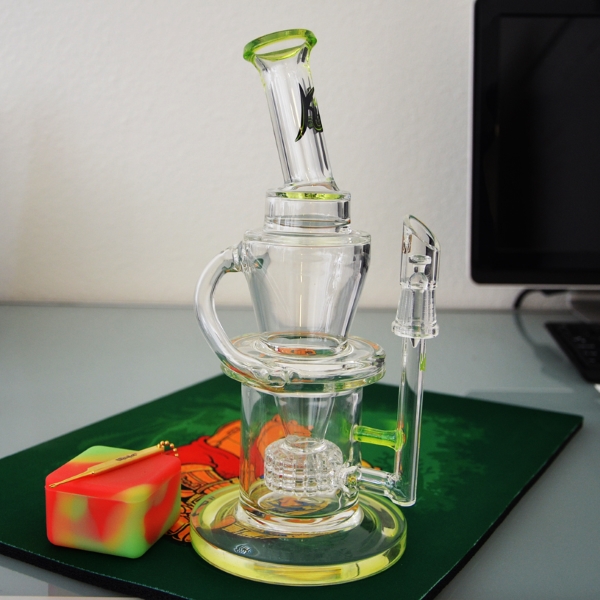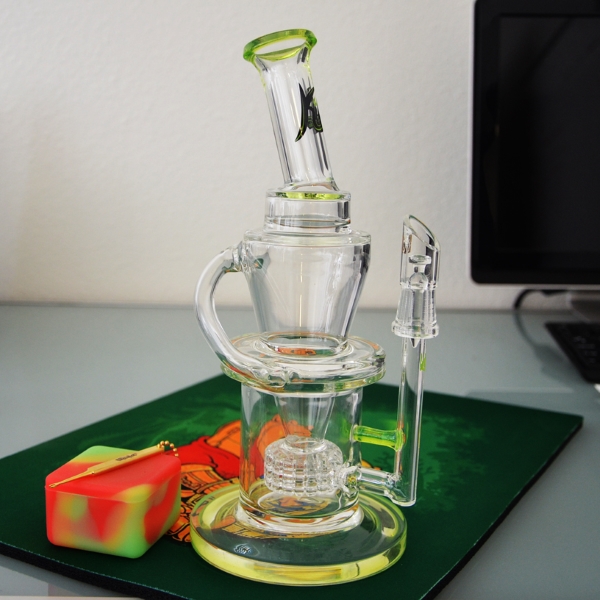 And the vapor? It tasted full and floral, cool and smooth, and stronger than my last rig without being harsher. The larger capacity definitely made a difference, and I felt like I was finally achieving a "full" dab with my own piece. As far as the stereo matrix perc, this rig was much easier to draw than I first thought, and I attribute this to the large surface area and incredible diffusion power of this percolator. I could taste the difference in both temperature and flavor of my vapor. There was less of that swampy aftertaste (no matter how clean the water is!), and more flavor from the actual concentrate.
Conclusion
This rig turned out to be perfect choice for my dabbing needs. I wanted advanced percolation, strong incycling, and a tasteful, sturdy design, free of any novelty. The Stereo Matrix Incycler Dab Rig meets these needs perfectly, and more importantly, performs as a premium water pipe for concentrates. Killa Glass gets 5 stars for this superb rig.
Dab Rig Review Rating for Stereo Matrix Incycler by Killa Glass: 5 of 5 Stars!
[author-post-rating]
Latest posts by Evan Kaden
(see all)