Dampkring coffeeshop in Amsterdam has a reputation as one of the best coffeeshops in the entire city, and as this review will attest, it's a well-earned reputation. Dampkring has been around for nearly a quarter century, staking its claim as one of Amsterdam's original coffeeshops like Bulldog, Green House, Blue Bird and Reefer, among others. With a high-class but relaxed environment, a more mature crowd and cannabis products that'll make any connoisseur happy, Dampkring is unquestionably a 5 Star Amsterdam Coffeeshop.
Amsterdam Coffeeshop Review Rating of Dampkring: 5 of 5 Stars!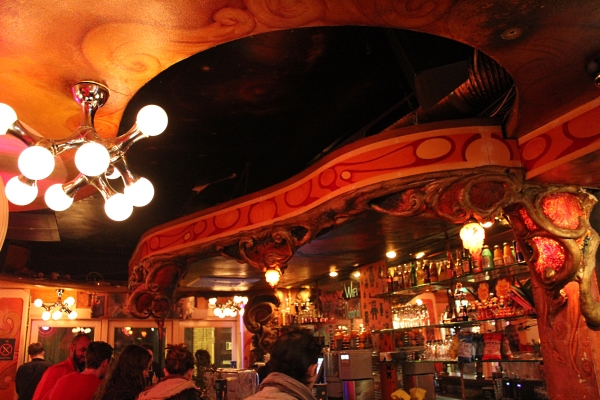 Dampkring Coffeeshop: Environment
Dampkring Original (there was at one time 2 Dampkring's) is located at Handboogstraat 29 in a quiet and well-kept part of Amsterdam's center. The coffeeshop first opened in 1993 and operated a moderate business like many other coffeeshops in Amsterdam. Later Dampkring became famous when a scene from the movie Ocean's Twelve was filmed there.
Like many nicer Dutch buildings in the center of Amsterdam, Dampkring features an eyeful of beautiful woodwork on the outside including hand-carved balusters and moldings. This flows smoothly with the interior of the coffeeshop, which is a rich but mellow environment full of warm, almost romantic hues of red, swirls of purple and carefully blended orange.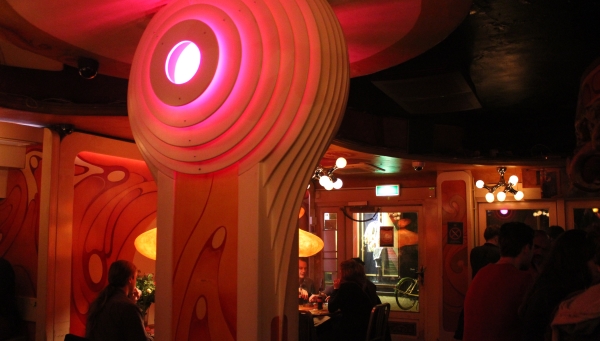 Dampkring offers seating to the left and right immediately upon entry, with a medium sized bar that dominates the center area. The bar also features woodwork similar to the façade of the building, with ornate hand-carved trim work and moldings inset with soft and strange red and orange lights.
At the back of the coffeeshop is the dispensary area that prominently features world-class cannabis on the bar. The ambiance and décor in this area is balanced perfectly with the rest of the shop; it's easy to feel relaxed even when the place is busy.
Dampkring Coffeeshop: Marijuana Selection
Dampkring offers a superb, large selection of fine marijuana, including several award-winning varieties. This included Sour Kush, Kandy Kush, Casey Jones, Chocolope, Super Silver Haze, Kali Mist, Amnesia Supreme, and of course to pay homage to the film's producer's Dampkring carries a strain called Ocean's Twelve Haze.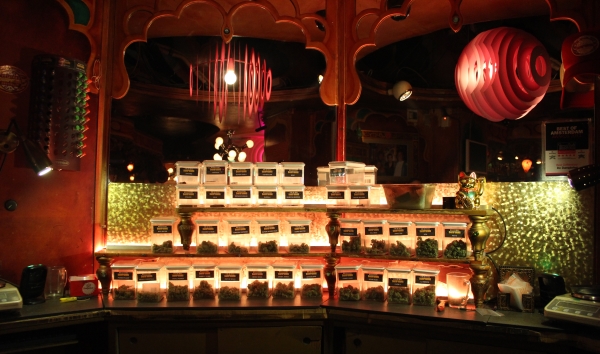 The budtender was extremely patient and accommodating, allowing me to view and smell all of the strains present and kindly help up a couple of buds so that I could capture the images below. The first photograph is Chemdawg, and the second is one of my personal favorites, Super Silver Haze.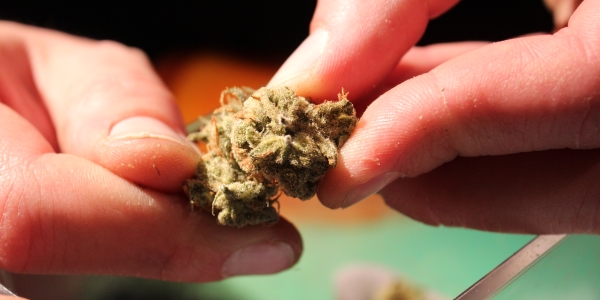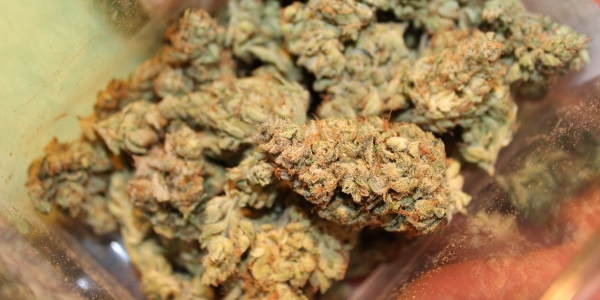 I changed my mind at the last second and selected some Chocolope, another favorite of mine. I had been smoking a lot of the Choko strain at the time, which is based on Chocolope genetics. The gram that I picked up from Dampkring was exceptional; I sat for a long time at a small table, slowly working my way through a fat joint of the weed.
Dampkring also has a large hash menu with some higher quality hashish in addition to the standard Moroccan and Afghani commercial types.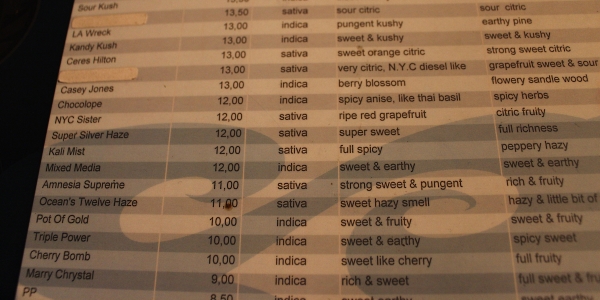 Dampkring Coffeeshop: Extras & Accessories
Dampkring Original offers a well-stocked bar and some limited snacks for tokers, including handmade smoothies. The coffeeshop provides a Volcano vaporizer for public use and sells the usual Amsterdam selection of papers, tips, lighters and other 420 items.
Dampkring Coffeeshop: Staff
The staff at Dampkring are mellow without being reserved, and cannabis-informed without being pretentious; it's a nice balance. The budtender especially was quite knowledgeable and helpful and clearly cared about offering excellent quality cannabis products to the shop's patrons. I also noticed that the coffeeshop was very clean; cleaner than most coffeeshops in Amsterdam, and this included the bathroom. This tells me that the staff take pride in what they do, and I'm confident that this attitude is one of the reasons that Dampkring is so successful.
Conclusion
Dampkring is one of the best and most well-known coffeeshops in Amsterdam, scoring high on all points from ambiance and décor to the quality of the marijuana products, the cleanliness of the coffeeshop and the great personalities and work ethic of the staff. I've been back a few times now and will continue to make Dampkring one of my most-visited coffeeshops when I'm working or kickin' it in Amsterdam.
Have you been to Dampkring? Let us know your thoughts in the comments below!
Amsterdam Coffeeshop Review Rating of Dampkring: 5 of 5 Stars!