Amsterdam Coffeeshop Review Rating for Bluebird: 4 of 5 Stars
[author-post-rating]
I first went to Bluebird Coffeeshop in Amsterdam in 2001, and at the time I remember distinctly that the place was hopping. Located a block and a half from always-busy Nieumarkt, I wasn't surprised to see that Bluebird Coffeeshop is just as busy in 2014 as it was more than a decade ago. A brightly colored and vibrant place, Bluebird offers a little bit of something for everyone; from arcade games to homemade smoothies to plenty of artistically decorated hang out nooks and crannies, Bluebird Coffeeshop in Amsterdam is definitely worth a visit.
Bluebird Coffeeshop: The Story Behind the Review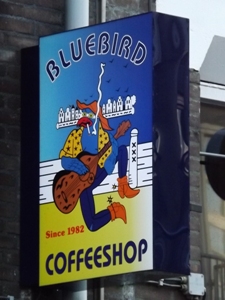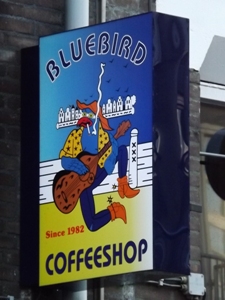 My first experience at Bluebird was about 13 years ago. My ex and I had stopped in one afternoon to check the place out and take a few tokes on a drizzly, grey day in October. At that point Amsterdam was so new and exciting that we were too busy marveling over the fact that we could smoke marijuana in peace to pay attention to many physical details of Bluebird, but I remember that the walls were just as colorfully painted then as they are today.
We weren't new smokers by any stretch of the imagination, but we certainly sounded like we were beginners because we coughed incessantly after each hit. This is because shortly after our arrival in the Netherlands, both of us came down with a nasty little cough that was severely exacerbated by smoking. So we'd sit there and hack our lungs up, knowing that we looked like complete amateurs but having too much of a good time to care.
At one point the girl behind the counter commented on our coughing and placed two small cups of tea in front of us. There was honey and some type of minty flavor in the tea, and to our surprised the tea quelled our coughing enough that we were able to enjoy the dank hash and White Widow we were smoking without sounding like TB patients. Cool!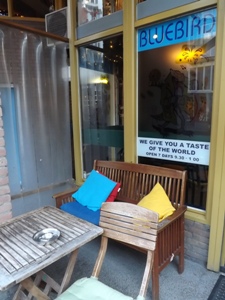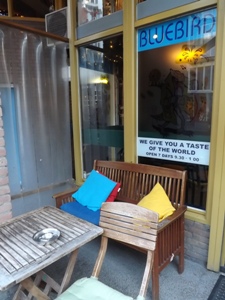 More than a decade later, I would sometimes go to Bluebird late at night to charge my computer and snag the shop's wireless internet signal for an hour or two while I smoked joints and worked on my laptop. This was especially true if my favorite Amsterdam coffeeshop at the time – Coffeeshop Solo – was particularly busy and had no seats available.
I finally decided to do a professional review of Bluebird Coffeeshop in the middle of December, 2013, and the place doesn't seem to have changed much since my first visit in 2001.

Bluebird Coffeeshop: The Environment
Bluebird is an interesting shop because it has multiple levels and types of seating. As you approach the coffeeshop, you'll first enter through a mostly enclosed alcove with tables and chairs that could seat probably 8-9 people.
Stepping through the front door leads to a medium-sized seating area that has several tables with chairs and a bar section facing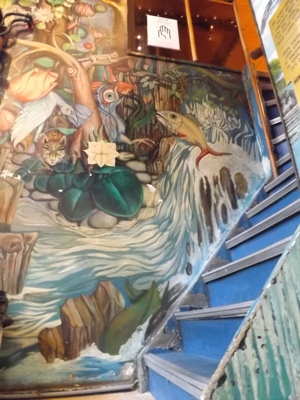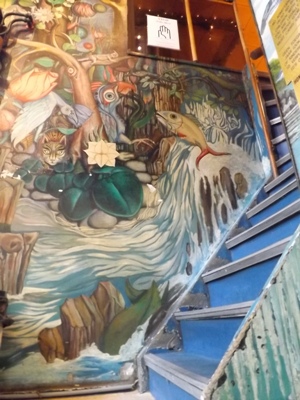 the outside window. This area is heavily painted with fantastic landscape murals, and it's always a great place to chill and watch Amsterdam's weirdoes pass by.
Heading up the typically Dutch steep staircase, you'll suddenly find yourself in a new environment. There's a busy bar that sits to the right, a dispensary counter at the end of the bar, and two separate seating areas to the left. I've been to Bluebird quite a few times and have only been able to get a seat in the main bar area once or twice; it's that busy.
Now, here's the part about the environment at Bluebird that sequesters this coffeeshop at 4 stars. First, the place is pretty dingy and obviously very well worn. In some areas things are tired and dirty, and the white suspended ceiling tiles turned an ugly brown many years ago. The place is sparsely furnished in the sense that most of the seating isn't exactly comfortable. I think there's a reason for this, and it probably has a lot to do with at least one sign that I saw prominently posted in the upstairs lounge:
When finished with smoking, please give your space to others. There is no service here. So please bring your empty cups, bottles or glasses back to the bar. Thank you.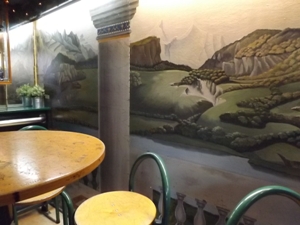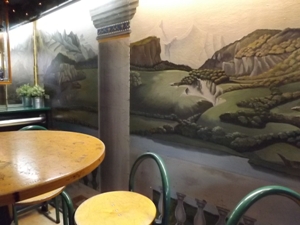 The overall furnishings, dinginess and busyness of the shop as well as this sign tell me that Bluebird is focused on what's referred to in the restaurant and hotel industry as "turn 'em and burn 'em." This concept essentially amounts to the practice of getting as many customers in the door as possible, serving them quickly and ushering them out to get new customers in.
I'm not saying there's anything wrong with this; Bluebird may just be so busy that they have to take this approach in order to serve everyone. But my take on this is that when I'm hanging out and smoking pot, I'm doing so to relax. Bluebird is definitely not the kind of place where you go and spend an hour or two just hanging out. Instead, you basically get your smoke, fire up a joint, toss it in the ashtray and head back out the door.
So if you're looking for a cool place to have a quick smoke and maybe a soda, tea, coffee or a smoothie, Bluebird might be precisely what you're looking for. If you're looking to lounge around for a while, you should go somewhere else
Bluebird Coffeeshop: Marijuana Selection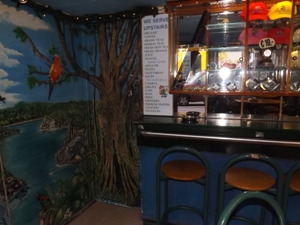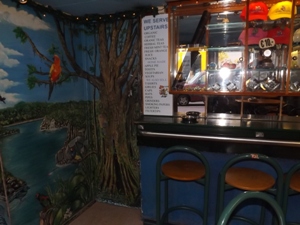 Bluebird has some pretty good marijuana strains on offer, as well as several types of hash, space cake, marijuana cookies and pot brownies. The marijuana selection is fairly standard and in December of 2013 included a couple of types of Kush, Amnesia, Blue Cheese, Lemnesia, Kali Mist and lower grade standard weed types like White Widow. The prices are similar to coffeeshops like the Bulldog and Green Place, but are cheaper than places like Coffeeshop Solo.
I purchased a couple of grams of Blue Cheese. It was an adequate strain but it wasn't one that struck my fancy enough to write a review on. Maybe I'll try this strain again at another time.
So as far as weed selection goes, Bluebird has pretty much all of the standard strains available in Amsterdam, as well as a couple of more exotic strains and some hash types that I'd never heard of before.

Bluebird Coffeeshop: Events & Extras
Bluebird's bar is where all the action happens. Serving up all kinds of beverages and snacks, the shop also offers the usual selection of pipes and papers, filters, screens, grinders and other marijuana related equipment.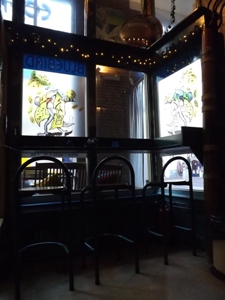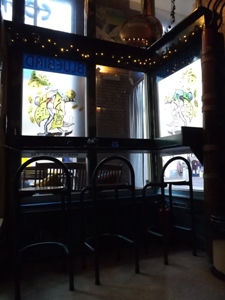 I'm not aware of any special events that occur at Bluebird. There weren't any posters or announcements anywhere indicating activities or events were happening, and Bluebird's website is even more barebones than the seating at the shop: http://www.coffeeshopbluebird.nl/. There's nothing there other than 2 lines of text and a logo. So if you're interested in finding out if anything's going on at the shop, it's probably best to call or just stop by. Thankfully the hours are posted on the door: open from 9:30AM to 1:00AM 7 days per week.
Bluebird Coffeeshop: Staff
The people who work at Bluebird are more efficient than any other coffeeshop or cannabis club I have ever been to. As you reach the top of the stairs there is a doorman who rushes over and puts a weed menu directly in your hand. He then instructs you to take the menu to the woman at the end of the bar and place your weed order while giving you a nudge in the right direction. You can't help but notice this because he's also doing it for the people who come in behind you.
The girls at the bar and dispensary counter are just as fast and efficient, and I've never had to wait long for anything at Bluebird. If you're in a hurry, on a short lunch break or just want to get some weed and head out, Bluebird can make this happen for you faster than any other club. In fact, sometimes the more quiet coffeeshops in Amsterdam take an inordinate amount of time to serve up your weed. Bluebird practically rolls the joint, shoves it in your mouth and lights the damn thing for you. Not really, but you get the idea.
I never wanted to bother the staff because I've clearly seen that they're busy most of the time, but I have noticed that they always stop to answer questions posed by tourists, and they're always friendly, polite and helpful even though they get the same dozen or so questions over and over again. This is a great sign to me and tells me that even though customers fly in and out the door, the staff do actually care about making sure everyone gets what they need and has a good time. I like that!
Conclusion
Bluebird in Amsterdam is a unique, interesting and uber-efficient coffeeshop. The weed is good, the bar service and selection is good, and you can count on the staff to get you sorted right. There's always people hanging out at the shop, even in the dead of the afternoon and late at night, so if you're bored and the rest of the city is quiet (it often is in the fall and winter) then head on over to Bluebird and you'll be certain to meet up with some 420-friendly peeps. Maybe I'll see you there!
Amsterdam Coffeeshop Review Rating for Bluebird: 4 of 5 Stars
[author-post-rating]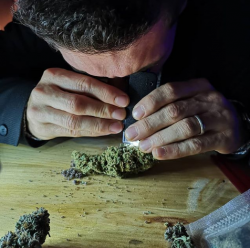 Latest posts by Russ Hudson
(see all)