Green House Seed Co. coffeeshop is located in the heart of Amsterdam's red light district. As a major cannabis industry player in this Dutch city for more than three decades, this is one of the most famous and popular coffeeshops in all of Amsterdam. Frequented by celebrities and influential figures, Green House is not your average coffeeshop.
Amsterdam Coffeeshop Review Rating of Green House: 4 of 5 Stars!
[author-post-rating]
Green House Seed Co: History
Also a true seedbank and strain developer, Green House is run by the people behind the Strain Hunters documentaries; most notably the self-proclaimed "king of cannabis" Arjan Roskam. In fact, this author is a member of the swanky and beautiful Strain Hunters private cannabis social club in Barcelona, Spain, which is owned by the same outfit. Strain Hunters cannabis club is similar in theme and style to Green House Seed Co. coffeeshop in Amsterdam.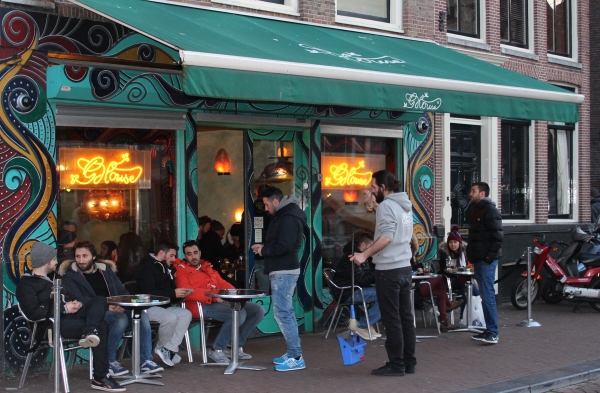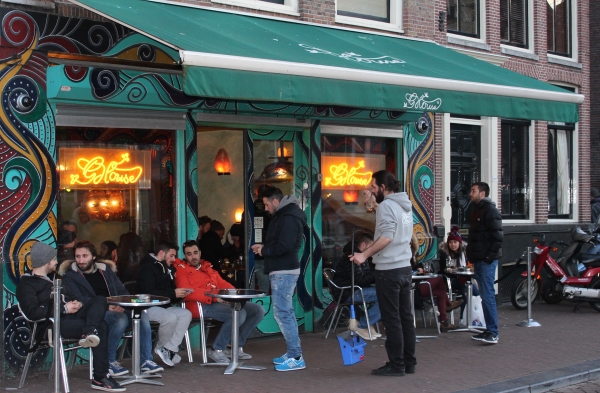 Green House is responsible for developing some of the best marijuana strains in the world, including two of my personal favorites, Super Lemon Haze and Super Silver Haze. This means that when you step into this Amsterdam coffeeshop, you can expect to find excellent quality marijuana products and seeds. This is a great bonus because you can't get seeds at most coffeeshops in Amsterdam. However, I want to be clear that this review is for the coffeeshop only.
Green House Seed Co: Environment
The entrance to Green House is beautifully decorated with swirling patterns of turquoise, burgundy and deep green. A large awning protects a number of tables placed outside, which provide outdoor seating for 12-16 people to enjoy the sights and sounds of one of the most famous districts in the world; Amsterdam's Red Light District.
Once inside, the décor is striking; a large eye with downward-aiming rays looks out over the bar on the opposite wall, the back plate of which is entirely covered in polished stones. The bar itself is wooden with thousands of small, decorative rocks and pieces of graphite, minerals and quartz have been inlaid on the top of the bar, buried under a careful layer of epoxy nearly an inch thick.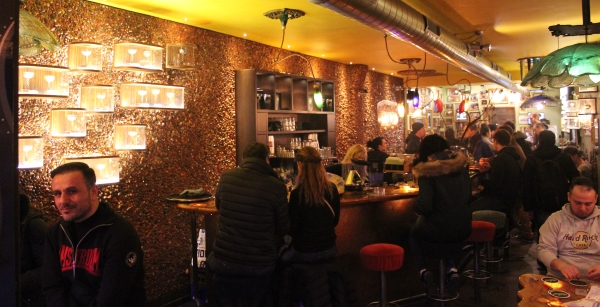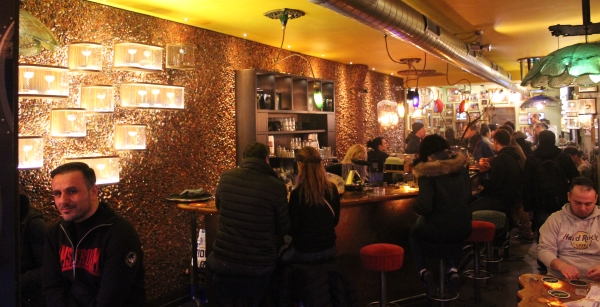 The lighting is soft and relaxing but still sufficient for socializing and joint-rolling.
3 Walls of Green House are covered with trophies and awards from various High Times Cannabis Cups and other cannabis-judging events. The trophies are set behind glass in wooden platforms with tasteful lighting to showcase them.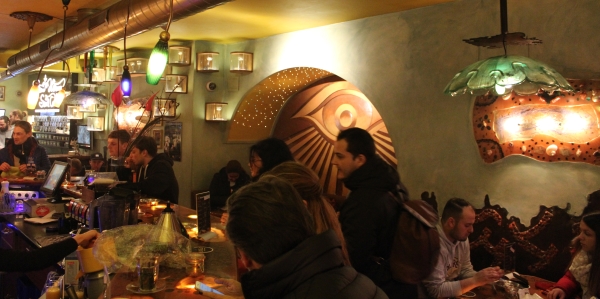 Overall (and like many coffeeshops in Amsterdam) Green House is a small place, with seating in the front, the bar in the middle and the dispensary in the back. This is very similar in setup to another of Amsterdam's coffeeshops that I reviewed recently, Original Dampkring.
Although it was a busy night when I was last at Green House, I took notice of the fact that the ventilation was working very well, despite the few dozen people blowing thick clouds of smoke at the ceiling. This is an important consideration for me; poorly ventilated coffeeshops or cannabis clubs are a health hazard.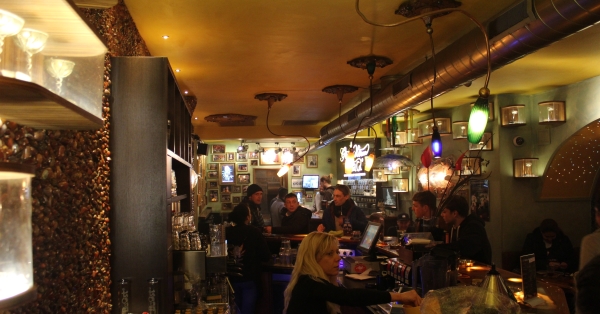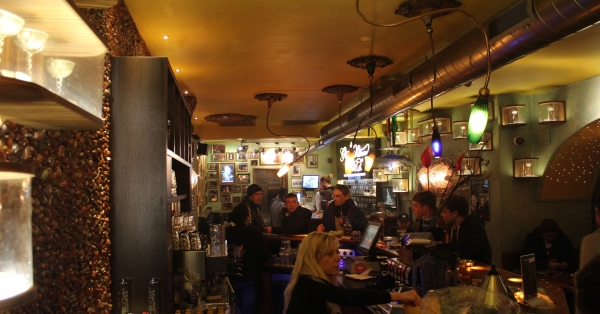 Green House Seed Co: Marijuana Selection
Green House offers a large selection of cannabis flower and hash, including the company's own proprietary strains. At the time of this review (Spring 2016) the menu included such strains as Amnesia Haze, Super Silver Haze, Super Lemon Haze, Super Critical, Cheese, NYC Diesel, LA Confidential, Jack Herer, Diamond Girl, Candy Kush, Panama Kush, Strawberry Kush and a few others. The hash menu was unique and nearly everything on it sounded good to me: Super Moroccan, GreenHouse Rif Cream, Super Blonde Polm, King Hassan Polm and Super Lemon Haze Cream.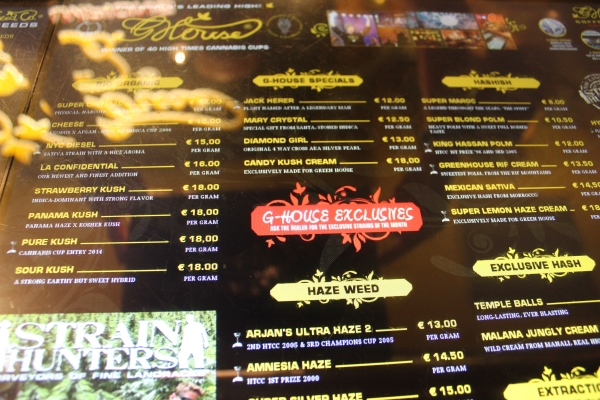 Ultimately I selected a gram of Super Critical and rolled a pure joint. The coffeeshop was busy so there wasn't anywhere for me to sit (interior has a capacity of about 40 people), so I just sort of wandered in-place, puffing on the Super Critical. It wasn't great. Not terrible, but not great. I should have opted for something I know would have been amazing, like the Super Silver Haze or the Amnesia. The next time I return to Green House, I also want to be sure to pick up some Super Lemon Haze Cream hash, and recommend you do the same if you're in town. It looked and smelled tremendous!
The average price range of good weed at Green House is €13 to €18 Euro. That's in line with a few places in Amsterdam, but there are definitely many coffeeshops where you can score good bud for less.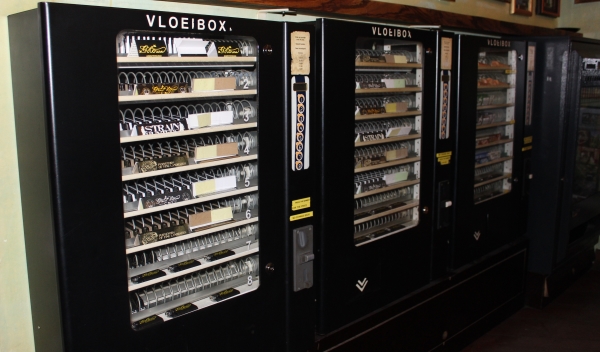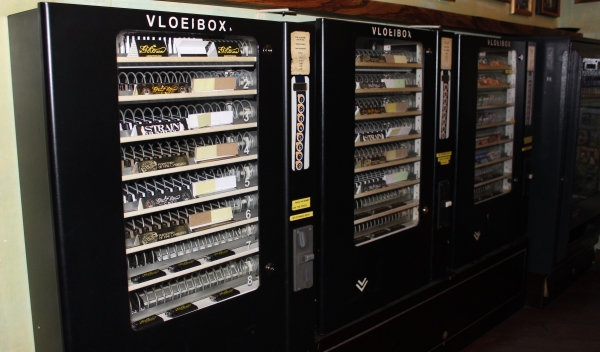 Green House Seed Co: Extras & Accessories
Green House is unique in that it provides vending machines for seeds, papers, tips, etc. The bar is well-stocked and serves up all of the essentials straight from the hands of rather friendly bartenders. To reiterate, premium cannabis seeds can also be purchased from the shop, which is a handy way to discreetly pick some up some seeds while you're already filling your personal stash with one of Green House's stellar haze strains.
Green House Seed Co: Staff
I enjoyed watching the staff work; they stayed busy without being stuffy or neglectful and their general demeanor was relaxed and stress-free. One of them taught me that a café con leche (my standard in Barcelona) is actually a latte, and they didn't seem bothered at all by my camera and notepad.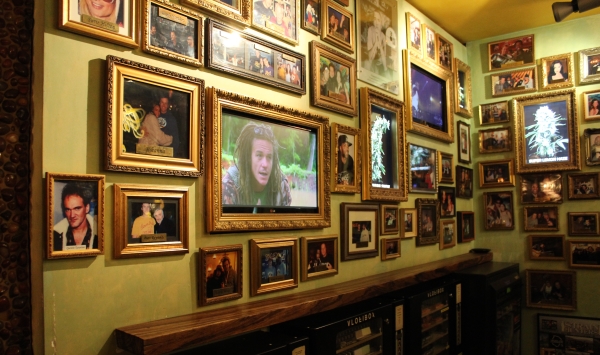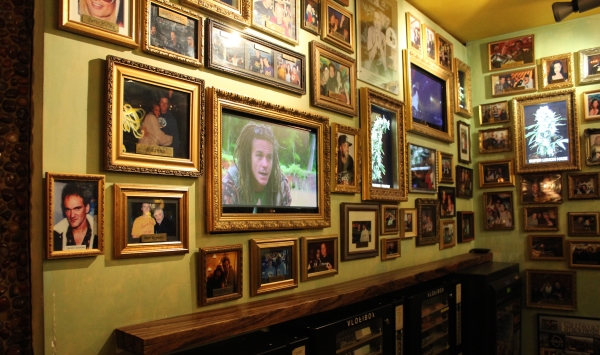 Conclusion
Green House Seed Co. coffeeshop offers some of the best cannabis strains on the market in a friendly environment, directly in the heart of the red light district. I find the prices to be a little too expensive considering the plethora of other options in the city, and I was definitely turned off by the egotistical display of so many trophies, slogans like "Breeders of Champions," all of the photographs of the owner with celebrities, and the references to the owner as the self-proclaimed King of Cannabis. It'd be great to see pictures of the owner with regular patrons and others in the industry, and I think they could do a better job of educating people about the value and benefits of their strains, instead of showcasing trophies.
Overall Green House is a great place to pick up some dank weed and people-watch in the red light district, or to just hang out in the shop and chat or chill. If you're into celebrities, this is also a good place for a chance to see a star gettin' their smoke on. Have you been to Green House? Let us know in the comments section below!
Amsterdam Coffeeshop Review Rating of Green House: 4 of 5 Stars!
[author-post-rating]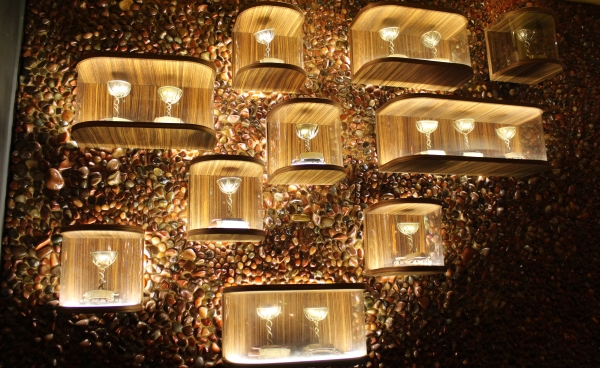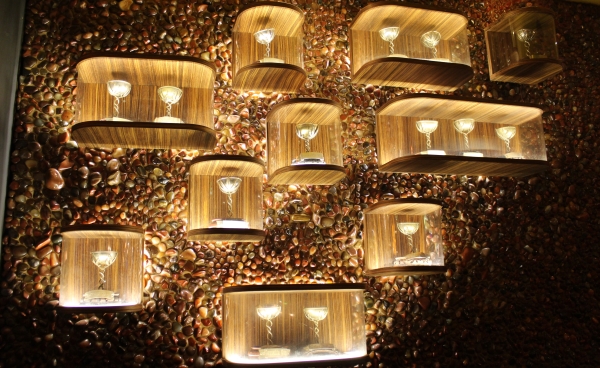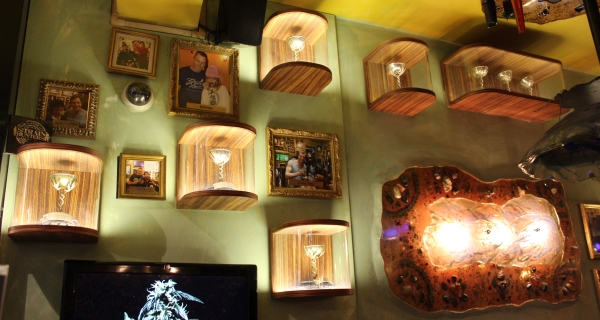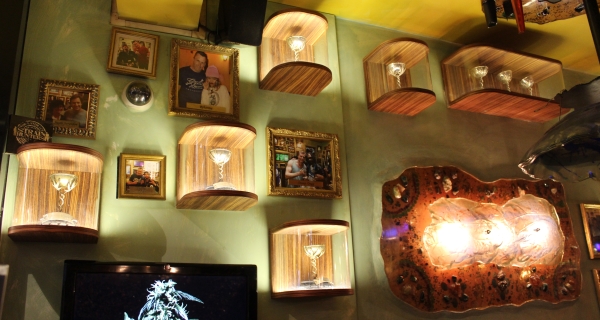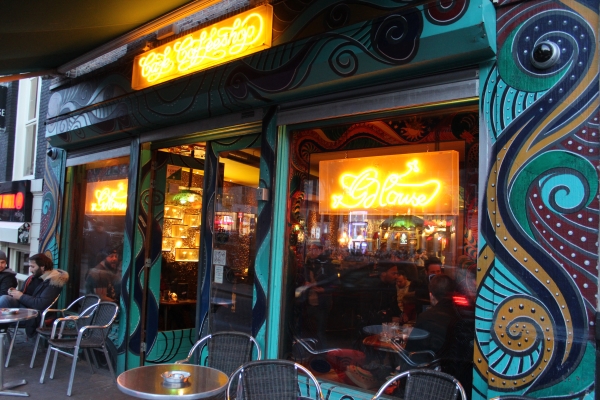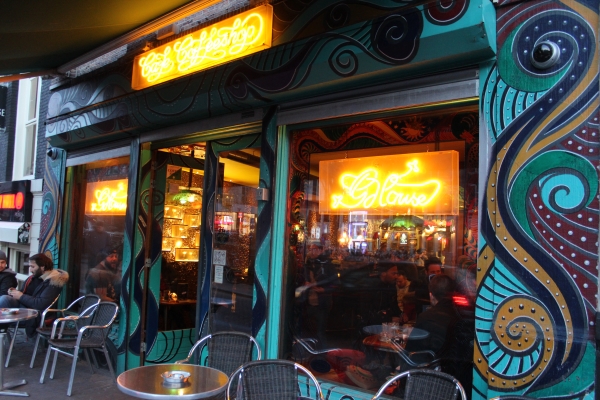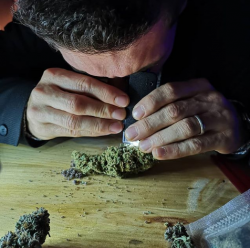 Latest posts by Russ Hudson
(see all)