The Daily High Club (formerly Dollar High Club) is a marijuana products subscription service modeled after similar services such as the Dollar Shave Club. For a small fee, Daily High Club will send you a special 420 box each month. Depending on the subscription level that you buy into, this box will contain a selection of cannabis products from papers, filters and tips to glass pieces, dugouts and more. For regular cannabis users, Daily High Club is a great way to get all of the items needed each month, without a separate trip to the headshop.
Review Rating for Daily High Club: 4 of 5 Stars!
[author-post-rating]
Daily High Club: The History
I was contacted a couple of months ago by Harrison Baum, CEO of Daily High Club. He talked about sharing similar values and helping to erase the stigma associated with cannabis, and asked if I'd like to check out one of their boxes and find out what they're all about. I was immediately intrigued with the concept of Dollar High Club and sent along my address in the States. A week or so later I received my Primo box (the highest level of subscription offered; more on that later) and opened it with holiday-like anticipation. To learn more about Daily High Club and exactly what they do, click here: http://dollarhighclub.com/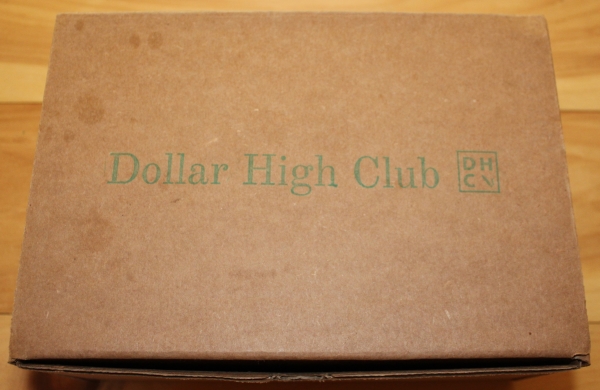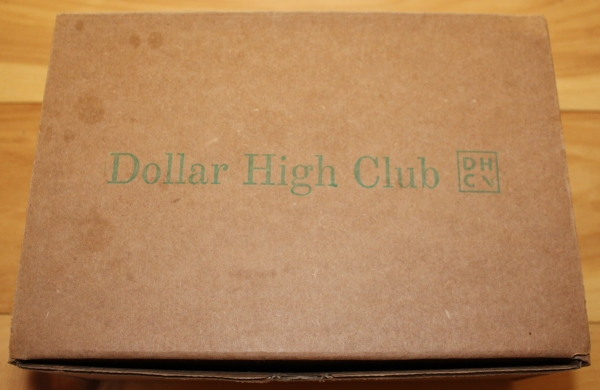 Daily High Club Review: Form
The packaging and box from the Dollar High Club was discreet but attractive; the simple logo on the outside of the box once unpackaged and the perfect condition and placement of the documents inside told me the box was packed and handled with care.
Inside the box I found a delightful selection of cannabis products including stuff I am likely to use, and things I won't use. But each item was in excellent condition and was easily recognizable as the products were all from top names in the industry: Raw, Elements, Rizla, etc.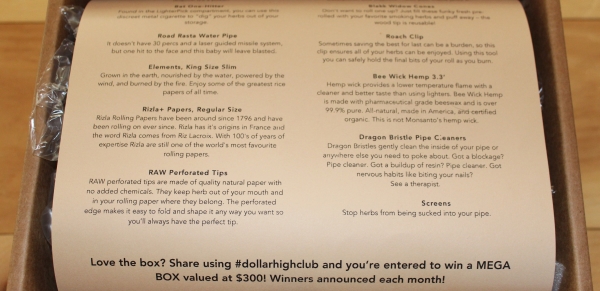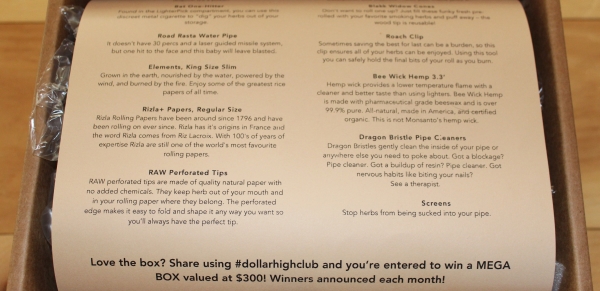 Daily High Club Review: Function
For the every-day smoker, the primo box contains a nice assortment of goodies that will be used by most people throughout the month, as well as 2 "big-money" items, as I like to call them. In my box the big money items were a mini rasta bong and a LighterPick dugout. The "daily use" items included pipe screens, rice papers, regular papers, filter tips, beewick, a lighter, a Black Widow cigarillo, pipe cleaners and a roach clip.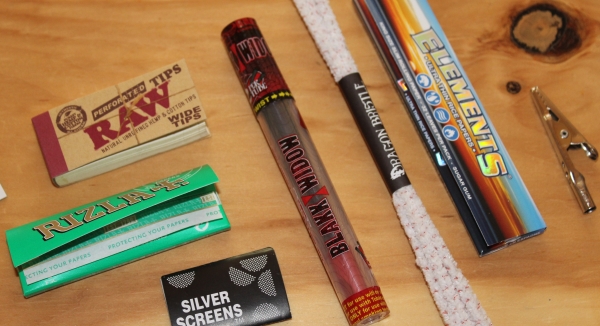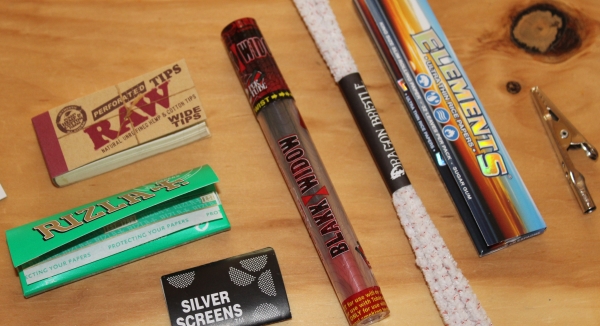 Because most of the items are from brands you can trust like Rizla and Raw, all of the items in the Daily High Club box function perfectly. However, I did have two problems:
The paint or coloring on the top edge of the mini bong peeled away after using it just once, rendering it useless
The dugout water seal came completely separated when I tried to open it and was very hard to get back in. However, once I re-seated it, it seemed fine.
With item 2 resolved by re-seating with tweezers and a safety pin, I was still disappointed that the mini bong wasn't usable, so I sent an email to Dollar High Club to see what could be done; more on this in the Customer Service section below.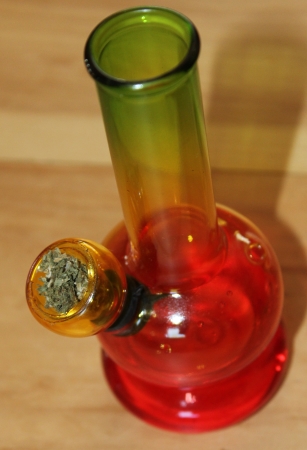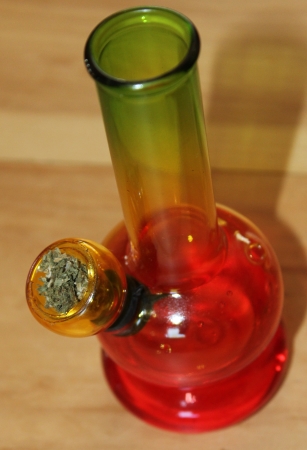 Daily High Club Review: Value
If you take into consideration shipping costs, convenience and selection, the Primo version of the Daily High Club box is definitely a great value at about $30 per month. Each month another box will be automatically shipped to you, so you can relax and know that more tips, papers, beewick and other necessary items will automatically come to your door each month. For the money, it's a pretty cool value.
Daily High Club Review: Customer Service/Staff
When I experienced the paint problem with the mini bong, I sent an email and Harrison Baum responded personally, letting me know that he had directed his shipping team to send me out a new piece of glass. I got it a few days later, and I was totally impressed! They sent me a beautiful multi-hued blue glass bubbler that works perfectly; I have been using it every day. I like the way it fits comfortably in my hand, provides a hefty but smooth and filtered hit, and is easy to clean. Check out this photograph of the type of glass Daily High Club is putting into the Primo box: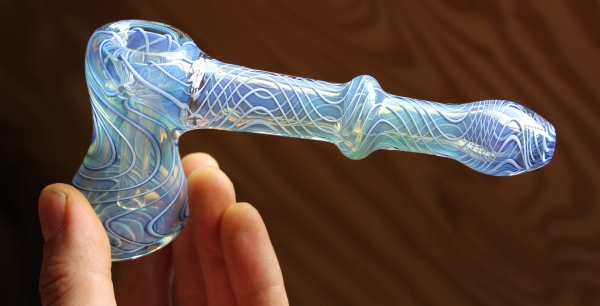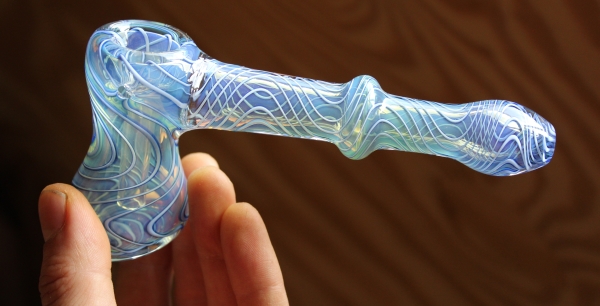 Conclusion
Daily High Club is an excellent, unique and useful marijuana products subscription service that I will be recommending to all of my friends and associates in the cannabis industries. I'm rating the company and products at a respectable 4 stars; 5 stars will come when Daily High Club allows members to choose some of the items in their box each month, something the team at DHC has considered. Are you a member of the Daily High Club? Let us know your experience in the comments section below!
Review Rating for Daily High Club: 4 of 5 Stars!
[author-post-rating]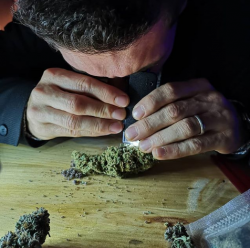 Latest posts by Russ Hudson
(see all)