Cannabuy rolling boxes are rapidly gaining popularity in the United Kingdom and Spain, while steadily spreading into the US and other countries around the world. This review is for the standard Cannabuy rolling box, although the company also makes a heart-shaped box (Nirvana!) and custom boxes upon request. A small and practical rolling box, Cannabuy will appeal to anyone who rolls joints.
Review Rating for Cannabuy Rolling Box: 4 of 5 Stars!
Cannabuy Rolling Boxes: History
Nearly every marijuana product and strain review I have conducted has been at the request of a person, company, organization or association affiliated with the product. But this review is different; Cannabuy marks the first time I have specifically requested to review an item. This was driven by two factors:
The behavior of Cannabuy and its founder, Jean-Paul Benitez; professional and generous
As a woodworker, I appreciated the tastefully simple design and materials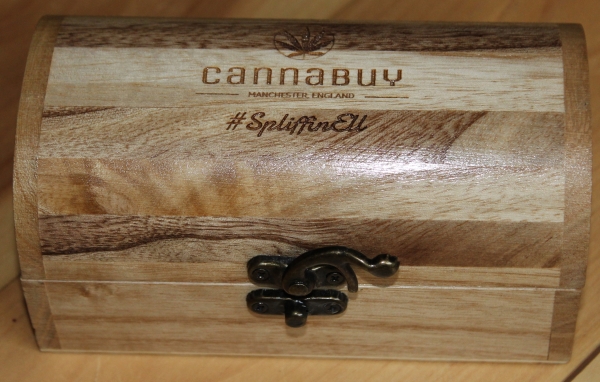 Cannabuy was founded in Manchester, England in 2014 based on the play-on-words found in the name, which is really more like a shortened, colloquial version of "Can't I buy Weed Legally?" (The company believes that all people should be able to acquire cannabis legally.) Cannabuy some weed? Yes; yes you can. 😉
I contacted Cannabuy and asked if they'd be interested in a review; the founder responded personally and I received a box in the post from England to the U.S. within a week. Cool!
Cannabuy Rolling Boxes: Form
Cannabuy rolling boxes are made from a mixture of lightweight European Birch and Empress Pine wood that has been neatly assembled and preserved. Large enough to hold everything needed to roll a great joint, spliff or blunt, the standard Cannabuy rolling box is still small enough to fit in a purse or backpack.
The top of the rolling chest features a marijuana leaf, the Cannabuy name, and the tag #SpliffinEll, which is where you can find Cannabuy on Instagram. From all angles, it's a good-looking box.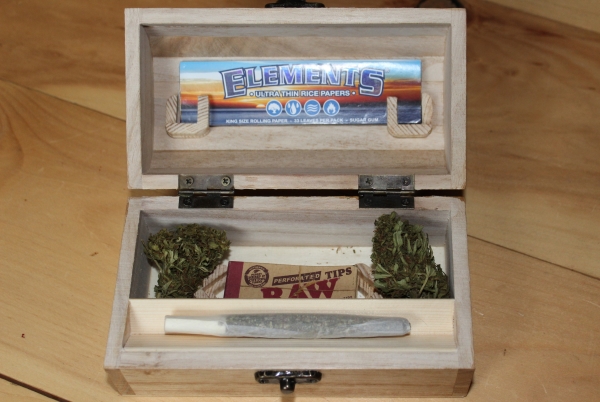 Cannabuy Rolling Boxes: Function
The most important functional items on the standard Cannabuy rolling box are the hinges and the clasp. Both function smoothly and with care should withstand years of careful use. However, because the wood used in the box is lightweight, it's important not to expose the box to weight, falls or other pressure that could crack the wood and crush the box.
Inside the Cannabuy rolling box you'll find a series of well-placed wooden "U" forms that allow you to slide a pack of papers securely inside. In the base are several "V" forms that are designed to hold a grinder. The top interior of the rolling box features a wide, angled slot that runs the entire length of the box; this is the actual rolling "tray" that will easily accommodate any size rolling paper and a huge amount of weed.
There is a large open area under the rolling slot that can hold a quarter or even a half ounce of cannabis, although with a half stuffed in there things will probably be tight inside the box.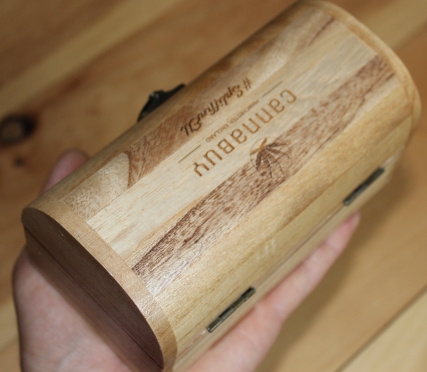 Cannabuy Rolling Boxes: Customer Service
Cannabuy is extremely responsive to messages and requests. I haven't had any problems with my rolling box, but I am confident that if I did, I would receive a prompt response and resolution. The company is also very active on social medial including Facebook and Instagram, which is a clear sign that they're ready to interact with their customers and followers.
In the short two years since Cannabuy officially began selling its rolling boxes, the company has given away approximately 200 boxes to various charities and for giveaways. In fact, the founder was in Barcelona this past week and took a collection of care packages and gave them to a group of homeless in the city. The head of the company, Jean-Paul Benitez, is an extremely generous and thoughtful man.
Conclusion
Overall I rate the standard Cannabuy rolling box at 4 Stars, and could easily see this becoming a 5 Star product with the addition of higher quality wood and hardware. Consider this the entry-level version of the good wooden rolling boxes; a staple item for everyone that rolls.
Do you own a Cannabuy rolling box? Send us a pic and we'll post it, or add it in the comments section below.
Review Rating for Cannabuy Rolling Box: 4 of 5 Stars!