Weeds BCN is one of the finest and most unique cannabis clubs in Barcelona. With its stunning environment and diverse selection of marijuana products, this Barcelona weed club sets a new standard for originality. Able to cater to both recreational and medical marijuana users, Weeds BCN is one of the most complete cannabis social clubs in Barcelona.
Barcelona Cannabis Club Review Rating for Weeds BCN: 5 of 5 Stars!
[author-post-rating]
(This is a preliminary application process; not all who apply will qualify for membership based on Spanish law and club policy. Application for membership is general and is not necessarily applied to any particular club unless the applicant fully qualifies.)
Weeds BCN: Environment
Weeds CSC has the most unconventional style of any cannabis club in Barcelona; its carefully chosen decor acts as one of its most striking features. The space is large and is divided into many quirkily-decorated rooms and chambers.
After being greeted in a nondescript reception area, you are ushered through a door into the club. The first narrow corridor has low lighting and vinyl records lining the walls. Passing well-kept bathrooms, you arrive at the first anteroom. Here is a glass cannabis counter opposite a church-style waiting area; complete with a real pulpit, pews, and Virgin (perhaps to profess your devotion to "Maria" while you wait).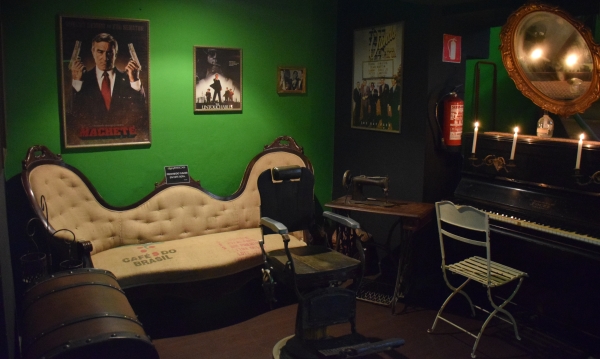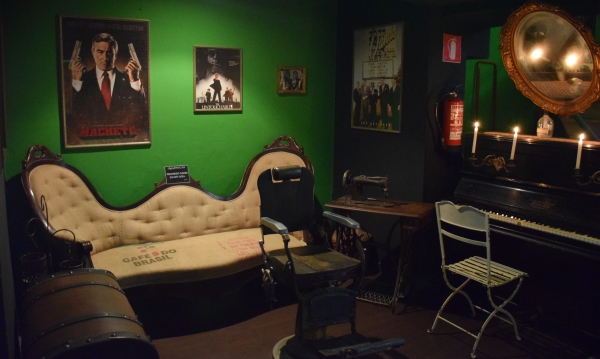 After stopping for provisions in this area you make your way through another chamber with classic movie posters lining the walls. This area is decoratively divided, with one side sporting a gothic collection of antiques such as a Sweeney-style barber's chair, antique piano and a sewing machine. On the other side sits a vintage Harley Davidson motorcycle, antique gas pump, empty gas cans, an old pinball machine and a staircase leading up to the room's balcony centerpiece: an authentic New York yellow taxi (all seemingly looted from a 1960s American garage).
Undoubtedly confused and intrigued by this point of the tour, you finally enter the main lounge area of the club; a vast room, again divided into several workable spaces. The main space has a sleek coffee table set situated in front of a mounted gas fireplace, a games and books shelf, a glam-goth style drinks bar and an expanse of low cushioned couches, where a group or two of friends can generally be found chatting in Spanish or Catalan.
In the center of the room is a large movie screen and projector. One secluded side room contains a pool table, dartboards and smaller TV screens; the walls are plastered with old sports memorabilia. The central movie screen partially hides an area in the back of the main space containing a sizable stage and equipment for a live band or DJ, an impressive table and chair set in purple and silver— to match the Ziggy-inspired bar across the room— and a window to the staff room where one can ask for grinders, papers, or to use a piece from the modest collection of bongs, pipes and vaporizers.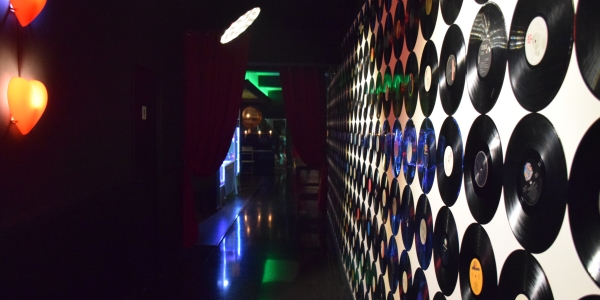 Weeds BCN: Cannabis Selection
Weeds cannabis club carries a wide variety of cannabis products for all different types of marijuana consumers. Next to their rack of pre-roll options, hash, pollen and isolator are found on display along with "jelly hash" (a product which, I later learned, combines the traditional process of hash-making with BHO extraction).
Like many coffeeshops in Barcelona, Weeds BCN tends to have 8-10 different flower options at any given time, which include a range of indica, sativa and hybrids. Some of their strains like Somango are commonly found in clubs and dispensaries around the world, whereas others, like the Doña Angela strain, I have seen exclusively at Weeds.
Unlike many other cannabis clubs in Catalonia, Weeds tries to always have at least one high-CBD strain available; which along with the accessibility features of the club building indicate that a significant percentage of their members probably use cannabis to treat medical conditions. Another feature catering to medical cannabis consumers is a selection of digestible and topical cannabis products including tinctures, gummies, CBD teas and topical creams and oils.
Weeds BCN also offers a wide selection of accessories and themed products; from the usual grinders and papers, to full-size glass bongs and electric grinders, to the more exotic, like cannabis-flavored condoms.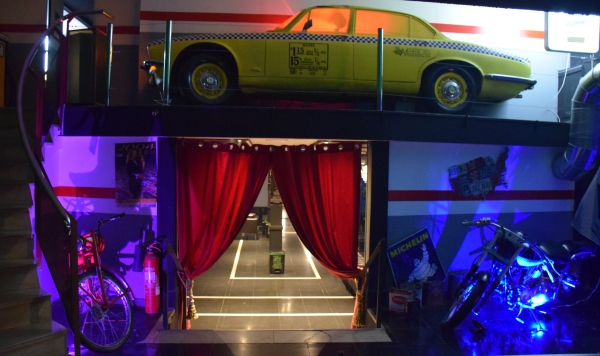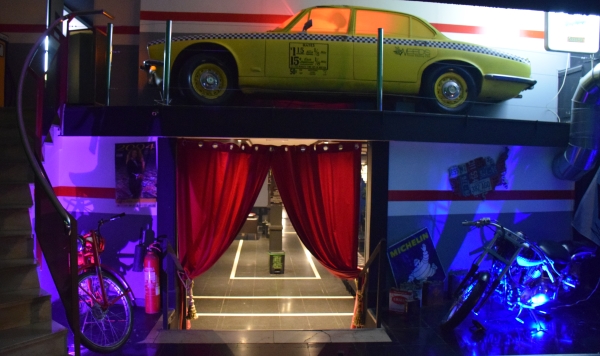 Weeds BCN: Accessories and Events
Weeds BCN is big on movie culture. Aside from the fact that everything inside the club looks like it could have been stolen from a movie set, the club also chooses a different film each weeknight to display on its main movie screen. The titles of the coming week's films are announced on the club's active social media pages. The club also schedules DJs and live music performances, and sometimes even holds exhibitions.
The smaller side room with sports screens broadcasts major football matches, which, I observed, are popular events at Weeds. While generally a great quiet place to work during the day, the club gets busier in the evenings, and friends have confirmed my suspicion that Saturday nights are popular and eventful. The permanent club facilities, however, are enough to keep members entertained anytime: PlayStation, billiards, darts, arcade games, pinball, chess, backgammon and other board games, books and cannabis magazines are only some of the options.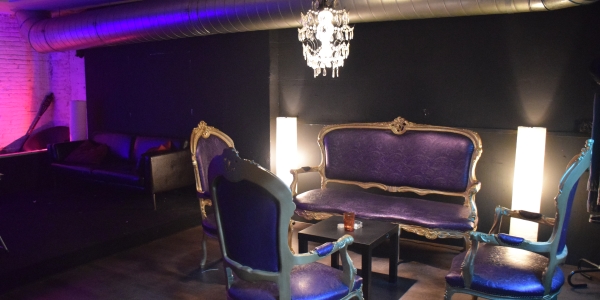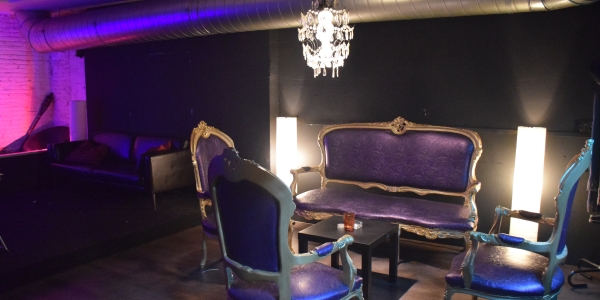 Weeds BCN: Staff
My first experience with the efficiency of Weeds staff began before I ever set foot in the club. I was searching online for nearby cannabis clubs in Barcelona when I came across the club's listing on WeedMaps. From there, I found the club's public page on Facebook and wrote a message to the staff introducing myself and requesting membership. They replied affirmatively within the hour, giving me all the information about the club's opening hours and what documentation I would need to bring for registration.
[Editor's note; in most cases a referral from an existing member is needed to join a private cannabis social club in Spain, however, this requirement is often waived for professionals who work in the cannabis industry.  To learn more about how to join a cannabis club in Spain, click here.]
When I stopped by the club the next day, the staff member at the front desk was kind enough to help me in English. Registration, like at most weed clubs in Barcelona, was quick and easy. Staff are very attentive and try to anticipate the needs of members, but because the space is so large they tend to congregate in the main space, so occasionally you must fetch someone for help. When this happens, they are always happy to drop whatever they are doing to assist you immediately.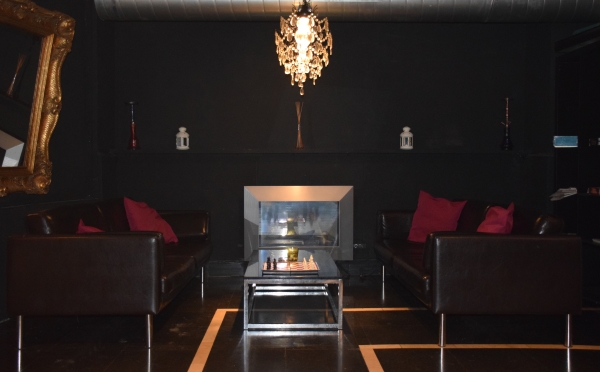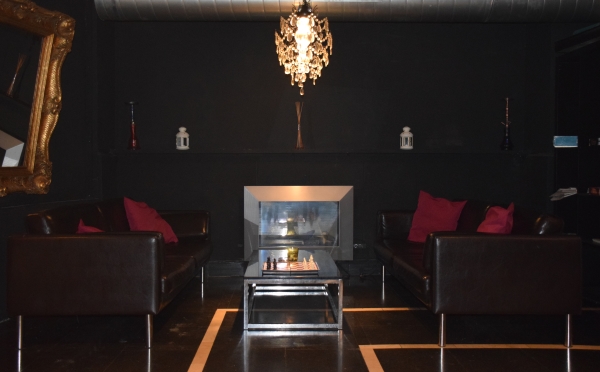 The club's policy of escorting each member in and out of the building personally allows the staff to get to know members one-on-one, and the exchanges between staff and members always seem familiar and jocular. The staff I encountered were mixed-gender, but all with an alternative vibe; brightly colored hair, piercings and tattoos are common among them. They seem to be living stylistic additions to the club's quirky decor and rock n' roll affinity. But it's not just their style that makes them stand out; the staff at Weeds, whether on social media or in person, take service seriously. In all my interactions with them they have been friendly, helpful, accommodating and efficient; with a touch of personal flair.
Conclusion
Weeds BCN stands out for its unique style and decor, amazing facility, high level of service, and wide range of options available to members. From their selection of cannabis products to their options of recreational accessories and organized events, Weeds is a unique club that caters to many diverse needs, and is a great spot to hang out and enjoy some decent green in a truly creative atmosphere.
Are you a member of Weeds BCN? Let us know in the comment section below!
Barcelona Cannabis Club Review Rating for Weeds BCN: 5 of 5 Stars!
[author-post-rating]
(This is a preliminary application process; not all who apply will qualify for membership based on Spanish law and club policy. Application for membership is general and is not necessarily applied to any particular club unless the applicant fully qualifies.)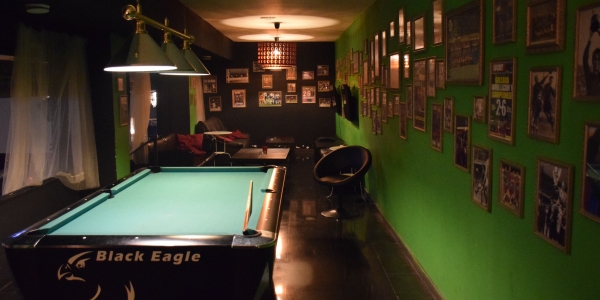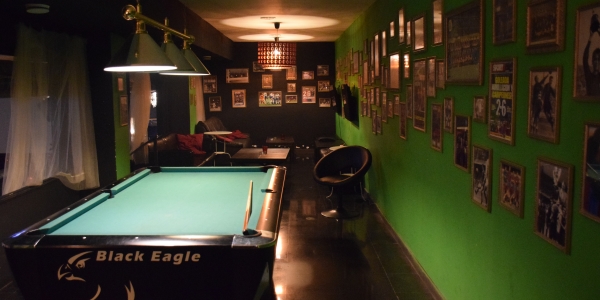 Latest posts by Rachel Clark
(see all)