In this stoner's guide to Lanzarote, Spain, we'll travel through its municipalities, discovering several landmarks, places where you can get weed in Lanzarote, and of course, where to light it up safely. Lanzarote is one of the Canary Islands, and its landscapes are otherworldly, this combined with its beautiful beaches and unique architecture automatically guarantees another level of high, so hop aboard, and enjoy the trip.
ARRECIFE – Lanzarote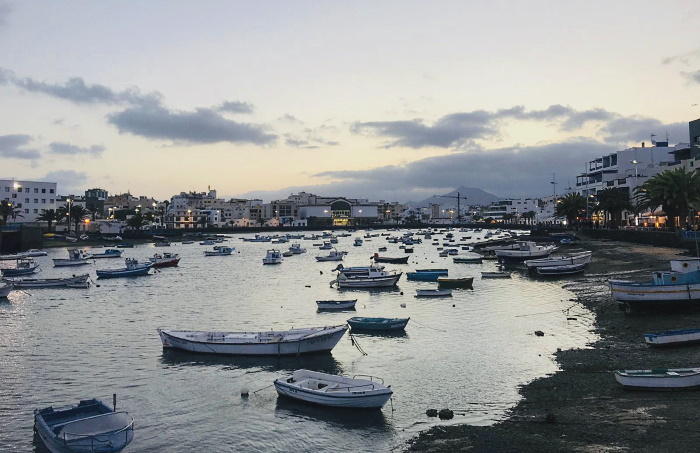 Arrecife is the capital of Lanzarote and the smallest municipality. Walking through the city center might get a bit crowded mostly due to the shoppers, however, visiting the city beach Playa del Reducto is a great way to escape the busy streets and relax a little. Catch a sunset in the sand and head to one of the many bars and restaurants located around it to enjoy the ever-fresh seafood.
The capital also offers castles and museums, if it is art you are after, do not miss the MIAC-Castillo de San José (International Contemporary Art Museum-San José's Castle) is located on top of a cliff and it used to be a fortress.
Cannabis Social Clubs in Arrecife – Nativa, OM Cannabis, El Tabaquito Terapeutico, and Grateful Meds.
Where to smoke weed in Arrecife – The ideal place to light up your joint will be on the beach, pick a spot and chill, just make sure you are somewhat alone and especially, that no children are present.
SAN BARTOLOMÉ – Lanzarote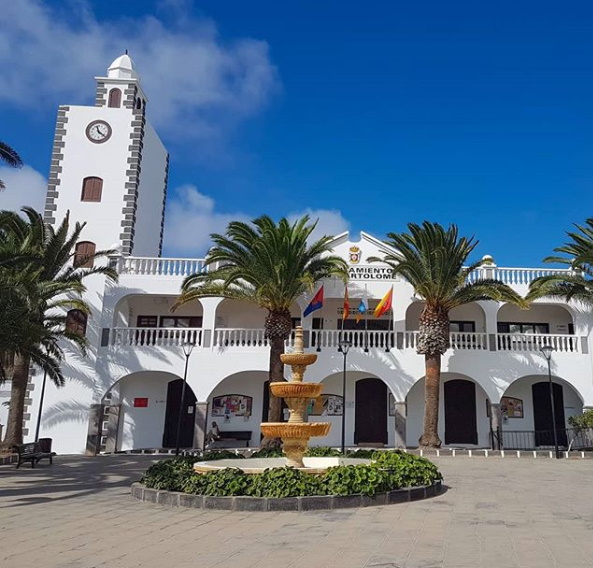 This valley is located in the center of the island and offers a combination of the traditional Canarian architecture and the municipal value: agriculture. To honor this, César Marique created La Casa-Museo Del Campesino (House Museum of the peasant farmer), which portrays this combination perfectly, displaying the Monumento al Campesino at the front, while allowing viewers to get lost in the whites and discover an underground volcanic cave that holds a restaurant.
Then you can head to Playa Honda – the main beach of this municipality – another great spot to relax after a day exploring the cultural landmarks.
Cannabis Social Clubs in San Bartolomé – Lagunnabis, Klinic Cannabis Club, and Lanzarote 420.
Where to Smoke Weed in San Bartolomé – Again, the best place to enjoy your weed is on the beach.
TÍAS – Lanzarote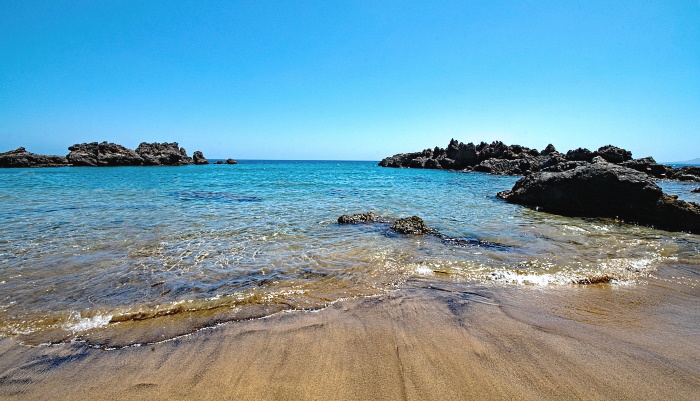 The town of Tías is located on top of a hill just above the coastal resort of Puerto del Carmen, this ensures the best views of the island. Filled with restaurants and villas, the beaches of Tías are also popular for their water sports, and it's common to see windsurfers around Matagorda and Los Pocillos.
This town houses a 16th-century church called Nuestra Señora de la Candelaria, and was also home of the late Nobel Prize in Literature winner José Saramago; his house is now a museum you can visit.
Cannabis Clubs in Tìas – The First MediCann, Green Point, and Canalanza Ecologic.
Where to smoke marijuana in Tìas – Can you guess? Yes, you are right! On the beach it is. Always mind your surroundings and pick up after yourself.
YAIZA – Lanzarote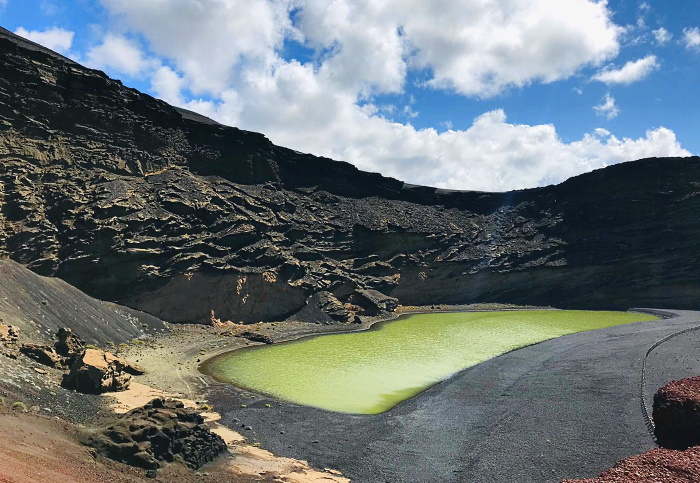 Yaiza has been voted as the "Prettiest Village in Spain," so you can only imagine how beautiful it is, although at times you might feel you are on the moon due to the volcanic landscapes that the Timanfaya National Park offers. Home to the Montañas del Fuego (Fire Mountains), this National Park gives a spectacular lavas-cape for you to enjoy a camel ride and some awesomely rare plant species.
If you feel like taking a different kind of route, there is a wine route available at La Geria, an area of land in which vines are cultivated in the volcanic ashes.
In Yaiza you will find one of the best beaches of the island, starting with Punta de Papagayo beaches, a series of stretches of sand separated by very low rocky outcrops that allow you to bathe in a volcanic paradise. If it is a secret treasure you are after, you cannot miss Los Charcones Natural Pools, a group of coves that constitute a heaven of relaxation.
Weed Clubs in Yaiza – You'll find Hemperor, El Campesino, and Mery B Cannabis Clubs.
Where to smoke weed in Yaiza – Light one up in the Fire Mountains or while relaxing in Los Charcones, just do not leave any trace behind you.
TINAJO – Lanzarote
After seeing from afar many volcanic landscapes in Lanzarote, in Tinajo you will get to explore one from the outside, all around and even into its crater, just visit El Volcán del Cuervo and rejoice. Across the highway from there, you will find Montaña Colorada (Red Mountain) another path worth exploring while admiring the colors and the volcanic bombs at the foot of the mountains.
Another great thing to experience in Tinajo is going to La Santa to watch some incredible surf action and enjoy its famous fresh fish and prawns.
Cannabis Social Clubs in Tinajo – Puerto Verde cannabis club.
Where to Smoke Weed in Tinajo – Let the volcanic scenery take part in your high – any of these places is as good as it gets.
TEGUISE – Lanzarote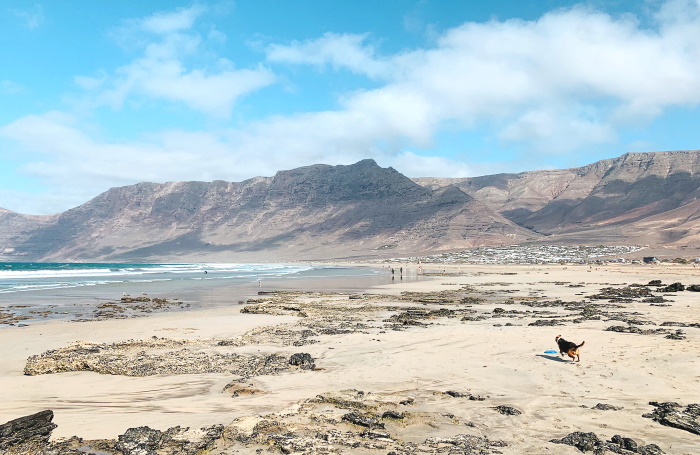 Teguise used to be the capital of the island, now among other things is world-renowned as a surfer's paradise, especially because of La Caleta de Famara; seemingly endless beach with cliffs rising straight out of the ocean and spectacular views of La Graciosa (virgin golden sand beaches await you in this paradisiac island).
Also, Cesar Manrique once lived here for a while and now you can find that his home is the headquarters of the Cesar Manrique's Foundation built over five volcanic bubbles. One of Manrique's lasts interventions is here as well – El Jardin de Cactus (Cactus Garden), a unique place that holds cacti flowers from all over the planet.
Every Sunday, Teguise hosts a very picturesque Market where you will be able to buy anything you can think of, really. From food to clothes, from souvenirs to some fake goods, this spot is a total must.
Marijuana Smoker's Clubs in Teguise – Green Indoor, and Hempathy.
Where to Smoke Marijuana in Teguise – The best place to enjoint will again be near the beach.
HARÍA – Lanzarote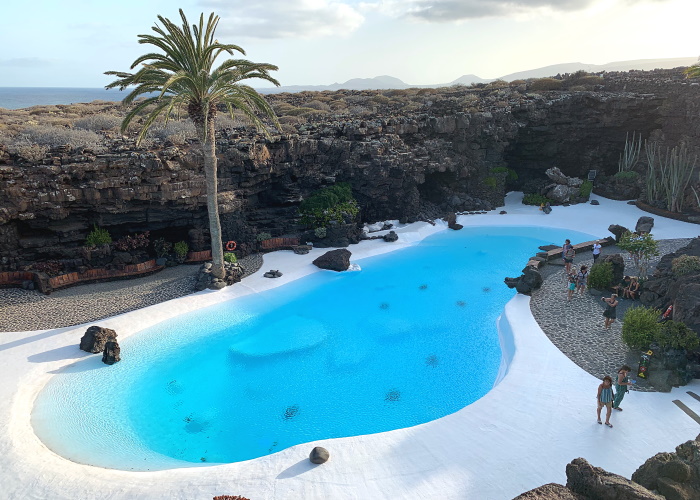 This town is locally known as "The valley of a thousand palms," so you can expect it to be a lot greener than most places in Lanzarote. Here we have once more the opportunity to appreciate some of Cesar Manrique's work.
Los Jameos del Agua – located in the world's longest known volcanic tube – opens up for you to explore the inside of an air cave and hallucinate with the contrasts and development you'll find in it. In Haría you will also find the last home of the artist, in the Cesar Manrique House Museum –a former farmhouse that he renovated- you will encounter the most intimate aspects of his life.
Then on the way to Cueva de Los Verdes –another incredible lava tube that hosts a concert hall. You must stop at Punta de Mujeres for a quick splashdown in any of its attractive man-made swimming pools and lagoons. Finish the afternoon high above with some breathtaking views at El Mirador Del Rio.
Cannabis Social Clubs in Haría – None. 
Where to smoke weed in Haría – El Mirador Del Rio is already high, join it and light it up!
DISCLAIMER – You can be fined up to 600 euro if you are caught displaying or publicly consuming cannabis in Spain. The safest way to enjoy marijuana on the island is by joining a Lanzarote cannabis club. Remember, it's ok to use cannabis in private, just not in public. If you do light up in one of these places, Cuidado!
Have you smoked marijuana in one of these Lanzarote locations before? Tell us about your experience in the comments section below!
Latest posts by Rachel Clark
(see all)