Green Indoor is a small, cozy, and down-to-earth cannabis club in Lanzarote, one of the autonomous Canary Islands in the Atlantic Ocean. This is the fourth-largest of the islands in the archipelago and the third most populated after Tenerife and Gran Canaria.  This cannabis social club opened approximately four years ago, and even though its location is not in the capital (Arrecife), you'll be very surprised to find this club in one of Lanzarote's most magical beaches, where surfers tackle some of the Canaries' best waves, overlooked by the majestic volcanic Risco de Famara cliffs.
Interestingly, Green Indoor has one thing that no other cannabis club in Lanzarote has; its own genetics crew. This marijuana smoking club has produced 2 proprietary strains including Ambar and ET, we'll discuss them in the Cannabis Products Selection section. This beach club is one of the best choices for cannabis aficionados looking for a respectable place to chill out in the often called the Island of Eternal Spring.
Green Indoor: Environment
Like almost every cannabis club in Spain that I've been to, Green Indoor is easy to miss. Located on a quiet street in the northeast part of the small town of Caleta de Famara, there's no sign or any other marking to indicate you've found a cannabis association. Instead, there's only one tiny blue door with a modest buzzer.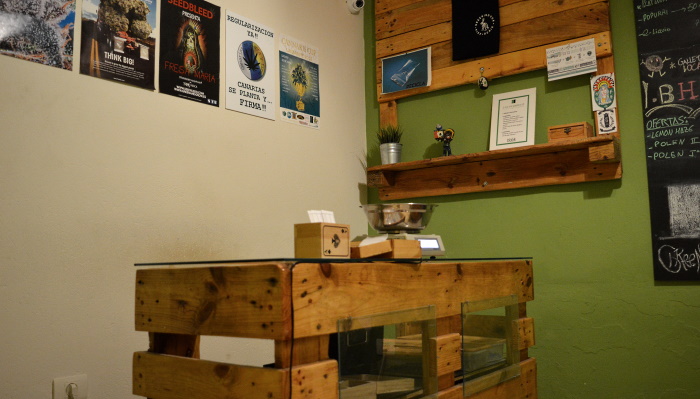 Press the bell to be admitted, and the first thing you'll see when you enter the club is a narrow green hallway with different rooms to choose from off each side. There's a tiny room on the right-hand side where you can find the reception and the dispensary. You must wait until a member of the board personally checks you in, if you're a prospective new member, as it's essential to be sponsored and accompanied by an existing member and undergo a short inscription process.
After registering and obtaining your cannabis club membership, you can turn around and check out the dispensary; it is not a big one, but it has everything you need to enjoy your time there.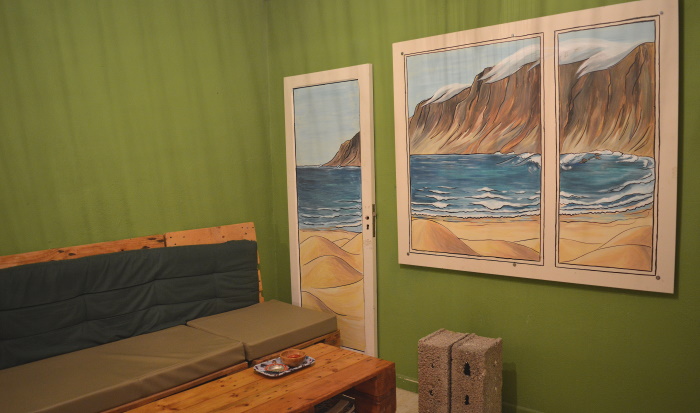 The main area of Green Indoor is at the end of the hallway on the left. This section is divided into three areas; if you take a left, you'll find a room with a couch and table made of pallets, a big flat-screen television, UNO cards, chess, and a PlayStation. One of the walls of this area has a painting of the Famara massif.
As you continue inside the club, you'll come across the spotlessly clean bathroom they have to offer, and if you keep walking straight towards the end, you'll see the biggest area of this cannabis social club.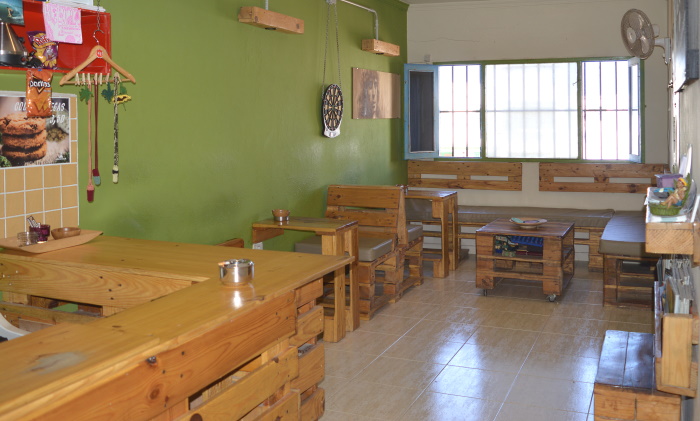 In striking contrast to many cannabis clubs in Spain, this chamber of Green Indoor is full of natural light due to a big window located at the back of the room. Underneath the window, you'll find an L-shaped sofa and few more individual seats with small tables, and as I mentioned before, all the furniture in this cannabis shop is mostly pads and cushions that have been covered and placed on wooden pallets.
On the right wall you'll find a shelf with different cannabis and surf magazines, and if you turn around, you'll encounter a small bar stocked with everything a stoner should need for when the munchies hit.
Green Indoor: Cannabis Products Selection
Green Indoor has a small but powerful selection of cannabis products. When I visited the club near the end of 2019, there were 7 marijuana strains on offer. The club usually carries 2 sativas and 4 or 5 indica hybrids. This social club is very well-known on the island due to its two proprietary strains: Ambar and E.T. the Extra-Terrestrial.
Ambar possesses hybrid genetics; 50% sativa, and 50% indica, and comes from a cross between Critical Bilbo, a legend among Spanish cannabis consumers, and Power Plant, which comes from influential South African sativa strains. On the other hand, E.T. is a sativa hybrid type of flower, cross-bred between Ethiopian Berry and the above-mentioned Ambar.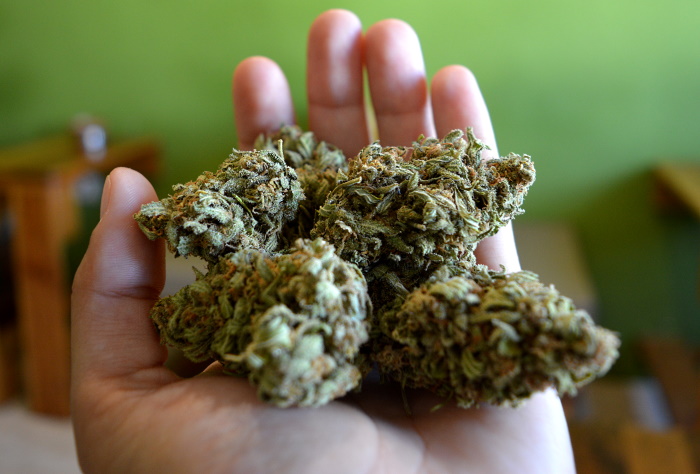 Green Indoor social club also has an excellent selection of traditional strains. On offer in October and November of 2019 were the following strains:
• Tangie
• Fresa Maria
• Chem 91
• Mango Saphire
• Amnesia
• Critical Bilbo
• Critical Somango
I strongly recommend the Fresa Maria if you need a potent indica hybrid.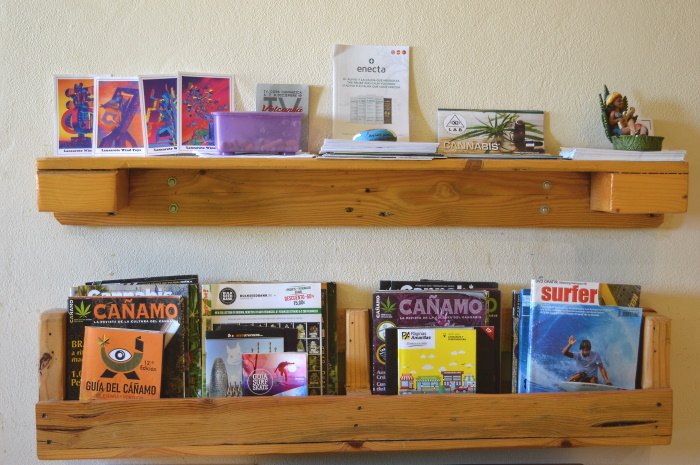 The club also carries a decent variety of cannabis extracts such as Dry Sift, Iceolator, BHO, and pre-rolled joints filled with 100% cannabis, which nowadays in Spain is not easy to find in private marijuana clubs.
For socios (members) who enjoy marijuana edibles, Green Indoor stocks cannabis cookies called "Cookies Ciegas" or Blind Cookies, which have a special Japanese hint.
Green Indoor: Staff
The staff at Green Indoor cannabis club is pretty cool; they're extremely focused, friendly, and knowledgeable about cannabis. The president of the club is an exceptionally genuine and authentic man – I enjoyed hanging out with him the few times I visited this cannabis smoking club.
The main idea among these folks is to provide top-quality cannabis products to its members at the lowest price possible, and thereby engage in a closed-circle association that avoids the need for people to access the black market.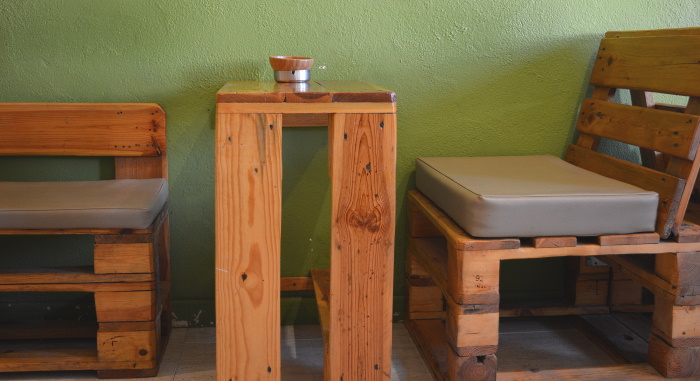 The staff has always been extremely courteous and professional while still being quite welcoming. They're fully committed to expanding the world of cannabis and making sure every member is treated like family.  The president/budtender is a happy guy who seems to relish every opportunity he gets to educate and share the club's weed with members, and on a person note, he's also passionate about the waves and body-boarding.
Green Indoor: Events & Extras
Green Indoor weed club is part of the Canary Islands Cannabis Cultural Association, and towards the end of this year, they're going to be part of the Volcanna Cup, taking place in a secret location and having a former High Times columnist as a judge. This cannabis cup consists of gathering the best cultivators in the island and taste their best and most potent flowers. Besides marijuana tasting, Volcanna Cup will host several different events including conferences about Spain's cannabis laws and regulations, live music, extractions workshops and many more.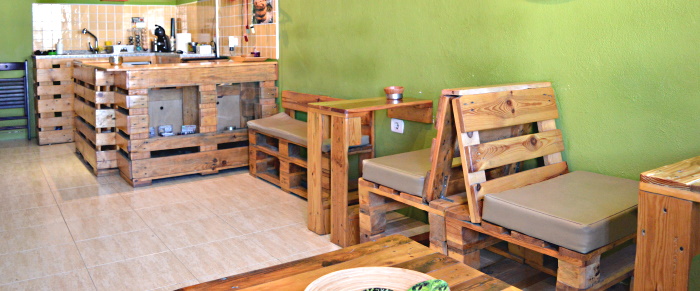 Every Tuesday, the members of this private social club get together to play poker (no betting), and during surf season they watch the World Surf League instead of La Liga, which is the Spanish soccer tournament.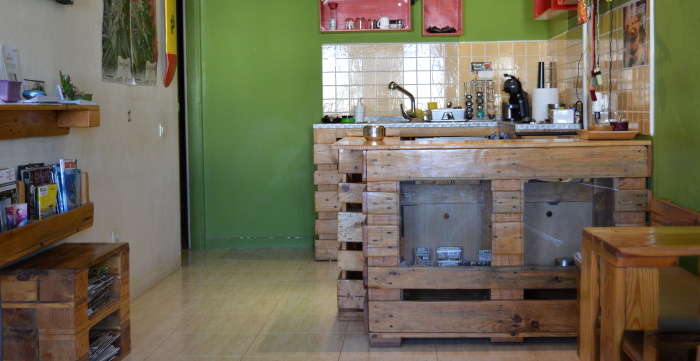 Green Indoor offers several types of bongs and other smoking devices for its members to use. If you feel like hanging out for a while, the club offers a standard selection of coffee and tea, various sodas, water, etc. You can also take advantage of the club's free WiFi to work.
Conclusion
Green Indoor is the perfect club for marijuana consumers that want a place in Lanzarote where they can simply and safely acquire excellent cannabis products without any frills or concerns.
Have you been to, or are you a member of Green Indoor? Let us know your thoughts about this smoker's club in the comments section below!
Latest posts by Rachel Clark
(see all)