Dr. Dou cannabis club in Barcelona Spain is one of the city's newest and best private marijuana associations. As one of the most unique and interesting private cannabis clubs in Barcelona, Dr. Dou is difficult to categorize. If I had to describe it in a word, I'd choose "Speakeasy," because that's what it's like; a 1930's style upper class speakeasy managed and frequented by intelligent artist types without agendas. Boasting a convenient location and an excellent selection of marijuana sufficient enough to satisfy even the discerning cannabis connoisseur, Dr. Dou is one of the best cannabis clubs in Barcelona.
Barcelona Cannabis Club Review Rating for Dr. Dou: 5 of 5 Stars!
[author-post-rating]
(This is a preliminary application process; not all who apply will qualify for membership based on Spanish law and club policy. Application for membership is general and is not necessarily applied to any particular club unless the applicant fully qualifies.)
IMPORTANT: The cannabis club described in this review is a private association adhering to all laws and regulations governing such associations, most specifically but not limited to the following requirements:
*All new members must be sponsored by existing members. This is in keeping with the "Closed Circle" doctrine of law and the natural private state of cannabis clubs.
*All rules and guidelines in a cannabis club's "Articles of Association" must be obeyed and enforced under Spanish law.
*All new members must be habitual or current cannabis users.
*All new members must be age 18 or 21 at a minimum, based on the Articles of Association established by each club.
*All members are advised that cannabis in public places is illegal in Spain. Outside of the private environments of cannabis associations and private homes, consumption or possession is prohibited.
---
DR DOU: Environment
From the moment you cross the threshold into the reception area of Dr. Dou cannabis social club, you know you're somewhere special. From the friendly and welcoming staff to the Rubix-cube ceiling to the interesting art to the cucumber and fresh fruit water offered to everyone who enters, Dr. Dou has a PhD in making first impressions.
First impressions become consistent reality in the heart of the club. A set of well-made tire-swing seats greet members on the right, with a seasoned wood plank walkway leading to a tasteful collection of living-room type areas beyond. The bar opens to the left after a row of stools against the wall. The space is open and there is plenty of room for members to comfortably relax and enjoy the good vibes. The lighting is mellow but sufficient.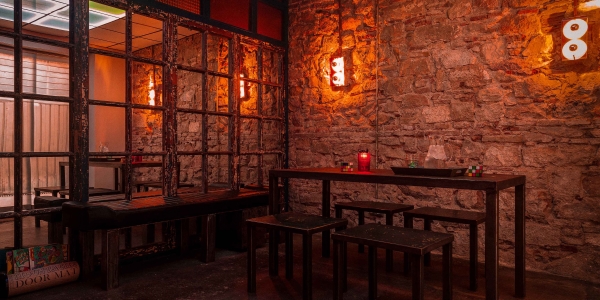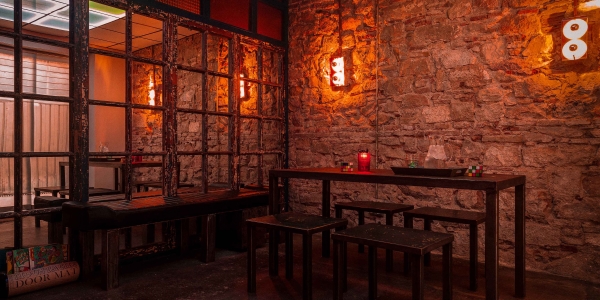 In the center of the club is a large table on the right with a huge projection television above it. Eight or even ten people could work from this table, and often there are business meetings taking place there, study groups, chess games, vape sessions, and of course many FC Barcelona games watched on the screen above.
The dispensary is opposite the table, with the wall to the bar made of recycled green glass bottles. Next to this is the bar, with white-topped stools at both the dispensary and bar outfitted with recycled bicycle chainring assemblies and pedals as footrests. Cool!
At the back of the club is a large living room area where one of the couches is actually a set of antique industrial hair salon dryers. A large couch and several arm chairs round out the club's seating capacity nicely and still leaves space for a DJ/Mixing station and a foosball table.
Everything in the club is clean, fresh and stylish; it's a modernized version of a swanky old school speakeasy.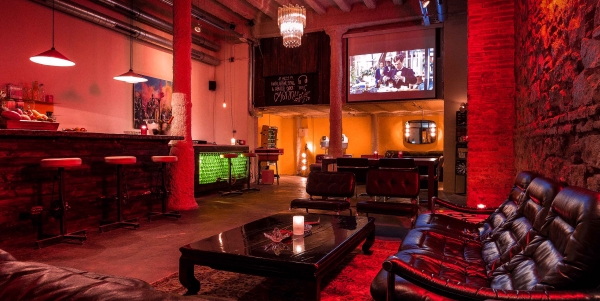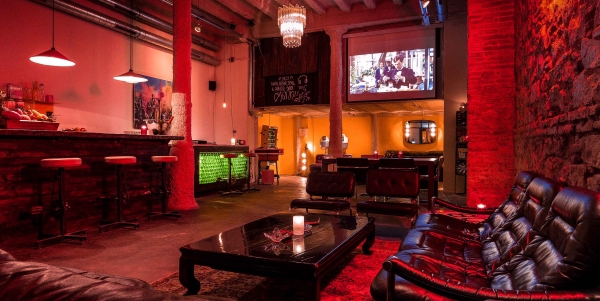 DR DOU: Marijuana Selection
The marijuana at Dr. Dou is among the best in the city. A simple menu of 10-12 strains is divided neatly between sativas, indicas and hybrids. The cannabis offered here is fresh, well-cured and with reasonable member per gram contributions. In the last few months the following strains have been on offer to members at Dr. Dou:
Critical Bilbo – Amnesia – Cristallica – Super Lemon Haze – Lavender – Lily – Ghost Train Haze – AJ Sour Cookies – NYC Diesel – Zombie Kush – SFVOG Kush – Yumboldt – Ice Flow – Black Domina
Pre-rolled spliffs are available, as well as some of Catalonia's finest iceolator – I strongly recommend the Amnesia Iceolator if they have it.
DR DOU: Events, Accessories & Extras
Dr. Dou offers a surprising amount of benefits to its members. This includes delicious fruit smoothies and other drinks from the bar, an arcade machine fully stocked with prizes, movies, live DJs, Taco Wednesdays, games, smoking and vaporizing equipment and a beautiful newsletter complete with artistry, announcements, events, jokes and more.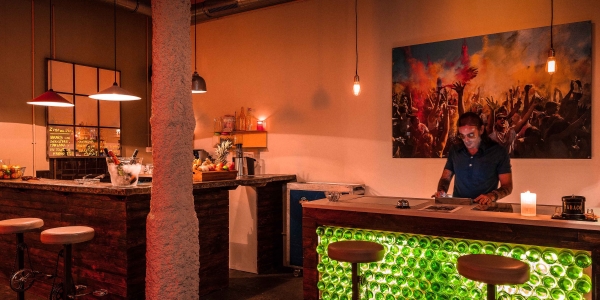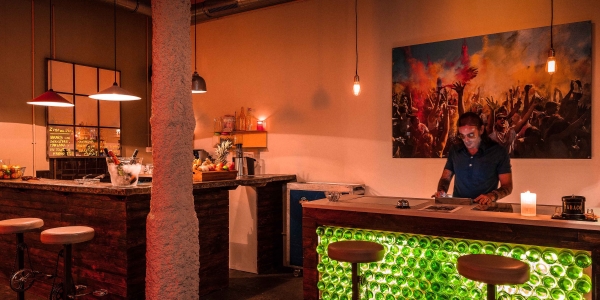 DR DOU: Staff
Dr. Dou has a small staff so members get to know them all fairly quickly; familiar faces abound when you enter the club. Professional but friendly, the people who manage the club on behalf of its members make it obvious that they care about the association. These folks are experts at genuinely making members feel that they are part of the Dr. Dou family, and at the end of the day that's what a good cannabis association is all about; fellowship.
Whether it's busy or quiet in the club, staff are always prepared with a smile, they make time to exchange greetings, hugs and handshakes and generally let you know that they are there to help make everyone happy. It's a groovy crowd at Dr. Dou, and this is largely due to the good character of the staff and the type of new members that this collective energy attracts.
Conclusion
Dr. Dou cannabis club in Barcelona is one of the top smoker's associations in Catalonia. It's got everything you could want; superior cannabis, a spotless and hip environment, cool people and lots of things to do. Are you a member of Dr. Dou? Let us know what you think in the comments!
Barcelona Cannabis Club Review Rating for Dr. Dou: 5 of 5 Stars!
[author-post-rating]
(This is a preliminary application process; not all who apply will qualify for membership based on Spanish law and club policy. Application for membership is general and is not necessarily applied to any particular club unless the applicant fully qualifies.)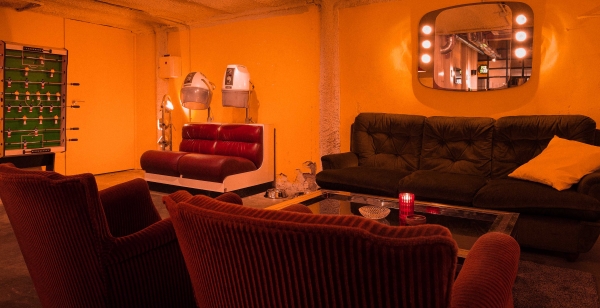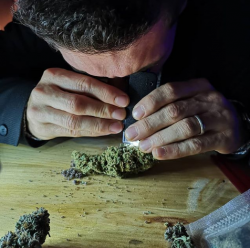 Latest posts by Russ Hudson
(see all)