The Barcelona cannabis club model is still strong in 2019, even after several years of upheavals, uncertainty, and spates of raids and other pressure from police. For most of 2018, cannabis clubs in Barcelona were largely left untouched by authorities, with the industry in the city thriving once again after several years of cautious progress. This article discusses the events of the last few years, and the future for Barcelona cannabis clubs in 2019 and beyond.
Recap – Barcelona Cannabis Clubs Pre-2019
The following is a timeline of events in Barcelona's cannabis club industry:
2013: Cannabis clubs in Barcelona are largely unknown in the rest of the world, despite the fact that, over the preceding 5 years, nearly 300 clubs appeared in the city. There are no regulations or laws to govern these associations, but two Constitutional protections – the Right to Privacy, and the Right to Association – allow them to exist.
2014: Authorities put pressure on the cannabis clubs in Barcelona after a year of media reports dubbing Barcelona as the "new Amsterdam" causes an uproar among some government officials and police. In the summer, Operation Sativa is launched by police, which saw the closure of more than 60 cannabis clubs in Barcelona in one day alone. A one-year moratorium on new cannabis association licenses is enacted by city officials.
2015: This is an uncertain year for Barcelona cannabis clubs, with just a minority of clubs under police pressure. The previous year's moratorium on new cannabis association licenses is extended for one more year, while the city continues to make international headlines for its cannabis clubs.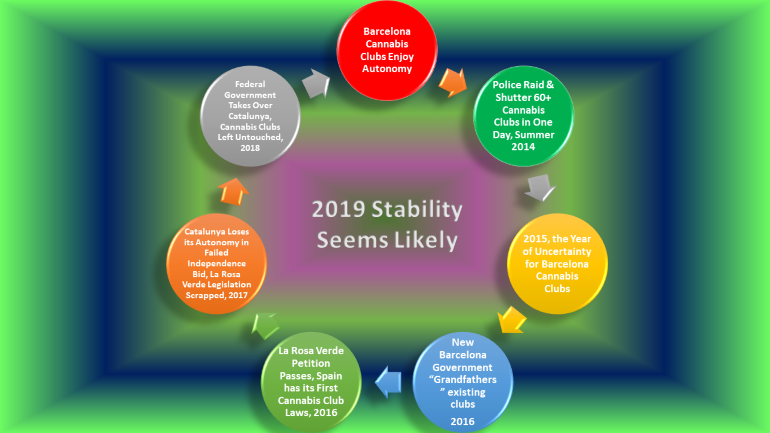 2016: A new government grandfather's-in existing clubs, but sets extensive zoning and engineering requirements for new clubs (but still passes no laws or regulations related to the clubs), especially those in the Ciutat Vella district (the direct center of the city) of Barcelona. The La Rosa Verde petition, spearheaded by cannabis club attorney Oriol Casals Madrid, is approved and passed in Catalunya's Parliament. The regulations are the first in Spain that govern cannabis associations.
2017: In a failed bid for Independence, Catalunya loses its autonomy. The Federal government steps in, discharges the formerly-autonomous region's lawmakers and many of its other government officials and police, and rejects the La Rosa Verde legislation, reverting the city and region back to federal law.
2018: In an oddly quiet year, little of importance happens with cannabis clubs in Barcelona. A few clubs are raided and shuttered, but in most cases these closures were related to criminal activity, and not specifically the activity of operating a cannabis club. Many new cannabis associations are opened.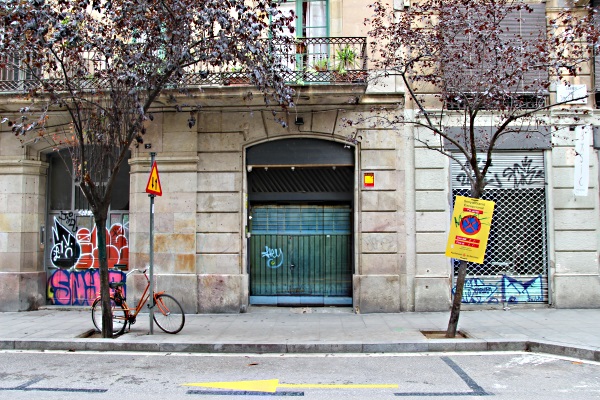 Barcelona Cannabis Clubs in 2019 and Beyond
Although little progress was made in 2018, this isn't necessarily negative news. As long as the Spanish Constitution isn't changed, it's unlikely that cannabis associations in Barcelona will face widespread closures. And with Spain's Prime Minister Pedro Sanchez refusing to enter the worldwide discussion on legalizing cannabis, it's unlikely that much will change at the higher levels of Spanish government any time soon.
In fact, late in 2018 the political party Ciudadanos publicly pushed their plan for legalization of marijuana for medical purposes, but other parties blocked the plan, including the Popular Party (PP). Podemos, which was in power when Catalunya's La Rosa Verde legislation was passed, has since lost favor, although it continues to push the marijuana legalization agenda.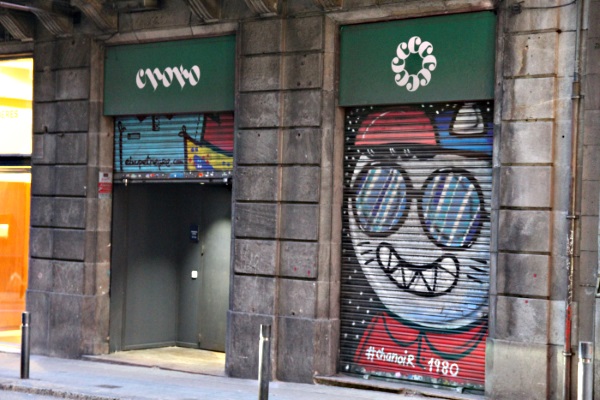 Interestingly, Spain remains the second largest producer of hemp in Europe, and a branch of the country's medical agency even regulates medical cannabis for countries where it is legal – but not in its own country. Large international cannabis industry players are setting up operations in Spain despite the lack of regulation, and, for the most part, Spanish cannabis cultivators, business owners, and medical marijuana patients are waiting with bated breath for something to change. But chances are they'll exhale soon enough, and spend much of 2019 safely inhaling the good stuff.
What's your take on Barcelona's cannabis clubs? Let's hear your thoughts in the comment section below!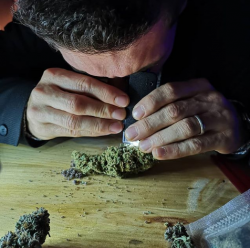 Latest posts by Russ Hudson
(see all)