Dr. Resin Cannabis Social Club is one of the oldest and biggest private cannabis clubs in Barcelona. This club, created over ten years ago, will be fully remodeled by the first quarter of 2019, and will become one of the neighborhood's most respected cannabis clubs. New ownership took over last summer and they're ready to fulfill the expectations of new members as well as existing ones. This marijuana social club is a diamond in the rough, ready to shine.
Barcelona Cannabis Club Review Rating for Dr. Resin Social Club:
[author-post-rating]
Dr. Resin Cannabis Social Club: Environment
This cannabis social club, located near one of the main train stations of Barcelona, "Sants Estacio", has an entrance that makes you feel like you're entering an underground nightclub; it has a big black metal door on the side of the road and a sharp Dr. Resin logo with its signature black and yellow colors. As soon as I rang the doorbell, a rock-and-roll style guy greeted me at the reception.
When you enter you have two possibilities, either going to the upper half of the club if you feel like checking out the dispensary before relaxing, or straight to the lower half to have some drinks or just chill out.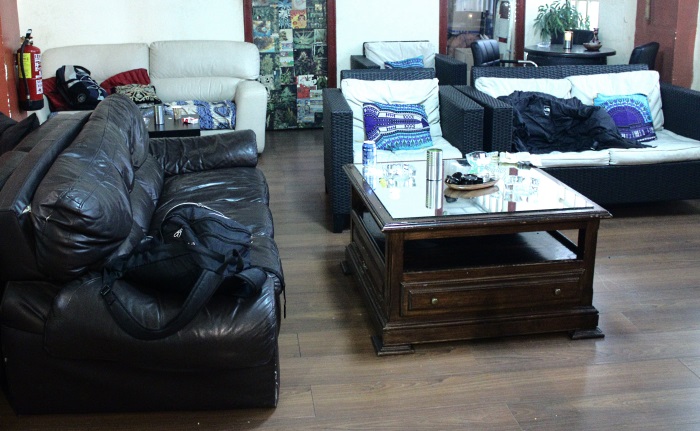 This private cannabis club is bigger than most in Barcelona, so I decided to go to the dispensary before exploring the rest of the place. A glass counter with a nice display of buds greets me, and right behind this window, a Spanish guy tells me all about his adventures a few years ago trimming marijuana in California, then he shows me the large and outstanding variety of cannabis strains, edibles, extractions and lotions/oils the club has to offer.
If you look around, you'll see 4 different areas. For members who want to hangout in this floor, there are loads of chill-out options, one with a huge couch and a flat screen television, most of the times projecting sports or music videos. The other three areas are divided into micro-environments with comfortable couches and tables, which reminded me of co-working spaces; I saw a geeky-looking guy working on his laptop and another one reading a book about Thai Gastronomy.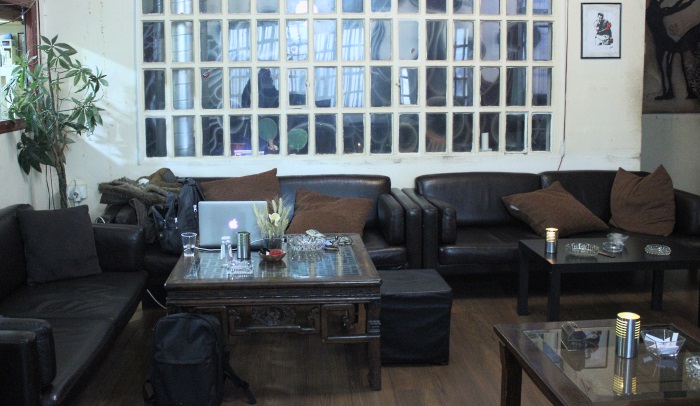 The lower half of this cannabis social club is a totally different world; the lighting is dimmer with Moroccan-style lamps, and it's also divided into several areas. At the back of the room is the bar, with a row of stools against the wall; it's not big but offers plenty of options for when the munchies hit, from all sort of chocolates to smoothies, chips, beer, and cakes.
On Sundays, Dr. Resin offers the well-known Spanish aperitif – vermouth with olives. The rest of the space is separated into many groovy atmospheres, big couches with a huge projection television were FC Barcelona games are displayed, a pergola with exterior sofas, some hidden spots with big pillows and low tables, and sometimes you might even come across live music.
Dr. Resin Cannabis Social Club: Cannabis Selection
The variety of cannabis products at Dr. Resin is substantial. The club offers from 15 to 20 different types of strains, with an emphasis on the Indica varieties. "Spanish Bred 1024" is one of the members' favorite Sativa-dominant hybrids, and what makes this one special is its exclusiveness, which means that not all cannabis clubs in Barcelona offer this strain.

The club offers a diverse selection of strains including: Monster, Skittlez, Tahoe OG Kush, Critical, Alien OG, and an outdoor Amnesia Gold which is extremely well-priced. They also offer different types of American strains such as Purple Punch, Mendocino, Fruity Pebbles, Gelato #41, and Cotton Candy.
Pre-rolled joints are also available, as well as some of the strongest cannabis extractions in Barcelona. The club has six types of wax and around the same amount of ice-o-lator; among the favorites are Sum Sweet and Devil Fruit for the wax, and Wedding Cake and Mandarin for the ice-o-lator.
Dr. Resin Cannabis Social Club: Staff 
From the budtender, who was super friendly and took the time to educate me about the cannabis products they use, to the girl that was taking care of the bar, everyone at the club went out of their way to make sure I felt part of the club. The staff at this Barcelona marijuana smoker's club will make sure that all members are comfortable in the association. Authentic smiles, true greetings, and sharp service overflow at Dr. Resin.
Dr. Resin Cannabis Social Club: Events & Extras
Dr. Resin offers a variety of activities to its members. Once a month they partner with Paris Mato of Judas Iscariote to showcase some of their tinctures and extractions. Every Thursday, Friday, and Saturday new DJ's are invited to spin, and on special occasions like Halloween or Christmas, they invite bands to play live music. With the club under new ownership, other exciting events are sure to be coming soon.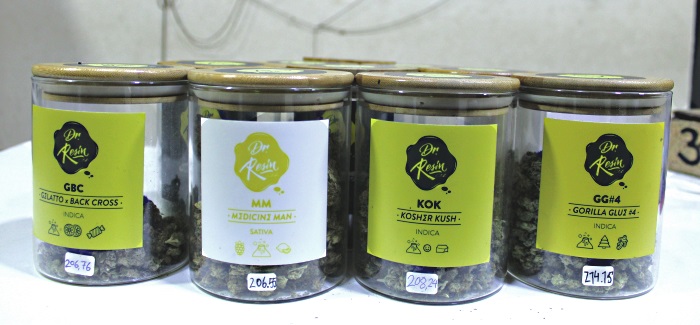 Conclusion
Dr. Resin is on a fast-track to become one of the top cannabis clubs in Barcelona. This cannabis association wants to give something back to the community by creating an inclusive-yet-exclusive atmosphere where every member feels like part of the family. Have you been to Dr. Resin club in Barcelona, or are you a member? Let us know your thoughts in the comments section below!
Latest posts by Rachel Clark
(see all)