The now-famous Barcelona cannabis club is being bludgeoned to death by the city's council and lawmakers. In the last few days at least 49 cannabis clubs in Barcelona have been closed, and some have been shuttered forcefully by police after authorities encountered resistance from club owners. Armed with the political and practical upper hand, the latest round of attacks by authorities appears to be the beginning of the end for Barcelona's cannabis clubs.
One Hot Summer
It seemed like business as usual in Barcelona after June's attacks on the cannabis social club system and the period of calm tension that followed. But on Wednesday morning this author began receiving a sudden slew of complaints and requests for information from people who were concerned that many clubs around the city had been shuttered without warning.
Investigation showed that indeed, large numbers of clubs had been closed by city administrators and police. Board members, management and staff of various clubs suddenly went incognito; likely out of fear of another round of arrests.
The status of many clubs couldn't be immediately determined; in the past some clubs have closed as a precautionary measure when police activity is high, making it difficult to analyze which clubs are being actively persecuted and which are acting preemptively. However, the orders from Barcelona City Hall called for the closure of an initial round of 20 clubs, followed by 29 more. All of these closures have been implemented. By some estimates, this represents approximately one third of the total clubs operating within the city.
Management and founding members of clubs that were not shuttered still expect the worst. Because of a lack of clear regulation, even legitimate clubs operating carefully within the most conservative interpretation of the laws are at risk of closure and seizure/forfeiture of assets.
But the order authorizing the closures includes a long list of violations; many of which were not violations of city policy or law, but violations of the club's own guidelines, policies and operating principles.
Others say the motivation to close the cannabis clubs is purely political.
What's the Problem?
The primary problem gnawing at the bones of city councilors is Barcelona's burgeoning reputation as a top destination for cannabis tourism. Various media outlets reported earlier this year that Barcelona was becoming the "next Amsterdam;" a label that city officials are actively working to reject.
Because Barcelona's cannabis clubs must be private in order to exist under the law, they cannot advertise or publicly recruit new members, among other restrictions. Therefore, the existence of a lucrative and increasingly publicized cannabis tourism sector in the city poses a serious problem for lawmakers; a point that even cannabis supporters admit requires action.
Of course, there's much more to the issue than just marijuana tourism. The city council's order closing this round of 49 clubs included a laundry list of other complaints, including;
Providing cannabis to members that was not produced directly by the club or collective, or being unable to prove the origins of the marijuana products present.
Selling to minors. Although this was on the list of complaints, at this time only 2 clubs (including one from the earlier closures in June 2014) were cited for this particular violation.
Poor ventilation. Because many of Barcelona's cannabis clubs are located in large buildings shared by other commercial and residential spaces, ventilation of marijuana smoke has been a central issue of contention since the clubs began to appear 4 or 5 years ago.
Illegal Sale of Cannabis. The terms of this are ambiguous and likely include allowing foreigners to acquire marijuana, producing or selling cannabis concentrates, selling to non-members, and charges related to cannabis production both on and off premises of the social clubs.
Sanitation complaints.
Money laundering. While a few specific charges have been handed down, the majority of these violations are more likely to be related to issues of poor regulation than deliberate money laundering.
Improper licenses. Some of the city's complaints are pettier in nature than would warrant a closure. For instance, this includes violations unrelated to the nature of the cannabis business. (Providing refreshments or snacks without a catering license, offering entertainment or social activities that are not licensed or licensed improperly, etc.)
Some Clubs Stand their Ground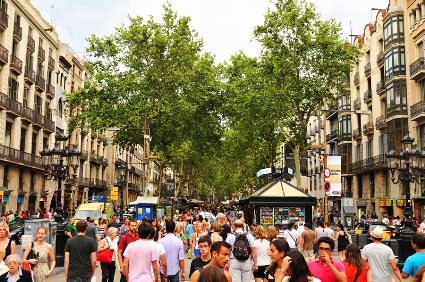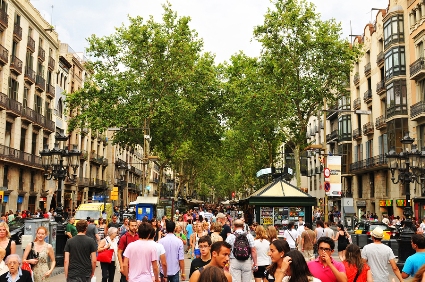 When the city initially posted the closure orders, most clubs were provided 48 hours to comply by fully shutting down. However, more than a dozen clubs refused the order and stood firm, citing their rights under the Spanish laws of Association. These clubs remained open, serving members until police eventually arrived and forcefully shuttered them and chained the doors closed.
One such club was the 4:20 club on Notariat (not to be confused with the 4:20 club on Esudellers). The club's president refused the city's orders and remained open past the deadline. Meanwhile, the club's board and its lawyer filed a formal complaint against the city, naming several of its officers in the official documents.
4:20 attempted to legally out-maneuver Barcelona's city council by filing a complaint that its Association rights (essentially a "right to organize") had been violated, thereby insisting that a stay be issued and the club be allowed to remain open. However, after a rapid review a local judge declined to act on the complaint.
Meanwhile, other clubs have escaped from this onslaught unscathed, despite the fact that they engage in similar or identical practices as their counterparts simply because of unclear (and previously unenforced) regulations. This has led to a state of confusion in the industry where clubs that have been operating peacefully for years now fear for the survival of their associations.
For some of the clubs that have survived to this point, the worst is yet to come in the form of tight restrictions that will radically alter the way the clubs operate and will generally address the clubs in a manner that is significantly more restrictive than establishments that sell or serve alcohol.
The Solution is Part of the Problem
Barcelona's city council is an intelligent group. They know that they don't have to physically close down every cannabis club in Barcelona with the use of boots-on-the-ground force; the passing and enforcement of tight new regulations will thin the herd drastically, with some measures attacking the very morale and free spirit nature of the industry:
Access to the clubs will be exclusive to Spanish residents
Access will not be permitted to people less than 21 years of age
New members must be sponsored in person by a current member in good standing
Once inscribed, new members cannot acquire or consume any cannabis products for at least 15 days
Clubs will be limited to a maximum number of members (proposals reported at 500)
Members must order and pay for their cannabis once per month only
Members cannot acquire more than 60 grams per month (down from the current 100 grams/month)
These are just some of the regulations that are being drafted by the Ministry of Health for presentation during lawmaking sessions in the regional parliament next month. Other laws being written into the draft seek to regulate and oversee nearly every step of the processes that remain after the clubs have been effectively weeded out. From production to transport to packaging to sales, the Catalonian government is seeking unrepentant control of the industry. And based upon the aggressive actions of the city thus far, any bills presented will likely be considered with priority status.
What Happens Now?
The orders closing the clubs contain a list of specific conditions that must be met in order for the club to reopen. For many, these requirements will be impossible to meet. Those that do meet the conditions and are permitted to reopen will be subject to whatever new regulations are passed based on the Ministry of Health's recommendations.
Overall this means that the waters ahead will be extremely rough for Barcelona's cannabis clubs.
For people who are currently members of a club, you will likely be permitted to remain a member if your club is still open. However, it is possible that the board of directors of your club could retroactively apply the new conditions and thereby strip anyone of membership who doesn't qualify. Clubs that choose this course of action should expect to refund membership fees to those affected.
For people who want to become a member of a Barcelona cannabis club, at this stage it seems that if you aren't a Spanish resident above the age of 21 with a legitimate, in-person sponsor from a current member of a club, then there's essentially no chance that you'll be able to join; even if you have a medical marijuana prescription.
This means that for the thousands of tourists that visit Barcelona each month, it's back to the street dealers and the risk of theft, violence and arrest.
For the street dealers, this is all very good news.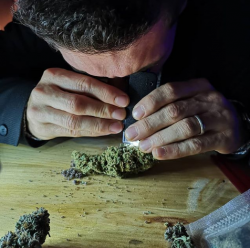 Latest posts by Russ Hudson
(see all)