Barcelona's cannabis clubs have been under intense scrutiny and pressure by city administrators and police during the month of June, 2014. Clubs have been raided, staff and board members arrested and imprisoned and members have been harassed and ticketed in some cases. Several clubs have been closed permanently by Spanish police. Fortunately, many cannabis clubs in Barcelona have survived this onslaught, but according to some, this will only be a temporary reprieve. Next year, if some administrators have their way, the clubs will be shuttered.
The private cannabis club community in Barcelona knew this was coming. At the end of 2013 there were mutterings of pending inspections and regulations, but no one really knew what shape the changes would take until police exploded into several cannabis social clubs in early June, 2014.
At first these police raids closed some clubs that may have been involved in questionable or even illegal practices. Of course, they were shuttered on allegations ahead of any trials or court proceedings, and later some clubs were raided despite little evidence of any wrongdoing at all. Some raids seemed to be designed solely to gather information.
Zen Jardin and 4:20 Club on Notariat were closed on charges of violations of various cannabis-related laws related to the recruitment of new members.
The Senzi club was closed and several of its staff and the club president were sent to jail for at least 2 weeks before they were freed pending further investigation and trials. Sources close to the case told this author that Senzi's president was under investigation for international drug trafficking, but whether this was related to Senzi's operations or not is unclear at this time.
As of June 30th, this author learned that Senzi is re-opening next month.
Surprisingly, one raid that no one expected was conducted by police at ABCDA – one of the founding members of Barcelona's cannabis club community. ABCDA is an extremely professional and highly organized private club managed by an intelligent board of directors and backed by powerful attorneys. An aggressive raid was conducted at the club and its grow warehouse. Large trash bags of "evidence" were collected, but word from ABCDA came back that most of the "excess production" charges were related to unusable materials; leaves, stems, stalks, roots and other harmless organic waste materials of cannabis production.
There were also allegations that ABCDA and perhaps other clubs were stealing power from the city or utilities in order to avoid detection of their large grow operations. The club was shuttered and some members were informed that the closure would be permanent, but within days the club was reopened. Meanwhile, costly supplies had been decimated, equipment confiscated and serious but probably exaggerated charges may still be pending against board members.
Other clubs that this author communicates with regularly reported 4-6 hour long investigations, with police searching club premises, questioning members (including posing as other members in order to solicit information), collecting records and generally making an aggressive appearance.
Outside on the street, some members were stopped by police and were questioned and searched. Upon finding marijuana on the person, police issued verbal admonishments and formal tickets that fined these individuals hundreds of Euro. One of these unlucky individuals in particular emailed this author repeatedly, gravely concerned that this violation would impact his professional life in his home country.
Fortunately, the majority of cannabis clubs in the city have excellent attorneys who handle the tickets, and in most cases there are few – if any – lasting repercussions.
NO MARIJUANA TOURISM!
Street level surveillance was especially heavy for clubs located near Las Ramblas and Placa Cataluña. City administrators have taken a strong stance against marijuana tourism, so these popular areas are under particularly intense scrutiny.
In several cases potential new members arrived to clubs located just off La Rambla followed by plain clothes detectives. Interestingly, this has caused some clubs to match wits and resources with the police; including clubs that operate according to the letter of the law. Comprehensive security and surveillance systems have been installed in some clubs, and when police or undercover agents are observed in the area, the club can (and some regularly have these last few weeks) shut its doors and refuse to respond.
Other clubs have taken extreme approaches and closed voluntarily. La Rambla Dragon closed to all members 2 weeks ago and will not reopen for some time. The club's president and board members have closed the club in order to allow time to review their internal policies and carefully study the laws regarding cannabis and related business practices more closely in order to ensure that they are operating as clearly inside the law as possible.
Most clubs share this philosophy and have taken significant steps and expended vast resources in order to ensure their survival. But based on the frequency of police raids and under cover activity, it's clear that there are people in power in Barcelona who do not want the cannabis social clubs to be allowed to exist.
Despite the heavy police activity, lawmakers have done little to change anything. A one-year moratorium was passed in June to prevent any new cannabis clubs from opening in the region. This will allow lawmakers, drug policy experts and others time to research and investigate the cannabis club community in order to draw up regulations to control or eliminate them.
One of the central issues that have perturbed city officials is the admittance of foreigners and tourists into the clubs. The laws in this regard are vague, but the fear of becoming the "next Amsterdam" looms large in the heart of a significant population of lawmakers in Catalonia. Consequently, clubs are being instructed not to admit foreigners except under specific conditions that, ironically, can be applied to a large majority of cannabis users.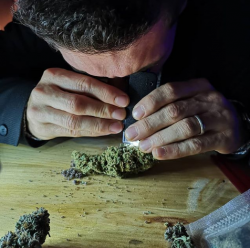 Latest posts by Russ Hudson
(see all)