Some of Barcelona's cannabis clubs have a well-earned reputation for good weed, and The Plug BCN is one of them. This Barcelona cannabis social club opened two years ago, but in that short period of time has become one of the community's most respected cannabis haunts, building up an impressive trophy cabinet that boasts around 50 awards. It's a favorite of industry event Spannabis, winning Best Club and Best Extraction in 2017 and 2018. With its cinematic murals of rap artists Tupac and Biggie on one wall, and Takeoff, Quavo, and Offset of Migos on another; purple lighting, black leather upholstery, Moroccan style seating, and dub reggae beats on blast, The Plug is a chic hip-hop hangout that revels in its reefer roots.
Barcelona Cannabis Club Review Rating for The Plug:
[author-post-rating]
The Plug: Location
Because The Plug is located at the south end of Carrer Nou de la Rambla, a street that runs perpendicular to the Parallel Metro stop, it's a little easier to find than most cannabis clubs. Located on Montjuic, the hill overlooking the harbor, The Plug is a short ten-minute walk from Parallel Metro, walking uphill. Or, take the scenic route: get to Placa d'Espanya and walk up Avenida del Parallel, a wide leafy avenue lined with balconied apartment buildings and outdoor bistros, till reaching Carrer Nou de la Rambla, a shaded narrow side-street.
The Plug: Environment
Like most Barcelona cannabis clubs, entering The Plug means passing through a reception area where membership is first validated, but this club uses a more sophisticated access system than just showing a membership card. When a member arrives at The Plug, he or she must scan a key-ring to gain entrance to the main part of the club. The glassed-off reception desk and large black roller door that leads down to the club heightens the sense of entering a clandestine world. The receptionist is efficient and friendly. But the real magic begins when the roller door slides open.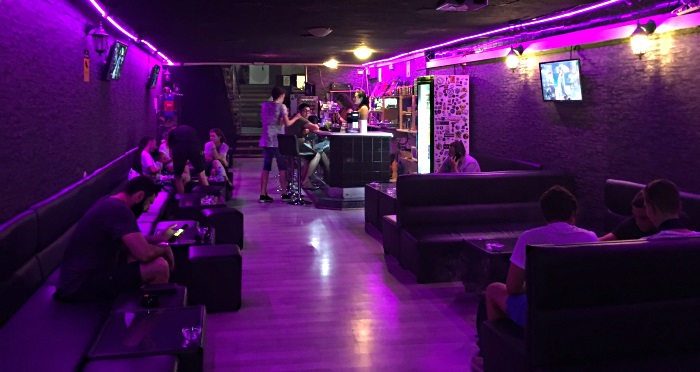 On the other side of the black door is a set of steps that lead down to a lobby with the aforementioned murals on the walls, and to the club's dispensary – an open hatch window showcasing about 30 Mason jars full of weed. From the lobby, there are more steps leading down, and more leading up. The upstairs area of The Plug is a game room with a pool table, sofas, flat screen TV, and video games console. Downstairs the vibe is more vibrant thanks to the loud music and back-lighting that bathes the club in a permanent magenta glow. At the back of the club is another nook; a quiet chill-out space for regulars.
Everything about The Plug is designed to make members as comfortable as possible, and the service convenient. Black leather sofas span the length of the club, the open floor plan making it easy for members to mingle, while low tables provide space for smokers to roll. The bar serves juices, teas and coffees, and snacks.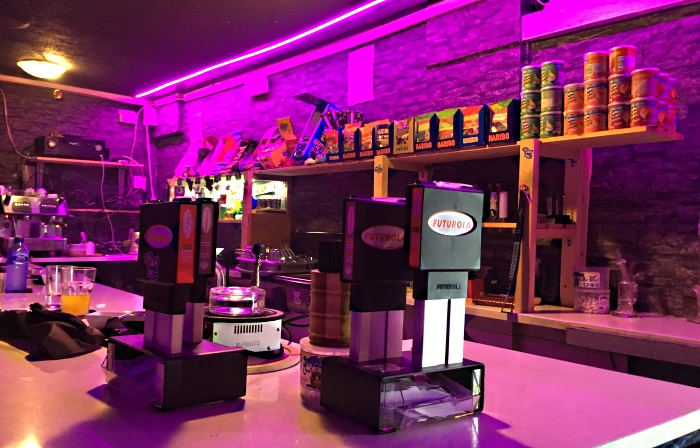 One key feature of The Plug is that the dispensary and bar are separate, meaning one set of staff takes care of dispensing cannabis, while a different set serve drinks, so if one area is busy it doesn't affect the other. It also means club users aren't disturbed by passing foot-traffic, and makes the club's interior more private. Like many cannabis clubs in Barcelona, members of The Plug know each other, and the only way a new person can join is by knowing an existing member.
The Plug: Events & Extras
Because music plays such a big role in The Plug's identity, the club has a long list of DJs who regularly spin at the club, but most weeks they like to keep things low-key and simple. This is a club that's known for good weed, and members come to catch up over a smoke. But they do like to host special events, such as their 2nd year anniversary party in summer 2018, which took place at the Otto Zutz Club with an Abstract set showcasing DJ Davin and Friends. The best way to keep up with the club's events is to check out their Instagram page.
The Plug: Cannabis Selection
The Plug offers a selection of around 40 different marijuana strains, but likes to keep things fresh by continuously changing up the bud on offer. The range of cannabis products include bud, hash, wax, shatter, isolate, oils, diamonds, sauces, and rosin, as well as whatever special extractions might be available during a given week. That said, members have their favorites and popular strains include Super Lemon Haze, Frita Cookies, Kasper OG, Cookies and Cream, Headbanger, Sour Banana, Crazy Noa, and Skywalker. The Plug is also well-known for its potent El Chapo strain. Menus are available on each table, but can change on a regular basis.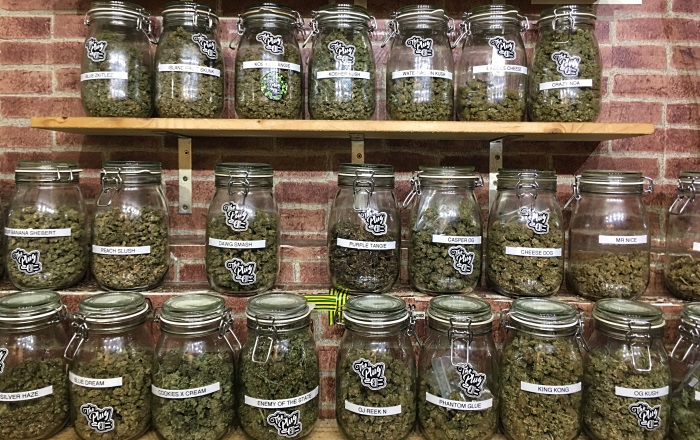 The Plug only supplies indoor-grown cannabis, and works with a small network of in-house growers. One of The Plug's best kept secrets is a cultivator who goes by the name La Flaca. She has been cleaning up at Cannabis Cup competitions all over Spain, and most recently won all the categories at Seville's CañamoExpo. She is one of a handful of select growers that The Plug works with to provide the best organic top-shelf bud. LaFlaca's Frita Cookies strain has won several awards.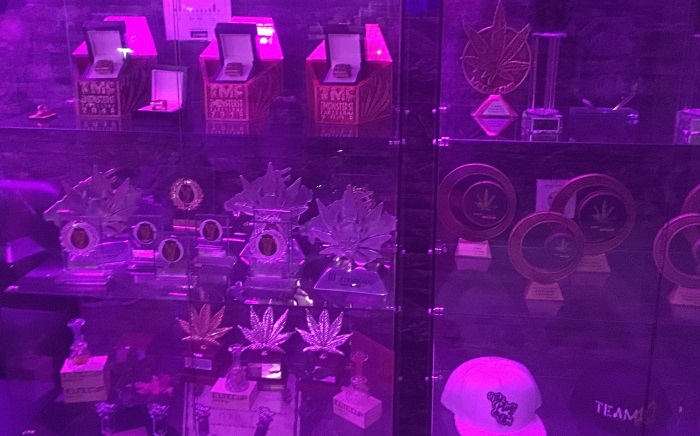 Conclusion
By concentrating on producing the best cured marijuana and the best extractions, The Plug BCN has built up an admirable reputation in a relatively short period of time, and by designing a space that celebrates connections between cannabis and hip-hop, The Plug has created a unique experience for rap fans. The Plug may be one of Barcelona newer cannabis social clubs, but there's no question this association has a long future, full of awards, ahead of it.
Are you a member of The Plug BCN?  Let us know your thoughts in the comments section below!
Barcelona Cannabis Club Review Rating for The Plug:
[author-post-rating]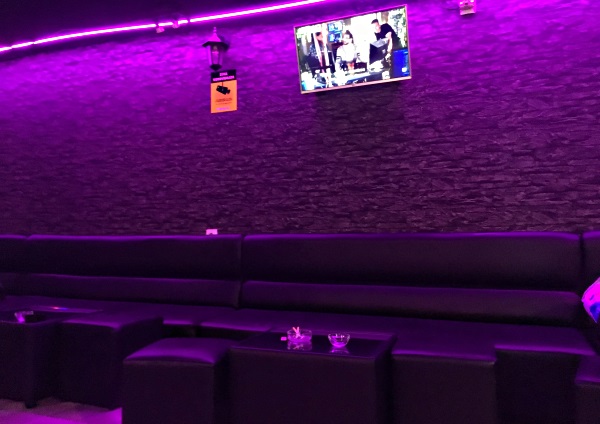 Latest posts by Tasha Kerry Smith
(see all)