1 Mill is a Maine cannabis dispensary (registered caregiver storefront) located fittingly at 1 Mill Rd. in Belfast. Founded by well-known Maine cannabis activist Paul T. McCarrier, 1 Mill is one of Maine's newest cannabis shops, but it also comes to the Midcoast market as one of the most well-prepared dispensaries, with connections extending deep into Maine's burgeoning cannabis community.
Maine Dispensary Review Rating for 1 Mill:
[author-post-rating]
1 Mill: History
8 years ago, Paul T McCarrier was in college, on an entirely different path in life. Although he had no prior experience with cannabis personally or professionally, at that time Paul closely followed news about marijuana legalization and reform. Eventually, he realized that there was a major green rush underway, with huge financial and business opportunities coming and going before his eyes. Paul realized that if he didn't act soon, those opportunities would vanish.
So, Paul dropped out of college to become a licensed Maine cannabis caregiver. He took instruction from local greats like Jake McClure of Sensi Sensei, and trained to become a grower alongside the likes of King Bishop and other local Maine caregivers and growers.
Over the last few years, Paul became involved in cannabis politics, and quickly rose through the ranks as one of the top cannabis activists in the state via a legislative liaison position he landed with Medical Marijuana Caregivers of Maine, a trade organization formed to protect the interests of caregivers. In fact, this author first met Paul in November of 2016, during a debate at the University of Maine on Question 1 to legalize recreational marijuana. In that debate, Paul went up against his former girlfriend, Hillary Lister, who opposed Question 1, while Paul supported the measure, which passed the following week.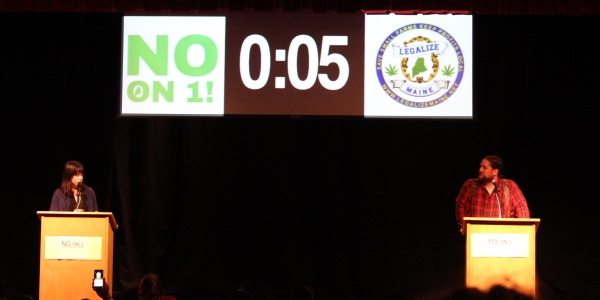 Despite the clear division amongst Mainers, Paul quickly moved forward after the historic vote, and last year decided to take his Maine caregiver status to the next level by opening a caregiver-storefront, which is essentially like a dispensary, but without the heavy-handed licensing requirements forced on those types of businesses. With this type of establishment, Paul calculated that he could serve more patients with better product and services than what many are unfortunately accustomed to in the region.
Just a few weeks ago, after a great deal of red tape, renovations, and preparations, Paul opened his shop, naming it after the address for the location: 1 Mill.
1 Mill: Environment
1 Mill sits in a neat house near the Passagassawakeag Bridge in Belfast, with a large parking area for patients and visitors, and a handicapped-accessible ramp leading up to the front door. Across the street is the infamous Perry's Nuthouse – a tourist shop that's been open for nearly a century.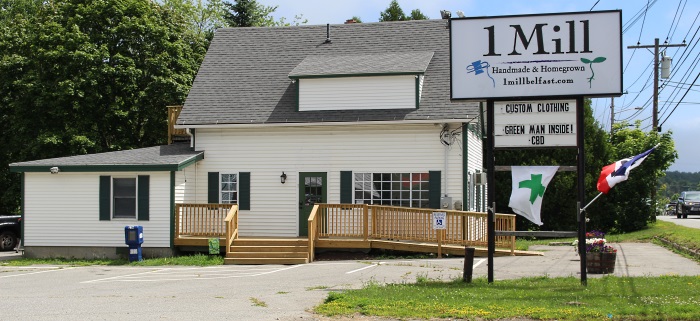 Inside, this Maine marijuana dispensary is divided into 3 areas; the clothing and gifts boutique, a CBD products and glassware room, and the dispensary area. When entering, visitors will be greeted by hemp and cannabis clothing in the boutique, where cannabis-leaf print pants, scarves, hats, t-shirts, dresses, and other cool 420 items are on offer.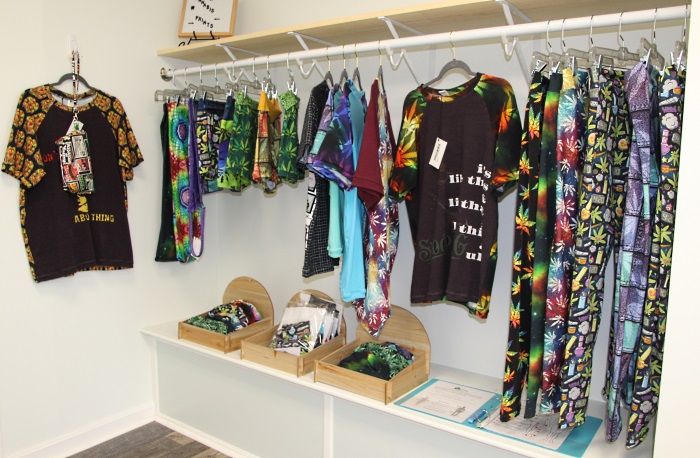 To the right, a room with a large glass display case is well-lit by two huge windows. Inside the display are glass pipes, and CBD treats like pate and oils. There are even some bottles of hemp oil and other products that curious visitors can sample, free of charge.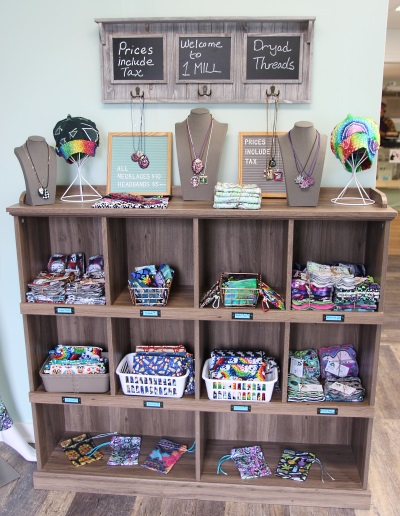 At the back of the shop is the massive dispensary area, complete with a simple but beautiful spot to relax in one of two plush chairs by the window overlooking US Route 1. Here visitors will find row after row of bright and neatly labeled glass jars of high-quality cured cannabis flower.
1 Mill: Cannabis Selection
1 Mill cannabis dispensary offers a large selection of indoor-grown cured marijuana flowers. Every product in the shop is tested by ProVerde Laboratories, which is a strong testament to the level of professionalism at 1 Mill. This author has yet to find another Maine dispensary or caregiver storefront that tests all of its products, and some shops in Maine don't test any of their products. But Paul T. McCarrier takes providing cannabis medicines to Maine patients seriously, and spares no expense to make certain that every product is healthy and safe. Here are just some of the many interesting, well-cured, and tested marijuana strains available at 1 Mill:
Caramel Candy Kush
White Rhino Diesel
Gelato #9
Larry OG
Ghost Berry Pie
Blue Harlequin
Bubbah Cindy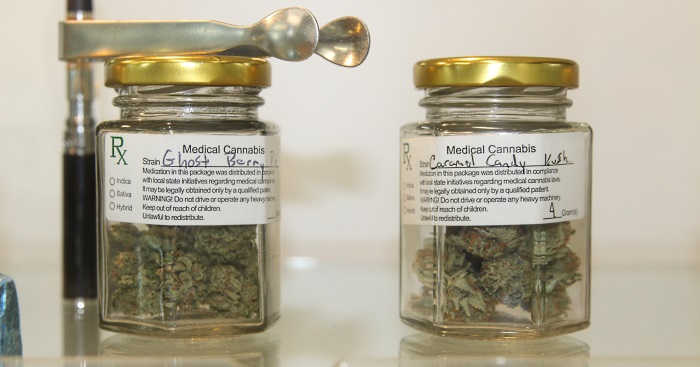 I examined several random samples under a microscope at 100X, and each time I was pleasantly surprised: 1 Mill is producing extremely clean, beautiful cannabis. Furthermore, the strains on offer at this Maine marijuana dispensary are highly unique and will doubtfully be found at other shops in the state. And even if a shop or caregiver does carry the same strains, it's not likely that they'll be as clean and well-presented as the products at 1 Mill in Belfast. That's because 1 Mill cures cannabis on the plant for 16 days before trimming by hand, then the buds are cured in glass jars inside large safes for an additional 2 weeks before being made available to patients.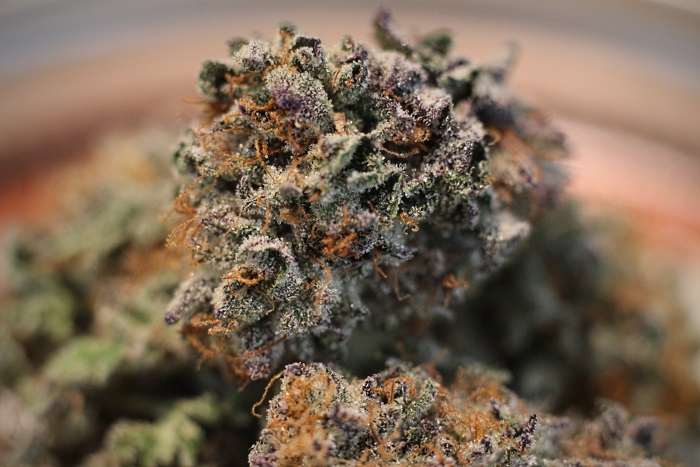 1 Mill caregiver storefront also offers shatter, vape pens and cartridges, a small selection of edibles, and a variety of hemp products. For now, the shop is only for medical patients with valid Maine Medical Marijuana patient cards. But, like this author, Paul believes that every human should have the right to access cannabis, so he's set his shop up to cater to everyone the moment recreational use comes into effect in Maine later this year.
1 Mill: Staff
Admittedly, I've only met Paul at 1 Mill; he runs the shop nearly 50 hours per week, so if you visit this dispensary, it's likely that you'll be dealing directly with him. With the level of experience and commitment to quality that Paul brings to the table, it's probably safe to assume that all of Paul's staff will be carefully vetted and will treat customers as Paul does; but we want to hear more about that from our readers in the comments section below.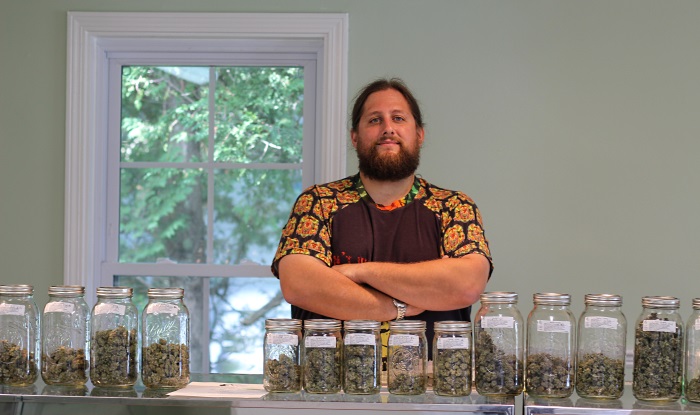 1 Mill: Events & Extras
For now, 1 Mill is too new to offer a lot in the way of extras and events. At some point in the near future, the shop will offer cannabis classes, reiki classes, social gatherings, and possibly a co-working center in the upstairs area of the shop, which will also be available to patients if they need a safe place to consume their meds.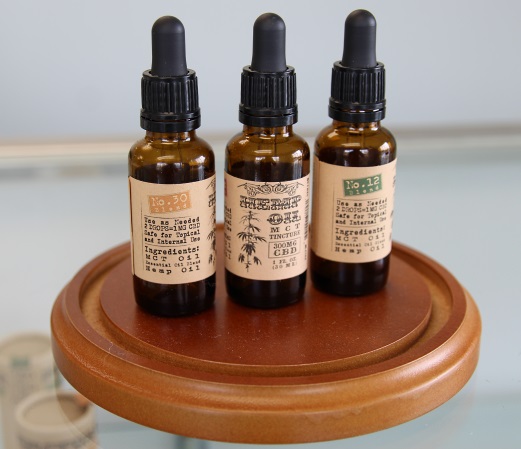 Conclusion
1 Mill is a clean, well-presented Maine marijuana dispensary, with top-shelf cannabis products, backed by an experienced caregiver that tests every product sold in the shop. How many other shops in Maine can make such a boast?
Have you been to 1 Mill? Do you know Paul T. McCarrier? Tell us about your experience in the comments section below!
Maine Dispensary Review Rating for 1 Mill:
[author-post-rating]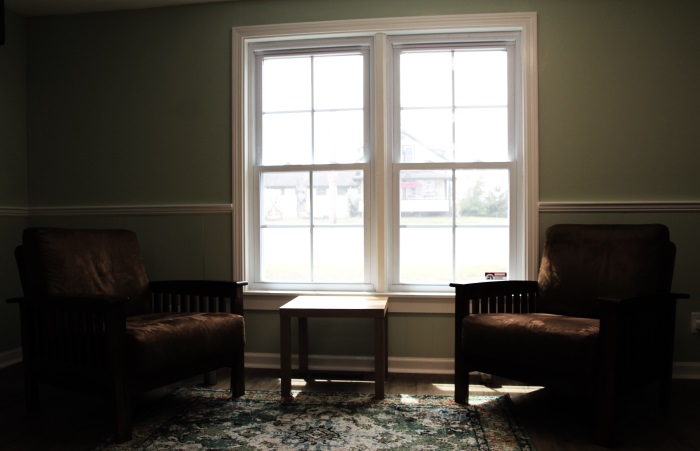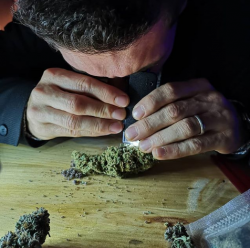 Latest posts by Russ Hudson
(see all)