Most Barcelona cannabis clubs claim to be some sort of reefer retreat, but none capture the essence of natural high quite like Chamaneria, a six-year-old cannabis club hidden away in the back streets of the L'Hospitalet de Llobregat district of Barcelona. To create a space that feels truly inclusive, and build an intra-club trade network, the founders of Chamaneria invited members to submit proposals for the club's fittings and furnishings – giving everyone a chance to participate in its creation. The result is a cannabis social club with the guise of a secret garden and a jungle spirit.
Barcelona Cannabis Club Review Rating for Chamaneria:
[author-post-rating]
Chamaneria: Environment
Located on a quiet backstreet with an inconspicuous entrance that masks the cannabis oasis within, Chamaneria's interior décor is nature-inspired, and built with sustainable or recycled materials. A refurbished warehouse space, it's bigger than most Barcelona cannabis clubs, with high ceilings, and imposing walls. On two of these walls, local artists have painted celestial murals; one of a majestic elephant that overlooks the club, and on the other, a starry night.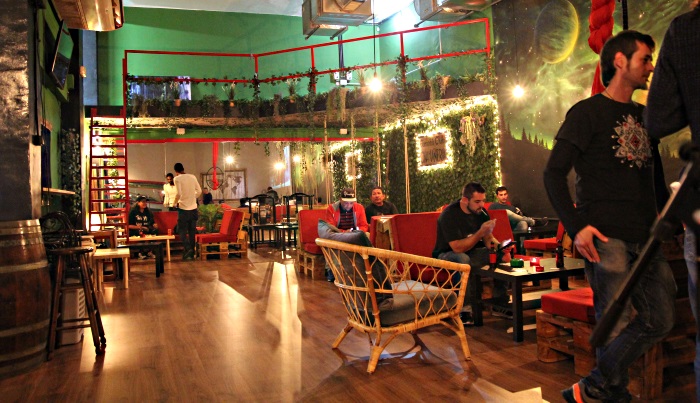 The dispensary window is near the door, providing easy access to passing members. Opposite it is a pool table. For members who want to hang, there are lots of chill-out options. On one side of the club is a cluster of big couches, and along the back of the room are two rows of booths made from recycled pallets, finished with red cushions. In the back corner is a wall and balcony covered in leaves to create a woodsy nook; beneath it are two swings.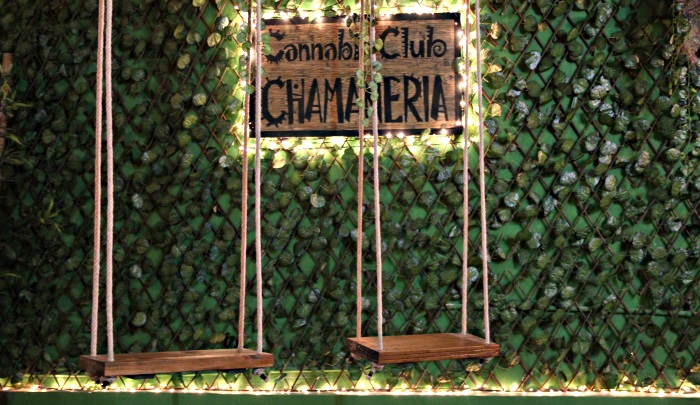 For special events, Chamaneria cannabis club is designed to take entertainment to the next level. All of the furniture is moveable, meaning it's no problem to make room for a stage or dance-floor. The club even has ceiling hooks where aerial and trapeze artists have performed on special occasions. Because the club is open to new ideas from members, they're always looking for the most innovative way to use the space.
Above the bar, in the center of the club, is a loft, currently being used by a local carpenter to make furniture, and the leafy nook is a favorite spot with local musicians who like to use it as a quiet place to practice. The founders view the club as a free space, and invite members to make good use of it as long as it's in a way that respects everyone, and is in line with Chamaneria's eco-friendly and sustainable values.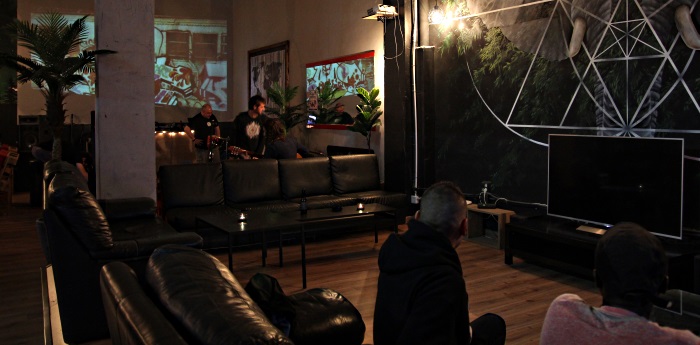 Chamaneria: Cannabis Selection
All of the cannabis available at Chamaneria smoker's club is produced in-house, and is organically-grown to guarantee top-shelf bud and premium marijuana extractions. Most social clubs have either a cannabis strain or extraction that they're known for, but at Chamaneria, they're renowned for their dry shift hash. At €17 member share per gram, it's a pricey option, but well worth it. It has the look and feel of high-grade pollen, and produces a super clean high, ideal for anyone who uses cannabis to get creative. In fact, the quality of Chamaneria's bud and growing practices are so good that they supply other cannabis clubs in Barcelona and the surrounding region.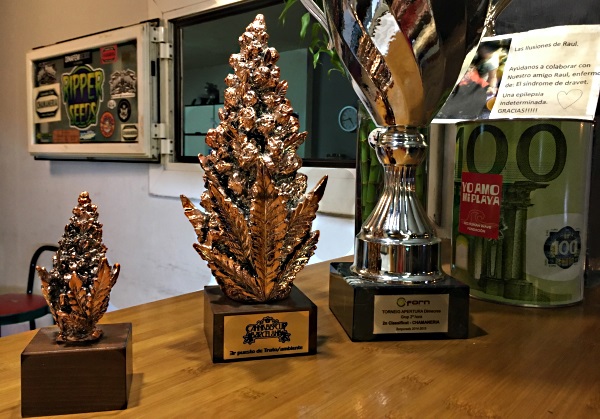 The range of cannabis at Chamaneria social club includes isolate, shatter and wax, but as they specialize in extractions, they also have a range of oils, tinctures, and creams. The club typically offers around ten varieties of cured marijuana flower including Shaman, Super Lemon Haze, Amnesia, New York Diesel, Blue Elephant, and Power Plant. The Dry Shift varieties as of summer 2018 include Amnesia, Critical, and Gorilla Cookies. There's also Critical, Afghan, and Mexican pollen, as well as Ripper Haze, and Chemdawg iceolator.
Chamaneria: Staff
Chamaneria is a private cannabis social club built on three principles:
The marijuana plant is sacred

Do fulfilling work of value

Everyone has the right to consume cannabis responsibly
These values inform all of the practices at Chamaneria, as well as the attitude of the staff who go out of their way to make all members feel part of the club, which makes it little wonder that Chamaneria won the 2017 Cannabisweed Cup for Best Practices.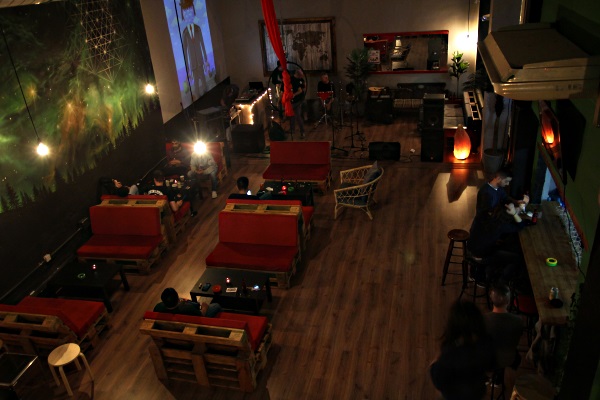 As well as ongoing creative projects, there are social programs, such as an initiative to clean up the beaches called Yo Amo Mi Playa (I Love My Beach). Started by the club's president, he got together a group of members, and they collected more than one million cigarette butts from their local beach.
On the dispensary counter is a collection jar, which the club uses to regularly send money to a young boy with Dravet's Syndrome.
Chamaneria also gets actively involved in the mental health of club members by teaming up with partners who promote responsible use of cannabis. One partner is a Barcelona organization called Energy Control that tests the quality of drugs on sale at festivals around the country to let people know exactly what they're taking. The club also has an in-house psychologist for any member in need of professional guidance.
As a result of their communal and interactive spirit, Chamaneria members have built tight friendships within the local community, and it's not uncommon for a neighbor to stop by with a leg of ham or another gift. More than that, they've become a respected platform for responsible cannabis use in the community, and have helped change attitudes about cannabis users.
Chamaneria: Events & Extras
Every afternoon at 3 p.m. is movie time at Chamaneria. Movies are shown on a flat screen surrounded by spacious leather couches, and projected on to the back wall, where more sofas are provided for comfy viewing. Because Chamaneria is a favorite hangout for local musicians, impromptu jam sessions are also a regular feature at the club. Every Friday there's a free buffet of appetizers to help set members up for the weekend, and there are regular DJ sets, and/or live music. They also organize seminars, such as one with Tommaso Bruscolini, a psychologist and neurologist who is coming to speak to members about how cannabis affects the brain.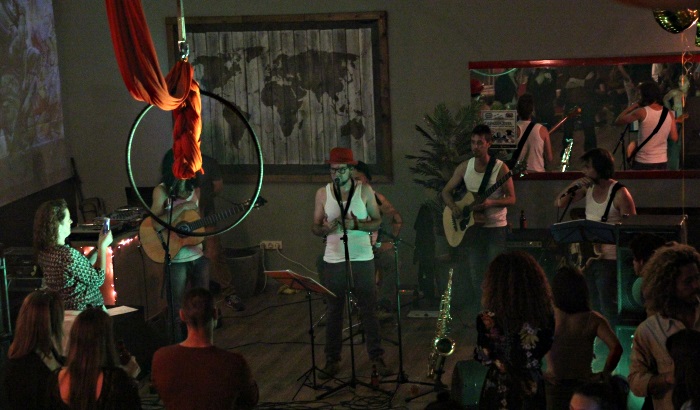 Conclusion
A true cannabis oasis with a vibe so chill it's incredible anyone ever leaves, this Barcelona cannabis club is the kind of stuff that makes urban legends. And because it's not directly in the city center like most cannabis clubs in Barcelona, Chamaneria is almost in a world of its own.
Are you a member of Chamaneria cannabis club in the L'Hospitalet de Llobregat district of Barcelona? Let us know your thoughts in the comments section below:
Barcelona Cannabis Club Review Rating for Chamaneria:
[author-post-rating]
Latest posts by Tasha Kerry Smith
(see all)