The Herban Cannoisseur in Waldoboro, Maine is one of the state's most beautiful medical marijuana dispensaries (caregiver storefront), with some of the best cannabis in the region. Located inside High Brow glass shop, Herban Cannoisseur looks more like a modern art gallery than a cannabis shop, but once you step inside the dispensary and see the quality of the marijuana products inside, you'll realize that this shop has nearly perfectly blended form, function, and fire.
Maine Dispensary Review Rating for Herban Cannoisseur: 5 of 5 Stars!
[author-post-rating]
Herban Cannoisseur: History
Noah Rosen opened Herban Cannoisseur in the spring of 2017 after 6 years of providing medical marijuana to patients as a licensed Maine caregiver. In fact, Noah comes from an entire family of caregivers and cannabis activists, and has essentially lived his entire life with cannabis close to heart and home.
For several years, Noah operated as a delivery caregiver, personally brining the cannabis he grew to his patients, wherever they needed him. But eventually, Noah decided that he wanted to come in from the road, and that's when Herban Cannoisseur was born.
Herban Cannoisseur: Environment
From the moment you walk in Herban Cannoisseur and HighBrow glass, you'll know you're somewhere unique; other Maine marijuana dispensaries are not like this place at all. The main area of the shop is laid out in a massive open-floor plan, with a long center display of hundreds of glass pieces that divide the floor into two areas. Natural wood serves as the base for the display, sandwiched by gigantic sliding glass doors, with the entire display case – easily 25' in length – hanging from the ceiling, supported by simple but appealing iron pipes.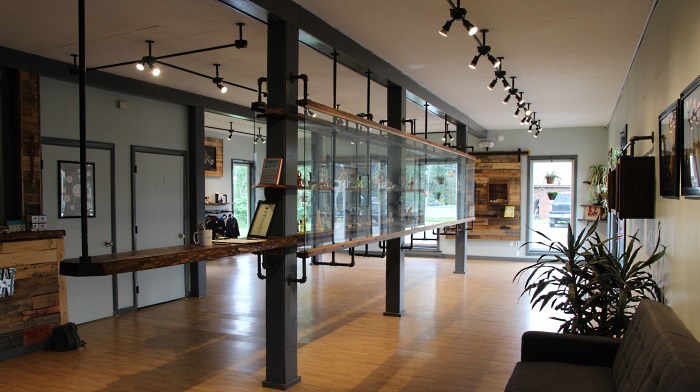 To the right is a small waiting area with a clean couch, and some cannabis artwork on the walls for those who want something other than their phones to stare at while they wait. Directly ahead is the primary service area, which is almost completely dressed in recycled pallet wood, including the heavy sliding doors of the service area and the dispensary.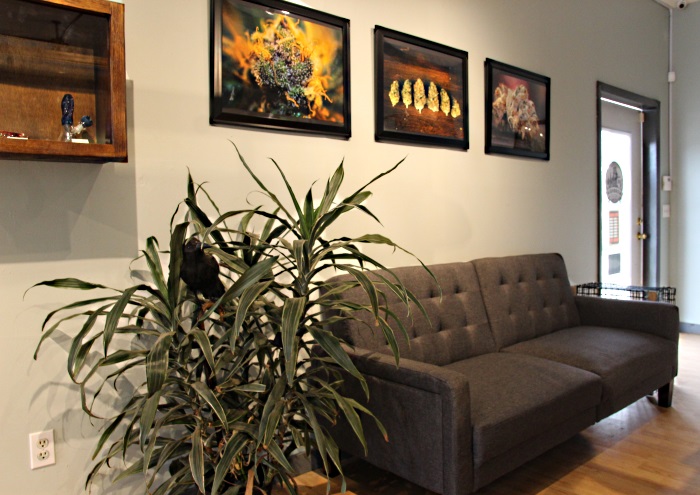 All around the shop are wooden and glass display cases featuring different types of glass pieces, art, and other products. The entire place is surrounded by large-pane windows, which allows the natural light to mingle pleasantly with the low-key display lighting of the glass cases.
In the dispensary, which is somewhat small as it's only intended to service one patient at a time, more recycled pallet wood bathes the walls, and neat jars and packages are displayed in yet another glass case. Everything sparkles, and reflections abound.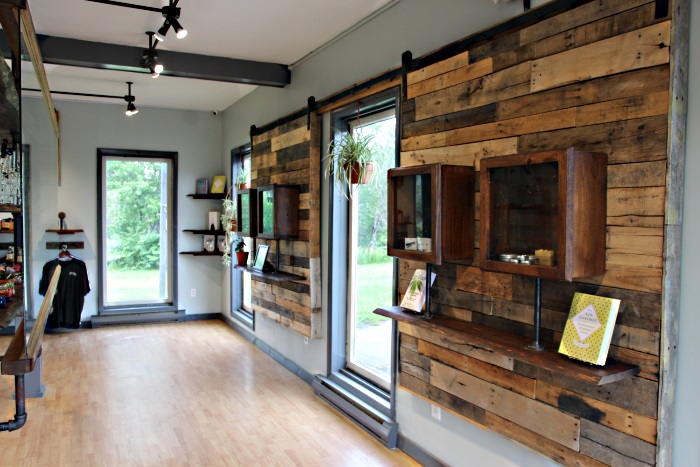 Herban Cannoisseur: Cannabis Products Selection
One of the greatest things about Maine cannabis dispensaries is that you rarely find the same strains in different shops. Herban Cannoisseur is no exception, offering up a selection of indoor-grown cured flower that can't easily be found elsewhere in the state:
Locomotion
Face Off OG X Black Fire
Tripoli Wicked X Clementine
Querkle,
Purple Diesel
Under the microscope at 100X, all of Herban Cannoisseur's cured marijuana appeared clean and intact. Buds were nicely formed and impressively coated with trichomes, especially the Face Off OG X Black Fire, which is heavily laced with brilliant crystals and would undoubtedly make a lovely iceolator or other hash.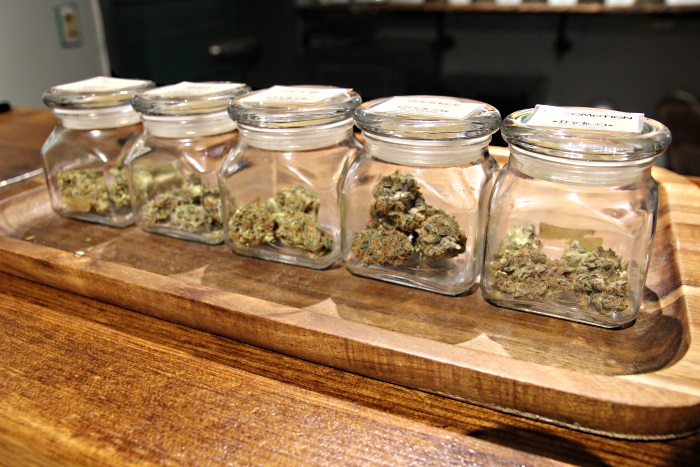 This author personally sampled several grams each of the Locomotion, Face Off OG X Black Fire, and Purple Diesel. While they're all excellent, the Locomotion is special to me; one of the first true diesel strains I've seen in Maine since the early 2000's when NYC Diesel was still available in the state. The Locomotion strain being produced at Herban Cannoisseur smells strongly but sweetly of Diesel, and it smokes smoothly – almost like a good Nepalese hash. This strain rivals the Super Lemon Haze on offer at Sensi Sensei in Jefferson, and in fact, SLH and Locomotion are now my two favorite cannabis strains in Maine.
Although the shop doesn't have a huge selection of cured cannabis flower right now, the quality and uniqueness of what's available is more than enough to satisfy even the most discerning connoisseur. In the coming months, more strains will be available, including:
Alien Rift
Koffee Face
Mandarin Sunset
Mandarin Dreams
Pillow Factory
Queen of Soul
Skwurl Killer
Conspiracy Kush
Die Hard Again
In addition to cured flower, Herban Cannoisseur also sells marijuana edibles like brownies, cookies, gummies, honey, lemonade, and maple syrup. Vape pens and cartridges, pre-rolled joints, transdermal patches, live resin, FECO, distillate, and THC lotions are also available. Herban Cannoisseur does not sell shatter or rosin.
For patients that require CBD products, Herban Cannoisseur has a good selection of CBD soap, lotion, tincture, oil, salve, lollipops, and disposable pens.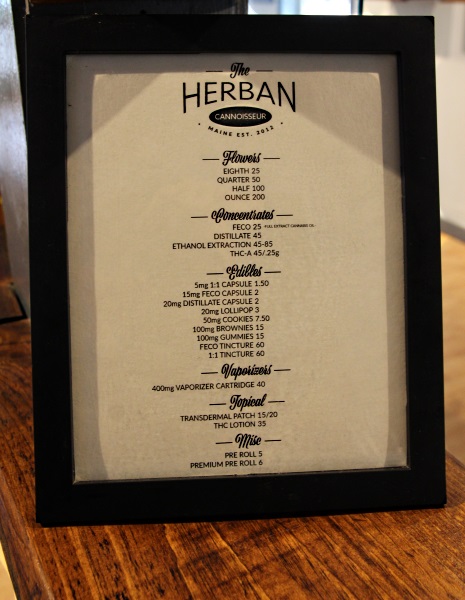 Herban Cannoisseur: Events & Extras
The fact that Herban Cannoisseur shares space with High Brow glass shop means that you can get nearly everything you need in one place, which is more than just a convenience considering the vast distances Mainers drive each month to get the things they need. At High Brow, you can get a cheap pipe, or an expensive dab rig, and everything in-between including artistic glass pieces that'll drop your jaw and your bank balance.
The shop also sells Elements and RAW papers, tips, and filters, and has all the other little things you need to get your smoke or vape on.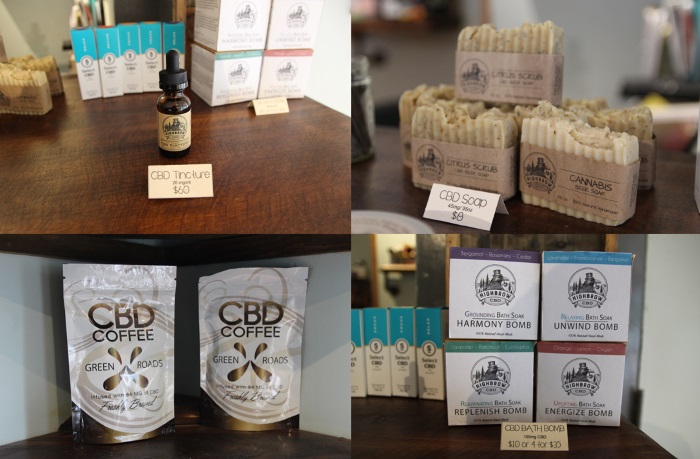 From time to time, this caregiver storefront hosts special events, including making nurse practitioners and doctors regularly available to register new Maine medical marijuana patients at discounted prices. Connect with the shop directly for more information.
Herban Cannoisseur: Staff
If you visit Herban Cannoisseur in Waldoboro, Maine, you'll be greeted by Noah, Jeffrey, or Hannah. Hannah happens to be the sister of Noah, and, although young, she's an experienced grower, and knows her shit. I didn't meet Jeffrey, but I spent several hours with Noah and Hannah, and it's clear that these two really care about what they're doing, and they're more customer service oriented than most other shops and caregivers that I've dealt with in Maine. Furthermore, Noah has an excellent reputation in the cannabis industry here in Midcoast Maine, and comes highly recommended by top players like Jake McClure from Sensi Sensei, who so strongly recommended Noah to me that I knew I was likely to find a gem. And I did – that Locomotion is one of the best cannabis strains in Maine!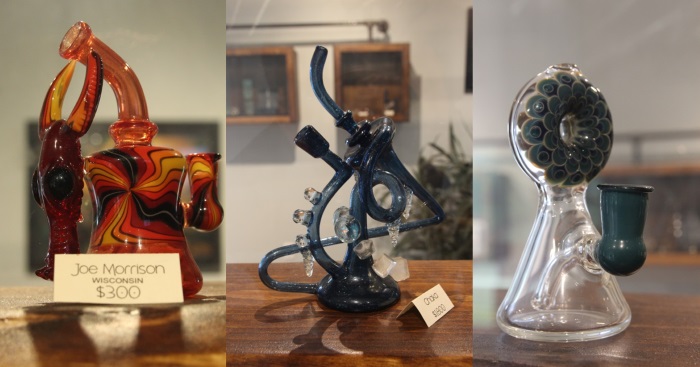 Conclusion
If you're looking to acquire good weed from good people, Herban Cannoisseur is a sure bet. This Maine cannabis dispensary hits all of the critical items needed to be truly great; a beautiful environment, educated and passionate staff, and exemplary cannabis products at fair prices.
Have you been to Herban Cannoisseur in Waldoboro, Maine? Do you know Noah Rosen? Tell us about your experience in the comments section below:
Maine Dispensary Review Rating for Herban Cannoisseur: 5 of 5 Stars!
[author-post-rating]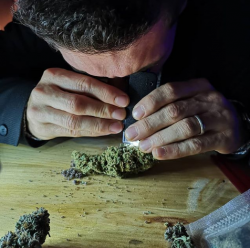 Latest posts by Russ Hudson
(see all)