Thinking of a vacation when all this Covid stuff has died down? Punta del Este in Uruguay sound good? This amazing statue on the beach there is by Mario Irarrázabal. We wanna go see it!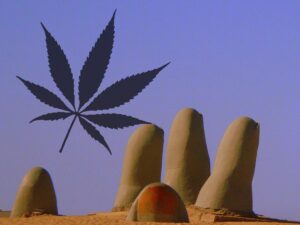 More seriously, here at Madrid Cannabis Clubs #madridcannabisclub, we wanted to pick out some interesting points from an interview this last week with Uruguayan Augusto Vitale, ex Director of the IRCC (Institute of regulation and control of cannabis) Augusto Vitale was one of the proponents of the law that legalised adult consumption of cannabis in Uruguay.

He's convinced that countries which reject having an open debate with society and which do not conduct an exercise in autocriticism on their anti-drugs policies are losing out on a growing trend of legalising recreational cannabis. #recreationalcannabis #legalizerecreationalcannabis Germany is set to do it– see our post a couple of weeks back – and, as you know, it's been done in Canada and in Uruguay which did it in 2013.

Vitale recalls that only 20% of the population supported the law in Uruguay at the time but after a few years more than half of the population agreed. The point is that the law didn't want to give access to cannabis to new consumers, but crucially wanted to reach those people who were already consumers, especially those people who were so-called problem consumers (generally experts reckon around 10% of consumers are problematic) and had nowhere to go for help.

Something we fervently agree with is that there is a much greater risk when cannabis is in the street. Cannabis, he says, like it or not, is a reality. When there is normalization of consumption, regularised access, an overseeing institute (such as that which exists in Uruguay), penalties for those who don't comply with legalities, even company and entrepreneurial involvement, the risks are very much reduced. Education and access to healthcare are paramount. I think we're blue in the face shouting this out. #destigmatizecannabis #decriminalizecannabis
Vitale also noted that legalisation has to be done adequately. The law must be responsible, which is why in Uruguay there is no marketing or product promotion. Users can grow up to 6 plants, clubs can cultivate a maximum of 99 plants, or users can subscribe a maximum of 40 grams a month from their pharmacy.

The country is presently studying opening up legislation to cover tourists. That's why we say, Punta del Este, here we come!!!

In #spain legitimate private cannabis social clubs also adhere to a code of responsibility. Potential members must certify they are over 21 years of age, experienced cannabis users and will maintain the Closed Circle Doctrine (not to sell or transfer cannabis products to any other person not a member of the same club).
To join a cannabis social club in Spain, you must be at least 21 years old, have at least some experience with cannabis, and have someone who is already a member sponsor or refer you for membership. If you don't know anyone we may be able to sponsor you, as we are members of many clubs and enjoy helping like-minded people find a home in a social club. You can email us at: contact@marijuanagames.org

As Vitale rightly says, an open, mature debate on recreational cannabis consumption is much needed.
(The full interview was written by Daniel Sánchez Caballero and published in elDiario.es on 28/11/21)
Latest posts by Mary Green
(see all)