Grey Area coffeeshop in Amsterdam is one of the most popular and well established coffeeshops in the Dutch city. Recommended to me for more than 2 years by a great many of my clients and associations, Grey Area coffeeshop had always been skipped on my rounds of the shops there. In the fall of 2014 I finally visited Grey Area located at Oude Leliestraat 2, and though I really like the place for its friendly staff and excellent cannabis, there is one major flaw with this notorious Amsterdam coffeeshop that was quite surprising to me.
Amsterdam Coffeeshop Review Rating of Grey Area: 4 of 5 Stars
[author-post-rating]
Grey Area Coffeeshop: Environment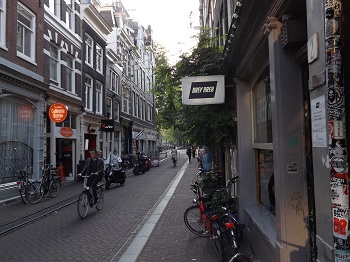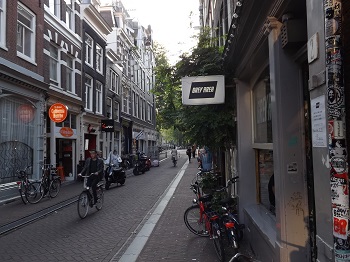 Located on a small side street just off the picturesque Singel canal, Grey Area coffeeshop is different from most coffeeshops in Amsterdam in that the storefront is fairly unobtrusive and doesn't make a fuss about the fact that the shop sells cannabis.
I was excited to check out Grey Area as it had come so highly recommended to me, but as soon as I walked in I knew it wasn't a place I could really hang out. With just two small tables near the entrance and a few bar stools and counter against the opposing wall, if there is 6 or 8 people in the place, it is full. With a few people at the bar area and a couple at the dispensary, Grey Area suddenly becomes uncomfortably crowded.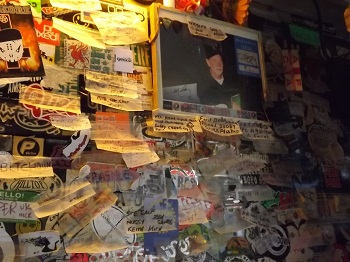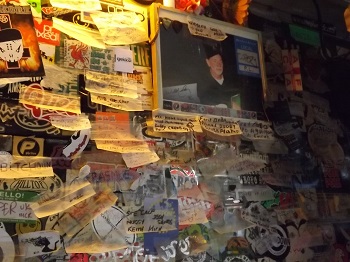 There were a couple of people at each table and a few at the bar counter when I conducted this review, which meant the photographs I could take were limited because they cannot (by regulation, coffeeshop policy and moral obligation) feature any customers unless they specifically consent.
Instead I got some pictures of the ceiling and walls, which were decorated heavily with pictures, notes, bills, photographs, small toys, stickers, buttons, labels, notes, artwork, photographs and hand-scrawled messages written on rolling papers. Willie Nelson is featured in several photographs that clearly show he is a fan of Grey Area.
The bar and service area is at the back of the coffeeshop and is neatly crowded with a collection of drinks and snacks and odd little toys and things on the walls.
Grey Area coffeeshop is clean and despite the cramped quarters, the place does not smell of smoke. The music that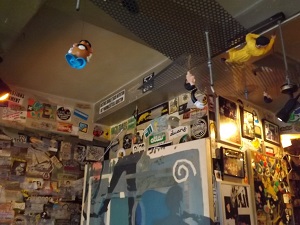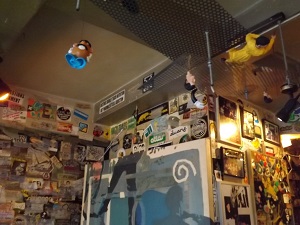 played through the overhead speakers was an interesting and entertaining selection of 90's rap and alternative rock. Overall, if you can get a seat the shop is a nice place to chill out and smoke a joint.
Grey Area Coffeeshop: Marijuana Selection
Grey Area may be small, but if you are looking for a large selection of premium marijuana, this coffeeshop probably has the best and most unique weed menu in Amsterdam. In late September 2014 I was shocked to discover that Grey Area offered the following strains: Silver Bubble, LA Confidential, Rollex OG, Duster OG, Exodus Cheese, Don Tangelo, Kuchi Devil's Harvest, Grey Haze, The Wobbler, Choco Kush, Silver Fields, Sour Kush, Strawberry Sour Diesel, OG Kush, Sour Tangie, Skywalker OG, Greyberry and Yellow Cab.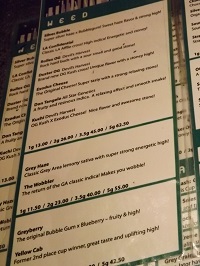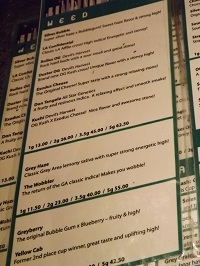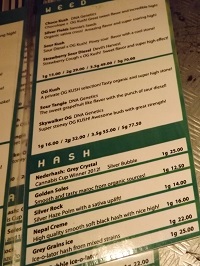 I had only tried about 4 of these strains, so the menu was a little perplexing as I really wanted to select just one strain. I settled on a couple of grams of LA Confidential and shoved myself into the far corner of the bar and stood there and rolled a joint. A line had formed behind me so now the place was crowded enough that there wasn't much room to stand or sit.
I stood there for a long time smoking that joint and although I have never carried out a full review of LA Confidential, the variety being sold at Grey Area is exceptional; fruity, super stony and uplifting.  Grey Area also offers several types of hash and iceolators.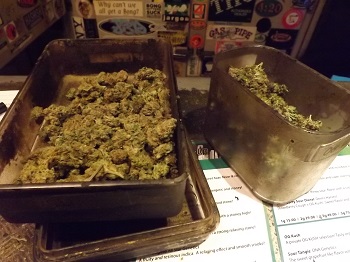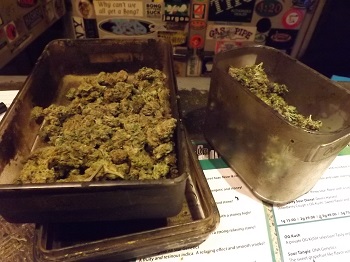 Grey Area Coffeeshop: Extras & Accessories
Grey Area has all of the standard stoner accessories, but also carries some unique fruit juices and several high quality glass bongs for customer use. The shop offers branded gear to its fans including T-shirts and stickers. Otherwise, this coffeeshop is in line with most other coffeeshops in the city.
Grey Area Coffeeshop: Staff
The staff at Grey Area seem to know more about weed than 80% of the other clubs in Amsterdam, and they also seem to have a lot of fun at work. I spoke with the dispensado, as we would call him here in Spain, and he had formidable knowledge of marijuana strains and genetics. He also allowed me to photograph some of the shop's marijuana, which is becoming more and more of a no-no in Amsterdam's coffeeshops.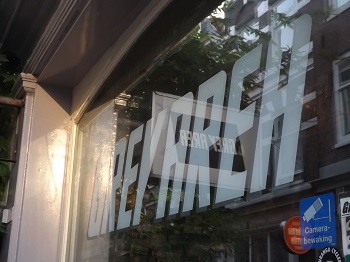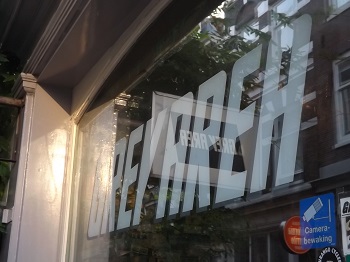 Conclusion
Grey Area's best feature is its stunning marijuana strain offerings. A cool, hip place to hang out for a quick joint or bong rip, this shop is definitely not for "campers" who want to hang out leisurely. If there were room for a couple of tables outside or an expansion of the interior, I think Grey Area coffeeshop could easily gain that 5th Star in their rating. 😉
Amsterdam Coffeeshop Review Rating of Grey Area: 4 of 5 Stars
[author-post-rating]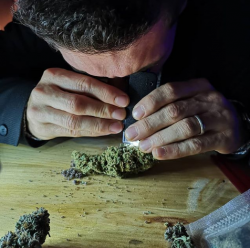 Latest posts by Russ Hudson
(see all)