Catalonia's parliament took a symbolic step this fall by making regulations for cannabis clubs in the form of recommendations; but with no specific plan for implementation or enforcement. The initial proposal was laid out in June, but session talks stalled repeatedly and the resolution was not passed until early November. Meanwhile, police spent the summer investigating, raiding and ultimately closing more than 60 cannabis clubs in Barcelona.
Parliament approved recommendations largely drawn up by the public health commission, as local government views the consumption of cannabis as a matter of public health. These new recommendations governing cannabis associations include the following:
Members must be 21+. In the past the allowable age was 18+ and it appeared that this age would be "grandfathered" in with new regulations, but lawmakers changed course. Additionally, many clubs set their own policies to disallow 18+ members as a matter of early policy.
New members must be sponsored/recommended for membership by an existing member of the club. This clause is essential for cannabis clubs to exist. Because clubs can only operate as a private entity, public access is strictly forbidden.
Members must be a legal resident of Spain, with residency registered in a municipality in Catalonia. Some clubs have chosen to extend this requirement and demand an address specifically in Barcelona.
Cannabis clubs cannot advertise or promote publicly. Most legitimate clubs were very careful about obeying this rule long before parliament discussed the resolution. This restriction extends to the façade and entrance to the cannabis club, which must be discreet and non-promotional.
Members cannot be a member of any other cannabis clubs or associations. This recommendation does not address medical concerns regarding the unavailability of product at one association or another. Meaning, if for example a military veteran customarily uses the strain Critical Bilbo to treat PTSD, but the club he is a member of runs out of or cannot acquire this strain, then this person will effectively be without medicine because they cannot join another club that may have this specific cannabis.
Cannabis clubs will no longer be allowed to sell or tolerate consumption of alcohol on the premises, and tobacco use can only occur in designated areas. Currently nearly all clubs offer beer and wine for their members, and the vast majority of members smoke tobacco or a tobacco-marijuana mix.
One of the more controversial recommendations can be translated from Spanish as:
A 15 day transition period from the moment a member joins the association…
This language isn't clear, but the general idea behind it is that once a person joins an association, they cannot acquire any cannabis from the club for at least 15 days. This section was likely added to the resolution in order to eliminate the possibility of "cannabis tourism" or use of the clubs by tourists. However, the verbiage of this condition is left open to interpretation, and there exists strong legal basis to argue against the legitimacy of this requirement.
For instance, several attorneys for various associations that this author has spoken to have stated that because Spain is part of the European Union, it may not be able to set discriminatory policy against other members of the EU. In fact, some have speculated that cannabis associations could be at risk of lawsuits in this regard from citizens of other European countries who are refused entry to a cannabis club in Catalonia.
Additionally, the policy makes it impossible for medical marijuana users who travel, live, work, own a business or otherwise have deeper connections to Spain but are not permanent residents.
Ultimately, the policy also harms members who do qualify under the new recommendations. These people may have legitimate medical or therapeutic need for cannabis but will not be able to acquire it for more than 2 weeks for what is likely to be viewed by many as an empty, arbitrary justification.
Other recommendations passed in the resolution include requiring cannabis associations to train staff to provide information services and "professional advice" on reducing the "harmful effects" of cannabis. Less beneficial requirements include barring cannabis clubs from opening for more than 8 hours each day, with closing times during the week mandated at 22:00 and 24:00 on the weekends.
The Difference between Recommendations and Regulations
Recommendations are not the same as regulations, and as Oriol Casals Madrid explained to this author, there is sound reasoning behind the choice of words.
Mr. Madrid is an attorney with Casa Paraula Advocates who represents multiple cannabis associations and businesses. He said that because the clubs are private entities, it is difficult for lawmakers to regulate them. Madrid compared it to the Spanish government attempting to create legislation regarding what a person can do in their living room. Because of the legal complications this creates, Catalonia's parliament issued recommendations instead of creating actual legislation and passing specific laws.
When I asked him how these recommendations would be implemented and enforced, Madrid shrugged his shoulders.
"No one knows," he said.
And in true Spanish fashion, it could be that implementation and enforcement never do happen. Whether this will be because of legal complications or lawmaker indifference remains to be seen. For now, most cannabis clubs in Barcelona continue to operate peacefully, creating gainful jobs and providing a service that is in "high" demand.
Special thanks to Barcelona attorney Oriol Casals Madrid for providing valuable information and resources that made this article possible. To view the Parlament De Catalunya Resolution and the recommendations referred to in this piece, please review the document located at the following link, which Mr. Madrid personally translated from Catalan to English after the parliamentary session concluded:
http://observatoriocivil.org/wordpress/wp-content/uploads/2014/11/RESOLUTION-PROPOSAL.pdf
For the original in Catalan, please go here:
http://observatoriocivil.org/wordpress/wp-content/uploads/2014/11/RECOMENACIONS-REGULACI%C3%93-SALUT-PUBLICA.pdf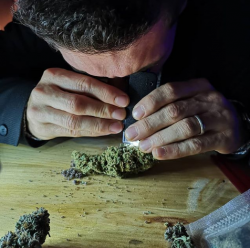 Latest posts by Russ Hudson
(see all)