One look inside La Mente cannabis club of Barcelona is all it takes to realize it is not your average stoner den. The room is bathed in light and happy smokers chat loudly to each other over the house music. Truthfully, this is the kind of spot I have been looking for in Barcelona; an upbeat place to hang out for an hour or two to do some writing away from my apartment; a happy contrast from the heavily wood-paneled cafés of the city. The fact that the LaMente cannabis social club hosts a good variety of marijuana strains and plenty of electrical sockets is a major added bonus.
Barcelona Cannabis Club Review Rating for LaMente: 5 of 5 Stars!
(This is a preliminary application process; not all who apply will qualify for membership based on Spanish law and club policy. Application for membership is general and is not necessarily applied to any particular club unless the applicant fully qualifies.)
IMPORTANT: The cannabis club described in this review is a private association adhering to all laws and regulations governing such associations, most specifically but not limited to the following requirements:
*All new members must be sponsored by existing members. This is in keeping with the "Closed Circle" doctrine of law and the natural private state of cannabis clubs.
*All rules and guidelines in a cannabis club's "Articles of Association" must be obeyed and enforced under Spanish law.
*All new members must be habitual or current cannabis users.
*All new members must be age 18 or 21 at a minimum, based on the Articles of Association established by each club.
*All members are advised that cannabis in public places is illegal in Spain. Outside of the private environments of cannabis associations and private homes, consumption or possession is prohibited.
---
LaMente: Environment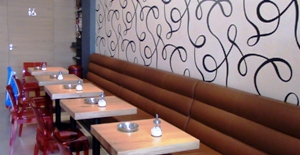 La Mente is located in the Raval neighborhood, just a short walk from La Rambla, tucked into Plaça de Castella along the busy pedestrian road, Carrer de Tallers. I was surprised to hear that most of the patrons are locals and students from the University given its proximity to touristic areas. You'll find Spanish guitar shops and independent clothing shops mixed intermittently with the ever-present Barcelona tapas bars and cafés in the surrounding area. The club stands out from its neighbors with a modern exterior, with frosted glass and light wood paneling that continues inside. Stepping into the reception area is like walking into a boutique hotel.
At first glance, it would be easy to mistake La Mente for a trendy coffee shop. A Dutch architect designed the space to be light and airy, playing up the high ceilings. A bench seat runs the length of a long wall and half the distance of another, with plug points spaced every meter or so under the bench. Several tables for two are placed evenly along the walls with red acrylic chairs opposite the bench seating; perfect for pushing together for a group hangout or to keep apart for a mid-afternoon study session. The walls are white with a black swirly pattern, enough to keep the room light while adding some interest. A bright yellow bar holds the goodies and a cash register. Behind the bar, colorful boxes are inlaid into the wall with recessed lighting featuring paraphernalia or knick-knacks.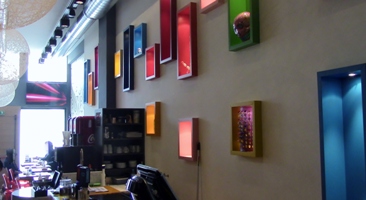 One thing is clear about the founders of La Mente; they are definitely making a conscious effort to contribute to the community. Beverages are purchased from the corner Supermercat and sandwiches are available from the café next door to be delivered to your table. Besides the controversial issue of serving alcohol and marijuana together, Richie wants to keep the bars surrounding him happy by not providing any alcohol, which he says the members are just fine with.
That feeling of community plays on inside the club; members can advertise their businesses and rental properties in one corner and board games, cards, and magazines are available to maintain a social environment. I came to the club mid-afternoon, and there were already a variety of patrons, including a mix of men and women, groups, couples and individuals. As members came in and out throughout our interview, founding members Richie and Emily stopped to chat and they were sure to check that everyone was happy during their stay.
LaMente: Marijuana Selection
***Photograph removed at the request of LaMente administrators as a result of the severe police crackdown on Barcelona's cannabis clubs***
Richie explained to me that the marijuana strains they carry are based on availability and member preferences. Depending on what his local sources have, the menu can change twice a week. An isolator was recently added to the menu by member request for the more serious smoker. Each strain has a little genetic information available, like the percentage of Sativa or Indica and which parent strains the weed was derived from. What I really appreciate was the description of the type of high expected, as I have a tendency of turning into a bag of potatoes with really strong marijuana. I came home with Cheese-SoMango, and was very happy to see the effect description was spot on!  LaMente also carried:
LA Cheese
Pineapple Chunk
Great White Shark
Master Kush
Black Water
NLX Special
Cheese-SoMango
Cheese-SoMango Isolator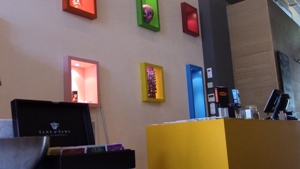 LaMente: Events & Extras
Football matches and other sporting events are broadcast from two flat-screen TVs mounted along the back wall. This was in response to member request and vote to install TVs. When not in use they are turned to colorful graphics instead of remaining on as a distraction. Events are advertised on a chalkboard sign as you walk into the club.
La Mente does not bring in DJs because of its small space, but you really wouldn't miss it here. The music playing only adds to the environment of this cheerful club. When I went in, a hip selection of songs you might hear at an all-day concert blended easily from one to the other to gradually melt into the background.
LaMente: Staff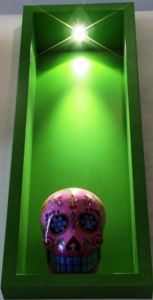 I met with the President Richie and Secretary/Treasurer Emily Rose. They were extremely warm, welcoming, and multi-lingual. Richie is the kind of guy with whom everyone can be friends, while Emily is the woman every girl wants to be and every guy wants to be with. [Sorry fellas, these two are making the club an official family operation with their upcoming wedding!] I spoke briefly in Spanish with the only other staff member working that day and he was also very knowledgeable and courteous.
It's evident that the founding members thought about the kind of environment they wanted to create, and they continue to work hard to maintain it. Most impressive is their willingness to accept and integrate member feedback and opinions.
Conclusion
La Mente cannabis club in Barcelona is the perfect place to go to for socializing, studying, or relaxing during the day. The brilliant light and edgy music provides an upbeat environment to keep your thoughts and mood positive. The only thing I would say is missing is a lounge area but they made the most of the small space available.
LaMente does require new members to be photographed as a condition of registration, so if that is something that you are concerned about, this may not be the club for you.
Have you been to LaMente in Barcelona? Leave your thoughts and comments below.
Barcelona Cannabis Club Review Rating for LaMente: 5 of 5 Stars!
(This is a preliminary application process; not all who apply will qualify for membership based on Spanish law and club policy. Application for membership is general and is not necessarily applied to any particular club unless the applicant fully qualifies.)