This review is for the Deep Chunk strain – one of the most popular cannabis strains for more than 40 years. I've seen Deep Chunk on various weed menus in Amsterdam and Barcelona, but I never tried it until now. I acquired this particular strain in the state of Maine in the U.S., so I was quite surprised and pleased to learn that it was available in such a backwoods region. Deep Chunk is the first 5 star marijuana strain that I've had since arriving back in the United States this winter, so it's been an awesome experience to be able to get my hands on this.
Marijuana Strain Review Rating for Deep Chunk: 5 of 5 Stars!
[author-post-rating]
Deep Chunk: Look & Feel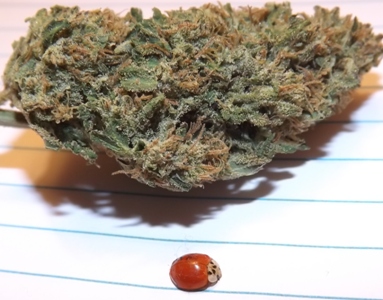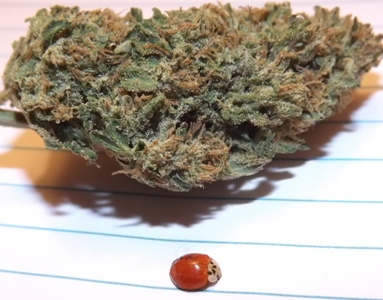 The last few cannabis strains that I've acquired were very dry and crumbled into dust under your fingers. But the 1/4 ounce of Deep Chunk that I got consists of thick, dense buds that require some work to break up and sticks all over my fingers. I suppose it's a bit of a pain in the ass if you're trying to roll a joint, but overall these qualities tell me that the bud is fresh and properly cured.
Deep chunk buds are extremely compact, heavily crystallized and have just a few orange hairs. Overall the buds are dark green and noticeably consistent.
The compactness of Deep Chunk means that a 1/4 ounce looks like an 1/8, but don't let this fool you; the bud pieces expand as you break them up.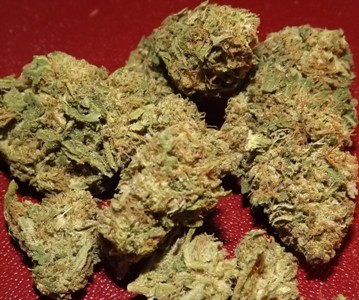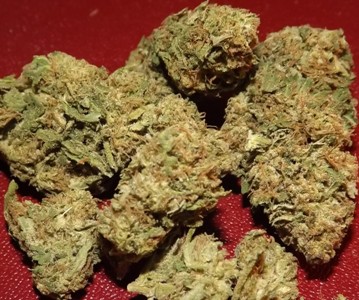 Deep Chunk: Taste & Smell
This cannabis strain's profile consists of a very sweet earthy scent with a hint of fresh mushrooms. It's mildly fragrant but overall quite mellow and therefore is somewhat safer to transport or carry than dank strains like NYC Diesel, Black Lemon or Cheese.
Once you begin breaking up Deep Chunk buds they become extremely fragrant with the scent of lemony ammonia and strangely, diesel fuel. This makes Deep Chunk's in-the-bag smell more than a little deceptive.
When smoked in a water pipe, Deep Chunk produces thick, rich smoke that has very little taste and virtually no aftertaste. When
smoked in a joint there were definite notes of mellow coffee and earth, but in a water pipe the little taste that was there consisted mainly of sweet grass, which is also the overall scent profile.
There's no particular way to substantiate or even to properly articulate this claim, but the general flavor of Deep Chunk is best described as "old-school." If you're a veteran smoker and you've had this cannabis strain or get the chance to try it, you'll understand what I mean by this.
Deep Chunk: Potency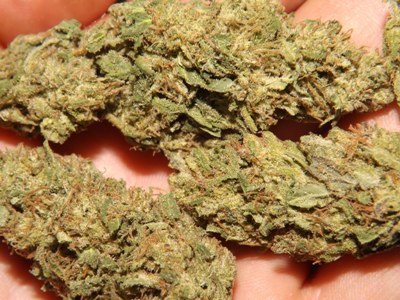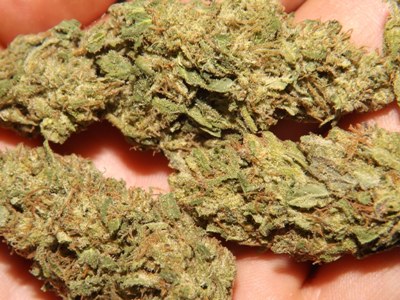 After two hits from a freshly cleaned bong I was immediately high. This high was instantly and fully present from my neck-up; the top, side and front of my head became slightly numb and buzzed a little. Unlike other strains, this initial high was not situated in the "mask zone," although my eyes did close up a little.
I felt sufficiently high after just two hits, but the high was an extremely motivated one; I wanted to jump into my work or go for a run or head downstairs to paint the dining room. Personally, I love this sort of high, as I am the type of guy who likes to get elevated and DO something.
Interestingly, the difference in the high between the 2nd and 3rd hits seemed to be negligible. But by the time I had taken 4 big rips from my bong, my head was bobbing is a sea of warm air and all I wanted to do was close my eyes and enjoy the ride. The skin on my face tingled and buzzed, and overall there was the distinct sensation that my skin was hyper-sensitive to touch…this could be a good thing or a bad thing; I'm not sure.
What surprised me is that in addition to the potent head-buzz I was feeling, the high quickly worked its way into my limbs. My arms and lower legs were abuzz with mild pleasure and I could "feel" my skin and leg muscles in a way that I never really have before. The body effects were also clearly present in my right upper wrist and my entire left hand. In fact, the body effects were so pronounced that I questioned whether I might need to stand up or that maybe I was about to have a mild stroke or something…
But this was obviously not the case, and I have never had a cannabis strain with such powerful body (read; medicinal) effects. The Cheese strain is an excellent medical strain, but at this point I feel that Deep Chunk is a far superior strain for medicinal purposes; not to mention the high is fantastic.
However, medicinal users should take note that – in my experience – the effects of the Deep Chunk cannabis strain do not extend into the trunk. Instead, the effects are primarily felt in the head and limbs.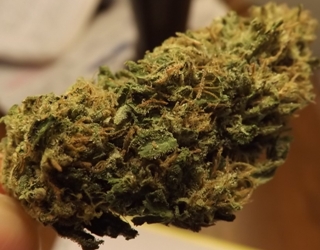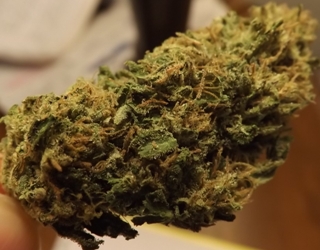 Deep Chunk: Duration
Veteran cannabis users can expect a high that lasts for a minimum of 2.5+ hours. For inexperienced or occasional users, I predict an average duration of 4+ hours.
There is little to no peaking period for this strain; the effects are generally felt immediately, making this a prime candidate for use as a pain-reliever. The high is consistent throughout the first couple of hours, though eating seems to reduce the high by about 20-25%.
Conclusion
Deep Chunk is potent strain that fortunately does not result in couch-lock. An active and pleasant high is coupled with significant body effects, making this strain a powerful medicinal tool for joint pain, muscle pain, headaches, appetite stimulation, muscle spasms, increased motivation and internal reflection. I do not recommend this strain as a sleep-aid or to treat insomnia, although its effects almost certainly differ from person to person.
Overall I rank Deep Chunk among the top 10 or 15 strains of all time, and its duration as a virtually untouched strain since the 1970's is more than sufficient validation of this claim. If you've tried Deep Chunk or you're smoking it right now, let us know your thoughts in the comments below:
Marijuana Strain Review Rating for Deep Chunk: 5 of 5 Stars!
[author-post-rating]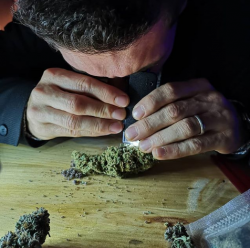 Latest posts by Russ Hudson
(see all)