The E-Clipse portable dry herb vaporizer is a handheld herbal vape that offers on-the-go convenience at a reasonable price. A far cry better than any "pen" vaporizer, and much less clunky than the big vaporizers like the Volcano, the E-Clipse is a well-balanced dry herb vaporizer. I acquired this unit from NYVapeShop.com; it's one of the site's nicest handheld dry herb vaporizers. Compared to most of the other portable vaporizers out there, I recommend this one if you don't mind spending the money – it's worth it.
Review Rating for E-Clipse Dry Herb Vaporizer: 4 of 5 Stars!
PROS: heats up fast, charges quickly, convenient for on-the-go vaping
CONS: small chamber, mouthpiece design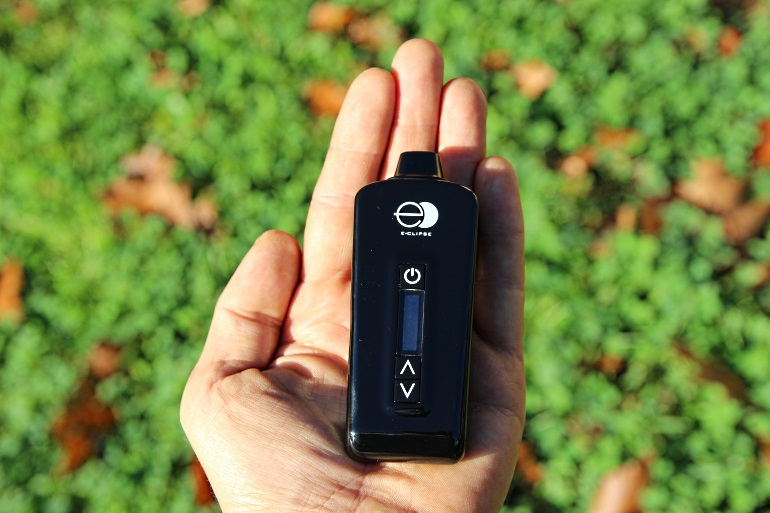 E-Clipse Dry Herb Vaporizer: Form
The E-Clipse vaporizer is sleek and discreet; from a distance it looks like a small flip-style cell phone. The OLED screen is attractive and functional, although the blue-lighted screen is somewhat obtrusive if you're trying to vape low-key in the dark.
Overall, the E-Clipse is simple but well-made; I wouldn't recommend dropping it, but if you do, it'll probably be alright, thanks to its tight design. This dry herb vaporizer comes in a striking black box, making it perfect for gift-giving.
E-Clipse Dry Herb Vaporizer: Function
The E-Clipse portable vaporizer does exactly what it's supposed to do. It heats up quickly, allows for a 1-degree level of control, and delivers clean hits from the ceramic heating chamber. From the NYVapeShop.com website, specifications are as follows:
• Vape Pen Dimensions 90 x 40 x 20 mm
• Ceramic Heating Chamber Dimensions cylindrical in shape, 5/8 inch Deep, 3/8 inch Diameter
• Lithium polymer battery capacity 2200mah
• Customizable temperature settings adjust your heat setting by a single degree from 300F – 435F
• Heat up time within 20 seconds
•Lock/Unlock safety feature press the power button 5 times quickly in a row
The lithium battery charges surprisingly quickly while plugged in to a variety of power sources. I tested this unit using 2 different laptops and a USB inverter as power supplies, and all three sources charged the battery to capacity within a couple of hours. While this battery scheme lasts longer than that of the average portable vaporizer, in total it's good for 4-5 fully-packed dry herb vaping sessions before it needs to be charged again.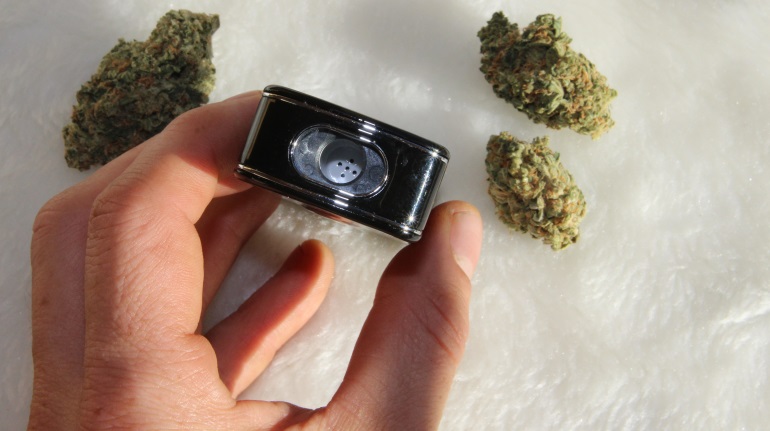 Heat-up time is quick, and the ceramic heater does an impressive job of evenly vaporizing even very resinous cannabis. However, this unit should be allowed to cool a little bit between each hit, as it tends to get quite hot if you inhale from it repeatedly without break, or pass it between a few people rapidly. In fact, this is the primary negative aspect of the E-Clipse; it can get hot enough to crack the structure of the mouthpiece. This happened with the unit I reviewed on the first day of use. It did not affect the performance of the vaporizer, but it did make it so that the mouthpiece would no longer fit snugly in the slot. Looking online at other reviews of this particular vape, I see that the mouthpiece is a common complaint.
Functionally, this is one of the best handheld dry herb vaporizers I've used. If you're looking for a reliable vape that you can throw in your backpack or purse and know that you can discreetly take a puff at your leisure while out-and-about, it'd be hard to find something more convenient than the E-Clipse. (Note: for people who consume cannabis multiple times daily, the chamber size of this unit might be too small for use as an all-day-everyday vaporizer.)
E-Clipse Dry Herb Vaporizer: Customer Service
Although my E-Clipse mouthpiece broke on the first day, the vape was still fully functional, so it didn't bother me that much and it wasn't a sufficient enough problem that would warrant sending the unit back for a replacement or repair. Although the E-Clipse is available from several other retailers, I'm confident that NyVapeShop would work quickly to resolve the issue. The company is active on social media, most notably Twitter, and during interactions that I've had with the co-founder, it's clear that the company is customer-service oriented.
E-Clipse Dry Herb Vaporizer: Overall Value
At $139, the E-Clipse is a strong 4-Star value. It comes with a short USB power cord, a scraping tool, brush cleaner, a glass mouthpiece, silicone rings for the mouthpiece, instructions manual, and as mentioned before, an attractive display box.
Conclusion
Much better than any vape pen, the E-Clipse is the next best thing to a full-size dry herb vaporizer. In the realm of small handheld vapes, it's the best one that I've used so far. Do you own, or have you used an E-Clipse? Let us hear about your experience in the comments section below!
Review Rating for E-Clipse Dry Herb Vaporizer: 4 of 5 Stars!