Los Secretos de Maria cannabis club in Madrid is a simple, down-to-earth association dedicated to providing its members with a diverse selection of high quality marijuana and hashish. Staffed exclusively by the founding members of the association, Los Secretos de Maria is probably the only cannabis club in Madrid where – like the famous American TV show Cheers used to say – "everybody knows your name." That's the main focus of this Madrid social club and they've done a great job of it; to create a small member base of cannabis connoisseurs that can support each other with a safe and consistent supply of marijuana.
Rating for Los Secretos de Maria Cannabis Club in Madrid: 4 of 5 Stars
(This is a preliminary application process; not all who apply will qualify for membership based on Spanish law and club policy. Application for membership is general and is not necessarily applied to any particular club unless the applicant fully qualifies.)
Los Secretos de Maria: Environment
Like nearly every cannabis club I have been to in Spain, Los Secretos de Maria is easy to miss. Located on a quiet side street in the north part of Madrid, there is no sign or any other marking to indicate you've found a cannabis club. Instead, there is only one frosted glass door with an unobtrusive buzzer.
Press the buzzer and you'll be admitted to a simple, mostly white space with a reception desk where a member of the Board will personally check you in. If you're a new member, you must be sponsored and accompanied by an existing member and undergo a short inscription process.
After showing your membership card and valid identification, you'll be admitted to the main part of the club, which consists of two large and open spaces. In the lower level 4 new couches wait for members to sink into while smoking joints or bongs and watching music videos on a flat screen television.
The walls are painted bright green; about 2 shades darker than lime green. It reminds me of a lot of the marijuana dispensaries in the American West; California, Colorado, Oregon. [UPDATE 2018: The club has been renovated and painted, it's much more colorful and less Bohemian now!]
A beautiful and well preserved antique stone staircase climbs into the upper area of the club, which has been left as a gigantic open space for members where activities like darts, foosball, air hockey, and in the near future DJs and live music will take place. (Los Secretos de Maria is a new club, so activities and events will begin to take shape as the member base grows and General Assembly votes are held to increase and/or improve the Association's offerings.)
At the back of the club is the dispensary, which is small but quite well-stocked. Members collect their share of the association's cultivation operations at a large window after showing their membership card. Los Secretos de Maria rigorously enforces this requirement, so if you are a member and you don't have your card with you, it will not be possible to enter the club until you have the card or you provide the necessary documentation for the association to make you a new one.
Los Secretos de Maria: Marijuana Selection
The best thing about Los Secretos de Maria is the cannabis selection. From raw flower strains like Double OG, Strawberry, Critical Bilbo, Mako Haze and La Santa to hash from all of the world's major hashish-producing regions, Los Secretos has an extremely unique menu. Furthermore, the quality is excellent; twist off the lid to a jar of their Mako Haze and you'll want to keep your nose buried indefinitely in the sweet fragrance of these beautiful buds. Break open a chunk of the club's finer hash and your eyes will close right up while a smile stretches across your lips.
It's that kind of quality. 😉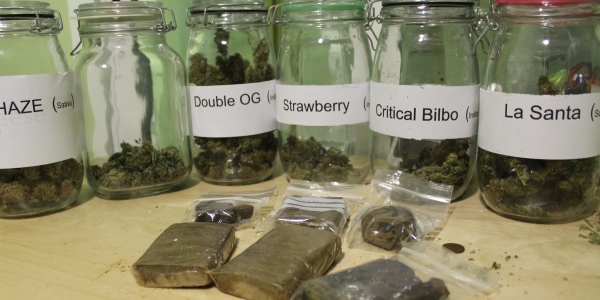 I acquired a couple of grams of Strawberry and a gram of Moroccan hash and rolled a few mixed joints. I smoked these over the course of a few days that I spent in Madrid, and I have to say that I was extraordinarily well medicated during this time.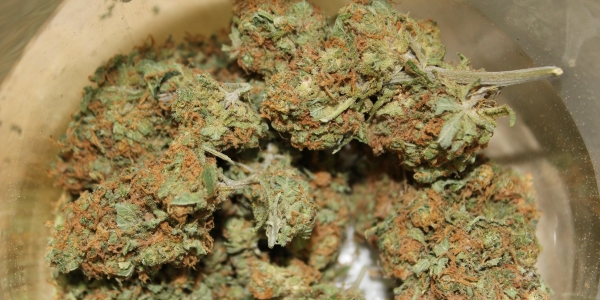 Los Secretos de Maria: Staff
This is one of the few cannabis clubs in Spain that I have ever been to where the only staff are the 3 primary members of the Board of Directors. The president, secretary and treasurer greet members personally and hang out with you while you sample the impressive offerings of weed and old school bricks of potent hash.
The primary philosophy among these guys is to provide top quality cannabis products to its members at the lowest price possible and thereby engage in a closed-circle association that prevents the need for people to access the black market and take the associated risks by doing so. Instead, Los Secretos de Maria provides a comfortable, clean and safe environment where the member share "cost" of marijuana is not inflated because the club purchased expensive artwork or because the Board doesn't actually work in the club.
Los Secretos de Maria: Events & Extras
Los Secretos offers members everything they need to properly and safely consume cannabis products. This includes pipes, papers, bongs, vaporizers, tips, filters, grinders, hookahs, lighters and rolling machines.
If you feel like hanging out for a while, the club offers members the standard selection of coffee and tea, various sodas, water, etc. You can also take advantage of the club's free WiFi to work or play online.
The great thing about belonging to a cannabis club in Madrid is that if you as a member feel like the club is missing something, you can simply make a request to a member of the Board to have something added.
Right now there aren't too many events at this club, but as the member base grows and the Association holds new General Assemblies, this can easily change.
Conclusion
Los Secretos de Maria is the perfect club for marijuana consumers that want a place in Madrid where they can simply and safely acquire superior cannabis products without any frills and fuss. If you want a clean place to hang out for an hour and enjoy a fat joint, good conversation and lower prices than most other places in Europe then this is the right club for you.
Rating for Los Secretos de Maria Cannabis Club in Madrid: 4 of 5 Stars
(This is a preliminary application process; not all who apply will qualify for membership based on Spanish law and club policy. Application for membership is general and is not necessarily applied to any particular club unless the applicant fully qualifies.)