The USB MicroCapture digital microscope is garbage, and I'm not saying that to be cheeky. My honest professional and personal opinion is that this USB microscope is so irredeemably terrible that it belongs in the trash. That's exactly where the one I purchased went, and if you read this review and examine the miserable images the camera is capable of taking, you'll understand precisely why this is one of the most negative reviews I have ever written. Or I can just save you the time and hassle now: Don't buy this camera. It's crap…60€ worth of crap.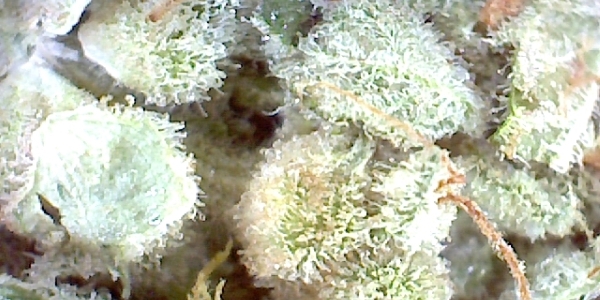 USB MicroCapture Digital Microscope: The Story Behind the Review
As part of my work I normally carry a microscope wherever I go; it's a small handheld cheap little thing that magnifies up to 100X. At this level, I can clearly see the heads of trichomes and I can detect most contaminants. But, the microscope doesn't take pictures; it's for handheld viewing on-site only.
At most head shops and grow shops in Barcelona, you can find the USB MicroCapture digital microscope. On my frequent trips to these shops I had noticed these microscopes before but didn't realize they were capable of snapping an image of exactly what the user was seeing. When an employee of Plant of Life grow shop on Carrer de l'Hospital mentioned this feature to me, I was sold right away and purchased one for 60€. I was excited about the possibility to take close-up images of cannabis to share with my readers and among my networks.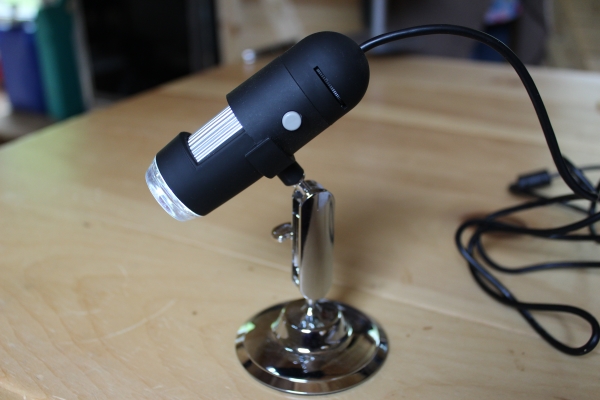 My excitement was short-lived.
The first USB MicroCapture that I bought simply did not work. I tried installing the camera using the included CD ROM, and I tried it using drivers I downloaded from the internet. I also tried on 3 different PCs and 1 Mac. Nothing worked. The software installed, but none of the computers/USB ports ever actually picked up the camera.
After trying everything possible to ensure that the issue wasn't due to user error, I went to the Plant of Life grow shop to return the camera. The woman who was working at the time had no problem issuing the refund but said that she did not have access to the safe or register in order to pay the refund. She examined the camera and receipt, took pictures of it all and told me that she would contact me when she was able to issue the refund.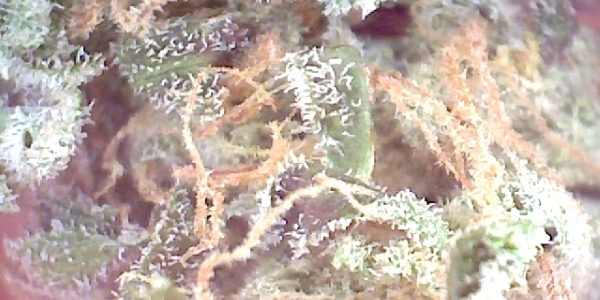 2 days passed and I heard nothing from the shop, so I went back and this time spoke to a man behind the counter who said there should be no problem and that they use the camera all the time. I told him exactly what I had done to get the camera to function, but he merely offered to replace the camera. Considering I had already wasted significant time with the equipment to no avail, I declined and asked for a refund.
At this point the employee told me that Plant of Life does not offer refunds on any of its products, contradicting what the other employee had told me 2 days prior. I asked him if this policy was posted anywhere in the store. He said it was not. I examined my receipt and asked him if this policy was indicated anywhere on it. He again said it was not.
I tried to explain that selling a 60€ electronic item that simply doesn't work and then not offering any type of refund is basically theft, especially considering the policy is not posted anywhere in the store. Had I known this policy, I definitely would not have purchased anything from them; especially not something of value.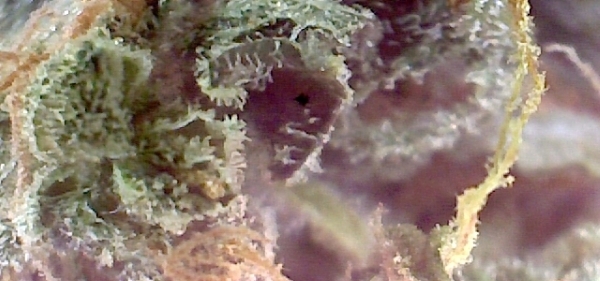 The employee held his ground and offered only to exchange the camera for an identical one. Hoping this one might work, I took the replacement and left the store.
USB MicroCapture Digital Microscope: The Good
As it turned out, the only good feature of this piece of equipment shit is the idea behind it; a powerful 200X USB microscope that can take still images of the subject.
In this case, the actual camera is worthless because it does not live up to the advertised expectations, but the concept is nice and easily fooled me into shelling out 60€.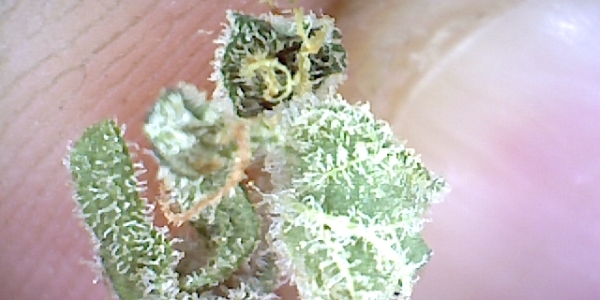 USB MicroCapture Digital Microscope: The Bad
Here's the list of problems that I found with this camera, in bullet points so that I'm not wasting too much more time on this rubbish:
Does not magnify at 200X. The handheld microscope I normally use is only 100X, which is sufficient to tell if the head of a trichome is clear, cloudy, amber or brown. The USB Microcapture camera doesn't come close to letting you see the head of a trichome, even with many different lighting configurations and zoom settings.
The LED light function seems like a great feature but all it actually does is whitewash the image and create a white spot on the most important part of the subject; the center.
The zoom function allows you to see blurry or cloudy images only. At no time will the images be sharp.
The images as captured by the still camera are terrible. The images included in this post are the best possible images I could obtain after hundreds of attempts.
The overall quality of the images and the magnification features are so horrible that the camera serves virtually no purpose whatsoever. It cannot be used as a webcam and the microscope features are surely meant as a joke or possibly as a novelty for children.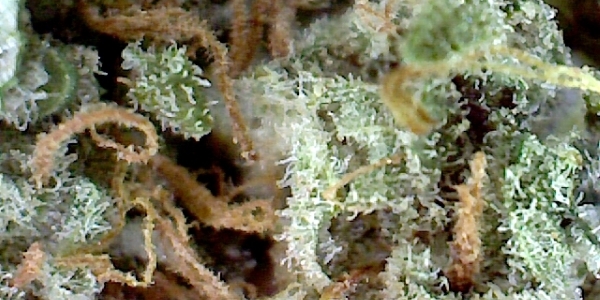 Conclusion
Don't buy the USB MicroCapture digital microscope; you will regret it. If you are a head shop or grow shop and you are considering adding this to your inventory, please don't; you will be doing your customers and clients a disservice. If you already have this product on your shelves, consider purging it.
DISCLAIMER: I don't enjoy writing negative reviews and often opt not to publish such materials in order to avoid a lot of negative content on my site. However, I truly feel that this product is so completely useless and terrible that I want to ensure that any of my readers who consider purchasing it have access to the right information needed to make a good decision. If you want a microscope that does what the USB MicroCapture only claims to do, then be prepared to spend a lot more money. I suppose this entire situation is my fault for thinking that a product that promises what the USB MicroCapture promises could possibly exist for 60€. With that said, it makes sense now why Plant of Life grow shop didn't want to issue a refund…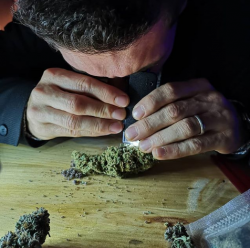 Russ Hudson is the
CannaBizConsultant
and founder and editor of
MarijuanaGames.org
.
A published author, certified search marketer, and web developer, Russ is an avid supporter of transparency in marijuana research, truth in cannabis activism, and full repeal of prohibition. Russ also advocates for the immediate development of a cooperative international economic and agricultural marijuana strategy.Having lived, worked, and traveled extensively throughout The Netherlands, Spain, and the United States, Russ is intimately familiar with cannabis culture.But one of the coolest things about Russ is that he actually responds to emails personally.Find out for yourself by getting in touch with him now:
Email Russ:
contact@marijuanagames.org
You can get the action-packed book,
Weed Deeds: From Seed to Sage
, the true story about Russ' 25 years in the black, grey, and white markets for cannabis here:
WEED DEEDS: FROM SEED TO SAGE
You can get Russ' controversial children's book about cannabis,
What's that Weed?
here:
WHATS THAT WEED?
Thank you for your support!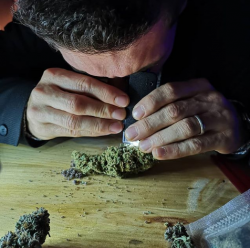 Latest posts by Russ Hudson (see all)