La Mesa cannabis club is located on Carrer del Rec, in the Borne district of Barcelona. As one of Barcelona's finest cannabis social clubs, La Mesa encourages its members to hang out, relax, meet other people, work, share ideas and promote initiatives as entrepreneurs instead of just as quick in-and-out smoker's club customers. Producing extremely high-quality premium cannabis for both medical and recreational purposes, La Mesa categorically lives up to its slogan; "Smoking Hot Since 2012." The club is hot and so is the pot; check out this review and see what they've got.
Barcelona Cannabis Club Review Rating for La Mesa: 5 of 5 Stars!
---
IMPORTANT: The cannabis club described in this review is a private association adhering to all laws and regulations governing such associations, most specifically but not limited to the following requirements:
*All new members must be sponsored by existing members. This is in keeping with the "Closed Circle" doctrine of law and the natural private state of cannabis clubs.
*All rules and guidelines in a cannabis club's "Articles of Association" must be obeyed and enforced under Spanish law.
*All new members must be habitual or current cannabis users.
*All new members must be age 18 or 21 at a minimum, based on the Articles of Association established by each club.
*All members are advised that cannabis in public places is illegal in Spain. Outside of the private environments of cannabis associations and private homes, consumption or possession is prohibited.
---
La Mesa: Environment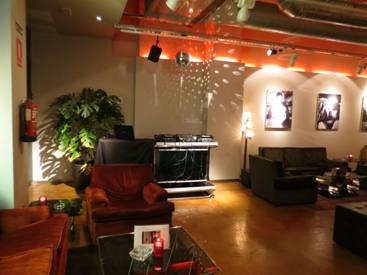 La Mesa's front entrance will set you in the right mood straight away. Featuring large pieces of glass emblazoned with a bright flame, La Mesa lets the sunlight in but keeps prying eyes out. As you enter the door into the spacious reception area, you will find on your left a desk and a table for member registration.
To become a member, you will need to be referred by an existing member who must accompany you and be present during your inscription. You must provide a passport or sufficient identification and, after filling out a registration form with your personal details, the Terms and Conditions of the Club will be carefully explained to you. You must sign the documents to indicate your acceptance of the terms, and upon payment of the yearly membership fee (25 Euros) you will be provided with a member card featuring a barcode and your member number.
(This is a preliminary application process; not all who apply will qualify for membership based on Spanish law and club policy. Application for membership is general and is not necessarily applied to any particular club unless the applicant fully qualifies.)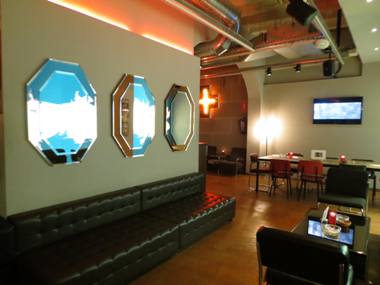 If you arrive at La Mesa with friends or family who are not members and who do not intend to join but wish to wait for you, they will be invited to do so in the front reception area. This keeps them safely off the street and helps to maintain a discreet environment. While they wait, your friends can try some delicious cucumber water courtesy of La Mesa.
[Important Note: To avoid the exchange of cash inside the club, it's important to charge your member card with money at the registration desk in order to be able to collect anything from the club – including cannabis. Once you have checked-in with your photo ID and your fully charged member card, you can enter the main area, and collect your part of the harvest.]
As you enter the main area, you will immediately feel the warm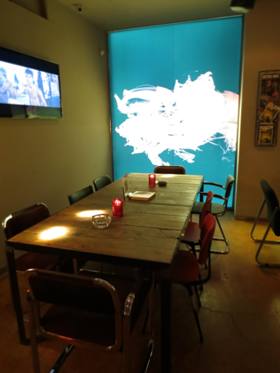 vintage-chic atmosphere the owners have created. Repurposed furniture, soft but colorful lights, live palm trees and decorative ventilation systems give a feeling of the art-deco period of the Roaring Twenties, while retaining some hint of post-modernism as well.
La Mesa has two principle gathering areas; the first one hosts the namesake of the place: two heavy wooden tables, "La Mesa." This
area of the club is setup to be a work-friendly environment; a cooperative space where people can work, share their ideas, meet other entrepreneurs and promote their business activities.
On the right of this main area you will find the bar and dispensary with a wide selection of cannabis strains, concentrates, an events board and much more.
Once you've passed the "La Mesa" area, you can sit and chill in the second principle area, which is filled with stuffed sofas. Here you will also find an electronic mixing board and DJ station, a second bar offering snacks and drinks and a wide screen television set to whatever programming the club has selected for its members that day.
After visiting the club a couple of times I was surprised to see a wide range of different people arriving individually or with friends, primarily to study or work from the cozy environs of the club while enjoying some fresh marijuana. La Mesa is a balanced combination of a work-friendly, intellectually-stimulating space (they even provide headphones) and a place for fun, fascinating conversations and memorable encounters.

La Mesa: Marijuana Selection
La Mesa produces around 10 different cannabis strains ranging from Indica dominant strains to Sativa dominant strains to a variety of hybrids. Like other high-end clubs with balanced grow plans, La Mesa changes its menu from time to time, but during the times I visited the club, the following strains of raw flower were available:
LA Confidential
Magma
Critical
Lavender
Blueberry
Jack Herrer
Yumboldt
NYC Diesel
Amnesia Haze
Warlock
I have tried their Blueberry (20% S/80%5 I), Amnesia Haze (80% S / 20% I) and Lavender (20% S/80%5 I) strains and I must say that they are extremely high quality. Grab our RSS feed in the upper right of this page to get updated when I publish my next post; a review of the lovely Lavender strain.
La Mesa: Accessories & Events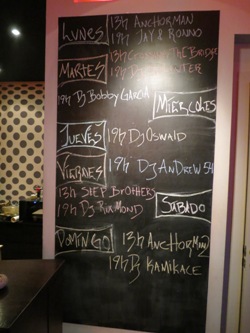 To complete the vintage-chic atmosphere, La Mesa plays slow salsa and soul during the day and funk and chill-out music at night, replete with two flat screens and a wide screen playing music videos. Magazines, books, cannabis literature, board games and free Wi-Fi are available to all members.
La Mesa offers many activities in order to create camaraderie between members and to create a feeling of unity and solidarity. Each day a documentary (generally cannabis related) is shown at 1pm, and a DJ starts playing music at 7pm. The topic for documentaries and DJ set lists change on a weekly basis; schedules and programs are sent to all members in an emailed newsletter, or these events can be checked on the board next to the first bar/dispensary.
Every two weeks La Mesa organizes a Sunday Fair/Showroom for its four "members of the month" to promote their business (craft, artwork, food etc). This allows members a chance to share their passions and trades with other members in a cannabis-friendly environment; a rarity in the business world.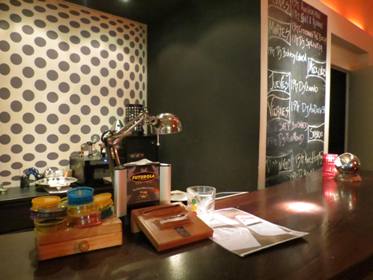 The second bar for food and drinks offers healthy beverages (smoothies, fresh juices, water, coffee and tea) and a few soft alcoholic drinks like beer, wine or cava, as well as a few pastries. Some evenings, La Mesa organizes "Delivery session" nights, where the staff orders food for the members who want to have dinner for 10 Euros each, with a wide choice of ethnic cuisine such as Indonesian, Japanese, Mexican, typical Spanish sandwiches etc.
La Mesa: Staff
The staff at La Mesa is approachable, friendly and multilingual. They will make you feel welcomed and at home, and this is a distinctly different feeling than what you might find at a traditional club or bar. The president of La Mesa and its staff are exceptionally conscious about the well-being of their members, as I have observed them at nearly all times moving quickly and efficiently around to keep the place clean, organized and with all the services available with no interruption.
(This is a preliminary application process; not all who apply will qualify for membership based on Spanish law and club policy. Application for membership is general and is not necessarily applied to any particular club unless the applicant fully qualifies.)
Conclusion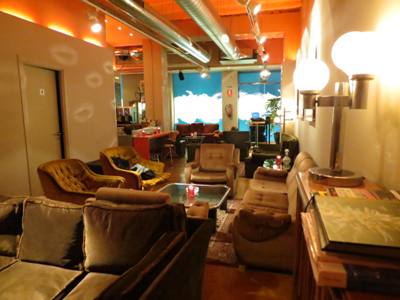 La Mesa is an outstanding place to work, read, meet like-minded people, and share cannabis in an incredibly comfortable and welcoming environment. With its wide range of high quality marijuana strains and concentrates, its warm staff and unforgettable environment, you will definitely want to come back to hang out again and again – I did!
Have you been to La Mesa on Carrer del Rec in Barcelona? Let us know about your experience there in the comments below!
---
Barcelona Cannabis Club Review Rating for La Mesa: 5 of 5 Stars!